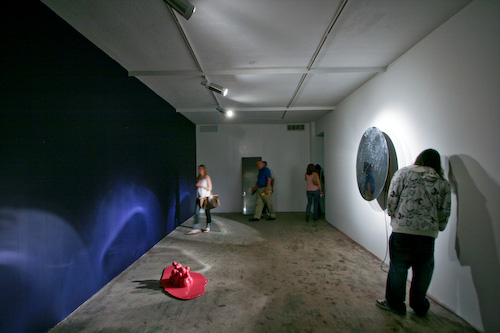 A few years ago I was on a panel of Miami arts writers at Locust Projects with Anne Tschida, Omar Sommereyns, and a few others (my qualifications seemed a bit sketchy, but it was certainly a good discussion). Probably the biggest takeaway from the (sizable!) audience was that they were clamoring for more local arts coverage and, in particular, criticism.
Since then, as other locally-oriented writing has flourished, art criticism remains stuck in a rut. The New Times continues to regularly run criticism by Carlos Suarez De Jesus. But the Miami Herald hasn't had a full-time art critic for years (I hear Elisa Turner has a blog somewhere on the Art Circuits site, but good luck finding it. South Florida Daily Blog lists four "Art Blogs," but they are mostly dedicated to listings and brief descriptive posts. The notable exception is Artlurker, which has been running surprisingly substantial art reviews by a number of writers since 2008. But Art Lurker has been averaging one or two posts per month, so not sure what's going on there.
Meanwhile, the art scene is flourishing — art schools are pumping out MFA and BFA art majors, artwalk is a huge monthly cultural event, and there are more galleries and private collections open to the public than ever. So what's happening? Where's the criticism?
I think the explanation is perfectly explained by a George Orwell quote I heard yesterday (on the Slate Culture podcast). Orwell apparently had written a scathing review of a book by Stephen Spender, only to meet him at a party and end up liking him quite a bit. Smitten with guilt, Orwell wrote the man a letter in which he said,
[W]hen you meet anyone in the flesh you realize immediately that he is a human being and not a sort of caricature embodying certain ideas. It is partly for this reason that I don't mix much in literary circles, because I know from experience that once I have met and spoken to anyone I shall never again be able to show any intellectual brutality towards him, even when I feel that I ought to[.]
Now look at the Miami arts community — exactly to the extent that someone is involved and interested to where they might be willing/able to write some criticism, they're hanging out with the artists and gallerists they'd need to be critical of from time to time. The scene is just not large enough that you can have a few dozen friends and another few dozen acquaintances and still have most of the scene left to impartially cover. I was talking to Misael about this, and he pretty well said as much about why he doesn't write criticism. (By the way, all this probably applies to other art scenes — I'm addressing Miami because that's what I know.)
Franklin Einspruch used to write some great criticism at ArtBlog.net. But Franklin was pretty well recognized as being in the camp of the Miami AbEx'ers, so his constant rear-guard action as all things PoMo was sort of taken in stride.
One solution of course is to write anonymously. Artlurker actually started out at least in part as anonymous. But in the long run it's not sustainable for most people. One of the payoffs that seems to be a necessary reward for consistent blogging is a level of name recognition and attention. Too, anonymous or pseudonymous criticism is inherently less credible.
I still think there's a role for a site of one or two consistent writers (hello, art/art history majors at UM, FIU, et al.) that pursues advertising more aggressively than Artlurker has. A financial reward would be a decent motivation to take a page from Orwell's book and stay away from associating closely with the folks in the art scene, the better to show it intellectual brutality when necessary.
Update: Leyden pointed out just as I was posting this: A new golden age for art criticism? at the Knight Arts blog. A promising title — but it doesn't offer any solutions! It just says we need a golden age of art criticism. Still, there's a way forward here: a few people interested in writing criticism start a site (maybe mix in some other sort of coverage), and apply for a Knight grant to jump-start them. Would make it much easier for them to attract advertisers with the Knight name behind them, and tide them over before the site is self-sustaining.