I needed a new pair of 501's because I noticed my old 501's are developing a hole over the left pocket where my phone always settles plus they look beat up and faded because I'm not a fancy freeze your jeans type, so I went to Sears on my lunch break today. Sears has a surprisingly comprehensive selection of Levi's, but they're like milk at the grocery store: stocked at the far corner so you have to walk by everything else to get to them. On the way, I got distracted by the Men's Perfume section. I'd recently developed an appreciation for perfume bottle design while buying perfume for Hillary, but boy, men's perfume is really crazy. Did you know they totally have Ed Hardy perfume? Multiple flavors. There's Antonio Banderas perfume. Like a half dozen rappers have perfumes that are big-time enough to be sold at Sears. And lots of this stuff is in a reasonable $15 to $30 range. I've got a sampler sized bottle of Incanto For Men that I got some random way and occasionally I'll come across it while looking through my desk at work for something and sometimes I'll put a little on for fun, and plus I'm interested in the bottle designs (and let's face it, I enjoy buying shit) so I'm seriously considering buying one. Sears keeps sampler bottles out by most of them, so this seems like a not completely impossible thing, and right away I'm drawn to the most conservative bottles (e.g. Hugo Boss) and the most outlandish ones (the aforementioned Ed Hardy), but I'm simultaneously realizing that I need to be sophisticated with this decision, and there are so many choices and none of them seem quite right. Like, this is a decision that needs serious consideration, because I'm not picturing myself ever being a regular perfume wearer and I'm not imagining I'll be using a large quantity when I do put some on, nothing is more annoying than dudes who walk into a room and you're accosted by their man perfume. I swear sometimes on South Beach someone will drive by on a fucking moped and you can smell their perfume trailing behind them. But so anyway it's a big commitment for me, and I want to give this some thought, but then the girl comes over and asks me if I need any help, and I look a little more and then go off looking for my jeans. (Of which, success.) I stop by again on the way back though, that's how serious I am about this. And I finally decide to just jump in and try the first one I noticed walking up before. Something on the Ed Hardy end of the design spectrum but maybe a little more Gucci aesthetic. Can't remember the name unfortunately. Anyway it turns out the sampler's empty? So I go for the Hugo Boss and — no shit — empty again. I'm not sure, but looking at a couple more it seemed like maybe they were all empty, which is a total mystery … like, have they been sitting there so long they've all dried out? Does Sears believe in leaving empty unpacked bottles with TESTER written on them out on the shelves helps their sales somehow? And by the way here's another weird thing: the shelves have the prices printed for each of the bottles, but they're covered with a strip of plastic that's got a little sticker that says LIFT HERE FOR PRICE, so you can see the prices but I guess the reasoning is you can't scan the shelves and get a sense of what everything costs quite so easily?
Anyway, Steve and I totally did record a podcast this week, but we were sorry unprepared and the whole thing meandered something wicked, and the idea of trying to edit something even remotely coherent out of it has thus far been … well, let's just say it's not probably going to happen. Better podcast luck next week, when we WILL talk about the disappointments of the Obama administration. Tune in.
Posted: Thursday April 19, 2012 by Alesh Houdek · Permalink · Comment [4]

Recently, William Saletan published The Conversion, a wonderful story about the evolution of Mitt Romney's views on abortion rights. It's exhaustively researched and long: some 13,000 words, including a video summary and detailed infographic. It spells out revealing information about how Romney processes important political decisions, and sheds light on how complicated and large-looming the politics of abortion are in the US, equally obsessed with religion and personal liberty. It's the sort of story that so many readers still seek out and cherish, as evidenced by sites like Longform.org, which aggregate relatively long pieces of journalism.
But had you come across the story on Slate's home page, you would have no way from distinguishing it from, say, this article, a 200-word quick-hit entry about the cars the Romney family drives. The abortion article may have been longer featured on Slate's home page, and it certainly received more attention on the internet, but a browser of the Slate website or RSS feed would have no way differentiating between the relative weights of these two articles without clicking through.
As we transition from print to online media, this is one of the huge challenges that has yet to be overcome. Reading a physical newspaper is a very particular experience, in part because experienced layout people hand-design every page to give prominence to the material that's deemed most important, but mostly because you can usually see which articles are longest. The full text of the article is right there. And while attempts to bring a print-like layout to the web have mostly failed, the reader's need to know what lies behind each link as they scan a web page remains. Many websites have done a good job of identifying links that lead to photo slideshows, infographics, and video content, but for ordinary stories there is no way to tell how long the article is, how much effort the reporter has put in, or how long it'll take to read.
It's fantastic that, contra some predictions, the internet has not reduced all online reporting to short blog posts. But making long articles impossible to dinstinguish from short ones places a burden on readers, who treat articles of different lengths in different ways. Many of us spend the morning gobbling short items in large volume in an effort to stay up to speed with the day's events "water-cooler" topics. We often save longer articles to services like Instapaper and Read it Later for more relaxed reading, perhaps an after-dinner session on an iPad.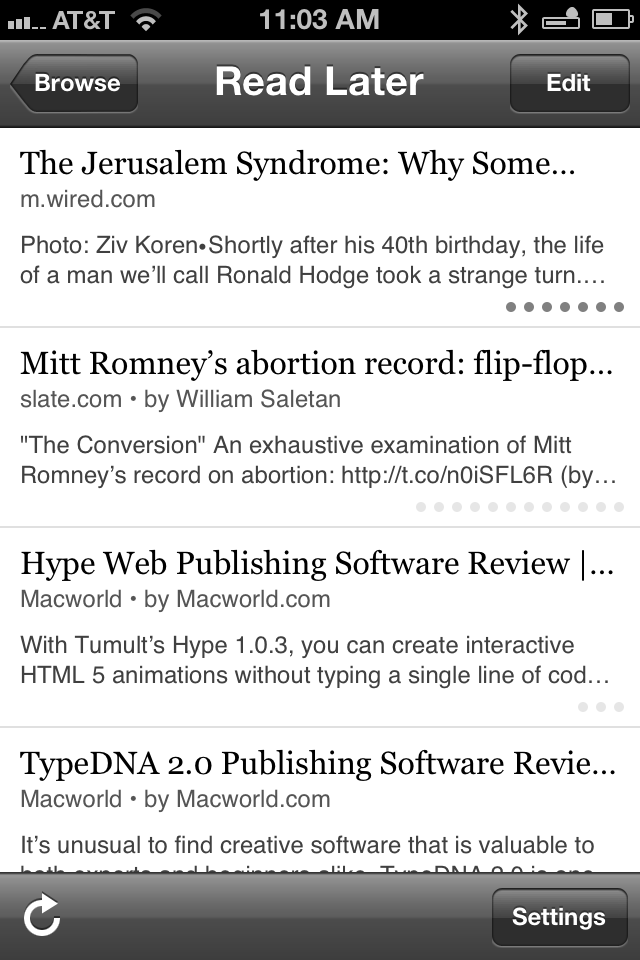 Fundementally, this problem is not difficult to solve. When I designed The Heat Lightning, I incorporated into the traditional blog format a word count for each "read full article" link. The site Longreads provides not just a word count, but an aproximate reading time for each article it aggregates (based on approximately 265 words per minute). A minimal but elegant solution is on display in Instapaper's iPhone app. A series of gray dots below the short summary of the article indicates aproximate length, three dots for short articles up to a dozen or so for epic pieces. It's simple and easily scanable, but doesn't convey the information in a precise way. Then again, you don't get an exact wordcount by scanning the layout in a printed newspaper either — just a rough visual sense of its length.
As we transition from print to online media, features like these become essential. It's possible to flip through an entire edition of a daily paper, scanning headlines, skimming some articles and reading others, over breakfast. The same is not true of digital newspapers, because every story is on its own page, and even on a fast internet connection pages take a couple of seconds to load. A typical newspaper home page has hundreds of links, so the inflection point is the click itself. We've got a headline and a few lines of summary text in which to make the decision to take the plunge or not.
What we need here is some way to see just a little more of the story before committing to clicking through. Why not show the first couple of paragraphs of a story when the reader's mouse pointer is over the headline? (The same effect could be accomplished on a tablet by pinching open.)
Over the last five years, many publications have intelligently revamped their websites, creating useful information hierarchies, usable navigation systems, and easily readable content pages. But as we use Twitter and recommendation tools like Longform more and more to find articles to read, the home pages of many publications' websites are falling into disuse. Adding tools like these, that take into account how readers consume content, would do a lot to make these pages more useful.
Posted: Tuesday March 27, 2012 by Alesh Houdek · Permalink · Comment [2]
Recently, I came back across Walter Darby Bannard's Aphorisms for Artists — 100 short "chapters" of observations, quips and warnings. They are meant to and indeed do inspire thinking about what is valuable in art, but they espouse a very particular conception of art. Bannard believes that art is a purely visual experience, and that the creation of art is almost solely about the materials. He's an abstract expressionist painter, and post modernism is his enemy, where post-modernism is taken to include almost all of the art created by contemporary artists. I find this view peculiar and limiting, but I do enjoy living in it off and on. And I think that the contemporary approach to art making, which thrives on playing with meaning as much as materials, on mixing generes and media, and on voraciously devouring as much of the world for incorporation into art, will find much to use here.
Chapter 59. Making art is not risky.

Any true artist will immediately object to this. Why? because making art feels so risky. After all, you are putting heart and soul on the line.

When you are serious about your art, every perceived little success must be preserved, every perceived failure is a testament to your abject lack of talent, and every hesitant, anxious new stroke of paint betrays your meager ability and exposes you to ridicule.

Put a stop to this. When making art forget you are making art. Tell yourself you are working with a few dollars worth of disposable materials, trying to make something you and maybe some others will like to look at, something nice to pass the time.

It probably won't work, but it's worth a try.
I spent a couple of days reading through these, and during that time came across an interview of Ornette Coleman being interviewed by Jacques Derrida. As the pioneer of free jazz, Coleman is Bannard's ally. As the de-facto inventor of post-modernist deconstructive analysis, Derrida is more or less his proclaimed nemesis. The interview was conducted in 1997, some 35 years after the release of Coleman's first seminal works. It was conducted in English and published in French, but the original transcript was lost so this edition is the French translated back into English.
JD: Do you think that your music and the way people act can or must change things, for example, on the political level or in the sexual relation? Can or should your role as an artist and composer have an effect on the state of things?

OC: No, I don't believe so, but I think that many people have already experienced that before me, and if I start complaining, they'll say to me, "Why are you complaining? We haven't changed for this person that we admire more than you, so why should we change for you?" So basically I really don't think so. I was in the South when minorities were oppressed, and I identified with them through music. I was in Texas, I started to play the saxophone and make a living for my family by playing on the radio. One day, I walked into a place that was full of gambling and prostitution, people arguing, and I sara a woman get stabbed — then I though that I had to get out of there. I told my mother that I didn't want to play this music anymore because I thought that I was only adding to all that suffering. She replied, "What's got hold of you, you want somebody to pay you for your sould?" I hadn't thought of that, and when she told me that, it was like I had been re-baptized.
There's something funny going on there at the end. The idea was either fuzzy to begin with, or likely it's gotten mangled in re-translation. I do not mean to say that these two pieces are in any way two ends of a spectrum, or that they offer two diverging points of view, but merely that they signify an interval, and that there is something to be taken about their relationship to each other, and their mode of creation, and their ability to evoke something useful in the mind of the reader. As the saying goes, there's a lot of reality in there.
Update: Franklin Einspruch and Walter Darby Bannard respond and clarify their positions. Franklin and I (with many many others) had a lot of debates about this stuff in the old days of Artblog. Good times. Needless to say that Franklin and Darby are much smarter about art than me, and spend a lot more time than me thinking about this stuff, and you will find their positions persuasive.
Also note that comments are fixed and re-enabled.
Posted: Thursday March 22, 2012 by Alesh Houdek · Permalink · Comment

There is very little that's interesting to say about the new iPad. I'd sum it up this way: the iPad's always been wonderful, and the new model improves the screen, one of the few things that was left to improve about previous models. (Still to go: the weight.)
Should you buy one? If you're like most of us, and you use your computer mostly for browsing the web, absolutely. The iPad is a pleasure, and it goes places where we read (couch, bed, standing in the kitchen, bathtub) more gracefully than a laptop ever can.
Someone asked me today whether to buy an iPad to replace a dying laptop, and that's a tougher question. There are still things that are infuriatingly difficult to do on an iPad. Try downloading a Microsoft Word document from the web, editing it, and emailing it to someone. It can be done, but if you're the sort of person to consider having an iPad as your only computer, you're probably not one to fiddle and work at figuring out things like this.
(For the record, here's how: Download the file with a web browser that allows downloads, such as Atomic Web. Use Atomic Web's file manager to transfer the file to Dropbox. Use a Dropbox and Office-compatible editor such as Documents to Go to edit your document. Finally, use an app such as GoodReader, which has the ability to attach files to outgoing messages, to send your email.)
But for 90% of what we use computers for, the iPad is just all-around better. And the cincher is the battery life, which aside from plugging it in at night you never have to think about. I ordered my iPad 1 the day it was announced, replaced it as soon as the iPad 2 was announced, and Ordered my new iPad Wednesday. (I've bought the $499 model each time, and managed to sell it on ebay for around $400 right before the new model's announced. A few weeks without an iPad makes me appreciate the new one when it comes.)
Posted: Friday March 9, 2012 by Alesh Houdek · Permalink · Comment [4]
Having little else to attack Barack Obama for, FOX News is beating him up for rising gas prices, going so far to use blatantly misleading charts.
The good news is that FOX themselves made the argument that the president has very little influence over gas prices — during the George W. Bush administration. Check it out:
Posted: Wednesday March 7, 2012 by Alesh Houdek · Permalink · Comment [1]
(via)
Posted: Thursday March 1, 2012 by Alesh Houdek · Permalink · Comment
I've been thinking a lot lately about Truth. The impetus was John Siracusa's two podcasts about Wikipedia, in which he argues that Wikipedia is fundamentally flawed, and that its flaw prevents it from being as good a source of knowledge as it might otherwise be. The crux is Wikipedia's insistence on verifiability for facts that it includes (not that this rule is rigorously enforced) over what Siracusa calls "the truth."
These two podcasts are about the closest I've ever heard a "normal" discussion come to facing the fundamental questions of epistemology. In the second of the two episodes, Siracusa addresses complaints from the first episode, who repeatedly use the word "verify." Siracusa's understood this word from Wikipedia's perspective, where it often means "to cite another authority."
I think that the folks writing to Siracusa meant "verify" to mean simply "confirm." Fundamentally, that's the problem with first-person accounts—they're unconfirmed. But, you might say, can't two first-person accounts confirm each other? Siracusa suggests a system of persistent identities and a system like Stack Overflow's reputation system. I'm not sure, but I believe that system works because the scope of the site is fairly limited. What if someone on a Wikipedia-like site of knowledge has a high "reputation" earned by writing about software, and suddenly edits an article about politics? And if first-person accounts are allowed, wouldn't most of the site tend toward being first person accounts (since Siracusa's whole reason for talking about this is that he wants first-person accounts to be left in)?
Let's look at an example. I was just looking at the Wikipedia page for John Gruber. It cites an interview with Gruber, along with other sources, for facts that are general common knowledge. They're common knowledge because Gruber's website is widely read, and those facts have appeared there. Why not just cite the blog directly?
This gets exactly to the heart of what "truth" means. Siracusa kept saying "Wikipedia is not trying to get to the truth!" But I think that's putting it too strongly. Wikipedia is after something like "the consensus of human knowledge," which is a reasonable definition of "truth," I think. Sirucasa is after the actual, out-there-in-the-universe version of truth. But the problem is that that truth is unknowable. Until Galileo discovered that the Earth is not the center of the universe, there was no way to know the truth about it. What's more, even after he made the discovery, the truth was knowable only if you believed him. If you found his arguments persuasive. Two kinds of people would have found Galileo's arguments persuasive: those who had an understanding of science enough to see why he was right, and those who are just inclined to believe bizarre or unusual things they hear: people with a low threshold for truth. The fact that people who understood the science and knew that Galileo was correct had a vested intrest in not saying so doesn't change the fact that the only way for a member of the general public to come to believe Galileo was for the experts to come around and admit that he'd been right all along.
And so it is with all non-trivial truth: we rely on authoritative sources to tell us which sources to believe. Is global climate change real? The consensus of climatologists is that it is. Does government stimulus policy decrease the effects of recession? The consensus of economists deems it so. Are ruffles the new black? A consensus of fashionistas says yes. "The consensus of human knowledge" is by definition the closest we can get to "the truth" in areas of human knowledge where we're not experts.
An objection to this is that any person has the theoretical potential to become an expert in any topic. If something is controversial, couldn't Wikipedia include both sides of the controversy along with the arguments for each? Two reasons to think this might not be a good idea. First, the reason Wikipedia exists seems to me to be to provide general information for non-experts. We can expect Wikipedia to provide you with the basics of the science of climate change, for example. Seems a bit much to expect it to be able to turn you into an expert on the subject. Second, if Wikipedia contains not just what can be cited ("verified," "confirmed") but anything and everything that is true (read: anything and everything that might be true), its entries will have no check on their growth. For example, the article on 4chan has over 5000 words and 136 citations. How long would this article be if un-cited facts were allowed? Who'd want to read more than 5000 words about 4chan, and should the level of sort knowledge they're after be collected, for all possible topics, in one place on the internet. Maybe.
I'm hinting at how it is I think the rules of Wikipedia might have come to be what they are. I think intelligent people got together and spent a lot of time thinking, discussing, and experimenting with these rules, and Wikipedia is the consensus on which they arrived as the best vehicle for arriving at The Truth. It's, as Sirucasa said, the worst way for arriving at the truth except for all the others. Maybe. I think so, anyway.
Posted: Thursday February 9, 2012 by Alesh Houdek · Permalink · Comment [2]
I don't think I'm not going to make a whole big post about this every week going forward, but of course the new episode of On The Fence is out today. Go listen!
On The Fence Episode 12: A Warm and Pleasant Dinner, in which we suffer through some of the worst audio tribulations yet to talk about the Republican race and the State of the Union. On the plus side, it's only 45 minutes.
You can subscribe in iTunes here. And please drop us a rating while you're there.
Posted: Thursday January 26, 2012 by Alesh Houdek · Permalink · Comment
On The Fence Episode 11: Goat Brains, in which we talk about Facebook, timeline, Google Plus, and Andrew Sullivan's Newsweek article about Barack Obama's performance in office and legacy.
If you haven't already, you should subscribe in iTunes here. And give us a rating.
Posted: Wednesday January 18, 2012 by Alesh Houdek · Permalink · Comment
On The Fence Episode 10: 22.8 percent, in which we talk about the New Hampshire primary, Ron Paul, $7.77 trillion, and whether prison inmates should have the right to masturbate.
If you haven't already, you should subscribe in iTunes here. And give us a rating.
Posted: Wednesday January 11, 2012 by Alesh Houdek · Permalink · Comment
I was slow to post it, but I got a response to my email to Oxford Press and Handmark regarding the Oxford American Dictionary app almost right away.
This is the old libertarian saw, stated by P.J. O'Rourke like this (only longer, better, and funnier): If your grandmother doesn't pay her taxes, she'll be fined. If she doesn't pay her fine, she'll eventually be put in jail. If she tries to escape from jail, she'll be shot. So!: Anything that you agree the government should do, you should be willing to put a gun to your grandmother's head and threaten to shoot her for. Something like that.
This is a pretty old libertarian saw (contrary to the folks who posted the video above, libertarianism doesn't argue for a completely stateless society, just for a minimal state): the government should do the minimum amount necessary to keep a society functioning, and no more. This means enforcing minimal laws against harming others, and a small national defense system. Everything else, the argument goes, is better privatized. I've been a registered Libertarian since the day I registered to vote, so I've given these arguments some thought.
One day the libertarians may go off and create their dream society, maybe on a floating island. In the meantime, we have Somalia, which has been without a central government since 1991.
So here's the solution, and it has more than a little to do with game theory. Stuff that the government does is not like forcing some one individual to contribute to something. There's a whole range of things that, if we weren't all contributing, it wouldn't make sense for an individual to give any money towards. Let's start with the Libertarian's example of national defense. It makes sense to have a national defense system only if everyone contributes. But it ends up that there are lots of things that directly or indirectly help everyone in a society. And while there are ways that a lot of these things could be accomplished by groups of private individuals, it makes sense for the government to do them. Would you shoot your grandmother for the interstate highway system? Probably not. But the highways unquestionably help our society in ways that a privatly-funded and tolled highway system would not.
The welfare system, public education, food safety inspections, drone strikes in foreign countries, eviction of protesters from public spaces, public healthcare, air traffic control. You probably agree that some of these things are good, and that some are bad. That's not the point, though. The point is that they're all things that a central government is in a unique position to provide, and that arguments exist that they are a net benefit. Once we've agreed to create the structure of the government, we're all in it together, and we all need to decide together what we think are appropriate roles for that government.
It's not that we need a system to make George help Oliver. It's that we're all better off if there's a system that helps all those that need help, not just those that can find someone willing to help them.
Posted: Tuesday December 27, 2011 by Alesh Houdek · Permalink · Comment [2]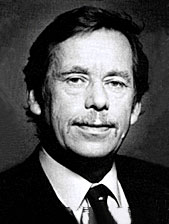 "Tidy yourself up! We might be Czechs, but we don't have to let the rest of the world know." This is apparently one of the lingeringly popular jokes from The Good Soldier Švejk, one of the resounding classics of Czech literature. The fact that I don't find it any funnier than you will tell you what you need to know about my embarrassingly sparse connection to Czech literature (if the fact that I had to Google it didn't tip you off). With that serving as a pre-emptive appology, let me tell you as best as I can why Václav Havel was important (without any more Googling, I promise).
At the end of World War II, Roosevelt and Churchill sold my people out to Stalin at Yalta, and the big 'ol Iron Curtain fell on us. And while it was a light-sneeze version of the Stalinist/Totalitarian sort of thing that they're, for example, still living up in North Korea to this day, it was still a very different lifestyle from ordinary poverty. There's an extremely real paranoia that exists, because even if you've never gone before the officials on charges that were made against you buy anonymous spies, you know that it happens all the time. Also, this: you can join "The Communist Party" or not. YOUR CHOICE. If you don't join, the government and others in positions of power won't trust you. You'll be denied perks, career advancement, and safety. If you do join, you'll loose the respect and trust of all your friends. Unless they're all Party members too. But those are the people with sticks up their ass, right? You either sacrifice your integrity or you sacrifice your prosperity and comfort.
Posted: Monday December 19, 2011 by Alesh Houdek · Permalink · Comment [1]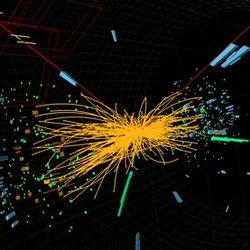 You know, I love advanced physics. It's given us satellite navigation, GPS, and fancy medical imaging, and that's just the theory of relativity, which when Einstein cooked it up seemed like the height of quasi-fictional abstraction. Physicists study the most basic level of reality, the stuff that's a whole conceptual level below chemistry, so they're the closest to understanding what the hell reality actually is. Great for them, great for us.
But I'm not sure about where they've been going for the last couple of decades. If you talk to a theoretical physicist today, almost any one of them will tell you with almost absolute certainty that existence has exactly eleven dimensions. And the thing is, most of us will never understand why they think it's so, however many NOVA specials we watch, because when physicists talk to one another they talk almost completely in math. 99% of the physics information is controlled by 1%, etc.
So, they just awarded the Nobel Prize to some physicists who discovered—over a decade ago—that the universe's expansion is accelerating. They were sure that the expansion was slowing, and were trying to measure the rate, when they discovered the opposite. They measure the rate, by the way, by looking for redshift — a little bit of a red haze that's caused by light traveling over millions of light years through space. The amount of redshift indicates how fast something is moving away from us. When you look at the redshift for everything we can measure, you get that the universe is expanding at an accelerating rate. So, that's pretty indirect, but I'm willing to go along with it.
The problem is that they've got no way to explain why the universe is expanding. It doesn't make sense according to the currently otherwise perfectly functioning laws of physics. The best explanation that physicists have come up with (and again, they did this by plugging the results into mathematical equations, not by sitting around philosopher-like thinking about it) is dark matter: STUFF that exists but cannot be measured by any device or process known to science. And here's my favorite part: this dark matter makes up roughly 70% of all the matter in the universe. That's right: you, me, our planet, it's sun, our galaxy, and all the other galaxies … it all accounts for only 30% or so of everything that exists.
At this point you've got to ask: IS IT POSSIBLE THERE'S A MISTAKE IN THE MATH GUYS?????? Well, you'll not get a good answer. Well, a few years ago they built the Large Hadron Collider, an $8 billion device(!) that was supposed to prove the existence of the Higgs bison particle, which is the stuff this dark matter is made up of. Now, the Large Hadron Collider is near and dear to my heart, because it was built around the time I started this blog, and some of the first posts here, back around 2008, were about it. Cool thing! But here's the problem: they haven't found shit. They haven't found the Higgs Bison! Oh sure, there are tantalizing signs that it's there, but so far — over three years later — no proof. Ouch, man. Ouch.
Posted: Thursday December 15, 2011 by Alesh Houdek · Permalink · Comment [2]