Here's what stuck out during a first dash through Art Basel today. I'm struggling with the best way to present these photos, but for now, here's a big dump of clickable, enlargeable images.
Right at the entrance, Miro gallery from London has two big and spectacular Grayson Perry urns.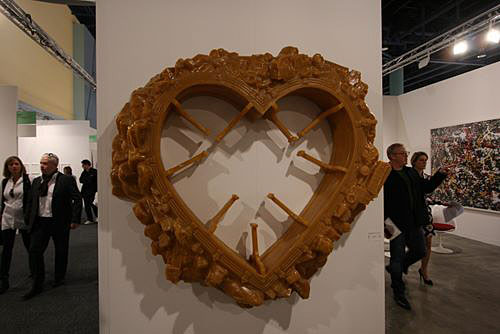 Jitish Kallat's sculpture at Arndt & Partner, all waxy heart and toys goodness.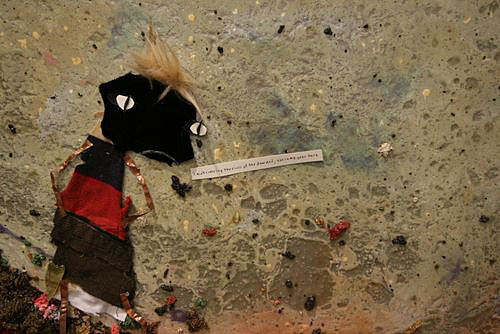 Detail from a mixed media piece by Jon Pylypchuk at China Art Objects. "i ain't crossing the river of the damned, you come over here" he says to the other character in the picture.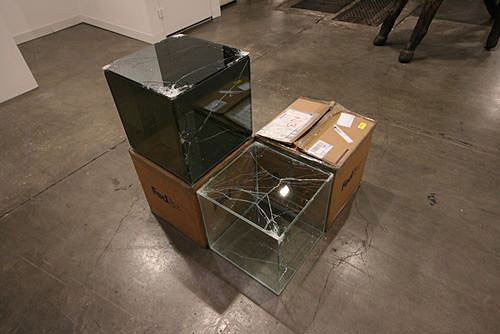 At the same gallery, some wiseguy who's name I don't have (Tom Watson?) shipped two glass cubes FedEx with no packing materials from Los Angeles.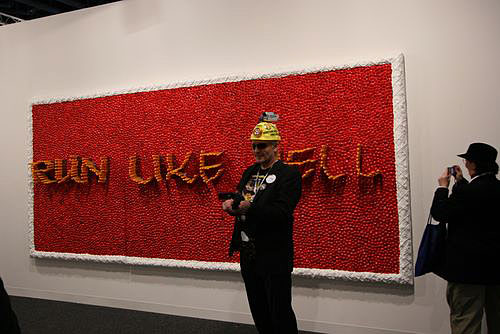 Hell hath no fury like an Art Dude who needs to videotape his entire fucking existence. Run Like Hell, indeed. (He's got another camera on a stick that he holds out so he can film himself.)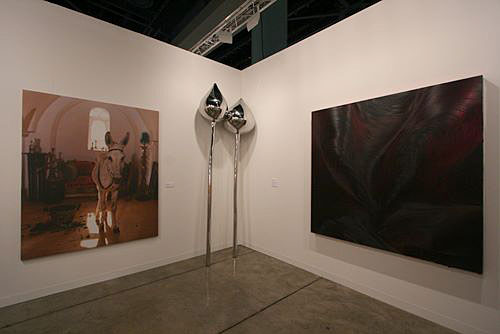 Installation, Ropac, Paris.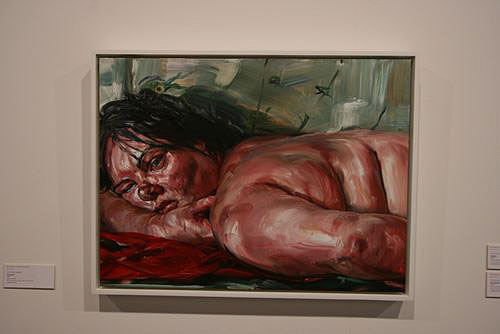 If there was a more beautiful painting in the hall then this one by Natalie Frank, I sure didn't see it. (But check out the whole series, at Mitchell-Innes & Nash, 'cause some of them were pretty racy.)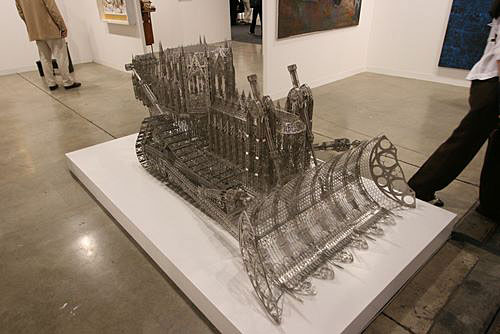 Wim Delvoye's laser-cut steel sculpture at Sperone Westwater. The more I look at this the more it irks me. Moving on…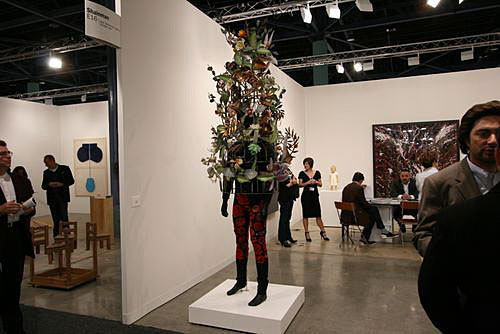 …a sculpture by Nick Cave…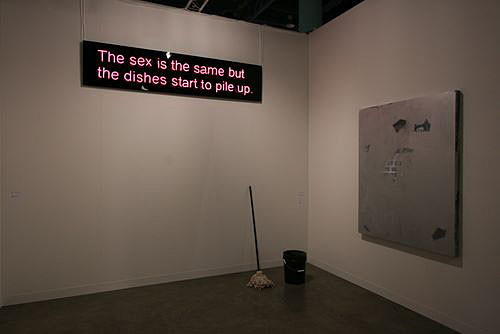 Installation at Lambert, NY. Neon signs get me every time.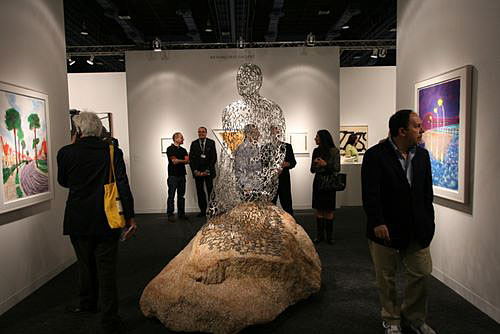 This dude needs to be stopped. And the people who keep buying it.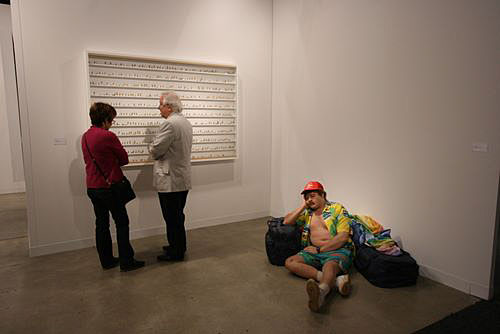 Installation at Van de Weghe. Duane Hanson and Damian Hirst. How many of these people are art!!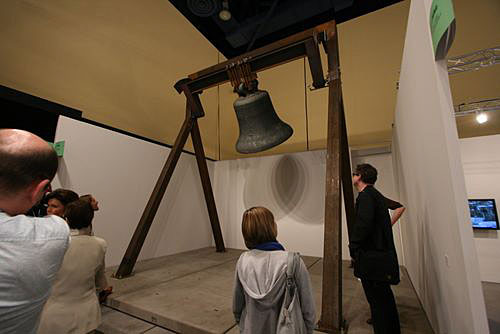 Big swinging bell by Kris Martin, Sies + Höke, Düsseldorf. This is not that impressive in a little photo, but the shadows on the wall are pretty nice.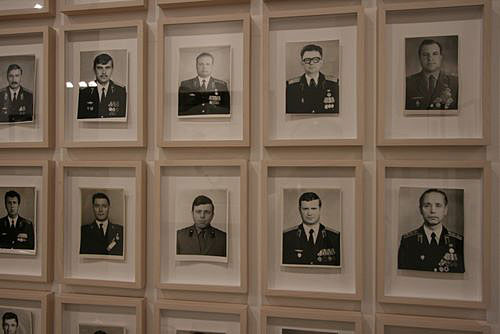 In the corner, lots of nice photography (and some terrible photography) at Kicken, Berlin. Here are some found photos of Russian Soldiers, ominously dated "1961-98."
This guy has got your glam sculpture ready to go. Meile gallery.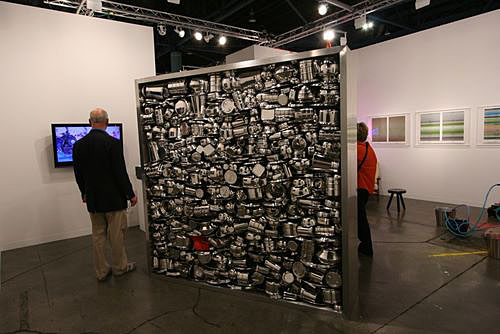 Pots 'n pans sculpture by Subodh Gupta.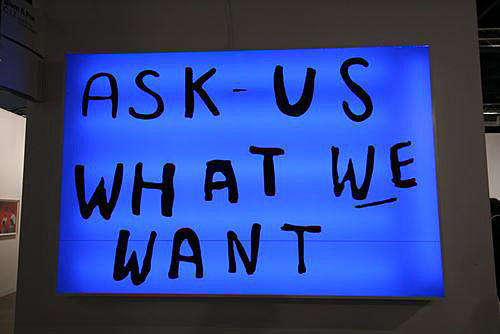 Um, yeah.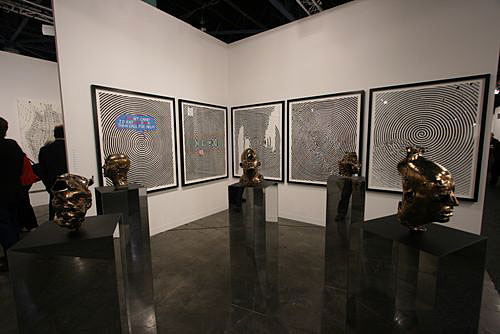 Installation, Blum & Poe, LA. Those heads are actually pretty disturbing.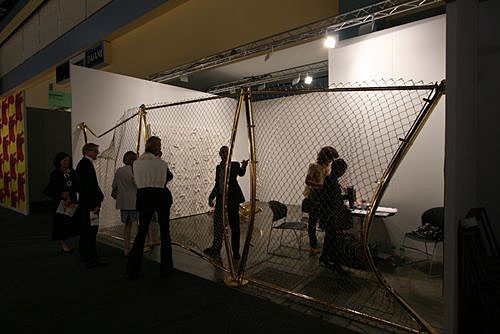 Installation at Bortoiami. You just squeeze through the gaps in the fence and you get to see some art.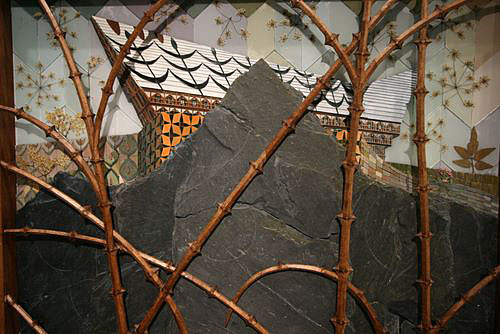 Detail of a mixed-media piece by David Thorpe. Another of my favorite pieces in the show. Maureen Paley gallery. (If you're wandering around the perimeter and you see a big wooden room divider, get to the other side to catch this one.)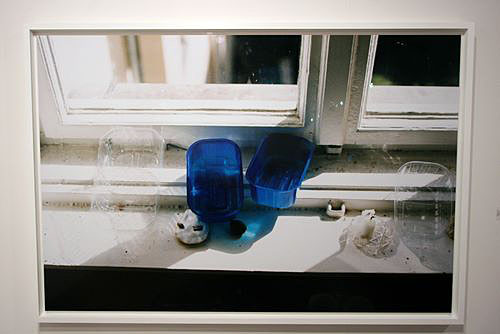 A big disappointment was that there was less Wolfgang Tillmans then last year. There were a few to be sniffed out tho, and this one, printed huge, was a winner.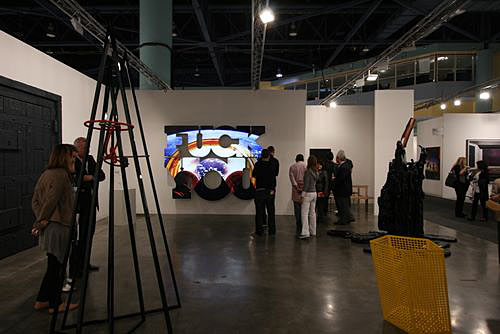 Installation at Presenhuber. The "Fuck You" lightbox is growing on me. The execution is really first class, and the stage-transition Apollo (?) liftoff photo is inspired.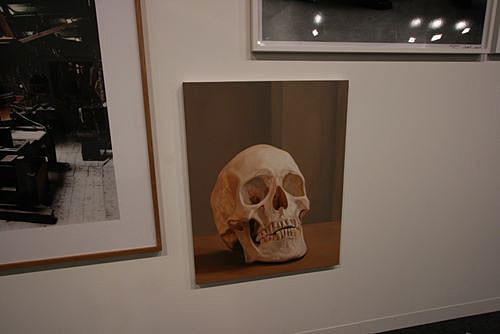 God I am sick of the skulls. Hirst finished it people, so let it go already.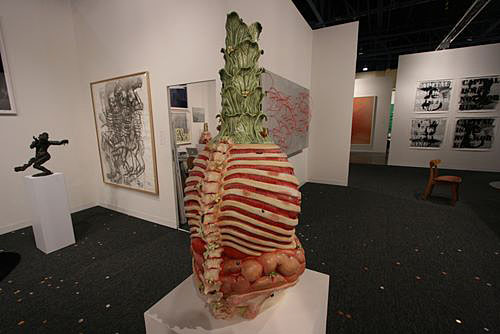 Zhang Haijun's ceramic torso/plant sculpture at OMR was another big winner. Replete with ceramic flies. Anyone with a fat pocketbook and an ill-advised desire to get into my good graces can get me this for x-mas.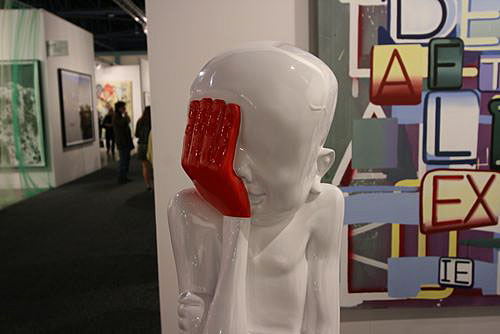 One more ceramic happy at OMR: Liu Bolin's three "red hand" sculptures. I feel obliged to mention that these have tiny penises.
Awesome "smashed car" at Campaña.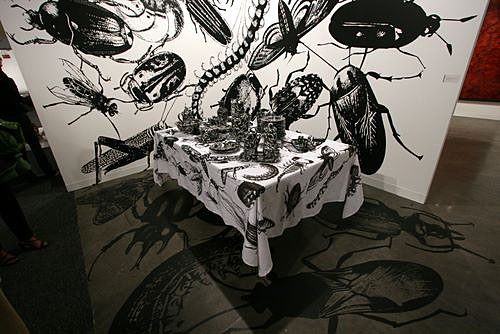 I think we can declare the winner of Art Basel 2008: Regina Silveira's installation with glazed porcelain, embroidered linen, plus wall and floor decals, all bug-themed (Galeria Brito Cimino).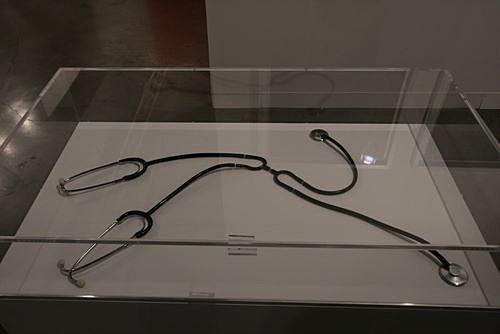 João Onofre's connected stethoscopes. If you're like me, you are touched.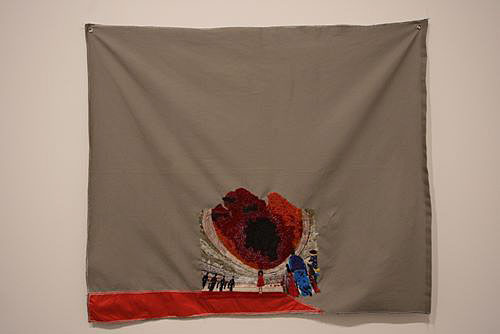 Embroidery by Isa Melsheimer. This was a standout in the otherwise ho-hum "Supernova." Part of Basel.
More tomorrow!