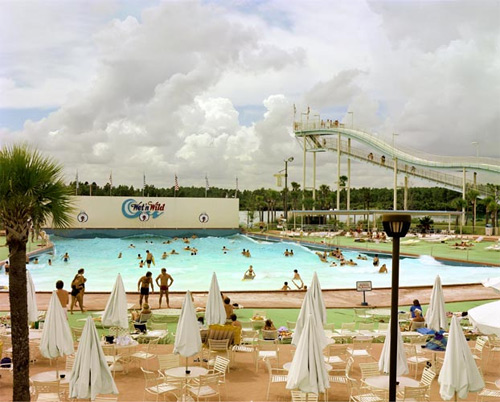 I was talking to my friend Christiaan Lopez-Miro the other day, and he pointed me in the direction of a couple of his favorite photographers: Joel Sternfeld and Alec Soth. In looking at these photos I'm struck at how alien the very notion of photoshop becomes. "Straight photography," as a branch of art, is all about the delicate tension between two seemingly incompatible motivations: the desire to show something inherently interesting, and the desire to create an image — through a shift in perspective, the posing of people, etc. In other words, a subject is photographed in such a way that it is simultaneously transformed and not transformed at all.
This delicate tension requires that the viewer implicitly trust the authenticity of the image before them. While photo manipulation has a long history and we are all well-advised to view any photo with a certain amount of skepticism, for straight photography it is imperative that we believe. To question such images, to begin to look for digital seams and other evidence of tampering, is to immediately weaken them. This is why many photographers who do choose to tamper with their photos, digitally or otherwise, do so in a way that is fairly easy to spot (see for example Joel-Peter Witkin's The Raft of George W. Bush). It's why artists who use photoshop in a way that is not immediately obvious, such as Andreas Gurskey, occasionally cause such a stir. And it's why certain bodies of work, such as Denis Darzacq's falling series, are accompanied by not-so-subtle whispers of "its not photoshopped."
Photo manipulation is of course a much more pressing problem in news photography then in art. But photojournalists have extremely clear guidelines about what is permissible. (Or do they?) But in art, ostensibly anything goes if the results are compelling. Photos that required extremes of effort and endurance sit alongside simple digital tricks.
Yet straight photography has its own aura. Manipulated images can be powerful, but they are either obvious or they are susceptible to debunking. And as manipulated photos become more and more ubiquitous and shameless, one craves the integrity of the unmanipulated image, shot on film and printed optically.