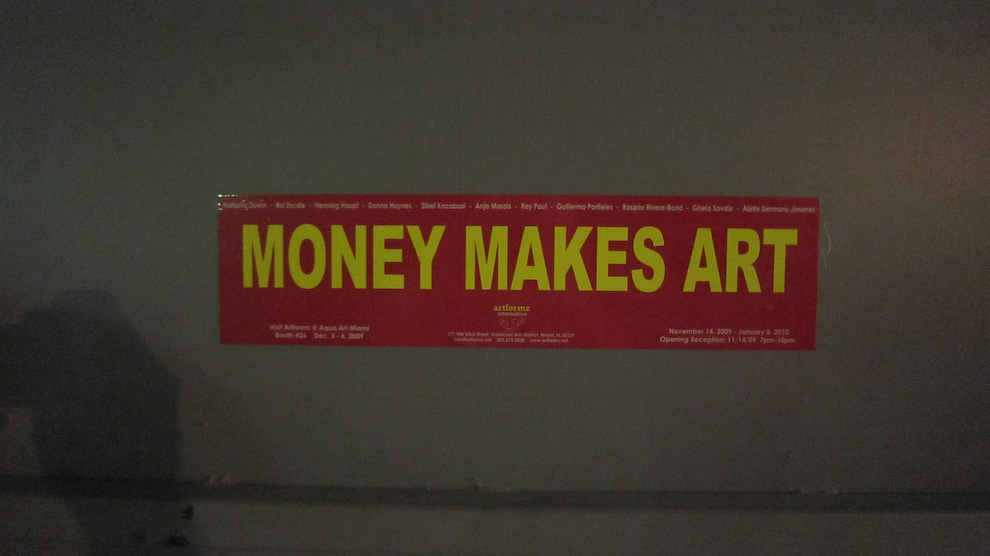 October is supposed to be the beginning of the Official Art Season, and while September gallery exhibitions may be impressive in their own way, October is when we begin to expect to see the up-to-ArtBasel-leading A-game. And, unless you're double-scoop, capital-S Serious about your Art, you were happy this month.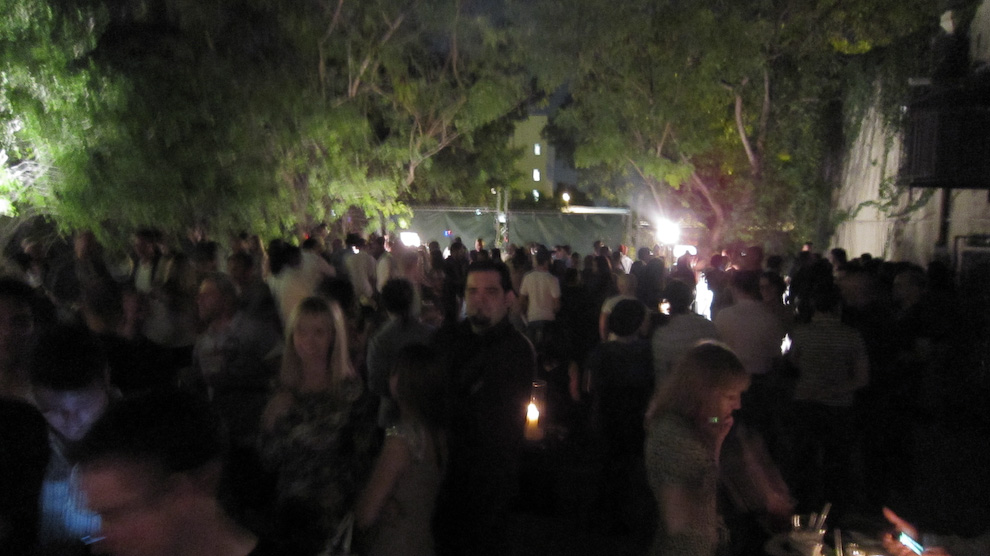 But since I'm lowercase-s about art, let me first tell you about the Castillo backyard party. You get to it by walking through a door that says "Exhibition Continues This Way," which it sometimes does, but not this month, as the "Annex" was closed. Instead you got four bars, each serving two different Specific Cocktails prepared by a particular purveyor of Fine Libations that no doubt in-kind donated said Booze in hopes of being name-checked on blogs not unlike this one. (I'm going to talk about art soon, so bear with me?) There was a particular rum beverage that involved cucumber slices and jalapeno peppers which was subtle yet remarkable. My point, such as it is, is that from this particular vantage the Art Walk begins to look like a block party that David throws once a month that the other gallaries just piggyback on. Sheesh — four bars, and the line for each is like 10 minutes long! We've got art to look at?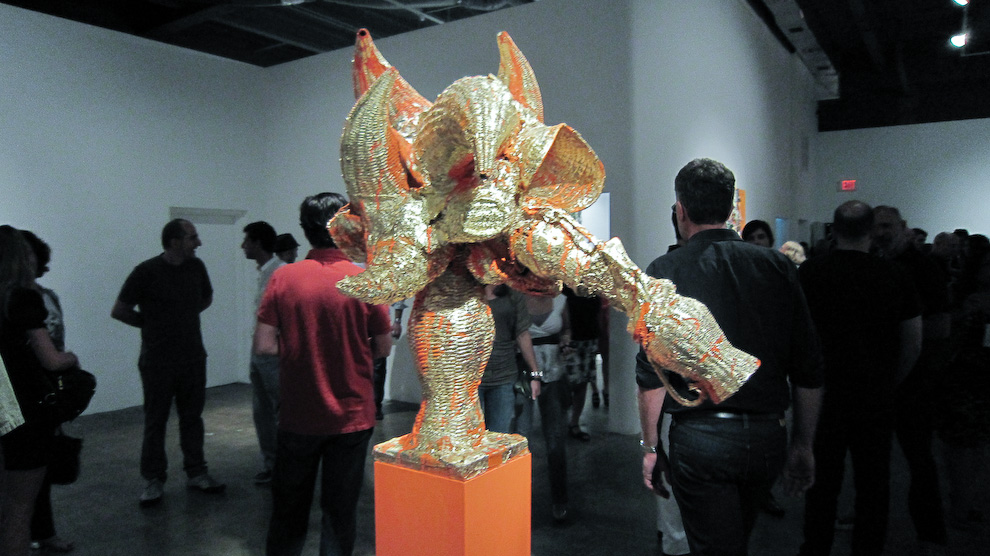 Castillo Gallery's backyard parties would be no more than a joke if the art inside did not hold its own, but with infrequent exception it does. In fact!: Art and Parties are but two of many thins that Castillo has done exactly right since opening a few years ago. I've been a fan of Pepe Mar since he had a whimsical "studio" at Art Center on Lincoln Road years ago, and this particular solo show is only slightly less brilliant than the best work he's ever done. It's mostly divided between Louise-Nevelsonish gold-painted basket assemblages and web-like contraptions made out of toys and rope.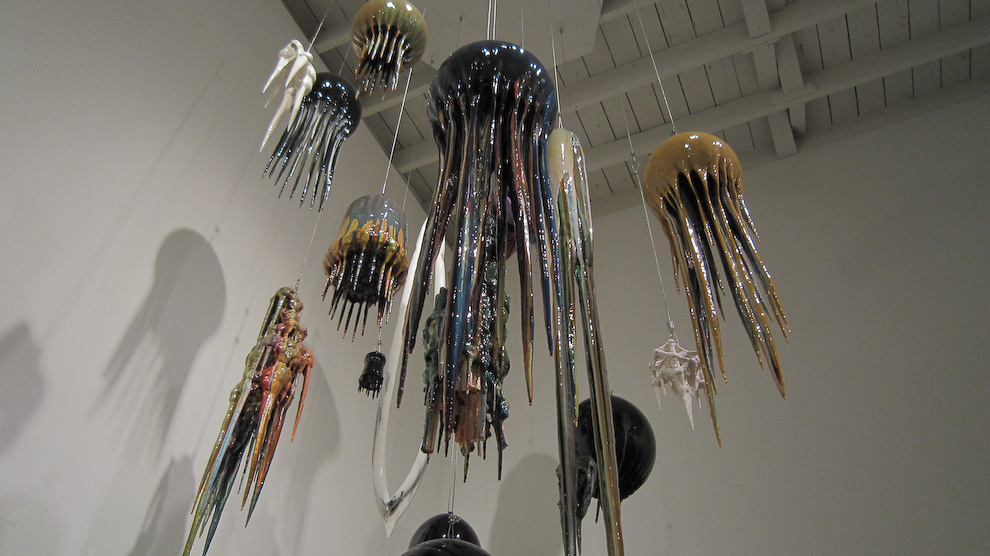 Fuck!, the Gavin Perry show at Snitzer? I guess you guys mostly saw it last month, but I was blown the fuck away. There was a wild crazy ceiling-hanging sculpture by the door, which gave way to galleries filled with . . .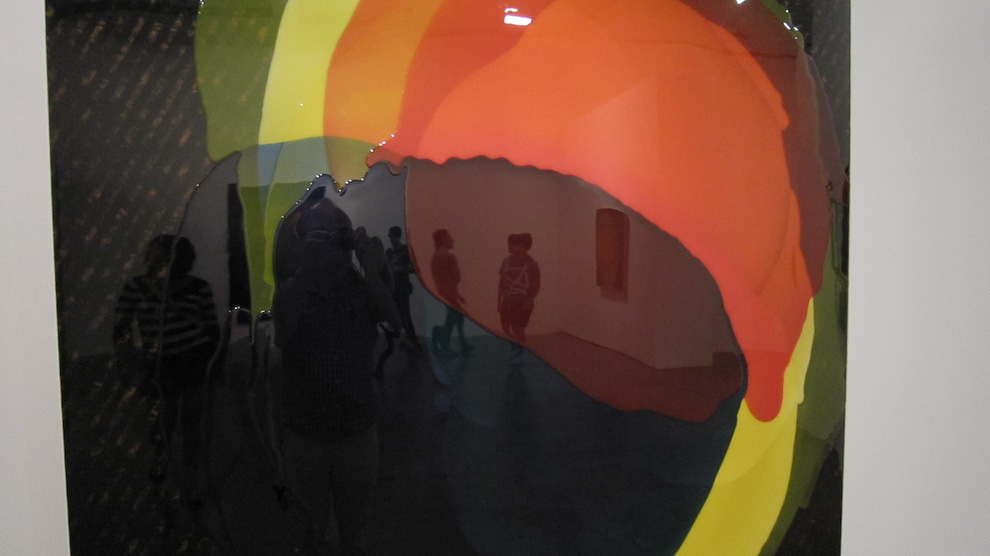 . . . incredible wall-hanging drip paintings/sculptures. Strictly speaking they're Helen Frankenthaler via custom car paint technique, but in person they're pure left-brain Joy. I'm somewhat familliar with Gavin's techniques, but here he's created work that is completely indifferent to understanding and completely impervious to indifference. These pieces ("paintings", I guess) are I'm pretty sure impossible to not love. The free-standing monolith sculptures were maybe slightly less so, yet each was charged with its own mysterious chromatic powers.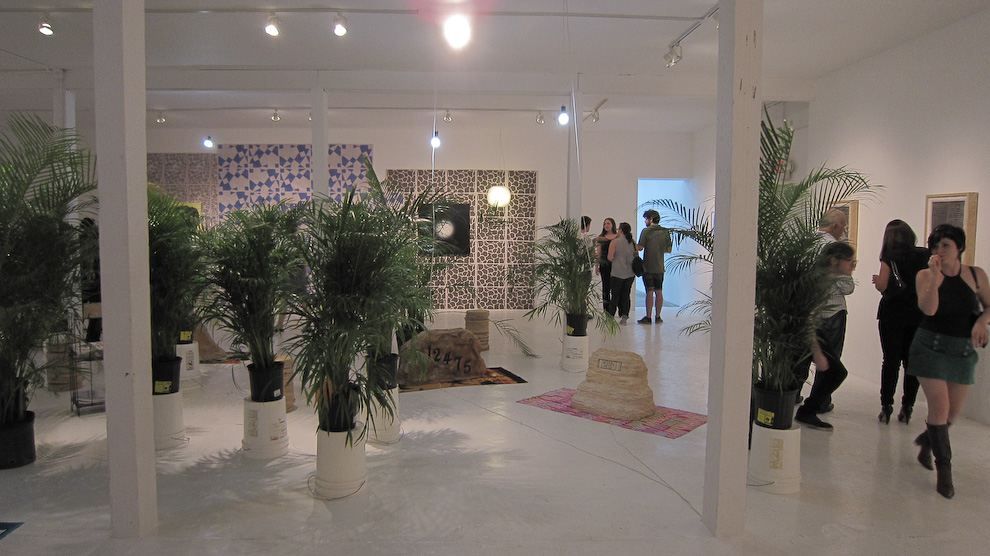 Over at (the Newly Remodeled!) Gallery Diet, an impressive installation by Gene Moreno.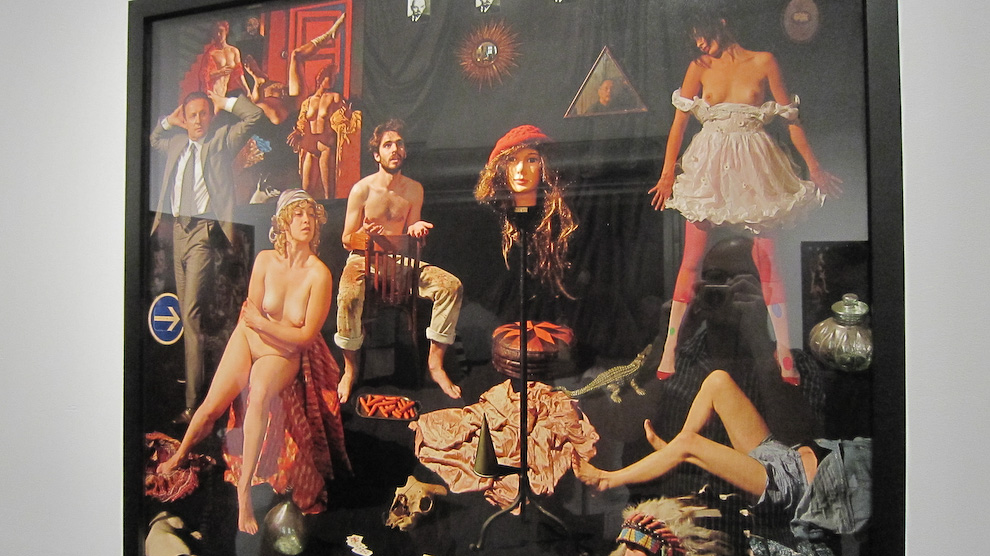 Ok, can we talk about bad art for a minute? I always try to stop in to new places on my gallery hops, in search of new Stuff? And sometimes it's a refreshing surprise? But not tonight, when we meet the Anton Solomoukha show at Black Square Gallery, a series of high-pretention, upscale-presentation photoshop images. If I were making fun I'd show you a series of 'em, because each was Bad in its own special way. As it stands, you'll have to infer from this one.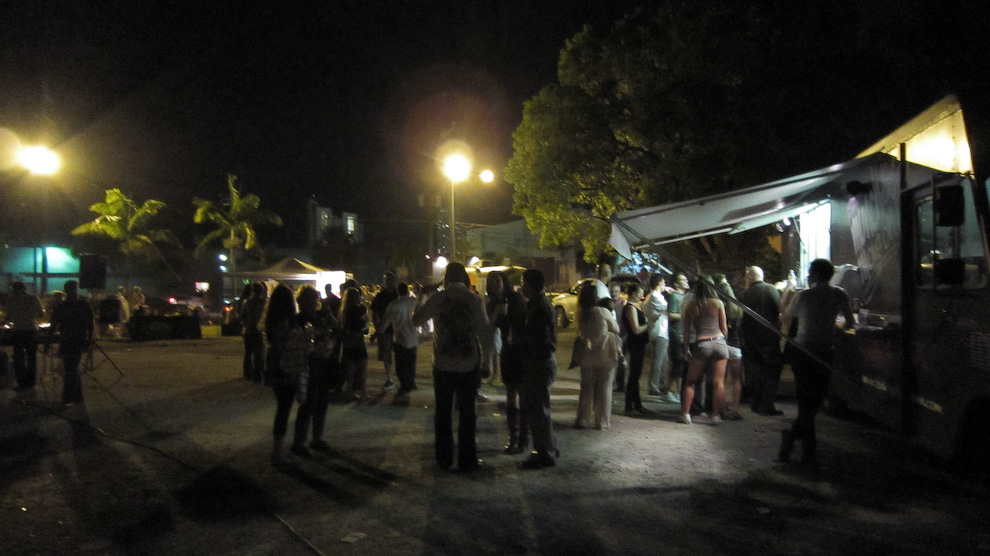 Next to Castillo, an interesting development: a little nighttime mini-fair with vendors selling clothing, trinkets, and food.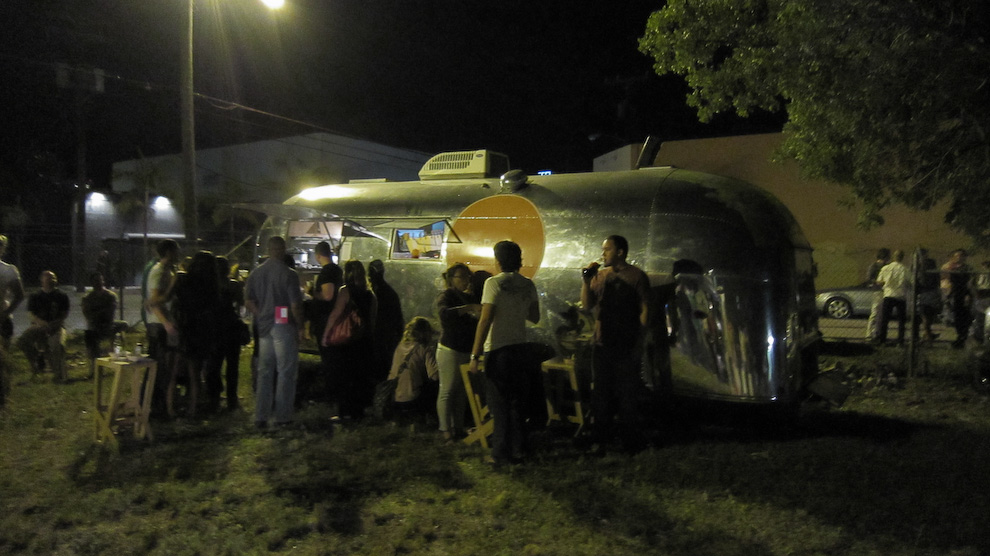 … and featuring the GastroPod.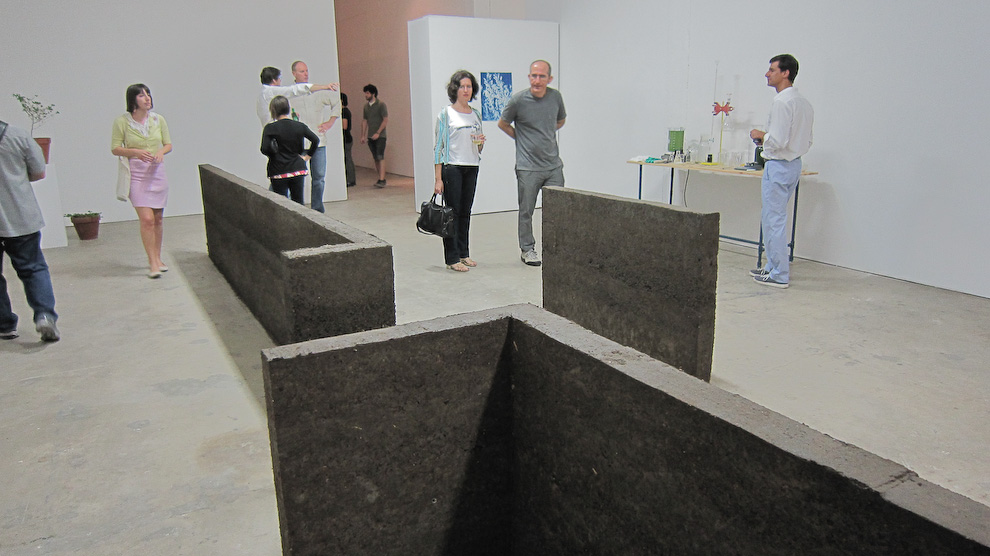 Brian O'Connell's rammed-earth walls at Dorsch, replicating walls that existed when the space was a lamp factory.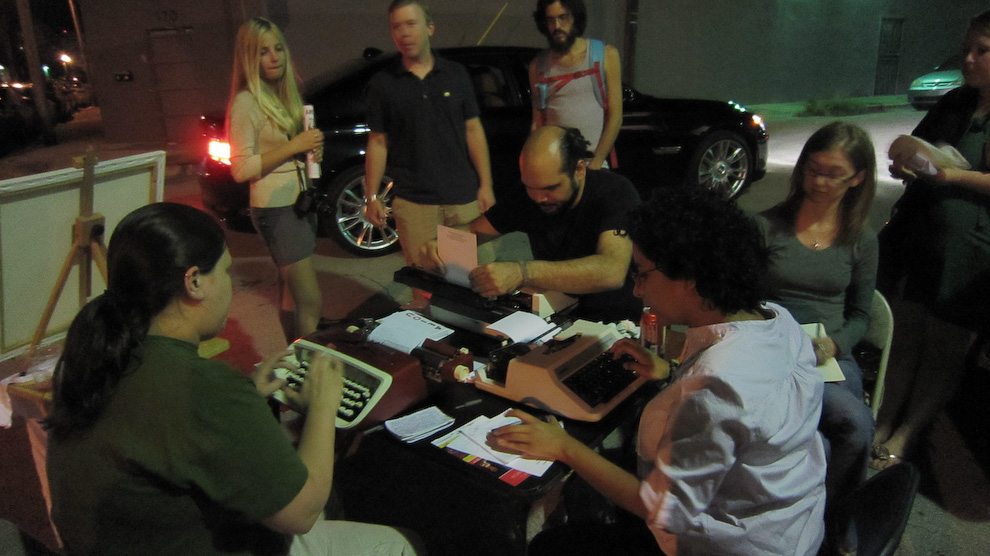 And as always, Miami Poetry Collective's Poem Depot — poems made to order on the spot — featuring Abel.