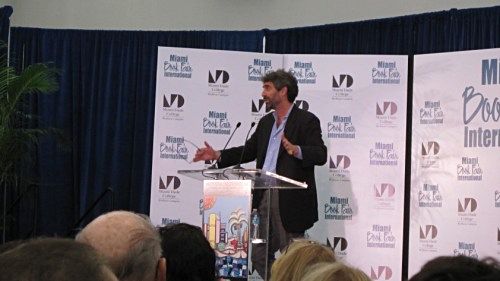 I went to see Eugene Robinson and Pat Conroy last night; both were really interesting, and as entertaining as John Waters in their own ways. (That's Mitchel Kaplan, owner of Books & Books the patron saint of the fair, introducing Conroy.) But onward and upward! Here's what's on my to-do list after a cursory look through the Fair's guide and website. You should still check out Hillary's guide for the full scoop. I'll be adding to this post a little bit throughout the day from the fair.
Friday, Nov. 19
8pm, Patti Smith: Hopefully you have your ticket already!
Saturday, Nov. 20
11:30 am, Dave Eggers: Talking about his book Zeitoun. Like he's ever not interesting. (Tickets required, but free. Hit the site now to get them. Room 3210.
2 pm, Write that Book Already!: I think this is part sort of a motivational thing, part guide to the publishing industry. I'm not aware of planning to write a book, but this might be fun? Room 3314.
3:45 pm, Storyteller Gerald Hausman: In the kids area! Folktales from Native Americans, the Caribbean, and and Old Florida.
4 pm, Climate and the Environment: "Experts exchange views, both terrifying and hopeful." I wonder if there will be any experts or pro-geoengineering folks on the panel. Room 7106
Sunday
11 am, How to Get Published Successfully: This sounds like the guide to the publishing industry. Also: "harnessing the power of social media." Room 3314.
Also at 11, Doxtors Without Borders – Writing on the Edge: Based on a book for which a bunch of writers and a photographer visited

DWB

sites around the world. Could be amazing! Room 7128.
12 pm, Haiti Noir: Murdes and mysteries set in post-earthquake Haiti. Moderated by Les Standiford. Presentation Pavilion A.
2:30 pm, Bits N Pieces Puppet Theatre, Hansel and Gretel: Four words: Nine foot tall puppets. Once Upon a Time Stage, kids area.
5 pm, Jonathan Franzen: On Freedom, and on being Franzen. Room 3201.