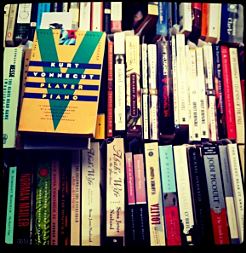 In the past I've questioned the point of going to a book fair, but of course there are lots of great things about the fair. Hopefully by now you've "scoured the program": and figured out which author events you're attending. Now it's time to hit the tents and look at some books. There are a couple of hundred exhibitors, and many have thousands of books, so you're going to be overwhelmed. Even if you're not planning on buying anything, bring a couple of sturdy tote bags, just in case. Here's a taxonomy of booths you're going to find, in ascending order of how useful I, personally, find them.
Sponsor booths: Bless the sponsors, for they make the book fair possible. Some of them are actually great organizations, too, such as

WLRN

and the Arsht Center. But you've got books to see and no time to chat. Walk on by.
Libros en español: Actually some of these are fun to look at. In particular the books in the Mexican pavilion are fun to browse for their interesting, European-style cover designs.
Spiritual/religious stuff: Lots of books are religious books, and lots of book stores are religious book stores. If that's your thing, have at it.
Single-book booths: These are mostly lunatics with a self-published title and to be avoided, however one guy with a guide to retiring into homelessness is completely entertaining and worth checking out (you'll see a chair made of pvc pipe and soda bottles).
Event booths: For example, the Key West Literary Seminar has a very nice booth with a carefully culled selection of food books (food books being the theme of their January 2011 get together).
Used books: Just be careful — it's very easy to buy more than you can comfortably carry for the rest of the day. Come back at the end of the day on Sunday when you're going straight home — odds are you'll be able to get a better deal then anyway. The better used book booths have their stuff meticulously organized into categories. I gout a copy of a book published by UM in 1970 about the effects of pollution on Biscayne Bay from Leedy's books for $10, but if you're in the market for Freakonomics, The Audacity of Hope, a Kurt Vonnegut novel, or something along those lines, you should be able to find them used for very nice prices.
Historical/collectors books: You book collectors know who you are. For the rest of us, these are lots of fun to browse (they sort of merge with the category above to some extent).
The Council of Literary Magazines and Presses: This one is worth seeking out — literary journals you haven't seen since that time you got lost in the library at college. But lots of the writers in these publications are the stars of tomorrow, and some are hardcore avant-gardists. Generally all these publications are exceptionally well edited, and they're beautiful as little mini-book objects. Many have art and photography in addition to poetry and short stories. When I stopped by, they were going 2 for $2 or 5 for $5(!), and i found it irresistable not to grab a bunch just on the basis of covers.
One last thing — DO stop by the Mexican pavilion to eat. They have awesome stuff, not the least of which are shockingly good mole pork enchiladas. Yum.