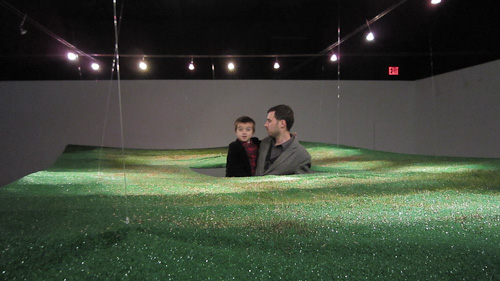 Jeroen Nelemans has made a career of working with living materials. He's created spectacular large-scale installations with barnacles, seaweed, and even mold. His installation Six Feet Above is currently on view at the gallery at Broward College. The piece is a large hanging rectangular grid composed of a combination of astroturf and real grass. A pedestal in the center allows the viewer to emerge above the surface of the grass, which cuts the space in half horizontally.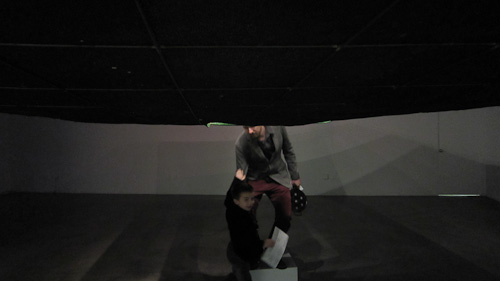 Though they're concerned with the transformation and recontextualization of natural phenomena, Nelemans' work is always about the experience of the spectator. These are not conceptual pieces, meant to be understood and known about, or earth works, meant to be experienced either as vast monuments or as ephemeral aerial photographs — they are carefully scaled to the human body, intended to be moved through and experienced. The presence of the viewer's body often completes the pieces.
The other part of Nelemans' practice is video work, and the Broward College show includes a loop of some of his time-manipulation works, including TheLOOP, which combines three different filmings of the same sequence of a run of a train on Chicago's elevated transit train line. Also on view is Live Feed-ing, in which a video monitor mimics a fish tank with goldfish in real time.
At the opening reception Nelemans gave a talk and showed several of his other pieces, explaining the connections between his video work relates to traditional Dutch landscape painting, and revealed some of the sophisticated techniques he's had to figure out to achieve certain effects. This piece, for instance, uses Adobe After-effects to combine 231 close-up shots of insects into a single grid:
I've known Jeroen Nelemans for many years, and it's interesting to see him staying with the impulses that motivated his earliest work while branching out into both more playful and more serious directions.