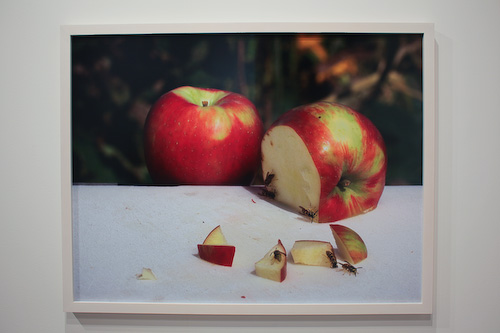 I think we're here back at Art Basel for another quick look. To be honest, you could do a lot worse next year than to get yourself a fair pass and spend four days straight inside the main fair instead of running around like a crazy person to see whether Aqua is better then Scope, etc. Whatever. At least you'd see more stuff like this gorgeous photo (artist unknown, but I can tell you that it's from Andrew Kreps' booth) and fewer crappy Canadian paintings.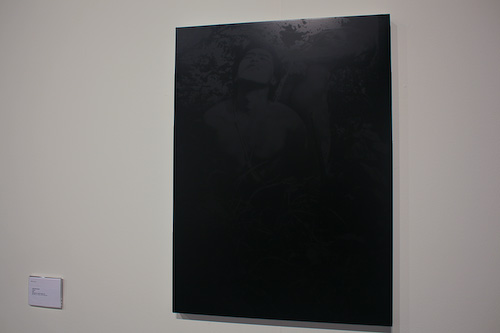 Also: Cerith Wyn Evans' painting(?) at White Cube, made by silk-screening gloss varnish onto solid black. (I think you could totally get away with stealing this idea, by the way.)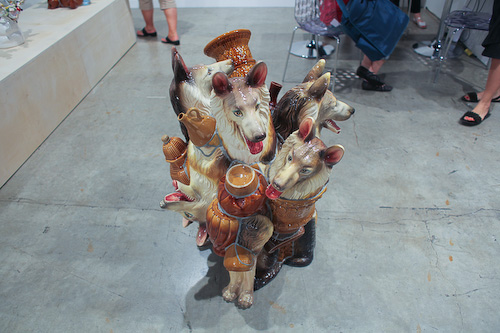 Galeria Laura Marsiaj, Rio de Janeiro. These seemed like a good idea at the time — break crappy "sculptures" from thrift stores, and assemble for color and theme, caulking all the way.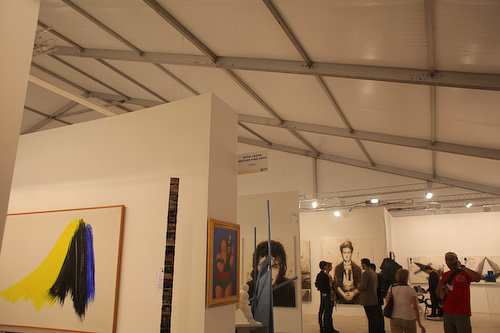 Art Miami was a clusterfuck of an extent that mere words would not have been enough to explain, so I took this photo, which I think does it due justice. Last year may have been Art Miami's one good year, and I guess it's my fault for expecting it to be decent again. I sure hope nobody listened to my advice to go there!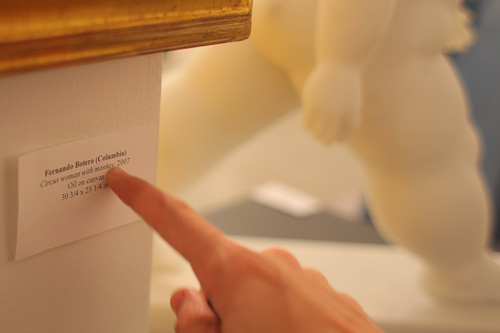 Nobody can force the Art Miami galleries to show good art, but do they not think that it would be a constructive use of their pre-fair time to double check the spelling of the countries that they feel they need to put on their crappy little tags?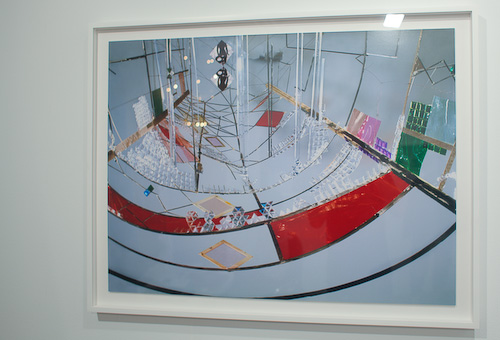 So, the cool thing about NADA was that even though it's in a hotel, the booths are not in the rooms — they're in like the ballrooms of the hotel, which are big and lavish in a mob-era-Miami-Beach way, plus there is a lobby that will knock your socks off. Anyway. This is a weird thing that Yamini Nayar made and photographed.
Another re-appropriation of found sculpture, this time stacked with glass and made-to-size glass pedestals. Photos are not doing this stuff justice. Francois Ghebaly.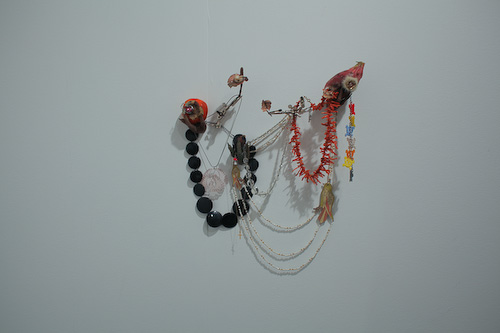 Jo Coupe's little assemblages. I think the photo is doing this particular thing plenty of justice, so you can dislike it if you please, but I think it's perfectly charming.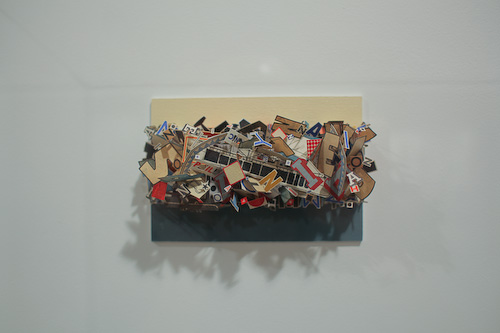 So is this little three dee collage at Man&Eve.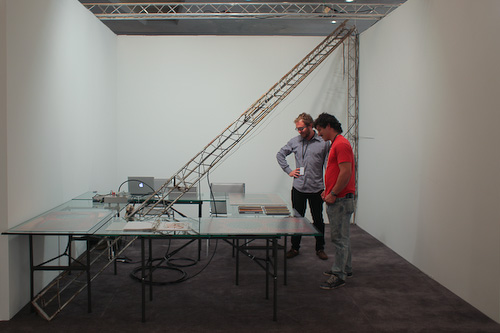 Tom Scicluna. Twenty Twenty. Hialeah. Nuff said.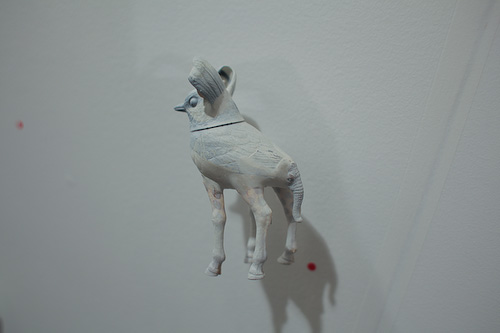 A big mostly-sold collection of painted metal sculptures at Johansson Projects. Mismatched animal parts done particularly well.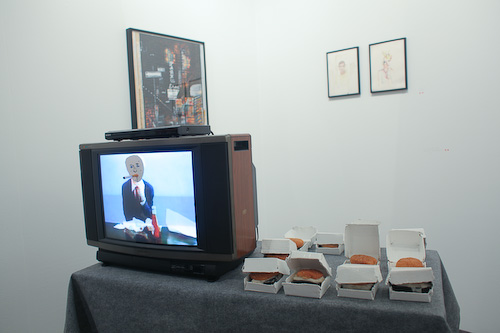 Yet another joke about the Andy Warhol hamburger video. It's over, people; move on.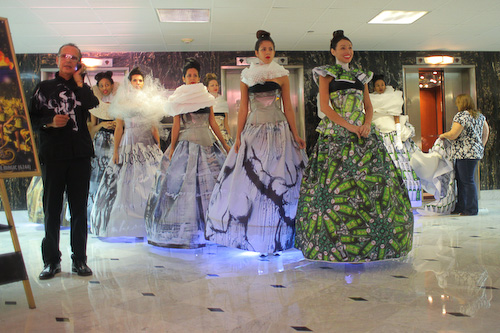 In an attempt to Ruin Everything™, Grolsch beer dressed up a good dozen women in dresses themed in their beer bottles and the US constitution (!!) and had them parade around, with glowing transparent platform boots.
Ahh, Wynwood…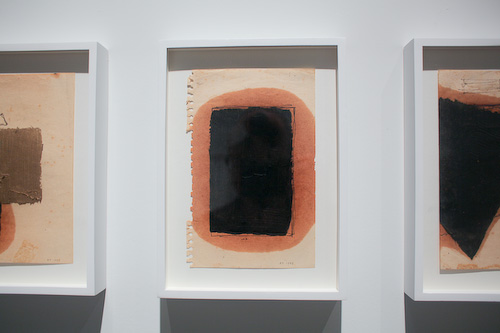 All I have is this one picture, but the Robert Thiele retrospective at Dorsch is something you need to see.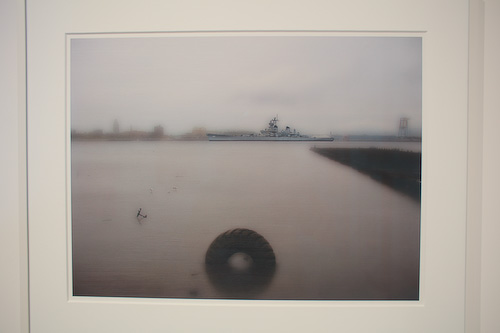 Aqua Art now, and this manipulated ("wax diffused"?!) photo by Edward McHugh.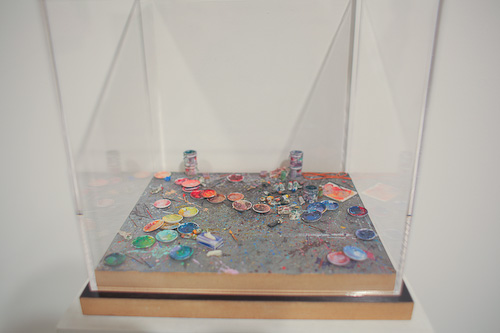 A teensy weensy diorama of a painter's studio. The lady at the booth of this artist talked to me about the work (art about artists, blah blah) and handed me a card with his name on it, so I didn't take a snap of his name or of the name of the gallery. Maybe I'll find the card eventually and come back and put the name here, but until then, that'll teach her. Joe Fig! Thanks, Franklin.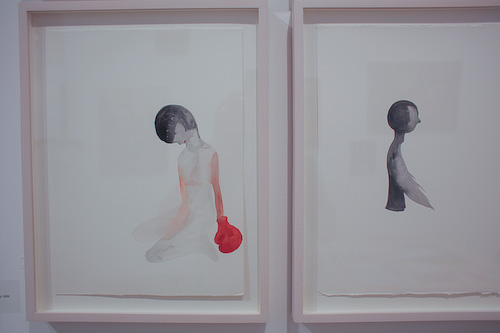 Love love love this series of watercolors by Julia Kuhl called Everything is Impossible. You should track one of them down and buy it for me. Maybe you could all pitch in or something.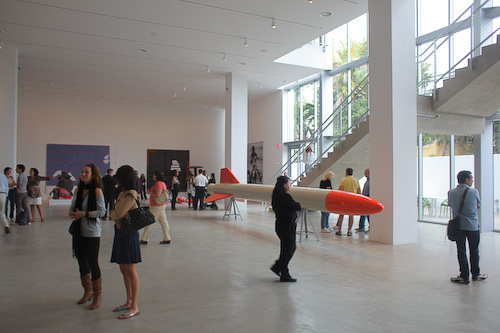 The De la Cruz space. It was like culture shock going from these Everything Fresh fairs to a collection created over decades. There's a fantastic group of Ana Mendieta work on the third floor.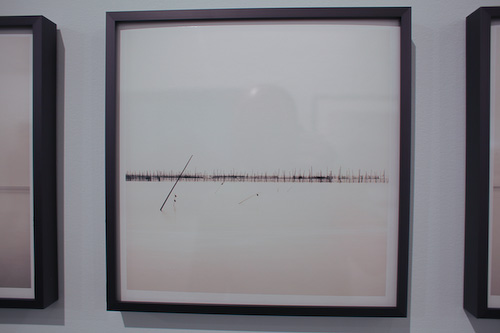 Photo Miami. I tried very hard to find things to like here, and Josef Hofiehner's photos from China came pretty close. Where Art Miami was terrible and huge, Photo Miami was terrible and small, and the propagation of Miami galleries suggests that it may be struggling, and may not come back next year, which would be just as well.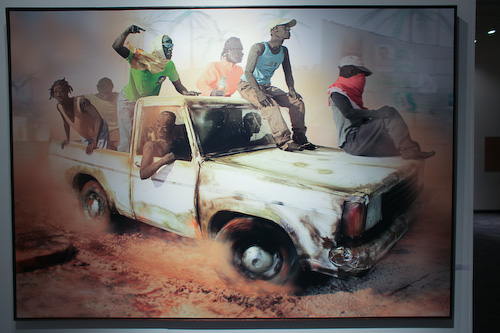 It was mostly bad-boring, but here's something bad-interesting for you. I sort of thing this is a photo of a (life size?) cardboard sculpture. And this is in the booth of a German gallery, so I'm pretty sure that whatever they were thinking, they just shouldn't have.