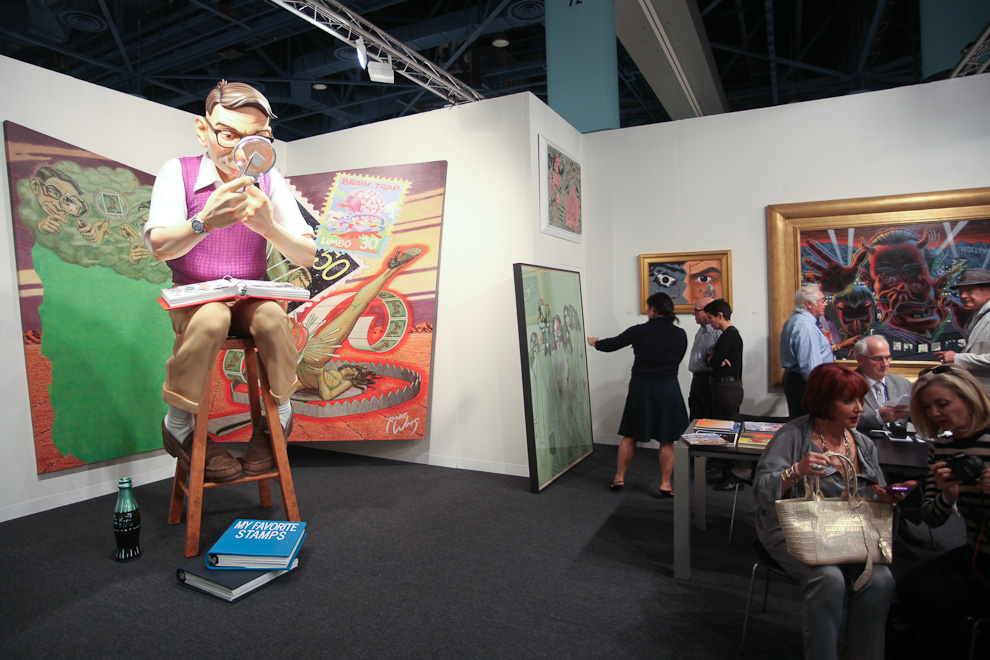 Hey folks, Art Basel's here! Time to break out your dark suits and pink sneakers, or whatever it is you do when you want to impress your fellow art people. I can't tell if it's me or the art, but I'm starting to get bugged by the over-prevalence of art that combines a few random elements in a faux-careless arrangement and calls it a day. Luckily as always there are lots of exceptions to every rule, and lots of delightful and profound things to be seen. Overall the fair's taken a more subdued turn from years past, but there are plenty of exceptions to that rule, too. For example see above: The Brain Trap, by Robert Williams at Tony Shafrazi's booth.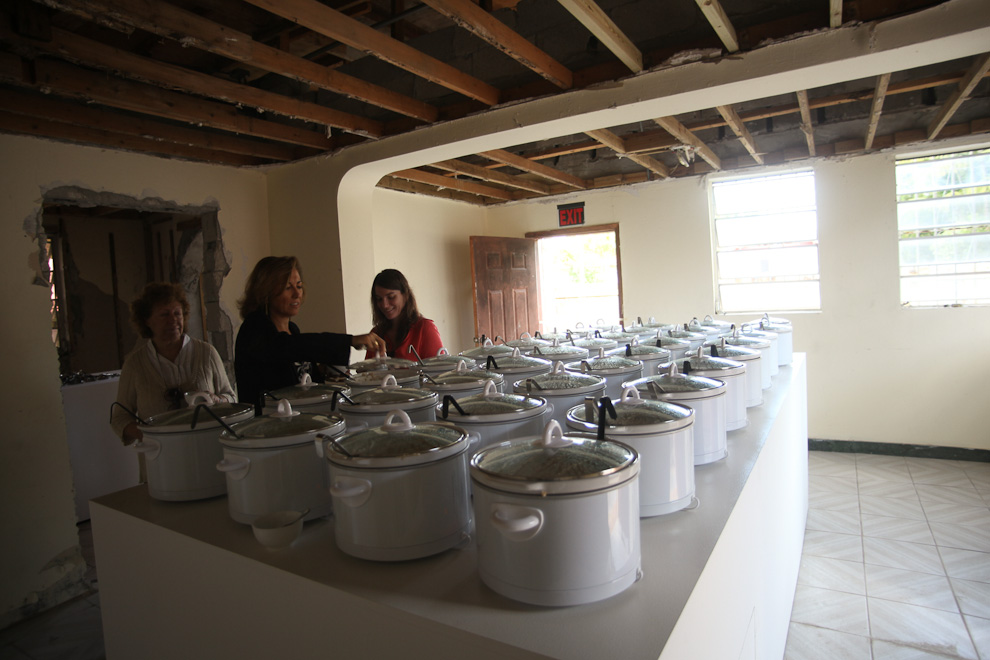 The day starts off at the Rubell Collection, where Jennifer Rubell created a breakfast installation for all comers. Breaking a person-sized hole in the wall behind the Rubell's fabulous collection space, she bought and gutted the house behind the property and installed a series of pedastals in conjoined rooms. On the first, hundreds of small ceramic bowls. On the next a mountain of spoons. And so followed crock-pots of porridge, packets of sugar, and boxes of raisins. Attendees emerged back onto her patio with the delicious little bowls.
Inside, of course, the contemporary art is unrelenting. But anyway, back to Basel.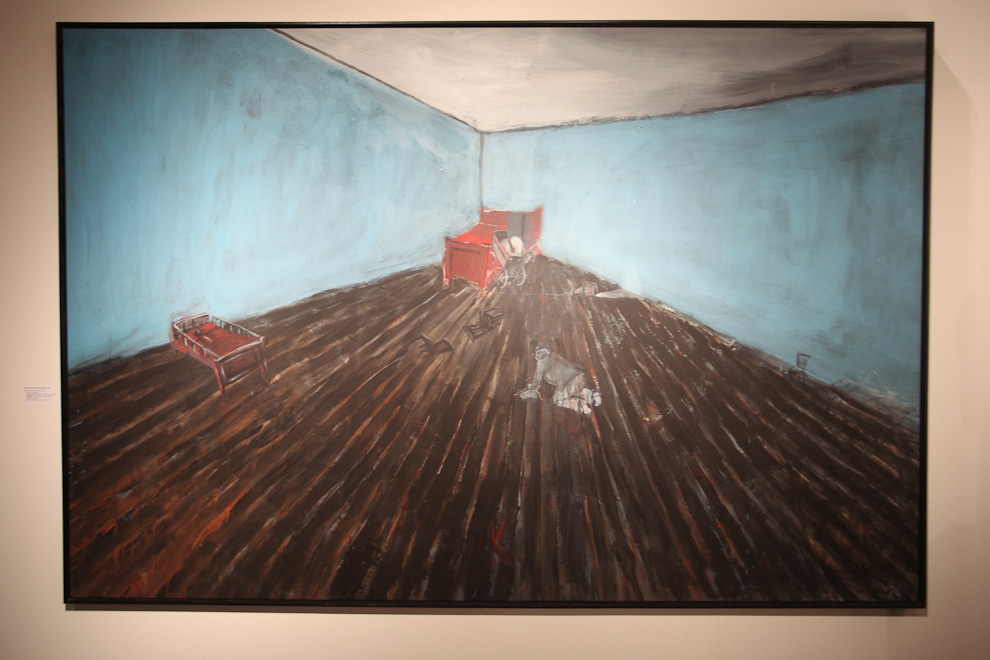 You want painting? So does everybody I think. It goes over your sofa and impresses your friends. Unfortunately, from wandering around Basel you'd think artists weren't making them anymore — all the paintings seemed to be old. Here's one from 1987, and it's by Guillermo Kuitca, at Mary-Anne Martin Fine Art.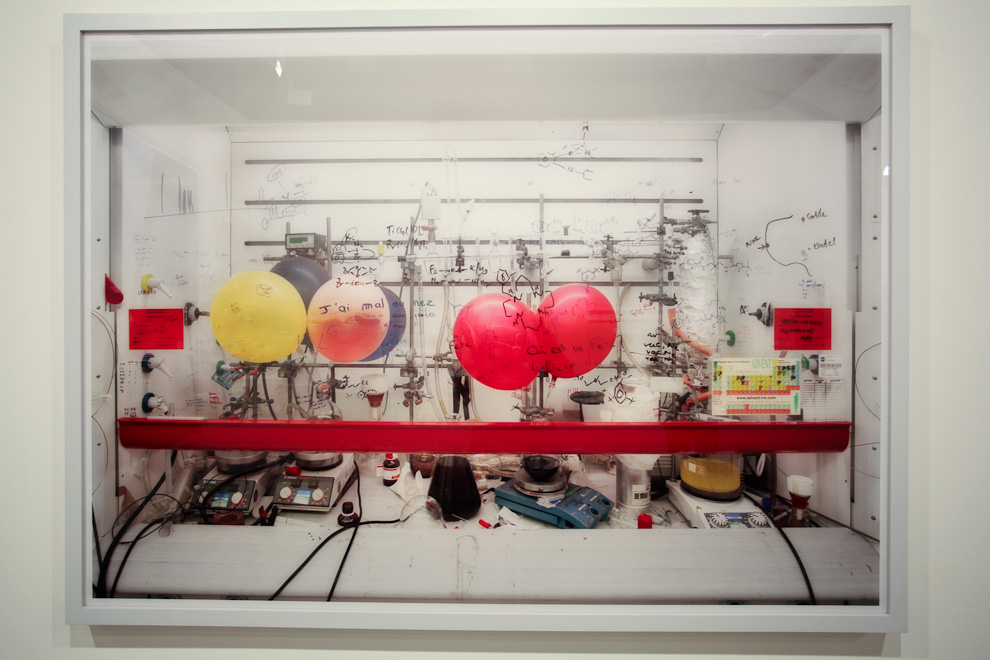 You want photography? There was a little more of that going on, but even then not much! This is a nice new piece by Thomas Struth (you should seek it out, because there's a spectacular boat photo next to it). There were also a number of Candida Höfer photos around, prominently displayed. (Don't talk to me about Thomas Ruff — he's put his talent on hold while he plays around in photoshop with pictures of naked girls he's downloaded from the internet.)
Some drawings by Sandra Vasquez de la Horra in one of the Art Kabinett mini-booths. I guess drawing is still cool, as there was plenty to be found, both in the anal/detailed genre and in the crude and rough mode. But let's move on to some of the more fun stuff, eh?
Nick Cave's Sound Suits at Jack Shainman were a hit. They're covered with buttons, and 100% wearable. And yes, that Nick Cave.
The great (and department-of-skills-y) lunar lander model by Tom Sachs at Sperone Westwater. Huzzah to the New York obsessives!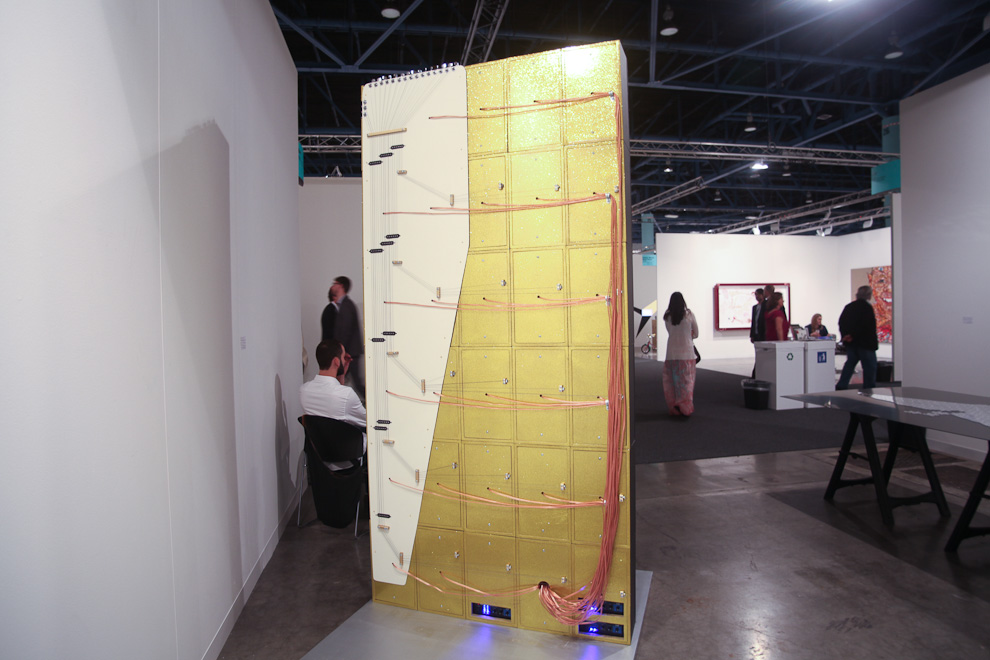 A 2001-monolith-looing stack of speakers and amps that turns out to be set up with piano wire and guiltar pickups on the back and playable. Naama Tsabar at Dvir Gallery.
Damien Hirst continues to find new ways to say "fuck it." Here's a detail of a huge gold(?) cabinet with rows and rows of emeralds. I would like for Kayne West to buy one of these for his bedroom.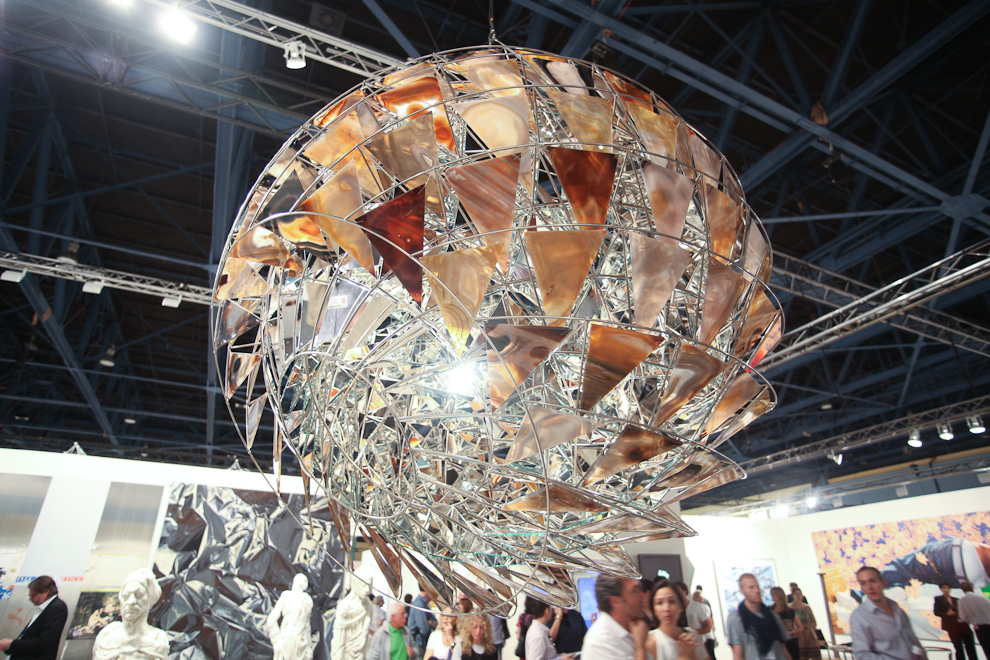 This amazing chandelier thing goes with Neuger-Riemschneider gallery, but I couldn't quite figure out the artist's name.
Here's the rest of the booth, with uncomfortable wax over rebar statues.
They're charging money to get in to Design Miami ($25!), when the only thing really worth seeing is the jungle room and maybe the space-age pod bed you can see at the New Times' slideshow.
The Video lounge was all but eliminated this year, replaced by a few pods in the middle of the fair. But less turns out to be more — the pods are very practical (with good noise-blocking headphones), and themed with very well curated work. Pick up the brochure before just sitting down.
Mmmm… skateboards. Mounir Fatmi, Lombard-Freid.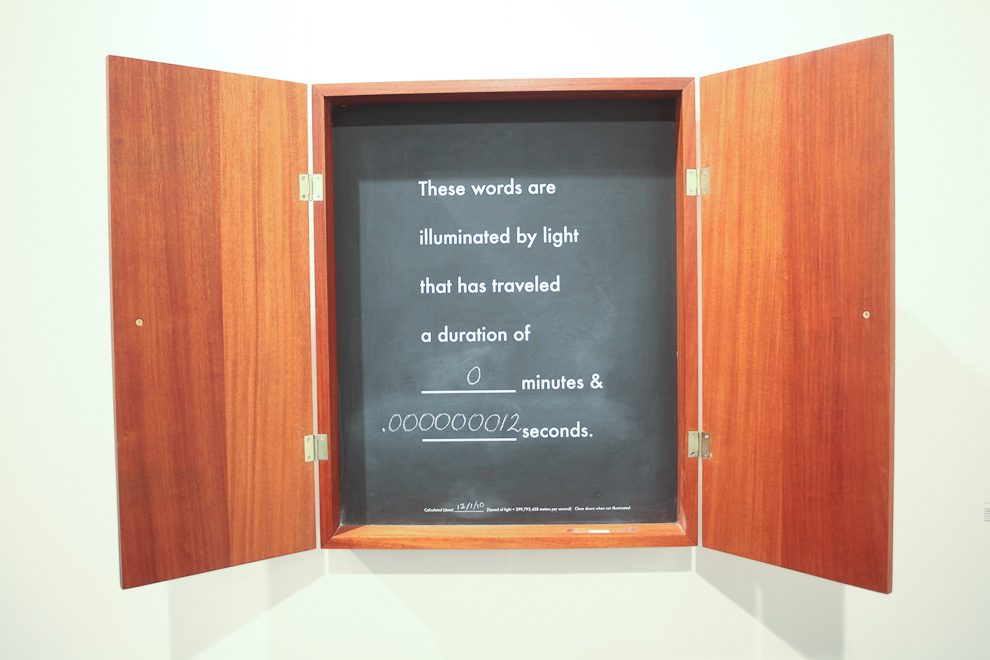 Old-school charming conceptualism, there you are! Matthew Buckingham's chalkboard indicates, "Close doors when not illuminated." Murray Guy.
OK, that's enough for now. I wanted to show you some nice ceramic vases that I saw (seriously!) but let's end with something bright… Ryan McGinness' work at Michael Kohn, which I JUST NOW noticed indicate "Acrylic on canvas," (they looked for all the world like digital images in person), so maybe rethink the thing about painting being dead?