Search results: #artbasel2009
Updated 10:58 am, 12/02/09.

"NO" / "Feel Good" respectively from the Convention Center parking lot and the Oceanfront installation.
I've shaved off the links to articles and information from the main list, which continues to be updated. Newer entries here will be added to the top.
Posted: Tuesday December 1, 2009 by Alesh Houdek · Permalink · Comment [3]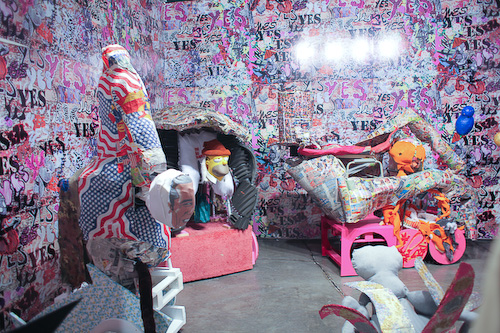 Fuentes, D18. The mood was of course more subdued then at past Basels on Wednesday, but not by too much! Still, there was much less pranky stuff like this then in years past. "You go to school to learn not for a fashion show," and you go to Basel I guess to shop for art that you want to live with, not to see a carnival freakshow. But to say that nothing was over the top would be a tragic misrepresentation. Let's see…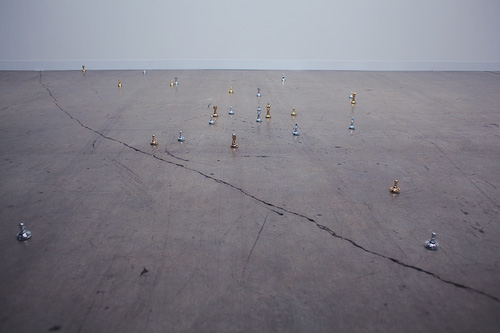 Haye, H19. Nothing says "I have $35,000 to blow on a Basel booth rental and the rep to score one, but it ain't no thang" like some gold and silver plated chess pieces scattered around, with only an incognito guard for staff.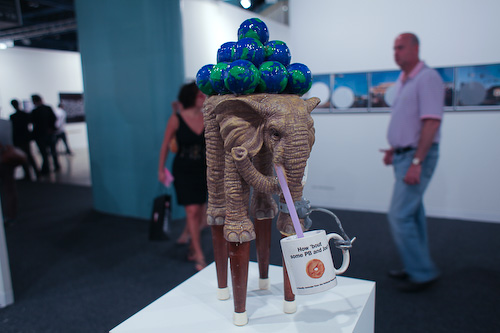 This elephant's cup says, "How 'bout some PB and Joe? / A friendly reminder from the National Peanut Board." Serious contender for best-of in the sculpture category.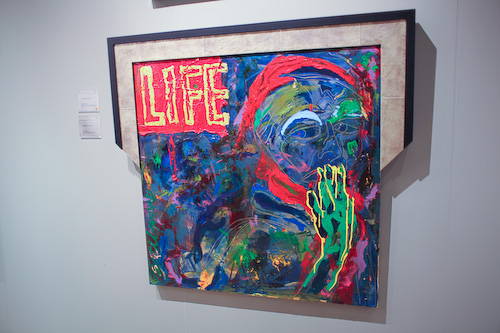 Yes-That-Sylvester-Stalone's horrible self-portrait from a Life cover was one of the few things with a red dot.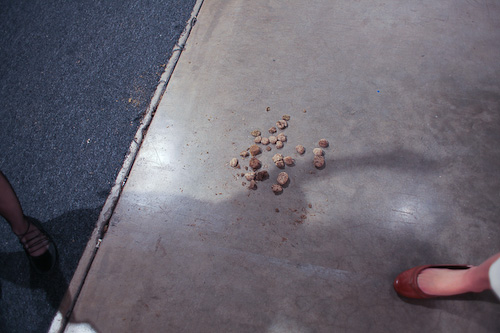 The "is that art or have you just not gotten a chance to tidy up yet?" category is alive and well, represented here by some actual animal poop.
Some quarters modified to contain blades. If we can't use art to make suggestions to terrorists, then the terrorists have already won.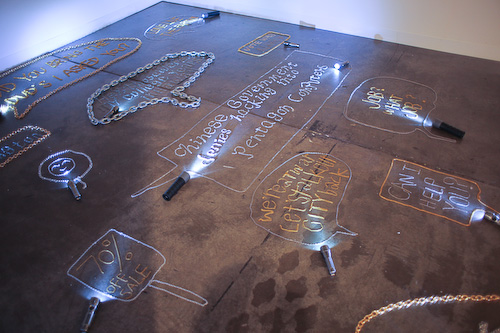 Beautiful but ephemeral. MadeIn's Metal Language 1 at ShanghaiART.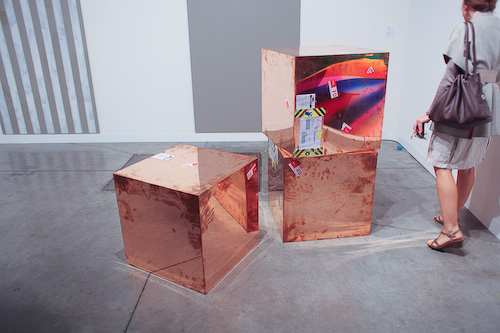 Art that got shipped is always a hit. Here are some copper boxes that show fingerprints, smudges, scrapes, and FedEx tracking labels. Walead Beshty.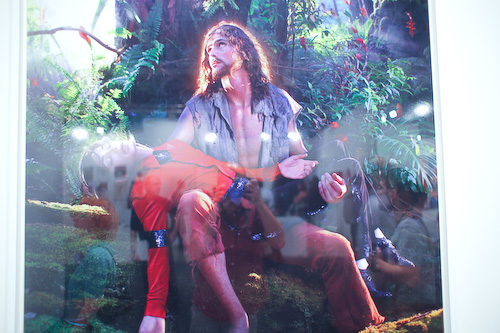 Anyone who made anything even vaguely Michael Jackson-related got their piece into Basel. The best of the bunch were Dave LaChapelle three (photoshopped?) images. Here, the MJ Pieta.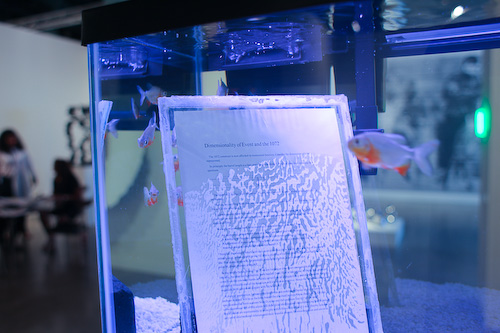 I loved these goldfish swimming around some impenetrable legal-looking documents. Titled "They are learning fast," John Latham, Lisson Gallery.
These Lorna Simpson photos were more poignant than spectacles, but don't miss them.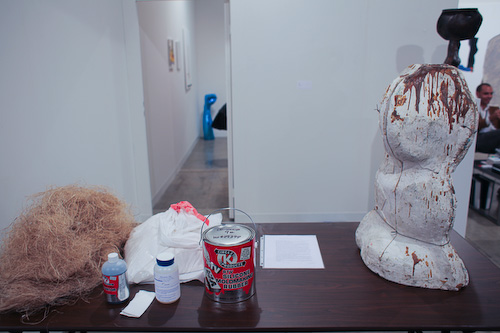 This piece comes with instructions. At least it has the decency to be titled "WTF."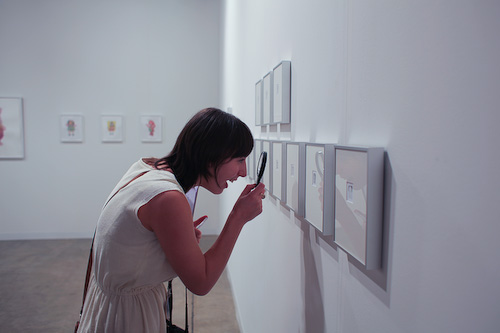 If you choose to include a little shelf and some magnifying glasses next to your little newspaper cutouts, be sure that they really reward a close look.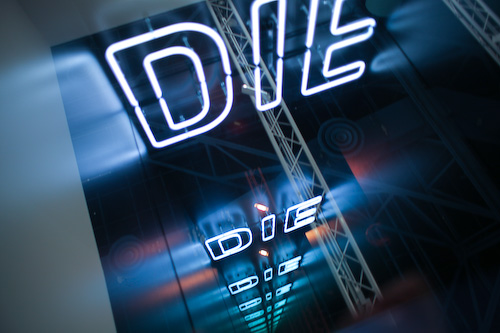 A giant wooden box that tells you to DIE over and over, into infinity. Ivan Navarro. Edition of three, so you probably still have a chance.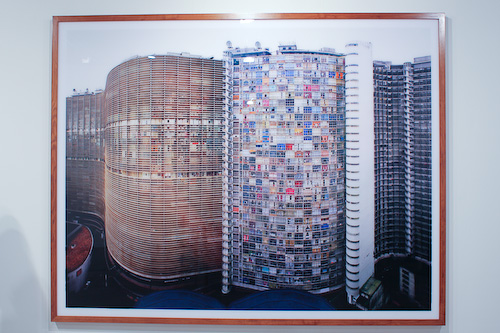 You get two primo Gurskys this year, and here's one.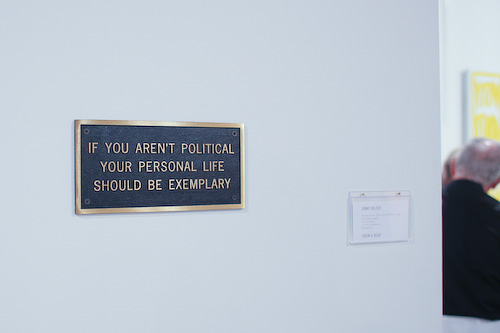 Probably my favorite Jenny Holzer piece of all time.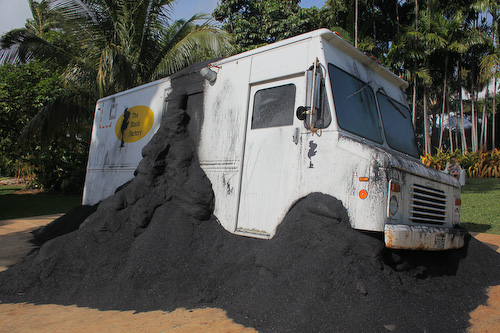 William Pope L's "The Black Factory" at the Botanic Gardens.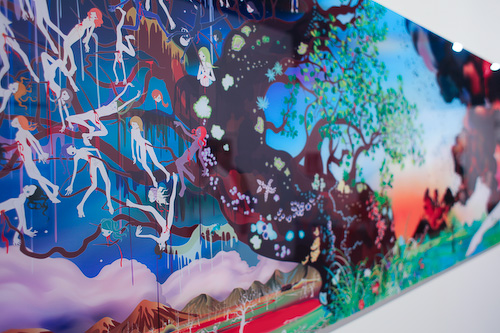 Probably my favorite thing so far was this Chiho Aoshima digital drawing at Perrotin.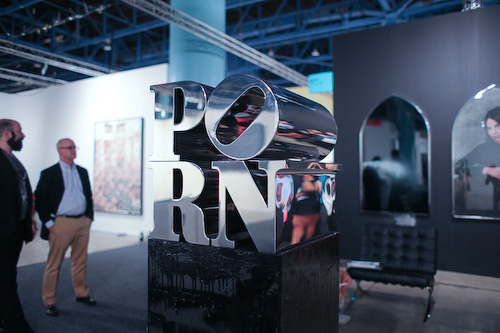 It turns out that the Robert Indiana "LOVE" game is way too easy to play, and this year everyone got in on it. Here's my winner.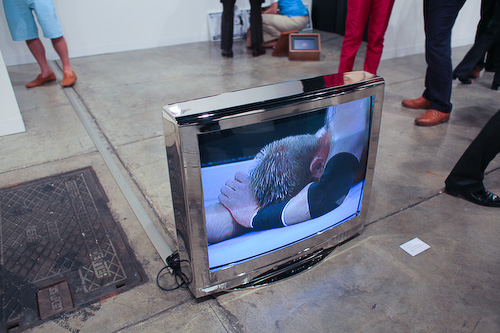 This whole time you could have chromed an old TV and set it to play nothing but wrestling match footage. Paul Pfeiffer.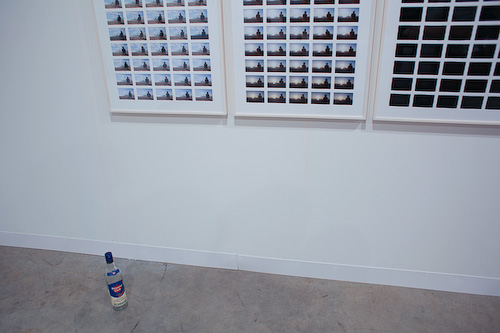 Empty bottle of 90 proof Cuban rum, and time lapse of the artist consuming it over 24 hours. Once again proving that anyone can have a good idea, but it's only if you execute it elegantly that victory shall be yours.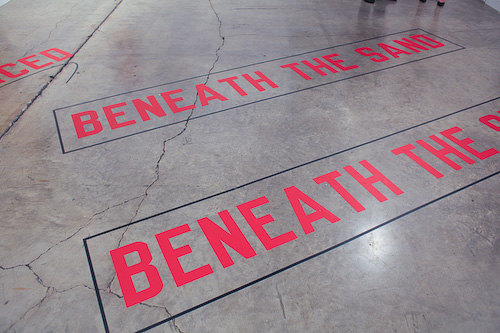 Lawrence Weiner's "PLACED BENEATH THE SAND BENEATH THE SEA" got me. Regen Projects.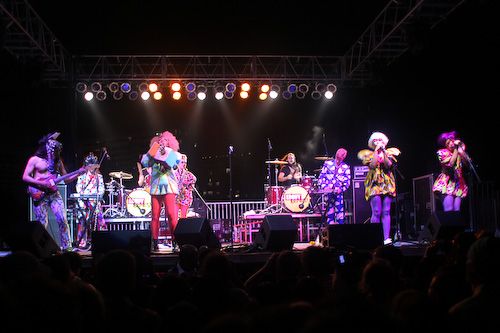 And last but sure as hell not least, Ebony Bones, easily the best performer ever at Art Loves Music (but I missed Peaches), who galvanized the crowd by getting them to move the left. Awesome (but she needs a ballad to break up the set a little). More Later!!
Posted: Thursday December 3, 2009 by Alesh Houdek · Permalink · Comment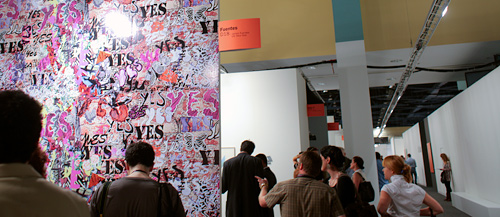 This is for folks who are in Miami this weekend but don't really know from art. You've heard of Art Basel, and thought about maybe checking it out, but you're really not sure what exactly it is, and it all sounds very expensive and intimidating and complicated, right? There are like 20 different fairs, and a million different events, traffic is crazy, and there are sneering art people and punk kids everywhere. Also, who understands art today?
But the fact is that you should go. You don't know anything about biology, either, but if the best zoo in the world came to town, you'd check it out. Same situation. Don't worry, in a minute I'm going to teach you to look at art. But first, the question is what to do, and the answer will depend on your budget. If you're broke, you can go to NADA, check out some of the stuff at Oceanfront (pdf), and maybe hit up a couple of the smaller fairs. The de la Cruz Collection will be in town after this weekend, but it's free for Basel, so I guess that's an option. If you have a little money to spend, you could try to do some of that, and spend a few hours at Pulse. It's the best non-Basel fair I've seen so far this year, and there are interesting performances, and lots of little areas and things to discover. But if you can swing it at all, by far the best value is the $35 admission to the Art Basel fair at the convention center.
You can easily spend an entire day at Basel and not come close to seeing everything. The contemporary weirdness there is a notch above what you'll see anywhere else, and there are plenty of Big Name artists thrown in. And it's more fun to walk around in than the other fairs; because of the layout, you'll almost immediately get lost, and walking through the same areas always reveals things you missed before. (This is not an easy effect to achieve — every other fair seems like rows of boring stall-shaped booths in comparison.) Pick a day, go early, and plan to spend all day. Bring the kids! (There's arty childcare onsite if bad comes to worst.) Dress up (serious or zany — your choice!), prepare yourself to fight some crowds, park in the garage (or better yet, spring the $20 for valet parking), sneak in a camera (they check bags, but you can figure it out), and make a day of it. Take a break and wander over to Collins or Lincoln Rd for lunch. Grab an Oceanfront program and wander over there if something interesting-sounding is happening (there are also talks at the Art Salon, right inside the fair). Pick up a Showguide (a free fat brochure they hand out at the counters by the entrance) and see if you can figure out what the different color-coded booth signs mean (most of the booths have white signs, but there are also yellow, teal, and orangeish ones).
How to look at art
Ok, so what the hell is this stuff, do they really consider this art, and do people really pay thousands of dollars for it? The first thing to understand is that there's nothing necessarily to "get." If something has an explanation and a reason for existing, it's a tool, not a piece of art. That said, we can come to understand something about any given thing, and I suggest the following strategies when confronted with something that looks pointless, impenetrable, and maybe stupid:
First, really look at it. Almost everything here rewards close inspection, even if does not seem so at first glance, and very little about what you're seeing is arbitrary. Pick up on as many details as you can.
Imagine it in your living room. Imagine living with it there for a year. Now imagine it in an empty room. How does it transform a space?
Think about a collector who would pay lots of money for it. (By the way, few galleries post prices, but you're allowed to ask.) Everything in Basel is there because someone thinks it has a good shot at selling, so imagine why someone would want to own this thing you're looking at.
Think about the artist that made it. They are, by at least one definition, successful at what they do. How and why did they make this particular thing in this particular way? Most artists have a somewhat cohesive body of work, so what sort of things might they have been making that brought them to international prominence? Remember that they are not trying to make an easily articulated "statement" with any given piece, but it should evoke a unique sensation and intangible realization. Go with that.
Think about the actual process that would have been required to create it. Lots of artists have outside help; how do they imagine the final product, and how might they have communicated that image? Is the piece meant to show how it was made, or is it all about the final physical object?
Think about the gallerist. Very few galleries at Basel specialize in only one genre or style, so the juxtapositions of works often seem haphazard. However, lots of thought actually goes into laying out the booths. Why is this particular combination of things together? What is the aesthetic common thread between all these pieces. (Hint: this is not the point on which you want to spend the least amount to time.) Feel free to ask questions — keep it open-ended. Most of the people working the booths have something they can say about any piece, and a simple, "what's the story here?" will get it out of them. Sometimes there's an interesting tidbit that will really help.
Good luck! Here are some links:
Google Maps link to the location of the Convention Center
Art Basel website
Yelp search for nearby restaurants
List of fairs and other things going on
Posted: Friday December 4, 2009 by Alesh Houdek · Permalink · Comment [3]
Updated 5:57 pm, 12/01/09.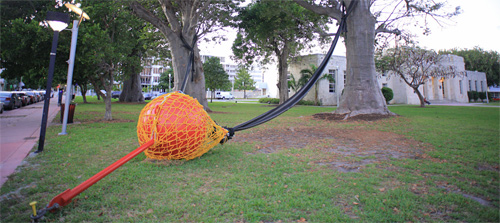 Preparations are under way all over town for the Main Event, starting more or less this Wednesday morning. Tents have sprouted over the generous undeveloped portions of Midtown Miami for many of the larger satellite fairs, art delivery trucks are fighting for unloading spaces at the hotels housing the less fortunate fairs, and the din of hammering and unwrapping is emanating from the Convention Center. It's that time of the year where the New York Times runs stories about Miami that neither mock or pity. It's the time of the year where the average IQ of the tourist arriving at MIA spikes unexpectedly, and when the cool kids from all over the world wish they were here. It's Art Basel Miami Beach, y'all, and the weather this year (give or take a stormy Thursday) looks to be cooperating.
But for now we wait, not unlike Robert Chambers' giant slingshot (pointed at the Bass art museum). Today brings the list below, which will to be updated throughout the week. A few more tidbits and links tomorrow. Wednesday comes a first look at the convention center, with stuff from the rest of the fairs daily probably into next week. Friday brings the perennial Art Basel guide for Normal People. Also follow me on twitter, as updates will be live and glorious. (Note: I'm indicating Miami galleries showing at each fair on an 'as I notice' basis — not comprehensive.)
Main fairs
Smaller fairs
Special projects, local endeavors, etc.
You can just assume that all these are free admission, and many will have an opening reception with free drinks. Quality tends to be very good, tho many are up for weeks after Basel.
Primary Flight (more info here ..): mural project featuring several notable local artists, and Shepard Fairey(!). Street art, plus a show at Art Center South Florida. Video.

FALLOUT

, 23 artists mostly from around the US, showing work in the actual fallout shelter of the old Burdines building (now Macy's) at 2 W. Flagler Street in downtown Miami.
Littlest Sister, "smallest art fair in town," Spinello Gallery. 50 artists, 8 booths, 1 store-front space. 155NE 38 St, #101, Miami.
"He Believes in a Beauty" — your pal Nick Cindric is back, and curating this oddly named exhibition. Includes work by Christina Pettersson, Gavin Perry, Carlos Betancourt, and Cristina Lei Rodriguez. So, worth checking out despite any web presnece. Buick Building, 3841 NE 2dn Ave, Miami.
Subtropics' Autonomous Sounds, sound art performance/installation, Thursday and Friday, 7 – 11 pm, 2100 Washington Avenue, Miami Beach (just northeast of the Convention Center).
Art | Baselita / Zones. Lots of local art, both fine and funky.
Dark Night of the Soul / It Ain't Fair, the former being the collection of photographs by David Lynch with accompanying music by Danger Mouse and Sparklehorse that you've heard of and the latter being, well, another show with a bunch of artists. At

OHWOW

, which is getting mad buzz, 3100 NW 7 Avenue Miami.


Events
Wednesday
Art Loves Music: Ebony Bones, free concert at "Oceanfront," 9 pm-ish. Free.
Thursday
Vivian Girls perform at Pulse at 7pm, with locals Little Beard playing at 6. Don't miss the whole list of art performances at Pulse, which sound impressive. (thanks, misael)
Friday
G. Love at Fountain, 7 pm, $5
Art Film: 'Jean-Michel Basquiat: The Radiant Child', at Oceanfront. This is apparently a rough unfinished cut of the documentary. Free.
Saturday
Posted: Monday November 30, 2009 by Alesh Houdek · Permalink · Comment [3]