You are viewing articles in the category: Miami
You should go look at my photos at The Atlantic first, but here are some more, and with snippier commentary.
Let me tell you: I am BURNED OUT on basel. Y'all saw the Lindemann article, right? He's been getting hate from all over, including Jerry Saltz and Saatchi. But I sort of agree with the guy. It's all too much. Anyway, read on.
Posted: Thursday December 8, 2011 by Alesh Houdek · Permalink · Comment [3]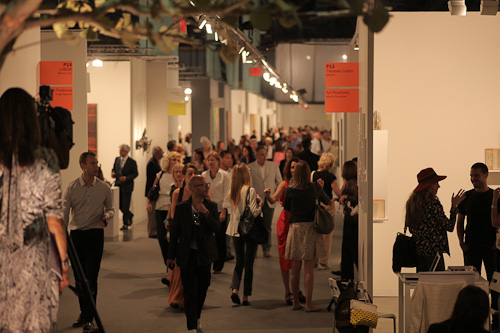 Art Basel opened with a whimper yesterday. After walking around the fair for over an hour I suddenly realized that I had seen no art of any particular outlandishness, it suddenly hit me—everything about the fair this year is subdued. The infrastructure of the fair, including the highly-stylized viewing pods in the vide lounge and the tote bags distributed with catalogs, were the same as last year, the first time in the fair's ten years. (The Oceanfront looked like its lowest-budget incarnation ever. NO Art loves Music performance.) The mood in the air was boisterous, but toned down several notches even from last year. And the art, by Art Basel standards, was downright conservative.
Heading out this morning to catch Gabriel Orozco at Art Conversations, then off to the satellite fairs.
Posted: Thursday December 1, 2011 by Alesh Houdek · Permalink · Comment [3]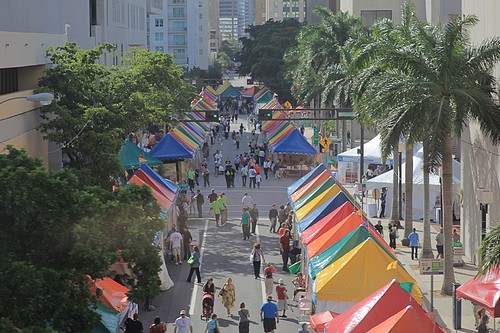 Chuck Palahniuk takes the stage in a well-tailored pink striped shirt and tan leather pants, the headline act of Saturday night at the Miami Book Fair International, and the crowd is in a Beatlemaniaesque frenzy. He quickly relates a story told to him by an oncologist he sat across the table from at a dinner party. The oncologist was on a long flight, seated next to a particularly chatty lady. She talked about this and that, and eventually got around to the subject of wine. She could no longer drink it, she said, because it caused a small burning pain in the base of her neck. "I tried beer, and it caused the same burning sensation," she told him. "I tried liquor, and still the burning. So I figured it was just the lord telling me I shouldn't drink anymore. But it's the wine I miss the most." "That's not the lord telling you anything," replied the doctor. "I'm an oncologist, and what you've got is stage-4 lymphoma. You'll be dead by the end of the summer." The lady was much less chatty for the rest of the flight. And when she got back home she went to see her own doctor, who called the oncologist and said, "You were right: it's cancer and she's got 90 days to live. But you could have been less of a dick about telling her."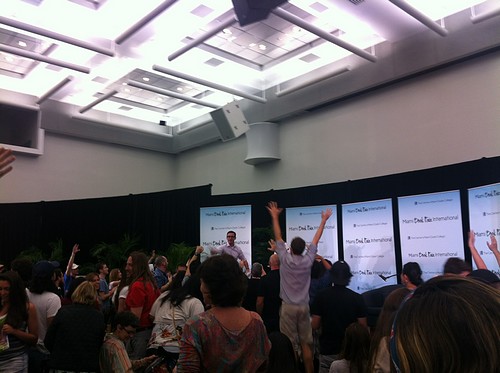 "And that," Palahniuk tell us, "is how every good story works. It changes us. Because now, every time you have a glass of wine, you'll be looking for that little pain in the base of your neck." Then he proceeds to throw dozens of large inflatable kidney-shaped brains into the audience, offering prizes to the few people who inflate theirs the fastest. In case you're like me and you've never heard of Palahniuk, he's written several novels that either have been or currently are being adapted into movies, including Fight Club. They're sometimes called "transgressive" novels, and indeed the movies leave out the most startling sections of the books. He goes on to read two stories. The first includes a scene of a woman on a bus who reaches into her jeans, pulls out a bloody tampon, and begins swinging it around at the people around her, hitting them in the head with it. Pretty gross, but nothing remotely approaching the second story — two thirds of the way through which there's a loud crashing sound in the back of the hall. It turns out to be somebody who fainted. This is actually not surprising — I was beginnint go get queesy and light-headed myself. The fainter is helped out of the room, and a few dozen others take advantage of the opportunity to escape, mostly from the reserved VIP seats at the front of the room, all replaced immediately by motley college-aged people from one of the standby lines outside. When the commotion dies down Palahniuk says, "at this point it's protocol to ask whether it's okay for me to keep reading," which is met with plenty of approving cheers. The story is Guts, and the phenomena of people passing out during its reading is apparently well documented.
Palahniuk has the headline Saturday night slot of the book fair, and he plays the rockstar role, but my favorite bit of the above — his opening story — is exactly like thousands of moments that happen over the course of the week. Most are smaller-scaled but no less profound for it.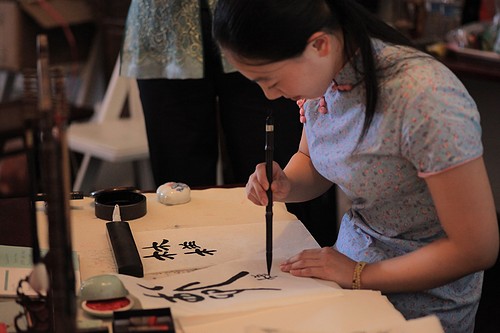 I should back up and say that in the past I've been a book fair skeptic. A fair about books is way closer to dancing about architecture than writing about music is, right? The process of selecting a book to read ought to be a slow and deliberate one, and having millions of books, plus crowds, is an anathema to the process, right? And the fact that the Miami Book Fair is the biggest in the nation, sprawling over six city blocks, several buildings of Miami Dade College, and a few ready-built tent pavilions, would seem to only make those matters worse. But this is my realization: It's about moments. You can be changed by much smaller ephipanies than that a pain at the base of the neck can signal impending demise.
Earlier in the day: "In the basement the bag of fresh-picked garlic dries out, infusing the room with the pure rush of half sweat, half sex, half earth. That's three halves, but anything pure consists of multitudes. Right, dude?" Jim Ray Daniels is reading from his entry in Tigertail's South Florida Annual, a slim little volume with 54 pieces each limited to 305 words. Tigertail is a legendary local performing arts organization that also dabbles in poetry, and this, their ninth annual publication, is the first to branch out to prose writing. Daniels is going on in great detail about his love of garlic and his teenage sons: "They wrinkle their noses up at me like garlic is the looser in the back of class that stinks and everybody makes fun of." And then he drops this one: "I'd trade all this garlic for a kind remark today."
I have no idea how that reads on a computer screen to you, but in the room, for me, it was pretty striking. Sometimes, you realize how much you appreciate something only at the moment when you find yourself willing to give it up in exchange for something else.
Did I mention "sprawling"? The grid for Saturday's events has nine time slots and twelve areas, and almost all the cells are filled with single-author or panel events. Sunday is a similar situation, and the preceding week has events every evening. There are something like 250 events.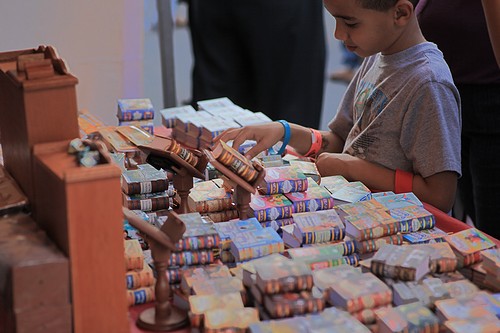 And there's the street fair: six city blocks around the university buildings that house the author events lined with tents of booksellers. One is dedicated to antiquarian booksellers. There's a row of author tents, mostly folks with self-published books they're promoting. There are tents dedicated to comic books, socially aware books, children's books, and all sorts of special interests. There are religious tents (last year I got a free Quran at one). There are several tents with the name "Los Libros Mas Pequeños del Mundo" which carry delightfully small spanish-language books on all subjects. Books & Books, Miami's famous independent bookstore, has a sprawling tent. McSweeny's has a tent with their exquisite books and book-like objects. And there are many many tents selling used books, each with a different level of quality, organization, and attention to pricing. (The best time to buy books is at the end of the day on Sunday. The vendors, facing the prospect of packing up their unsold books, are in the mood to make a deal. And you won't have to carry your haul around all day.)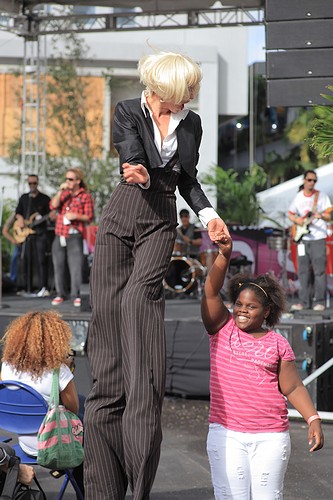 There's a big children's area with rides, story readings, face-painting, and the like. There are food tents like you'd find at any fair. There's a large stage set up at one end of the street fair with a revolving roster of bands playing all day. And there's the China pavilion with booksellers, calligraphy, and performances. (Every year the book fair focuses on one country and brings in vendors, authors, and performers) When I stopped by, there was a 10-piece ensemble playing traditional Chinese music, with an encore of Jingle Bells.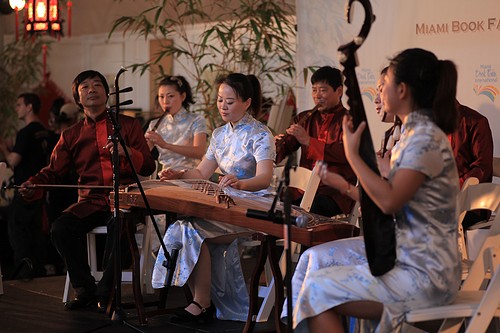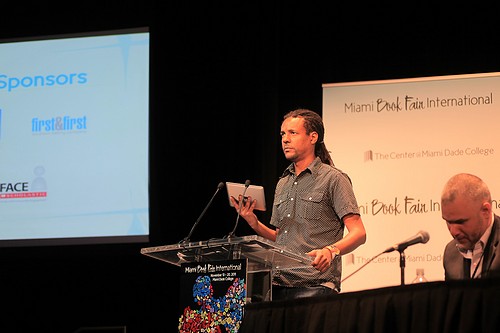 My favorite speaker is Colson Whitehead. A minor literary star who decided for reasons not made entirely clear to write a zombie novel, he appears on a panel with a couple of other highbrow genre novelists, except that as soon as he takes the podium to deliver his opening remarks he owns the room. African-American, Whitehead begins his remarks with the opening lines from The Jerk, and goes on to point out that while he's been publishing books regularly, he hasn't been invited to the Miami Book Fair since 2003. "I usually spend my Saturday afternoon at home, weeping over my regrets, so this is a welcome change," and he launches into the story of how he became a writer, in turns holding up his hands to show his "long delicate fingers and thin feminine wrists" to explain why he wasn't fit for a life of labor and playing the disco hit MacArthur Park from his iPad into the podium microphone. The song's lyrics would only make sense to him decades later when rejection slips for his first novel began to come in. (And yes, there is a line-by-line explanation of this, but it alas defeated my note-taking abilities.) He explains that his family watched a lot of TV when he was growing up, and that he saw A Clockwork Orange at age 10: "Mommy, what are they doing to that lady?" "It's a comment on society."
Just as funny if less charismatic is Andy Borowitz, who's at the fair on the pretense of having edited a book of the "50 funniest American writers" and uses the opportunity essentially to deliver a stand-up monologue about the Republican primary race. "If you watch cable news because you want to be better informed," he quips, "that's like going to the Olive Garden because you want to live in Italy." Much better political jokes come from the cartoon artist Mr. Fish, who's razor sharp barbs spare nobody (he received death threats for his criticism of President Obama early in his administration), but who is touchingly accommodating of the Occupy Wall Street's movement's lack of an expressed agenda: "It's like asking a group of starving people to agree on a menu before you'll listen to them."
I'm still not sure why the Miami Book Fair charges admission. The high-profile author events with limited seating, yes. But the street fair, a hundred or so tents of books large and small, famous and obscure, expensive and nearly free (or completely free, as in the case of a Quran I received last year) — why charge? In any case, it's been so for years, and it doesn't keep the visitors at bay. By noon the street fair is a throng, and the more popular author events fill Miami-Dade College's Chapman conference hall with long standby lines to spare.
Even with Michael Moore closing out the last day of the Book Fair, this year's line-up couldn't match 2010's star-studed roster, which included Jonathan Franzen, John Waters, and Patti Smith. But it turns out to be even more wonderful that way. The revelatory moments the book fair always brings are that much more special when they're unexpected.
Posted: Wednesday November 30, 2011 by Alesh Houdek · Permalink · Comment [4]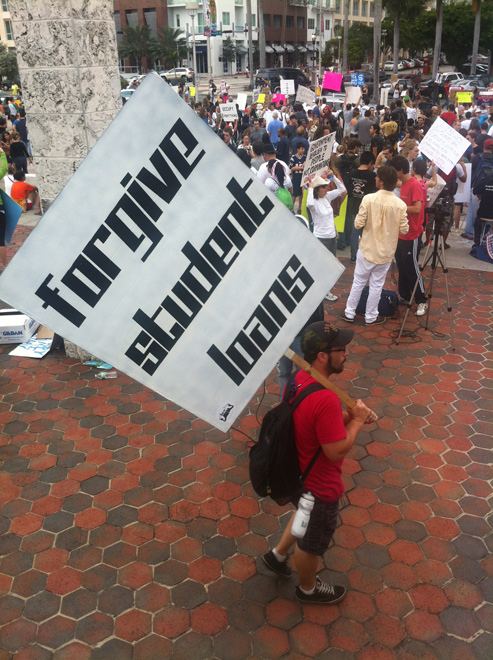 Click through for my photos and video of Saturday's Occupy Miami protests.
Posted: Tuesday October 18, 2011 by Alesh Houdek · Permalink · Comment [4]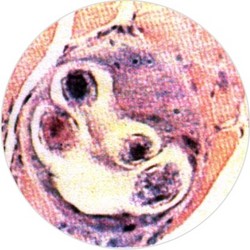 Optic Nerve is this Saturday: the MoCA's annual showcase of the best of video art, submitted from all over South Florida. It's one of the highlights of the Miami yearly art calendar — not to be missed. Except that I'm not going to be there. And neither are you.
Unless you've gotten your tickets way ahead of time, that is. When I went to the website on Wednesday to RSVP, I realized that all the tickets — both screenings — were sold out.
This is absurd. This event grows more popular every year; why doesn't MoCA add more shows? Why not do a friggin' week of Optic Nerve? Or, heck, a month of screenings, like they do for Pablo Cano?
Please don't tell me that I can go night-of and stand in a line to vie for one of a small number of day-of tickets. I'm not 21, and this is not an indie band that needs to be in Atlanta the next day for another gig.
Also do not tell me that it's some sort of deliberate scarcity thing, where MoCA is deliberately trying to make Optic Nerve cooler by making it hard to get into. MoCA's mission statement is to make the arts accessible to "diverse audiences," which ought to include casual art fans who do not plan their outings a week ahead of time. C'mon, MoCA — add some shows!
Update: Valerie Ricordi of MoCA says: "We will have an auxiliary viewing area set up so that folks who do not have tickets will still be able to see the films. … Also wanted you to know that the Optic Nerve videos will be on view in the MOCA Lobby next week and on Uvu website. Also the de la Cruz Collection will be screening them September 10-October 8." Good news!
Posted: Friday August 26, 2011 by Alesh Houdek · Permalink · Comment [1]
Thom Collins, the semi-new director of the Miami Art Museum, has a video blog, which he opens by apologizing for the crappy quality of: "I'm a rank amateur!" It's shot at the construction site of the new MAM building, and it's actually pretty good!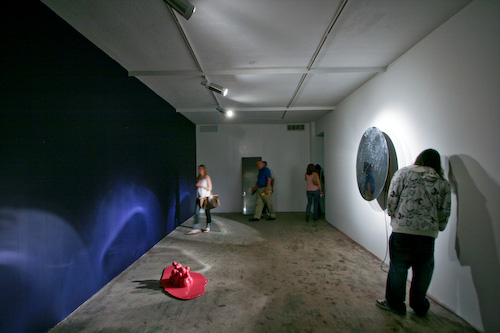 A few years ago I was on a panel of Miami arts writers at Locust Projects with Anne Tschida, Omar Sommereyns, and a few others (my qualifications seemed a bit sketchy, but it was certainly a good discussion). Probably the biggest takeaway from the (sizable!) audience was that they were clamoring for more local arts coverage and, in particular, criticism.
Since then, as other locally-oriented writing has flourished, art criticism remains stuck in a rut. The New Times continues to regularly run criticism by Carlos Suarez De Jesus. But the Miami Herald hasn't had a full-time art critic for years (I hear Elisa Turner has a blog somewhere on the Art Circuits site, but good luck finding it. South Florida Daily Blog lists four "Art Blogs," but they are mostly dedicated to listings and brief descriptive posts. The notable exception is Artlurker, which has been running surprisingly substantial art reviews by a number of writers since 2008. But Art Lurker has been averaging one or two posts per month, so not sure what's going on there.
Meanwhile, the art scene is flourishing — art schools are pumping out MFA and BFA art majors, artwalk is a huge monthly cultural event, and there are more galleries and private collections open to the public than ever. So what's happening? Where's the criticism?
I think the explanation is perfectly explained by a George Orwell quote I heard yesterday (on the Slate Culture podcast). Orwell apparently had written a scathing review of a book by Stephen Spender, only to meet him at a party and end up liking him quite a bit. Smitten with guilt, Orwell wrote the man a letter in which he said,
[W]hen you meet anyone in the flesh you realize immediately that he is a human being and not a sort of caricature embodying certain ideas. It is partly for this reason that I don't mix much in literary circles, because I know from experience that once I have met and spoken to anyone I shall never again be able to show any intellectual brutality towards him, even when I feel that I ought to[.]
Now look at the Miami arts community — exactly to the extent that someone is involved and interested to where they might be willing/able to write some criticism, they're hanging out with the artists and gallerists they'd need to be critical of from time to time. The scene is just not large enough that you can have a few dozen friends and another few dozen acquaintances and still have most of the scene left to impartially cover. I was talking to Misael about this, and he pretty well said as much about why he doesn't write criticism. (By the way, all this probably applies to other art scenes — I'm addressing Miami because that's what I know.)
Franklin Einspruch used to write some great criticism at ArtBlog.net. But Franklin was pretty well recognized as being in the camp of the Miami AbEx'ers, so his constant rear-guard action as all things PoMo was sort of taken in stride.
One solution of course is to write anonymously. Artlurker actually started out at least in part as anonymous. But in the long run it's not sustainable for most people. One of the payoffs that seems to be a necessary reward for consistent blogging is a level of name recognition and attention. Too, anonymous or pseudonymous criticism is inherently less credible.
I still think there's a role for a site of one or two consistent writers (hello, art/art history majors at UM, FIU, et al.) that pursues advertising more aggressively than Artlurker has. A financial reward would be a decent motivation to take a page from Orwell's book and stay away from associating closely with the folks in the art scene, the better to show it intellectual brutality when necessary.
Update: Leyden pointed out just as I was posting this: A new golden age for art criticism? at the Knight Arts blog. A promising title — but it doesn't offer any solutions! It just says we need a golden age of art criticism. Still, there's a way forward here: a few people interested in writing criticism start a site (maybe mix in some other sort of coverage), and apply for a Knight grant to jump-start them. Would make it much easier for them to attract advertisers with the Knight name behind them, and tide them over before the site is self-sustaining.
Posted: Wednesday August 17, 2011 by Alesh Houdek · Permalink · Comment [10]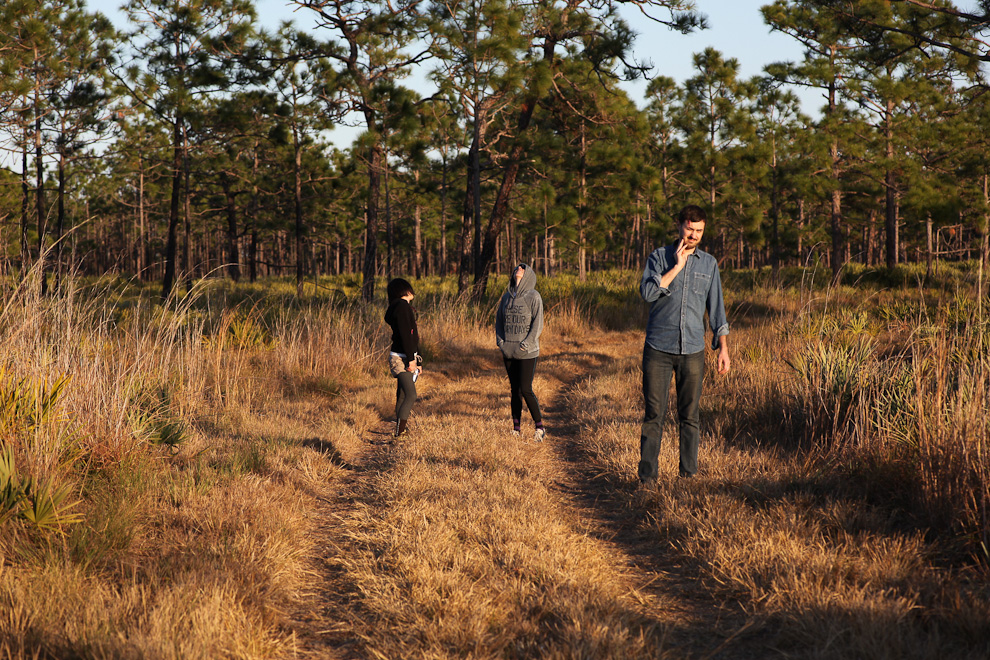 Some friends and I recently spent a weekend up in St. Sebastian River, a nature preserve in Central Florida. Here are some grossly overdue photos!
Posted: Wednesday June 1, 2011 by Alesh Houdek · Permalink · Comment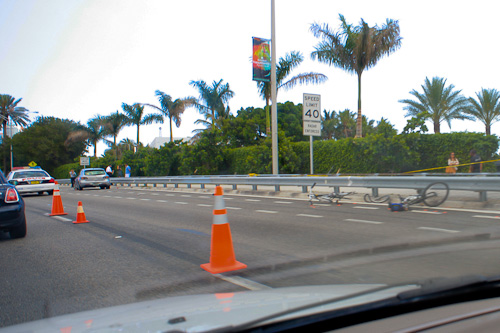 Traffic to the beach was crazy backed up late this morning, with rumors flying around Twitter that a cyclist was killed. When I reached the Fisher Island ferry terminal, there was a lane blocked, and two mangled bikes down just at the spot where traffic for the terminal cuts through the bike lane. A little way up, a lightly mangled silver Mazda 3 sat, the position of its wheels marked by Miami Beach police.
While I don't yet have confirmation about whether the accident was fatal, it's not difficult to reconstruct what happened. A jerk motorist heading for the ferry changed lanes to turn, cutting through the bike lane without looking. Maybe we need to rethink having those lane markers suddenly turn dashed there. But what we really need to do is not convict this driver of negligence or reckless driving or something. If there's a fatality here, the crime is simple vehicular manslaughter. And until we start to loudly and consistently enforce the law this way, cyclists will continue to be an afterthought in the minds of drivers. A couple more photos after the jump.
Update: Both the cyclists survived, tho one is in critical condition.
Posted: Sunday April 17, 2011 by Alesh Houdek · Permalink · Comment [2]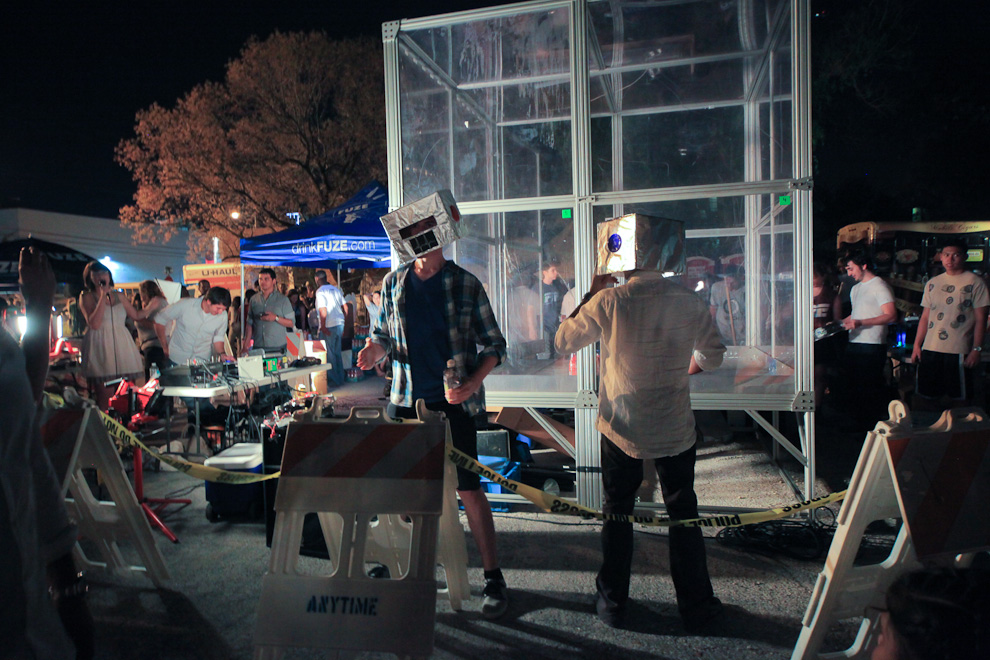 The gallery walk has become a completely different thing over the last couple of years. As more and more people show up each month, it's become a positive street fair, where the majority of the people have minimal interest in the actual art, and the galleries are almost just along for the ride. Stores have begun to open up along N.E. 2nd, and the food truck / street vendor thing has positively exploded. Some of the art is responding by reaching for out-sized dimensions and spectacle, while other galleries determinedly stay on course. The number of galleries has also expanded — seems that every space near the Wynwood nexus is open and displaying art these days (with the exception of die-hard Harold's Body Shop). But nevermind all that—let's look at some art.
Posted: Thursday April 14, 2011 by Alesh Houdek · Permalink · Comment [2]
Yesterday I casually mentioned going back to vegetarianism on Twitter, and I got some responses! Arielle Castillo, music blogger turned chef, mentioned The Vegetarian Myth
. I haven't read it, but I'm familiar with the basic argument — that it's ok to eat meat so long as it's sustainably produced.
Sustainable meat means something fairly specific, described best in Michael Pollan's The Omnivore's Dilemma
(which I have read, and which I heartily recommend). It involves animals raised the way they would have been on small farms before industrialization — cows eating grass while fertilizing the ground with their manure, chickens eating the grubs that grow in the manure, etc etc. It's markedly different from the factory farming that raises 99% of the meat available in the US. And — critically — the factory farming that raises 100% of the meat available in South Florida. Because the small farms that produce truly sustainable meat? They just ain't here.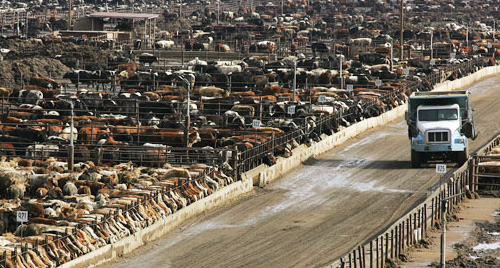 Feedlots — how practically all meat is produced in the world today.
Or maybe that's an exaggeration? The chain Chipotle makes some weak claims to "attempting" to buy "some" of their meat from sustainable sources. I suppose eating there is at least a wallet-vote for more production like that. Then there's places like Miller's Organic Farm, which produces sustainable meat in Plantation for customers it deems sufficiently worthy. The application asks why you're interested in their products and provides a box for a short essay answer. What's going on here?
Maybe it's the start of something. Michael Pollan started a wave of increased consciousness that's slowly sweeping the nation, and places like Miller's Farm are the tip of the iceberg. Maybe their bizarre buying model is based on their small quantities and slowness of retailer interest. Arielle tweeted later that she's maybe working on a story about these farms, so let's look forward to that.
Two things to mention before I end. The other book I should mention is Jonathan Safran Foer's Eating Animals
, which is very well summarized in his article for the New York Times — as pasionate an argument for vegetarianism eating non-sustainable meat as you're going to find. And lastly, forget "organic" meat. The stuff at Whole Foods labeled organic comes from the exact same factory farming system as non-organic food, except that those animals are fed "organic" corn meal instead of regular corn meal. They're better, but only marginally, and they don't address the basic objections raised in these books.
Posted: Thursday January 13, 2011 by Alesh Houdek · Permalink · Comment [3]
Hey folks, Art Basel's here! Time to break out your dark suits and pink sneakers, or whatever it is you do when you want to impress your fellow art people. I can't tell if it's me or the art, but I'm starting to get bugged by the over-prevalence of art that combines a few random elements in a faux-careless arrangement and calls it a day. Luckily as always there are lots of exceptions to every rule, and lots of delightful and profound things to be seen. Overall the fair's taken a more subdued turn from years past, but there are plenty of exceptions to that rule, too. For example see above: The Brain Trap, by Robert Williams at Tony Shafrazi's booth.
Posted: Thursday December 2, 2010 by Alesh Houdek · Permalink · Comment [3]
Well folks, it's that time again. The weather is completely going to be cooperating this year: a little drizzle tomorrow, and then cool and beautiful straight through the weekend. You can find some absurdly overstuffed lists of "events" so I'm going to link to a few of the more moderated things
Here's a tentative list of things I may or may not do, which I WILL be adding/correcting to:
Tuesday Nov 30
Opening of Frances Trombly: Paintings at Girl's Club, Ft. Lauderdale.
Arts for a Better World opening.
Wednesday Dec 1
10 pm Art Loves Music (Metric)
Thursday Dec 2
MAM

Party, Scope party,

NADA

party(?)
Basel Antics (Phantogram!)
Transit lounge: live performance by Panic Bomber with a band
Friday Dec 3
4 – 8 pm — Island (at the mondrian)
7-11 pm — Reception at Carol Jazzar
Saturday Dec 4
Sunday Dec 5
Breakfast in the park,

FIU

Frost art Museum
Posted: Tuesday November 30, 2010 by Alesh Houdek · Permalink · Comment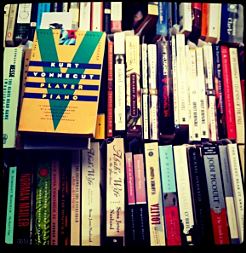 In the past I've questioned the point of going to a book fair, but of course there are lots of great things about the fair. Hopefully by now you've "scoured the program": and figured out which author events you're attending. Now it's time to hit the tents and look at some books. There are a couple of hundred exhibitors, and many have thousands of books, so you're going to be overwhelmed. Even if you're not planning on buying anything, bring a couple of sturdy tote bags, just in case. Here's a taxonomy of booths you're going to find, in ascending order of how useful I, personally, find them.
Sponsor booths: Bless the sponsors, for they make the book fair possible. Some of them are actually great organizations, too, such as

WLRN

and the Arsht Center. But you've got books to see and no time to chat. Walk on by.
Libros en español: Actually some of these are fun to look at. In particular the books in the Mexican pavilion are fun to browse for their interesting, European-style cover designs.
Spiritual/religious stuff: Lots of books are religious books, and lots of book stores are religious book stores. If that's your thing, have at it.
Single-book booths: These are mostly lunatics with a self-published title and to be avoided, however one guy with a guide to retiring into homelessness is completely entertaining and worth checking out (you'll see a chair made of pvc pipe and soda bottles).
Event booths: For example, the Key West Literary Seminar has a very nice booth with a carefully culled selection of food books (food books being the theme of their January 2011 get together).
Used books: Just be careful — it's very easy to buy more than you can comfortably carry for the rest of the day. Come back at the end of the day on Sunday when you're going straight home — odds are you'll be able to get a better deal then anyway. The better used book booths have their stuff meticulously organized into categories. I gout a copy of a book published by UM in 1970 about the effects of pollution on Biscayne Bay from Leedy's books for $10, but if you're in the market for Freakonomics, The Audacity of Hope, a Kurt Vonnegut novel, or something along those lines, you should be able to find them used for very nice prices.
Historical/collectors books: You book collectors know who you are. For the rest of us, these are lots of fun to browse (they sort of merge with the category above to some extent).
The Council of Literary Magazines and Presses: This one is worth seeking out — literary journals you haven't seen since that time you got lost in the library at college. But lots of the writers in these publications are the stars of tomorrow, and some are hardcore avant-gardists. Generally all these publications are exceptionally well edited, and they're beautiful as little mini-book objects. Many have art and photography in addition to poetry and short stories. When I stopped by, they were going 2 for $2 or 5 for $5(!), and i found it irresistable not to grab a bunch just on the basis of covers.
One last thing — DO stop by the Mexican pavilion to eat. They have awesome stuff, not the least of which are shockingly good mole pork enchiladas. Yum.
Posted: Saturday November 20, 2010 by Alesh Houdek · Permalink · Comment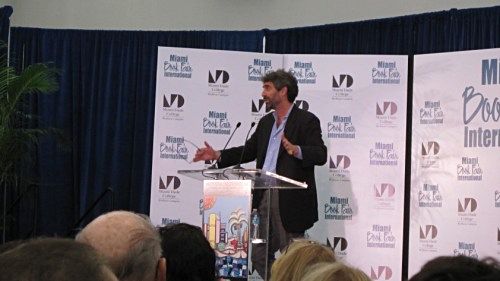 I went to see Eugene Robinson and Pat Conroy last night; both were really interesting, and as entertaining as John Waters in their own ways. (That's Mitchel Kaplan, owner of Books & Books the patron saint of the fair, introducing Conroy.) But onward and upward! Here's what's on my to-do list after a cursory look through the Fair's guide and website. You should still check out Hillary's guide for the full scoop. I'll be adding to this post a little bit throughout the day from the fair.
Friday, Nov. 19
8pm, Patti Smith: Hopefully you have your ticket already!
Saturday, Nov. 20
11:30 am, Dave Eggers: Talking about his book Zeitoun. Like he's ever not interesting. (Tickets required, but free. Hit the site now to get them. Room 3210.
2 pm, Write that Book Already!: I think this is part sort of a motivational thing, part guide to the publishing industry. I'm not aware of planning to write a book, but this might be fun? Room 3314.
3:45 pm, Storyteller Gerald Hausman: In the kids area! Folktales from Native Americans, the Caribbean, and and Old Florida.
4 pm, Climate and the Environment: "Experts exchange views, both terrifying and hopeful." I wonder if there will be any experts or pro-geoengineering folks on the panel. Room 7106
Sunday
11 am, How to Get Published Successfully: This sounds like the guide to the publishing industry. Also: "harnessing the power of social media." Room 3314.
Also at 11, Doxtors Without Borders – Writing on the Edge: Based on a book for which a bunch of writers and a photographer visited

DWB

sites around the world. Could be amazing! Room 7128.
12 pm, Haiti Noir: Murdes and mysteries set in post-earthquake Haiti. Moderated by Les Standiford. Presentation Pavilion A.
2:30 pm, Bits N Pieces Puppet Theatre, Hansel and Gretel: Four words: Nine foot tall puppets. Once Upon a Time Stage, kids area.
5 pm, Jonathan Franzen: On Freedom, and on being Franzen. Room 3201.
Posted: Friday November 19, 2010 by Alesh Houdek · Permalink · Comment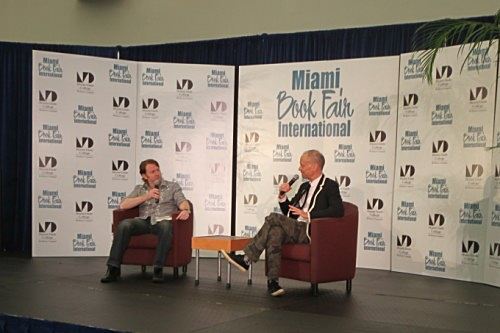 Downtown Miami was going crazy last night because of the Heat game, but a few blocks away there was a smaller, but in its own way more intense gathering. John Waters was in town for the Miami International Book Fair. In a huge room at Miami Dade College (don't call it "Community!"), Waters packed in a crowd of intense folks of both genders and all ages — many born after his most notorious films were released.
Waters is a charmer. He's got the self assurance about him that comes to many with a ge, though I get the feeling he was a pretty confident guy from the beginning. He was interviewed by my pal Brett Sokol (who, incidentally, did a great job, tho the q&a afterwards suggested that you could throw absolutely anything at Waters and elicit a stream of fascinating anecdotes), who at one point asked if Waters and his friends felt cool when they were making the first few movies. "Well, yes," Waters responded. I don't know exactly what it is about film directors, but they seem to almost always be fascinating people. (For example, check out the video of Errol Morris and Werner Herzog chatting recently—the conversation is irresistqble even if you've never seen a single film by either of them.) Here, then, a few of my favorite of Waters' anecdotes from last night:
He had a subscription to Variety when he was 12 years old.
He's currently got a film in pre-production, but his last film fell through/was rejected by the studio. It was "a children's Christmas movie … about a family of meat thieves."
When he was a little kid, he'd look up Tennessee Williams in the library, and the index would say "see librarian," because Williams' work was considered controversial. Same thing when he looked up "homosexuality." See librarian. Waters quips, "well, I could see that the librarian was homosexual…" But he quickly makes an interesting point — not just that there's absolutely no reason to keep any book fron children, but that it's a bad idea to keep children from exploring anything that they're interested in, because the things that they're forbidden from doing can come to loom large in their imagination and form obsessions later in life. (He said it much smarter than that…I'm working off some sketchy-ass notes here.)
Complete strangers tell him their darkest secrets all the time. "I'll get on a plane, and the woman next to me will lean over and say, 'my whole family fucked me Easter morning.'"
"Don't as a fat person to be Santa Clause for Christmas — that's rude!"
He also talked about the current state of student filmmaking, and how good the scene is for people like him coming up now, what with studios being happy to fund low-budget indie work on the hopes that it might pay off. Converesely, he's having a hard time attracting the ~$5 million or so budgets he needs to make the polished movies he currently does, because at that price studios only want blockbusters. And he had a fascinating bit of advice for aspiring filmmakers: watch lots and lots of movies, and watch them with the sound off, because dialog and music are a distraction from cinematography, which the lack of sound forces you to analyze.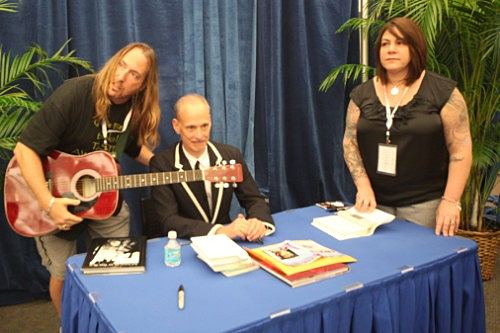 So, wow, the book fair is awesome. After the talk, Waters sat at a table, and everyone and their face-pierced niece lined up and got to chat, be photographed with, and get their book signed by him. No kidding, one guy had three copies of the new book (which, by the way, is awesome, and you totally should get a copy. If you hurry you might be able to nab a signed coppy at Books & Books), plus another of Waters' books, plus a guitar, and everythign got signed and the guy posed with Waters and the guitar and took up long moments from everyone's life and it was totally cool. There are about a million authors coming between now and Sunday (weekday evenings, plus all day Friday – Sunday).
You should check out my awesome girlfriend's guide to the bookfair (she's deep in the Books & Books crew, so the "insider" thing is no line), and check back here — I'm going to be more or less camped out over there for the next few days, and with any luck blogging regularly. BTW, earlier this week I wrote a quickie thing about Waters' mustache at The Heat Lightning, where it's JOHN WATERS WEEK!
Posted: Thursday November 18, 2010 by Alesh Houdek · Permalink · Comment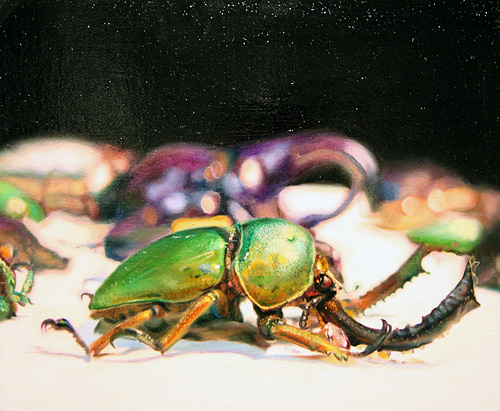 The November artwalk is for all intents and purposes a sort of opening act to ArtBasel, and considering the impressive showing last month, it's surprising how underwhelming everythign was. With some notable exceptions! Take, for example, the Littlest Sister show at Spinello Gallery: this is an "art fair" that truly earns its scare quotes, packing a dozen or so "booths" into the gallery's storefront space (tho note that the space is at least three times the size the gallery was in when Littlest Sister was inaugurated). It's replete with a slick website, high production values, and a "VIP lounge" reaturing spiffy photorealist paintings of insects by Marc Dennis. (More photos after the fold!)
Posted: Wednesday November 17, 2010 by Alesh Houdek · Permalink · Comment
October is supposed to be the beginning of the Official Art Season, and while September gallery exhibitions may be impressive in their own way, October is when we begin to expect to see the up-to-ArtBasel-leading A-game. And, unless you're double-scoop, capital-S Serious about your Art, you were happy this month.
Posted: Friday November 12, 2010 by Alesh Houdek · Permalink · Comment [3]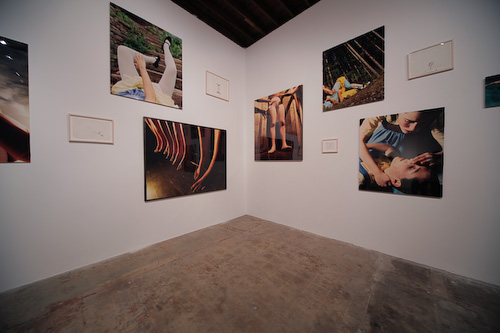 Come the first Wynwood artwalk of Spring, you might expect to see a downturn in the quality of work on view, what with Basel now a distant memory, but no such luck, although you will have to scroll a few photos. Here's the Scholl's collection of Anna Gaskell's work, which you have seen before but which is always worth another look. Bonus, Miko No Inori in the next room.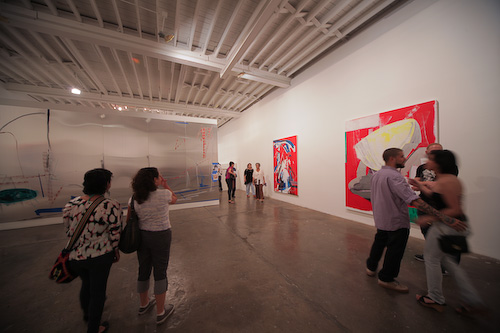 Diego Singh's paintings at Snitzer, some of which were pretty nice. A huge metal panel with a few primitive markings covers one wall, trying too hard to not try hard.
Still the worst thing in Wynwood. Is there a petition or something we can sign to get this removed?
Christy Gast's video installation at Diet. There was a sort of manic necessity to the videos, but the grandiose three-screen treatment, with deluxe log seating, seemed unnecessary.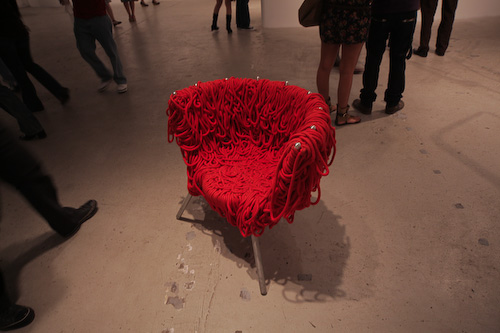 A Fernando + Humberto Campana chair, part of a group show at Castillo. Nicole had to shoo people out of it a few times, even though it's on loan from Craig Robins, and obviously sees its share of asses in its regular life. I for some reason did not photograph either of Jose Alvarez's two spectacular abstract pieces, which included feathers and porcupine quills and were selling for $24,000 each, your choice. If anyone has an image, send it over.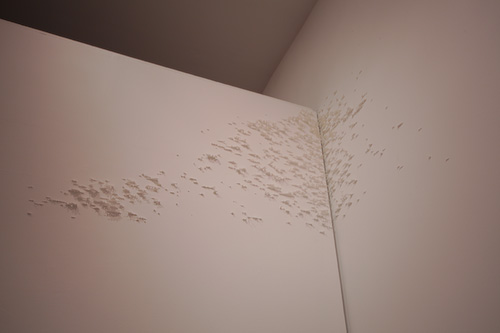 Lisa Perez at Dorsch, an installation of paper cuttings and other mischief. The way Dorsch is divided up right now is really effective, with three completely different spaces for artists to work with.
Magnus Sigurdarson. I was not interested in the big installation, but this video, where the artist stares at you without moving ("he chose to not put his sunglasses on," Carolina remarked)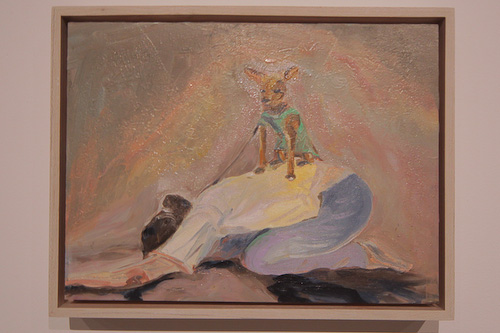 Also, Mette Tommerup's paintings. Sort of great!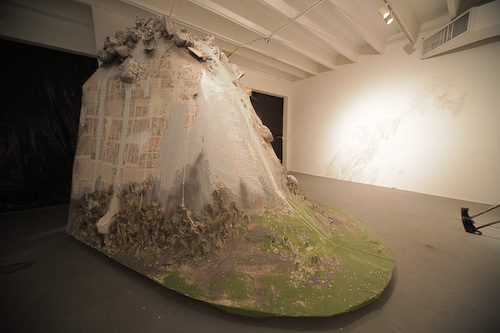 Update: Jay Hines at Dimensions Variable
Pachi Giustinian installation at Spinello.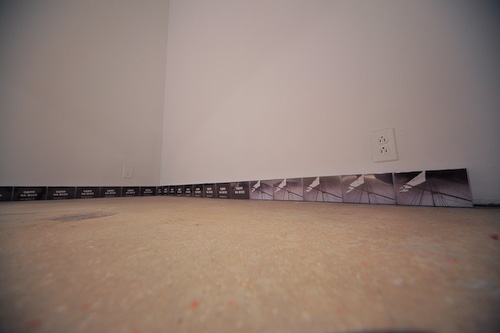 Installation at Locust, which their website currently does not list on either the current or past exhibitions page. Whatever, some big film themed thing.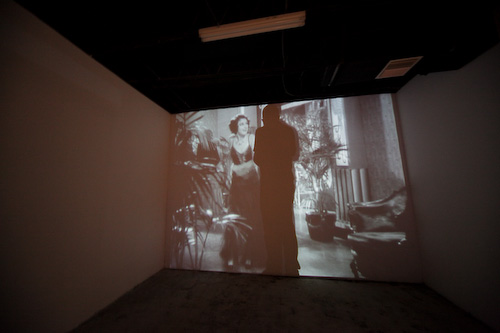 Here's me interacting with the frame on short-loop projection.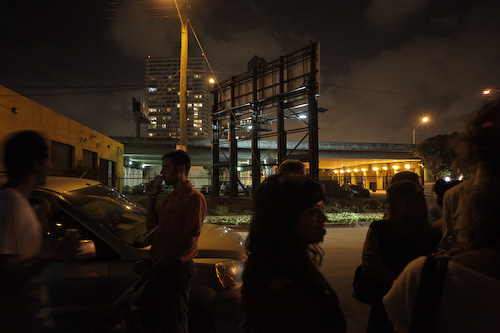 Quick breather.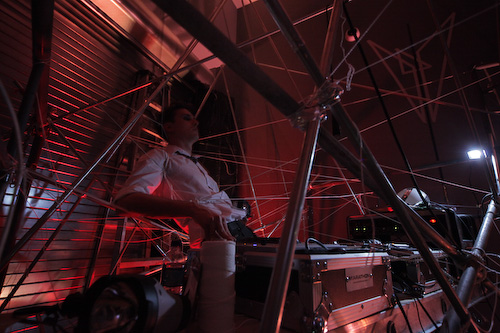 … and then off to the de la Cruz collection. This is turning out to be a really interesting institution, with a series of talks and, here, an installation/preformance by Federico Nessi …
… with two other performers.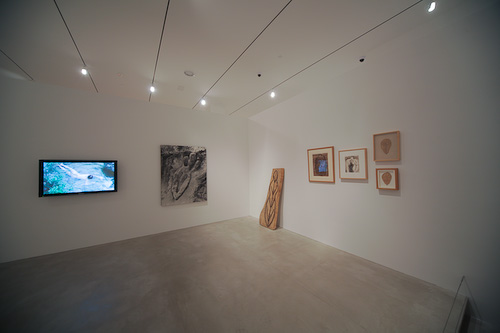 And by the way, if you haven't been to the de la Cruz space, I'd recommend heading straight to the top floor first and making a beeline for the Ana Mendieta room.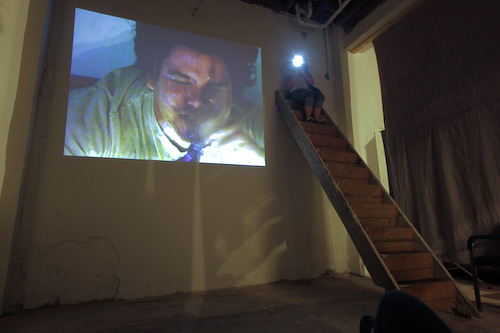 Posted: Tuesday April 27, 2010 by Alesh Houdek · Permalink · Comment [2]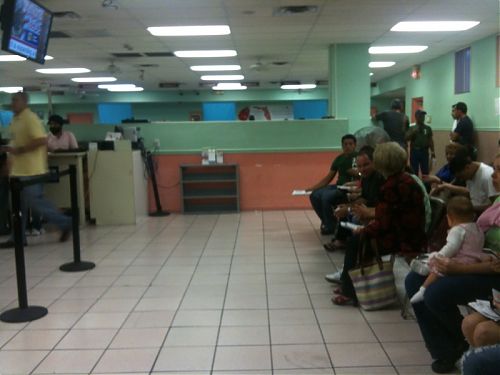 A few weeks ago I had the pleasure of attending the Little Havana DMV, sans appointment, to get my driver's license renewed. I was thinking about about doing a "tips for surviving the DMV" post, but honestly you already know what you need to know: renew your license online or by mail if you can, make an appointment otherwise. And all I can really do is double-down on that advice. You need to make an appointment a week or two ahead of time, which is exactly what I did not do, and this is what happened.
I took the whole day off from work, but didn't get to the station until around 11:30. It's part of a big walled-off complex, with an entrance that leads into an unattractive parking lot. There's a little bit of a carnival atmosphere going on, with a hot dog vendor, an impromptu traffic school, and people milling around their cars. The building is remarkably nondescript, and there's a line out the door and down a long concrete wheelchair ramp of maybe 75 people. Easy, I think, and join the back of the line. There is kind kind of a murmur of conversation, all of it in Spanish.
After a few minutes, a gentleman in a turban comes out the door, makes his way to the back of the line, and hands out tickets to the few people at the end who I guess arrived since the last time he was outisde, which includes me. It's a quarter of a regular piece of paper with something printed on it, and on which he's made a mark that looks like a backwards check mark. Or maybe it's an oddly formed number 7. "That will be it for the day," he announces. He means me. I'm the last person they're planning on processing that day. I wonder if that means I'm going to be here until 5.
My job for the next few hours is to tell every person who comes to join the line that unless they have an appointment they are SOL, need to come back tomorrow, and are welcome to step inside and ask for themselves. The people in line ahead of me (sort of a quasi-thugish Hispanic guy in his 20s with a very sharp baseball cap and his mom) and I form sort of an understanding — I give the talk unless the person obviously speaks only Spanish, in which case they take over. I have no idea how we sort out who does what, but it works out. So I get to crush about a dozen people's souls. They've resigned themselves to a terrible day, made the arrangements, and now find out they need to come back after the weekend. Sucks to be them. (Sucks to be me, too.)
Every so often, the door at the top of the ramp (there's sort of an awning there) opens and a few more people are allowed in to what is, we all understand, simply the next waiting area. I have no idea how long it will take to get inside, nor how long the wait will be after that. Some people walk to peek in, but I know my curiosity will be satisfied sooner or later. Around 1:30 I make it to the corner of the ramp, about a quarter of the way from my start. I eat an apple I've brought to a few envious looks. The semi-thugish guy and his mom have asked me to save their spot, and retreated to their car, parked right by the ramp, so I'm now behind (actually next-to; it's really more of a mass of people then a line at this point, although everyone is hyper-aware of the actual order they're in) another lady, who points out the looming storm clouds to the south. She also shows me the ticket she got from the man in the turban, which has a completely different mark on it. Clearly the systems at work here are not like anywhere else.
The weather shifts from hot to overcast and windy. At some point a guy joins the line behind me who does not take "they're not taking anyone else" for an answer. I occasionally break out the iphone and read a little bit, but honestly it's sort of a pleasure just dumbly waiting, reveling in the mindless queuing that is such a part of life in other places in the world, so not a part of regular life here. For god's sakes, Americans get antsy when they have to wait 10 minutes in line at the post office.
At some point it rains, a little drizzle. At this point I'm under a big tree, then the beginnings of the awning, and it's a light rain, with maybe some dramatic gusts of wind. It's sort of funny that we've been here long enough to see major shifts in weather patterns. Not that funny, though.
Now I'm in the home stretch of the beginning. There are maybe 10 or 15 people left outside, half of which are behind me, having joined the guy who figured it was worth a shot. Turban guy, as well as a couple of other DMV employees, have multiple times come out and pointed at me, and proclaimed, "yeah, he's the last one," or "nobody after him, I already explained to them," which sort of makes it sound like I've bribed someone or something. Suddenly, a guy storms out in a huge fit, surges through the crowd, kicks a garbage can, and walks off to his car. Someone translates what he was shouting: "the computers are down." This is soon confirmed by one of the DMV guys. "The computers are down. We can't process anyone until they come back up, and we have no way of knowing when they'll come back up. Sometimes they stay down the whole day. Your choice whether to wait around or now." Another guy comes out, and his nonchalance is startling, "hey, I'd rather be working too. Makes the time go by faster." WTF dude, you get paid whether you do anything or not, have some fucking sympathy for us poor schlubs who have to come back and do this all again if the computers stay down. So a couple of people from the inside waiting room leave, this being the particular straw that broke the particular camel's back for them, and the rest of us tentatively wait around. It takes about 15 minutes, but word comes that the computer are back up, and a collective sigh of relief is had by all.
When the turban guy comes outside the last time to make some announcement or other, a pretty lady from behind me in line calls him over, and explains that her license is expiring today (mine expired yesterday, but who's counting?), and what should she do. He's actually a nice guy (it turns out everyone who works at the DMV is super nice, believe it or not), and he tells her he'll give her a 1-week extension so she doesn't have to pay the late fee when she comes back (the late fee that apparently is to be my punishment, though at this point I have no idea how much it is). Now, I've overheard this conversation so I know what's going on, but all anyone else sees is the DMV guy taking the pretty lady inside ahead of the line, and they go apeshit. For a minute it looks like there's going to be a mini-riot under the awning, and it takes a couple of calm DMV guys to calm everyone down enough to explain the situation.
A while later and for a long time I'm the last of the ticket-holders outside, standing awkwardly outside the door, a bunch of people behind me, and I have no idea why the DMV guy watching the door doesn't just wave me in.
When he does finally let me in, it's with a whole bunch of the non-ticketed folks. It's I guess 4 pm now, and they've decided they can take more then it looked like in the morning, which makes me suddenly ambivalent about everyone I've sent away throughout the day. Sorry, suckers? The whole system stinks? Don't blame me, I'm just trying to help? Whatever. So here's the inside: a little pre-checkin area, then a double-line to wait for the receptionist, who turns out to be the very same Turban guy, and who assigns each person a ticket which corresponds to the announcements heard regularly over the PA: "B-5183 to window 15 … F-0097 to window 4 …" etc., except that they're all of course repeated in Spanish. There's also a large waiting area, with maybe 50 super-old school hard plastic chairs in rows.
The pre-checkin guy checks my papers. You need four separate pieces of documentation, to wit: (1) something super serious that proves your identity (I've got a passport, but a birth certificate would also work (for fun, I imagine bringing my Czech birth certificate, which is accompanied by a weird-looking but authentic and notarized English translation from the 80s), (2) something that verifies your SS#, like a Social Security card or W-2, and (3) two things that verify your address, like an electric bill and bank statement. This explains the people who, throughout the day, left the building in a huge pissy huff, fumbled frantically through their glove compartments, and then drove carelessly off.
As I get in line I look around. The whole thing is one gigantic room, with the processing desks and some test-administering computers in the back, semi-separated by a chest-height room divider. The sit-down waiting area is off to the right. Most of the furniture and appointments, such as they are, look like they were put in in the 80s and maintained on an ever-squeezed budget since then. There's a big noisy floor fan in one corner that gets turned off and on a couple of times. Fluorescent lights. Dingy tile floors. Walls painted a combination of industrial green and salmon. More or less exactly the sort of government office we should all be grateful we don't have to visit on like a weekly basis.
Anyway, I get in one of the two lines, the group of late-arrival unticketed folks anticlimactically right behind me. The other line is for people who've made appointments, who've been coming and going all day. Turban receptionist guy alternates taking people from both lines, and he deals with everyone for a good long while. Maybe he's taking their oral histories, I dunno. So finally I get to the desk, and I launch into this story I've slowly hatched to get me out of paying the dreaded late fee. I tell the guy that I came yesterday, when my license was expired, and that I was sent away because I joined the line too late, but now I see that I could have been renewed if only I'd just stayed, because it worked for all these other people, see? He's extremely apologetic, says I should have talked to him. Very sorry, but there's nothing he can do about the late fee. But he can (because of the bizarre number-que system, see?) bump me up in the sequence to get my license(!!) at this point! I ask him what the late fee is. $15. At this point I have a minimum of another hour ahead of me, and I'd gladly pay four times that to have it over with, so I'm doing cartwheels on the inside, even as I calmly thank him. "If anyone asks, you had a 3:30 appointment, though. I don't want any trouble," he says.
I wander over to the waiting area, where all the people that have been ahead of me in line all day are sitting. It occurs to me that if they really catch on to what's happened, it could get slightly unpleasant. I pick up an organ donor brochure, and wander over to lean against the wall near the entry area to the processing windows. Two other numbers get called, and then "B-1781 to window 6," and I wander over to the windows, all casual like, like I'm just having a look. Once I'm at the window I'm in a separate area, and everything's good. The lady at window 6 is again super-nice, and I think she's sort of the resident expert, because everyone else asks her questions, and even the turban receptionist walks over at one point when there's some ambiguous situation he needs help figuring out. We exchange knowing glances.
The lady scans my documents. She's got a plain dell and a cheap looking desktop scanner, which makes the whole process take a pretty long time. She takes my photo with that photo contraption that may date back to the 70s. I tell her that I want the organ donor designation, answer a couple of other questions, take my eye test (It's in that weird machine you look down into. I'm convinced I could have passed it without my glasses, and here's the trick I realized only too late — there are three columns of letters; the middle one is visible to both eyes, but the outside two are only visible to one at a time. It's a lot easier to read if you close your right eye, read the first two columns, then close your left eye to read the last column. I'll get you next time, Gadget, next time!), and I'm done.
Waiting for your license is the most anticlimactic thing ever. Another waiting area, this one with exactly two chairs, and aproximately 10 minutes for the most mundane, $50-at-office-depot-looking little desktop ID printer to spit it out. I guess there's something or other fancy about it, because it makes those little holograms of the state seal in the laminate layer, but otherwise it's the same thing that prints ID's at the Art Basel press checkin. And that is it, folks, I say mentally to everyone I've spent this glorious day with. There's another exit route that bypasses the waiting area, goes by the reception lines (still busy) and out the door. It's 4:30, and I'm gone, never to return.
Posted: Thursday April 22, 2010 by Alesh Houdek · Permalink · Comment [1]

Of all the developments in popular music over the last decade, none is as satisfying as the disappearance of Aerosmith from radio and the popular consciousness. To today's ear, their music is so stultified and artless that it is difficult to appreciate how popular they were. We're talking like three decades of on-and-off strings of multi-platinum albums here — Wikipedia it.
Now, I don't typically begrudge anyone their cheap thrills, but there's something particularly annoying about this particular band, and I think I've recently realized what it is. Consider AC/DC. Even their fans acknowledge they make stupid music (erm, "but fun!"). Now the Rolling Stones. Not the smartest band ever, but certainly smarter. (Yes, also just straight-up better, but follow along here, I'm trying to, like, make a point or something.) So, I think the problem is that a lot of people think of Aerosmith as falling in between these two bands on the scale of rock band intelligence.
And they are just wrong. Aerosmith is precisely as stupid as AC/DC. If the truth of this realization is not immediately obvious, a little side-by-side listening will convince you more easily than objective argument.
Aerosmith's fundamental problem is that sometime in the late 80s, they began to buy into this misperception themselves, and this confusion led to a streak of pop-rock deck, beginning with the infamous Janie's Got a Gun and proceeding sharply downward. Through most of the 90s, despite having obviously worn out their usefulness, they were pretty fucking ubiquitous, prominently featured on pop radio, teenbop movies, television, video games, and (!) a Walt Disney World ride. Around the turn of the century, they dropped one last mega-turd, the prom-ready I Don't Want to Miss a Thing, and probably did a Superbowl halftime show or something.
And then something wonderful happened. They vanished from the popular consciousness. I don't remember the moment when I realized that my life was Aerosmith-free. It's like when a nasty smell gradually clears … you just suddenly notice that it's gone. And while I gather from reading the disgustingly detailed "history" section of their Wikipedia entry that the Aerosmith boys are keeping plenty busy (mostly getting injured while touring, which is sort of funny in itself). But it's become downright hard to run into news of them, or their music, without actively seeking it out. And that's something we can all get behind.
Posted: Tuesday March 9, 2010 by Alesh Houdek · Permalink · Comment [3]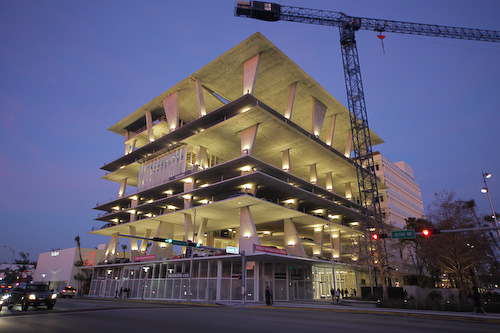 Herzog & de Meuron's 11111 project recently opened on the west end of the Lincoln Road pedestrian mall. It's a shocking structure — large, raw, and unfinished looking (there is some ongoing construction on the top levels, but the basic appearance is as it will be). The architects were able to pull variances, convincing government officials that the size of the building was determined by aesthetic reasons, but an effort to maximize capacity. And indeed, several of the levels are soaringly high, while others have the cramped height of a standard parking garage.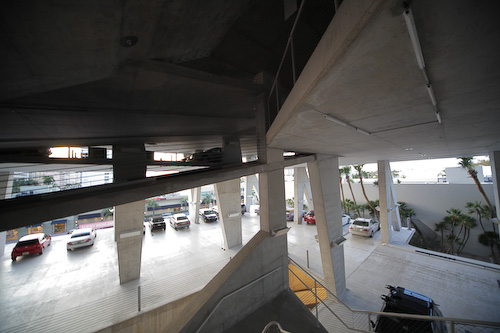 The building is "mixed use," though the majority of it is open and designated for parking (currently $15 flat rate, and well utilized). The "its a garage" mindset may explain how this project was sold to planners and citizens, since there is precedent on South Beach for unusual garages (and anyway there is a pretty universal agreement that parking garages should be ugly). But I suspect that many residents are horrified by it, and this makes it all the more delicious.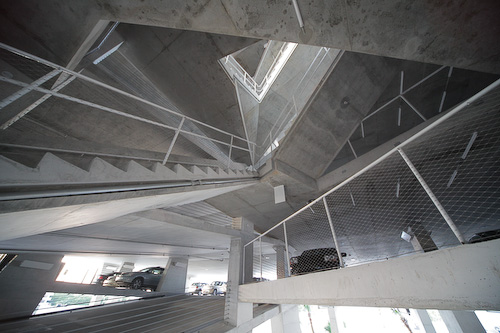 The core of the building is a completely unconventional staircase, with every level blending into the next, attached with concrete stairs that jut in chaotic directions. Generally the details do not play up the under-construction thing, but do note the safety-mesh like steel wire on the railings (it is actually very high-quality braided wire).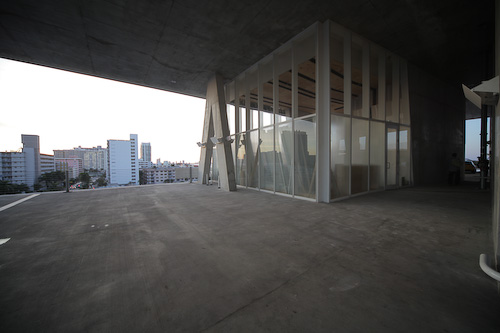 Most of the retail is on the ground floor, with one solitary (and unfinished) location on the 5th floor. There is also some residential space on the top floors, but this is still under construction and probably off limits for good. The horizontal cables that make up the guard rails are set back a foot or two from the ledges, and they tend to disappear, creating spectacular vistas.
The lighting and other metal details are stridently mimimal, and most of the signage is painted onto the building in oversize Helvetica. The whole thing comes across as a monument against design-by-committee.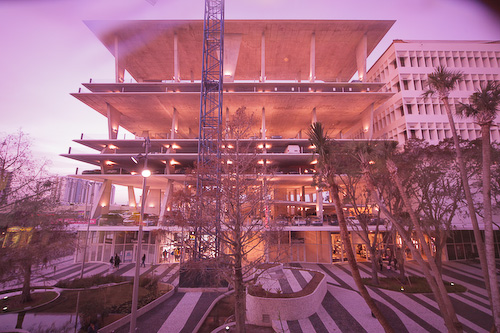 A view from the rose-colored windows of the movie theater across the mall. One of the best aspects of the project is Herzog & de Meuron's transformation of the pedestrian area for a block or two around the project. They brough in black and white stone and created a slightly irregular surface, with landscaping inspired by the Everglades.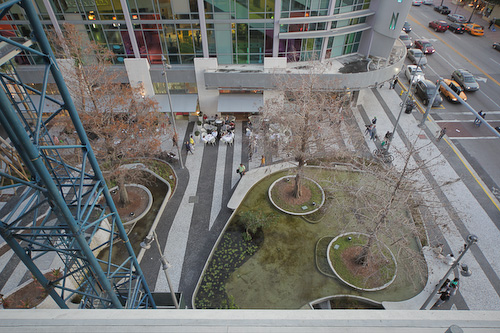 There is probably more going on with the planters then is immediately obvious, they are almost an exhibit recreating what's happening 25 miles to the west.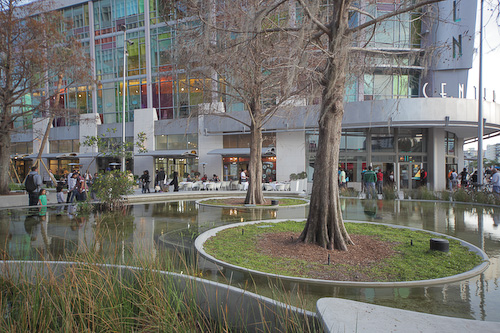 I'm pretty sure they actually went out there and hand-picked the trees.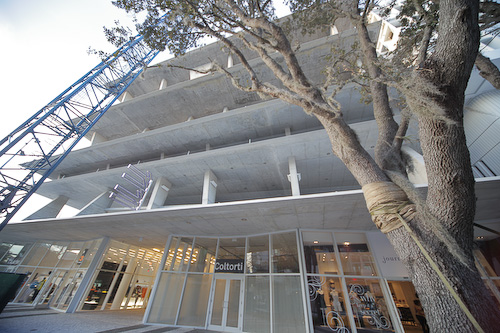 … replete with air plants. They are using some sort of cloth rope to hold them up while they root, not the standard 2×4 treatment.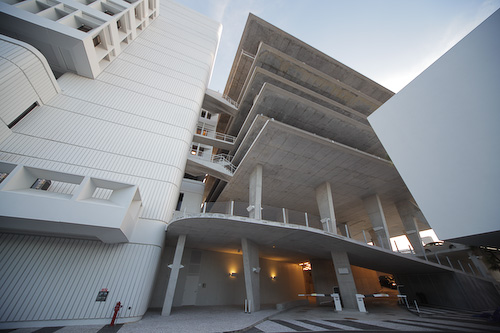 The building is cleverly integrated into the bank structure next door, with a row of retail on one side, and crafty connections on several levels.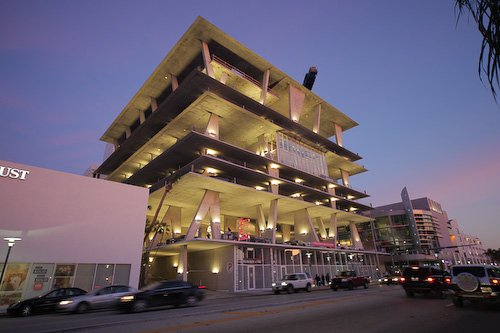 It's difficult to convey how much the structure dominates the road. It certainly looms over the pretty movie theater, but in a way that I found pretty complimentary.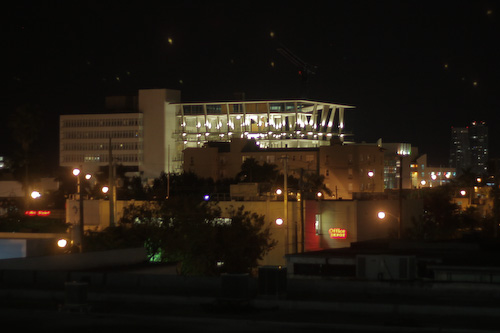 Here's the view from the Publix parking garage, about a third of a mile away.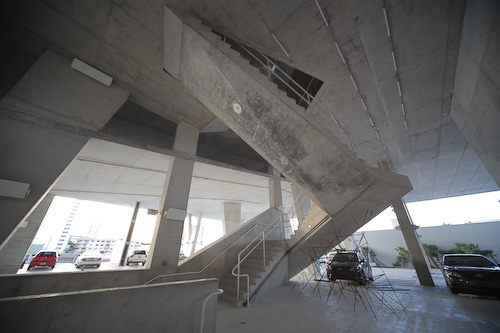 One more look inside at those angular staircases. Here on the second level there's also a sculpture of angular metal, suggesting that all the supporting rebar in the building is like this.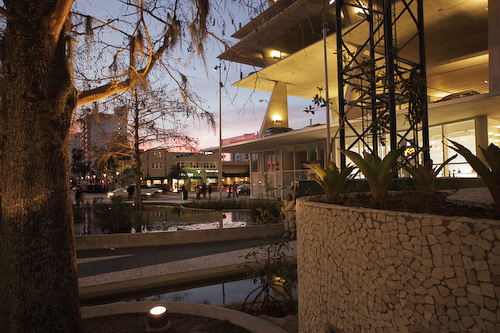 I don't know how the residents feel, but the people walking around and inside the garage seemed pretty engaged and impressed. People admired the pedestrian details, and there was some walking around and photographing inside the structure.
Posted: Wednesday March 3, 2010 by Alesh Houdek · Permalink · Comment [9]
OK, here we are at Lost & Found, home of awesome food and bafflingly slow service. Check out this harmless-looking sculpture that adorns the tables, which my friends and I deconstructed: taken from the top, we have a cluster or orchids (the most vaginal of all flowers, right?), right under that little egg-like shapes, then a column of bananas, all planted atop a metal cup with a cock on it. Not pictured is a wisp of another type of flower protruding from the orchids on one side which apparently are called baby's breath.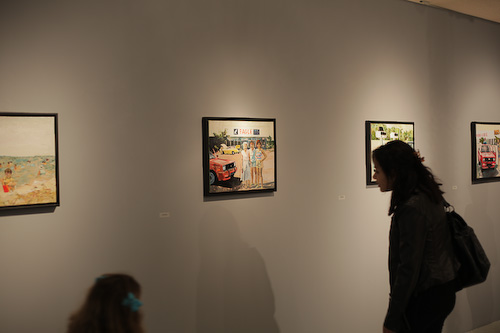 Catalina's pretty paintings at Hardcore.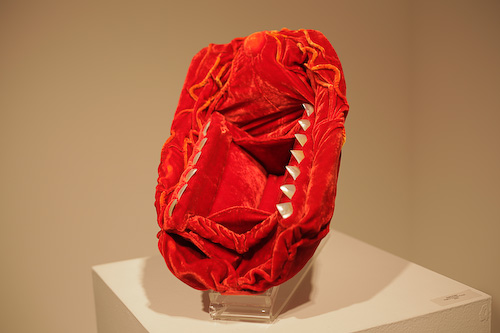 Also at Hardcore, Kate Krets' man-eating vagina purse.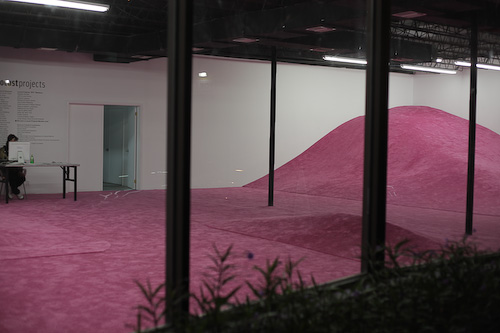 Leyden Rodriguez-Casanova updates Locust Projects with a carpet installation. I was exited to learn that the supporting structures were built to support people, so these things are completely climbable, but I'm bummed out about the seams around the protruding pieces.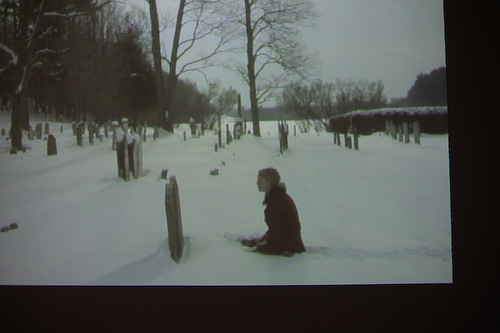 Christina Pettersson at Spinello. She had some fantastic drawings that you ought to go see, but the thing that I like about her work is its connection to the physical world and her intervention in it, so this video really captivated me.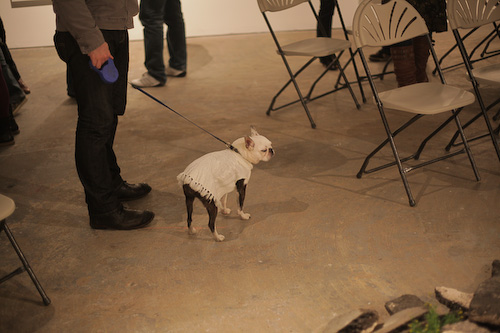 I think this dog was sent by Satan to tell me something important, but I slipped out before he got a chance. Missed opportunity!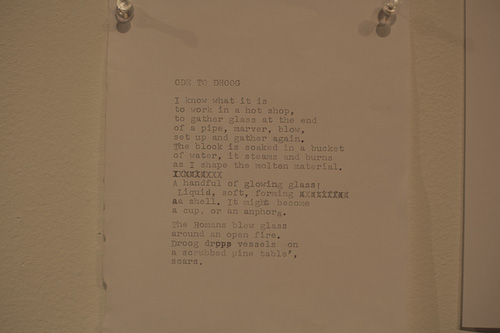 I don't know why we don't have poetry exhibitions more often at Bas Fisher. Which reminds me, you have like less then a month left to get your submissions in to the Knight Foundation for that amazing project you are totally going to do.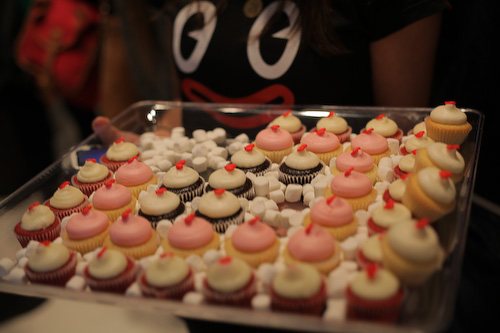 If you only have one cupcake at the Friends with You store make it a red velvet cupcake. Honestly, I wanted these to be better than they were. They were good, but I guess I was really in the mood for an amazing cupcake, and it does not seem like it would have been that hard to pull off, right? Isn't it just a matter of putting in a ton of Crisco or something? Whatever, any cupcake is better then no cupcake.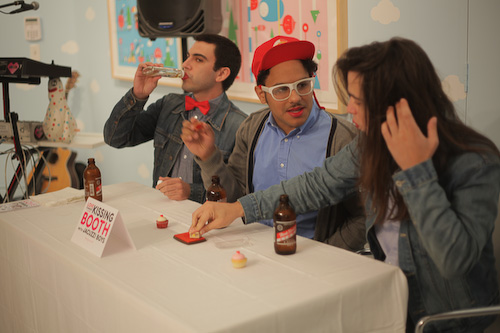 Wow, Danny makes a really good Pee-wee. Also, I think it has now—I think!—been six images with nothing vagina-related.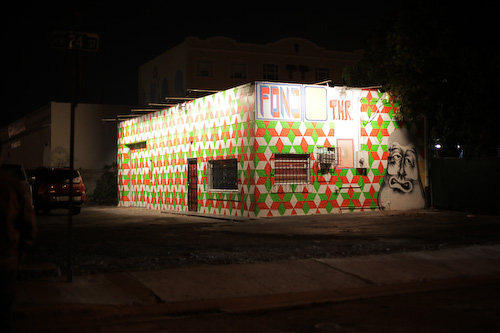 I think that if there is one lesson that planet graffiti can learn from planet art, it is the importance of proper illumination. Step it up, folks.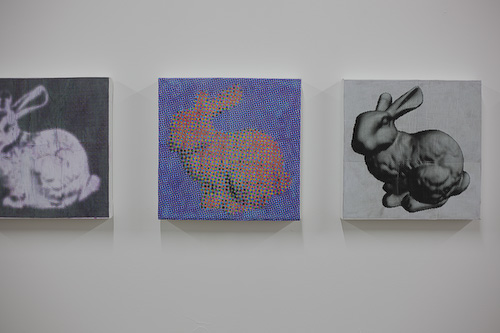 A series of mixed-media bunny pieces by Shelter Serra in the Castillo Annex. Go look!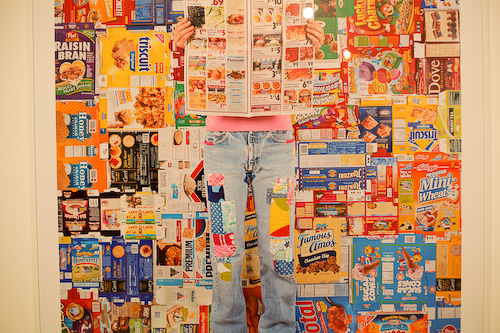 Gallery Diet. Did not get the name of the artist, too scared to go look at the website.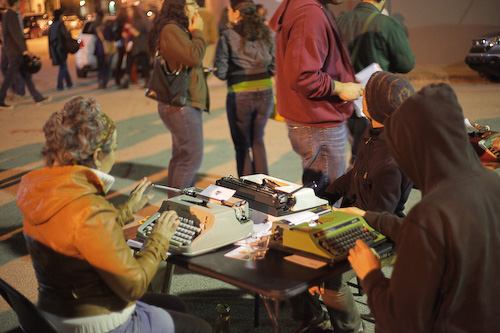 More unexpected poetry, here made to order on the corner of 23rd Street one block over from NW 2nd Avenue.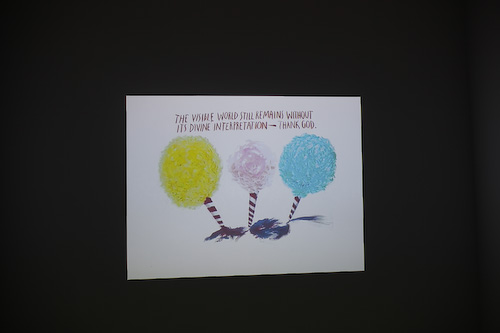 Impenetrable film at World Class Boxing. Or maybe not. Impenetrable, that is.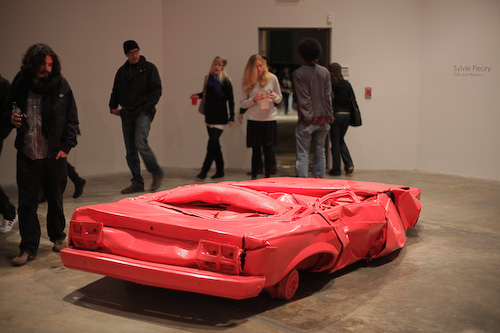 I certainly enjoyed Sylvie Fleury's crushed Fiat more. So, uh, what is it with all the pink things, anyway?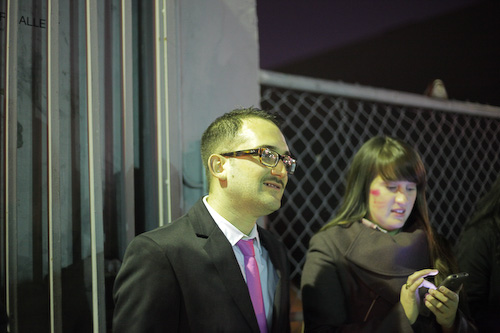 Outside Snitzer, an optimistic Bert Rodriguez semi-appologetically explains that Fred locks up at 9 pm, SHARP, and you my friend would be well served by showing up more promptly in the future. Or better yet coming to the artist's reception the night before, as you were told to do.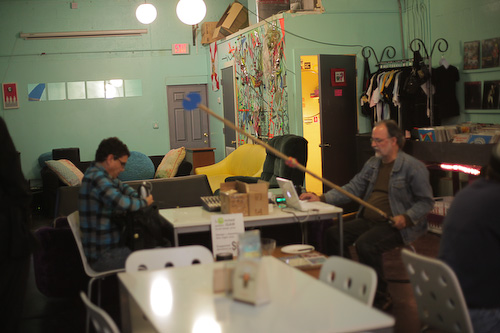 Oh right, so the Noise Conference! Here's Rene Barge and Gustavo Matamoros performing at Sweat. (Actually, I got there late, too, and it's really Gustavo performing and Rene putting his shit away, but the sounds were sweet!)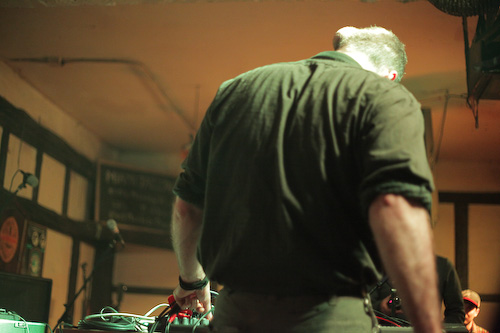 And now on to Churchill's for the Main Event! And if the rules were (1) No Droning (2) No Laptops (3) No Mixing Boards, then this guy was breaking at least two of the three but no matter, he was pretty incredible. I'm eventually going to go back into the computer and make this picture much darker and more dramatic, but yes, that is a big lump on the back of his head, and sorry but I couldn't help but wonder whether that had anything to do with how amazing his music was.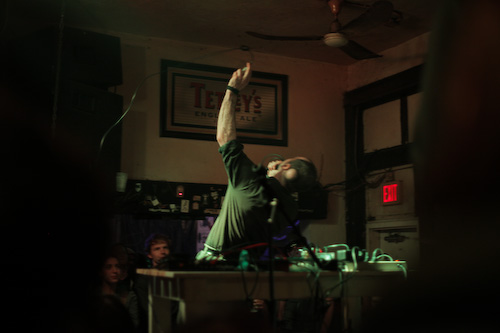 Here he is literally flinging his sound all over a stunned Miami audience.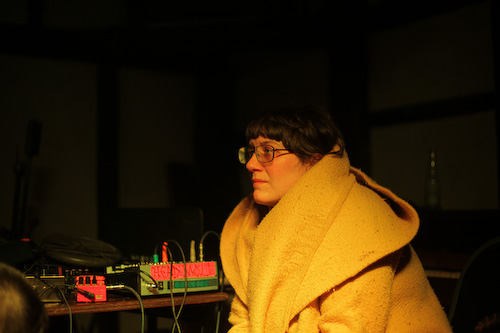 And when I say "stunned" I am not exaggerating. Also: wow. Between this and the photo from in front of Snitzer I think we have proof of need for a new Miami fashion photo blog. Where are the camera-toting UM club kids when you need them? Come on camera-toting UM club kids, get it together here.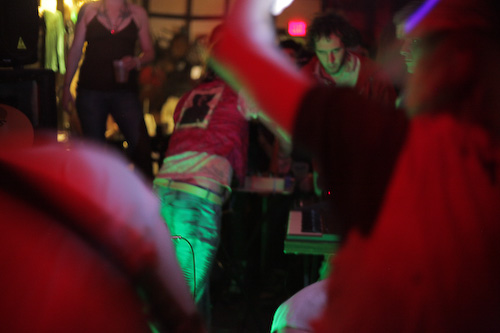 You know what the other thing about the Noise Conference is? It's actually not that loud. I guess maybe certain acts are pretty loud, but it's not at all what you'd expect. It's quite pleasant actually, and really the single distinguishing characteristic these bands all share is an inclination towards the theatrical. (I also was going to say something here about being sandwiched between all these people, and just how disgusting my clothes smelled when I got home, but really, just nevermind.)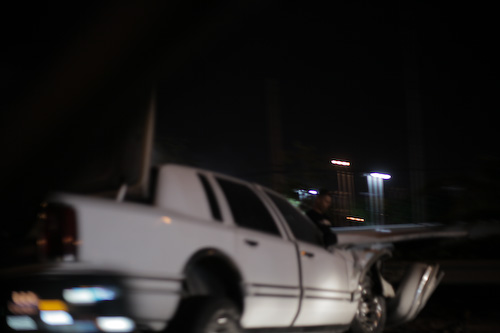 Wow… hate to end on a somber note, but here but for the grace of God goes you if you keep driving drunk. Big cars may protect you in a crash, but I sure hope it's true that small nimble cars are more likely to let you evade a crash before you get stuck in it. Let's all be careful out there my people.
Posted: Friday February 19, 2010 by Alesh Houdek · Permalink · Comment [4]
The Cleveland Orchestra performs Beethoven's 5th, January 28th. I'm almost inclined to buy a couple dozen tickets to this just to scalp later for Big Profit. Quick, people!
Updated 5:57 pm, 12/01/09.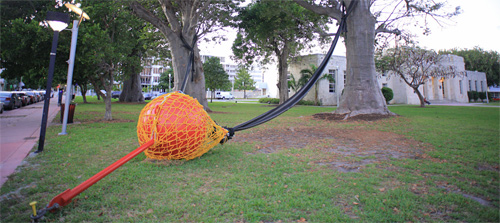 Preparations are under way all over town for the Main Event, starting more or less this Wednesday morning. Tents have sprouted over the generous undeveloped portions of Midtown Miami for many of the larger satellite fairs, art delivery trucks are fighting for unloading spaces at the hotels housing the less fortunate fairs, and the din of hammering and unwrapping is emanating from the Convention Center. It's that time of the year where the New York Times runs stories about Miami that neither mock or pity. It's the time of the year where the average IQ of the tourist arriving at MIA spikes unexpectedly, and when the cool kids from all over the world wish they were here. It's Art Basel Miami Beach, y'all, and the weather this year (give or take a stormy Thursday) looks to be cooperating.
But for now we wait, not unlike Robert Chambers' giant slingshot (pointed at the Bass art museum). Today brings the list below, which will to be updated throughout the week. A few more tidbits and links tomorrow. Wednesday comes a first look at the convention center, with stuff from the rest of the fairs daily probably into next week. Friday brings the perennial Art Basel guide for Normal People. Also follow me on twitter, as updates will be live and glorious. (Note: I'm indicating Miami galleries showing at each fair on an 'as I notice' basis — not comprehensive.)
Main fairs
Smaller fairs
Special projects, local endeavors, etc.
You can just assume that all these are free admission, and many will have an opening reception with free drinks. Quality tends to be very good, tho many are up for weeks after Basel.
Primary Flight (more info here ..): mural project featuring several notable local artists, and Shepard Fairey(!). Street art, plus a show at Art Center South Florida. Video.

FALLOUT

, 23 artists mostly from around the US, showing work in the actual fallout shelter of the old Burdines building (now Macy's) at 2 W. Flagler Street in downtown Miami.
Littlest Sister, "smallest art fair in town," Spinello Gallery. 50 artists, 8 booths, 1 store-front space. 155NE 38 St, #101, Miami.
"He Believes in a Beauty" — your pal Nick Cindric is back, and curating this oddly named exhibition. Includes work by Christina Pettersson, Gavin Perry, Carlos Betancourt, and Cristina Lei Rodriguez. So, worth checking out despite any web presnece. Buick Building, 3841 NE 2dn Ave, Miami.
Subtropics' Autonomous Sounds, sound art performance/installation, Thursday and Friday, 7 – 11 pm, 2100 Washington Avenue, Miami Beach (just northeast of the Convention Center).
Art | Baselita / Zones. Lots of local art, both fine and funky.
Dark Night of the Soul / It Ain't Fair, the former being the collection of photographs by David Lynch with accompanying music by Danger Mouse and Sparklehorse that you've heard of and the latter being, well, another show with a bunch of artists. At

OHWOW

, which is getting mad buzz, 3100 NW 7 Avenue Miami.


Events
Wednesday
Art Loves Music: Ebony Bones, free concert at "Oceanfront," 9 pm-ish. Free.
Thursday
Vivian Girls perform at Pulse at 7pm, with locals Little Beard playing at 6. Don't miss the whole list of art performances at Pulse, which sound impressive. (thanks, misael)
Friday
G. Love at Fountain, 7 pm, $5
Art Film: 'Jean-Michel Basquiat: The Radiant Child', at Oceanfront. This is apparently a rough unfinished cut of the documentary. Free.
Saturday
Posted: Monday November 30, 2009 by Alesh Houdek · Permalink · Comment [3]
I've been just informed that Terence Riley resigned as director of the Miami Art Museum. This indicates one of two things — either they've raised the money they need, and the new building is happening, or he's realized that it ain't gonna happen and he's bailing. The former reason is what is stated, but the latter seems disturbingly more likely, especially given the lack of a fundraising update with the announcement. This majorly blows. Update: here's the longer story. But scant new info: the fundraising numbers are 6 months old(!). "Riley said he leaves the job with very few regrets. One is that he didn't do enough to muster the support of Miami's art heavyweights." Yikes!
I am starting to wonder just how stupid the people at the Florida Department of Transportation are. They recently added bike lanes on Coral Way, but the lanes end at every block. I have seen the drivers on Coral way, and believe me when I say that people are goign to DIE because of this.
Good morning Miami. Welcome to the bulls-eye!
Hey Miami, we are back in the hot seat!
Are they serious? 2 Girls and a Cupcake is a real cupcake store (in Miami!)??? Do these people understand what they're punning on?
Shows of the upcoming in Miami over the next few months that may be attention-deserving (in light of the canceled Orb): Harvey Milk, July 11, Churchill's, Tori Amos, July 29, Jackie Gleason Theater, Maxwell, August 1, James L. Knight Center, Pet Shop Boys, September 9, Jackie Gleason Theater. Pretty sad list. (Via Tourfilter and JamBase.)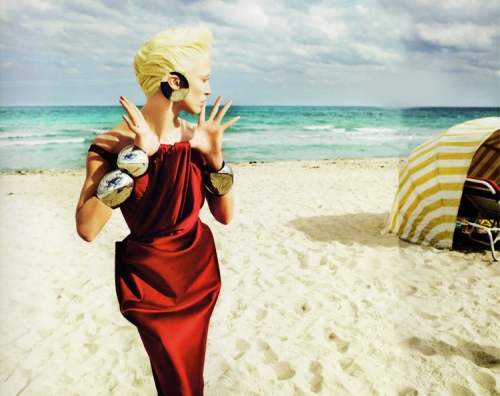 No idea. Android photo shoot on the beach. Via (or possibly by) @jipsy.
Aside: I think it's fucking great that the New Times is sharing local music on its blog. But it is fucking LAME that they choose a dodgy format that tells me I need to "download additional plugins" instead of just clicking to play or download like every respectable website on the internet. THIS IS WHY PRINT JOURNALISM IS DYING YOU ASSHOLES. Update: Just to be clear, I'm pissed at Village Voice Media for — apparently — not having a standard way for their bloggers to share mp3's, not at Arielle for making a poor choice. Here is the file, for anyone interested.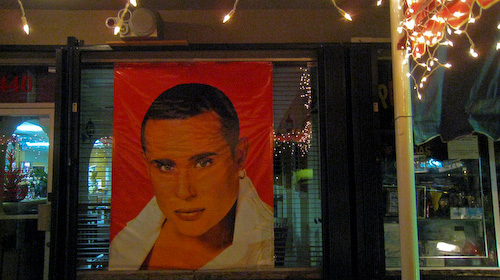 Little Havana
Is there anyplace in Miami that still develops large-format film?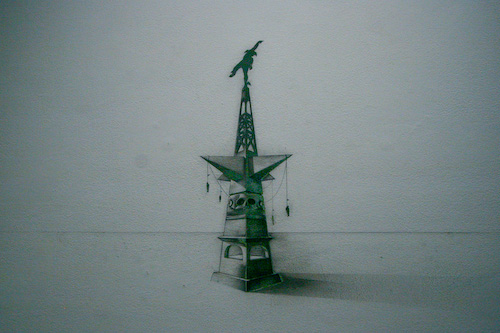 New Glexis Novoa wall drawing at Castillo. Bodies left hanging from the architecturally ambiguous tower!
In the project room, Pepe Mar's installation.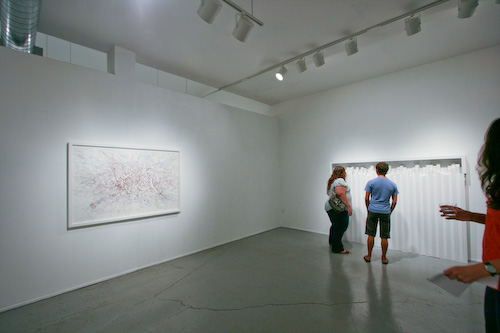 Felice Grodin's show at Diana Lowenstein, a must-see.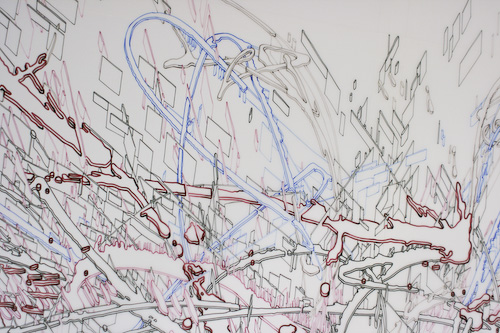 Detail.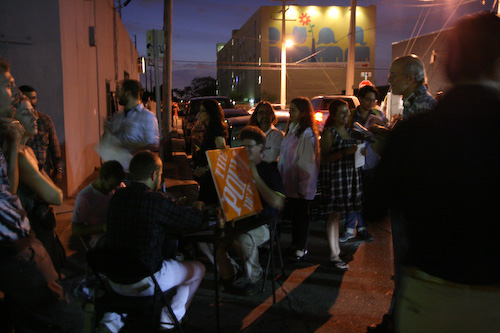 Custom poetry composed while you wait! Seriously, the energy is a little weird around Wnywood. I guess part of it is the impending approach of Summer, but there's more. The Prevailing Economic Climate is making sales of actual art increasingly unlikely. There's the move of Twenty Twenty Projects to Hialeah(!) and the move of Locust Projects to the Design District (a location "secret and for the most part inaccessible to those not closely associated with the residents"). It's hard to not believe that the PEC is not behind both relocations.
Peter LaBier's gremlin painting at Gallery Diet!!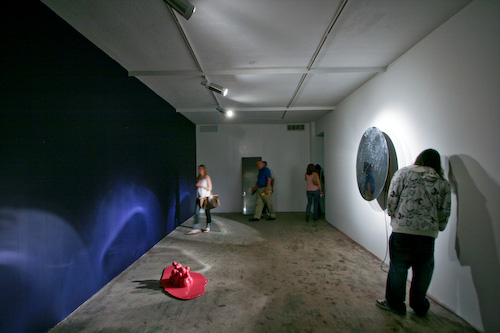 Sinisa Kukec's installation in a new space across from the street from Kevin Bruk. (The space is a nice collection of staggered rooms which evokes the Margulies, and I'm looking forward to future shows there. Provided by Goldman Properties, it is one of the positive consequences of the PEC.)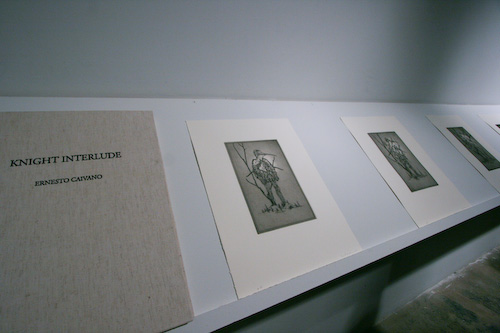 At Dorsch, Ernesto Caivano's spectacular dissolving knight series of etchings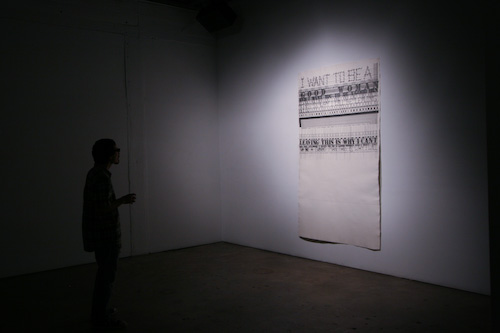 Alyssa Phoebus' Good Woman, which I believe is not a graphical presentation of Cat Power lyrics (but am prepared to accept evidence to the contrary. Seriously though, you should see this show too, if at least for the Patricia Smith pieces, which were beautiful but hard to photograph).
Posted: Thursday May 14, 2009 by Alesh Houdek · Permalink · Comment [1]
Michael Polland at Books & Books tonight!. I'll rave about him at length at some point in the future; in the meantime a good introduction is his open letter to Barack Obama from last year.
Oh, speaking of Herzog and de Meuron, how far is the Miami Art Museum in their fund raising for the building? Not bad, reports Daniel Chang in Sunday's Herald — the MAM has secured $45 million in pledges from private donors. This is out of targeted $120. The science museum is to raise $100 million, and various public funding for the two buildings comes to $280 billion. No word on what happens when if the project goes overbudget.
The economic downslump is taking the predictable bite out of real estate development here on South Beach and throughout Dade County. But the construction of a few notable buildings proceeds, and it's encouraging.
Herzog and de Meuron's parking/retail structure at the west end of Lincoln Road Mall. There are a few more levels yet to be added to this, but the spaces between the columns you see are not going to be enclosed. The finished product will look like this. (Only white cars will ever park there.) These are the same folks who may one day yet create the new Miami Art Museum building.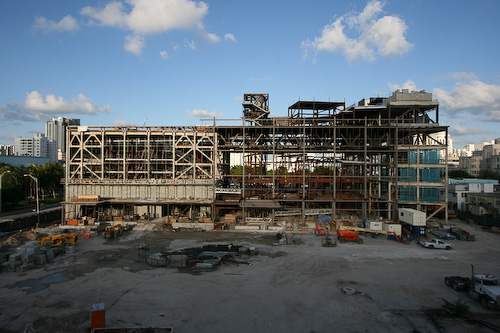 And this is the Frank Gehry building for the New World Symphony, being constructed near the other end of the mall, behind the symphony's current theater. This is the Western elevation, though you can see the blocky internal shapes that will be visible from the outside. The open space in the front of the image presumably will house another parking garage.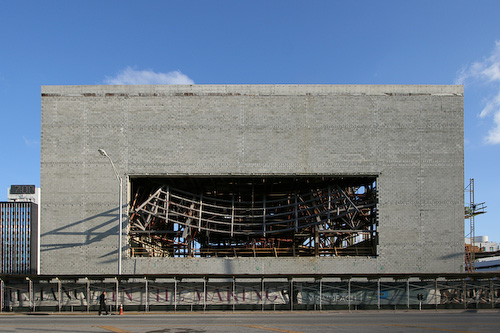 Northern elevation.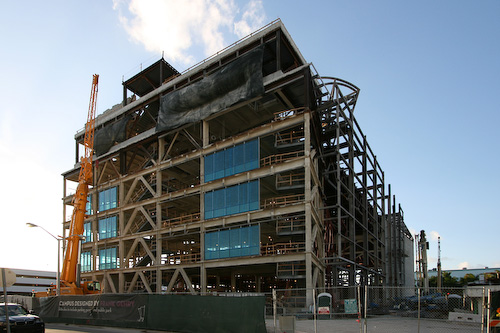 The Southeast facing corner, which roughly corresponds to this rendering (use the boatlike shape at the top to match them up. And yes, the road in the rendering is currently the alleyway running behind Lincoln shops).
Posted: Tuesday May 5, 2009 by Alesh Houdek · Permalink · Comment
80s Baby (This is a person doing community service at my work.)
"For the past year, the average sale price on Miami's foreclosed homes has been falling by roughly 4 percent per month. The rate of decline hasn't tailed off."
Some of the last-sucker-in residential developments around Florida are returning to nature, maybe sort of like in the new show Life After People. Take the Turnpike south towards Homestead and it is just stunning, the rows upon rows of empty finished and unfinished developments.
HOLY CRAP: They canceled Langerado. You BASTARDS.
The first day of winter was December 21, 2008. The last day of winter will be March 19, 2009. So we're more or less in the middle of winter. Yet today, the high temperature here in Miami is 81 degrees, and the humidity right now is hovering close to 90%. It's hot and sticky, and this is just not right.
About three years ago,* I advised everyone in Miami to sell their house, pocket the money, and wait a couple of years:
[F]ind a moment (and find it soon), to sell your house, put your stuff in storage and rent an apartment for a year (maybe two or three), then buy your house (or one similar) back, for a maybe $200,000 profit.
So, here we are, three years later. Neverminding for now that the housing market took the whole economy with it, let's see what the smart money's up to these days. I work up early this morning to cook up a graph for you people, with data from the trusty housingtracker.net: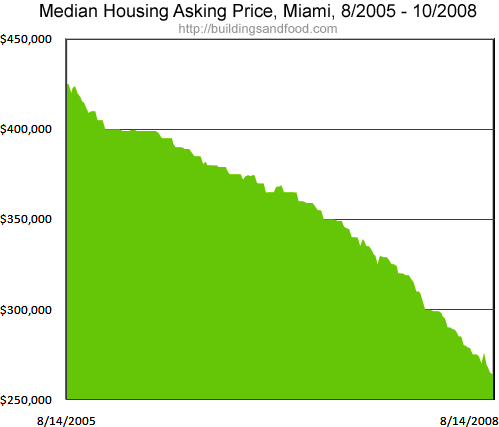 I chopped the bottom half of the graph to make it more dramatic — the housing is in the tank. This graph actually understates the situation, because it's showing asking prices, not sales prices. I should also say that during this period, housing inventory in the area went from 12,000 to 50,000.
Now, listen carefully: it's time to go shopping. Remember the factors that led to the bubble? Idiotic interest-only mortgages, gross overbuilding, and what seemed like terrifying hurricane seasons as far as the eye could see. The picture today? (1) mortgage idiotics universally recognized and being dealt with to the tune of trillions of dollars from the federal government, (2) overbuilding spectacularly finished, and (3) relatively calm winds for the last two seasons. To boot, (4) an incoming president that everyone seems to think Can Fix Things.
Respectively, these factors mean: (1) lots of money for people to borrow to buy homes being injected straight into the economy's mainline, not the least of which is near-zero interest rates, (2) there are more unocupied homes now then they will be for probably another decade, (3) people will begin moving to Miami in droves again, and (4) the economy is ultimately about mood and expectations, and both are in the process of getting a major boost.
So, what's the smart money doing? Maybe not buying a house or condo today, but it's starting to look around. It's checking out the listings, and getting a feel for the market, and planning on buying something pretty damn soon. I'd say sometime in the next six months. I know the right edge of the graph still looks like a plunge, but the thing is that while the economic recovery will be slow and steady, the housing market will recover probably first with a sudden upward jerk in prices. And if you wait for that first jerk up, you're going to be one of the droves of people entering the market, and you won't get the really good deals. The time for those is now.
* Actually, check out this post from June 2005.
Posted: Wednesday January 14, 2009 by Alesh Houdek · Permalink · Comment [10]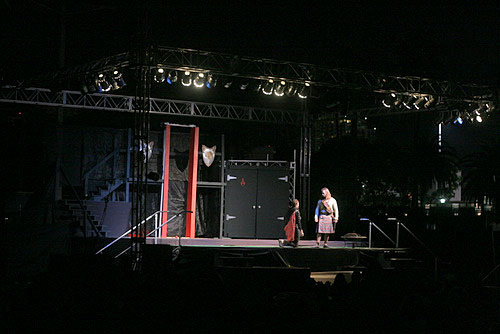 Not related to the Artwalk, but by my place on the beach, Shakespeare Miami was performing what sounded like a very decent version of MacBeth. Wow. Now, on to the show.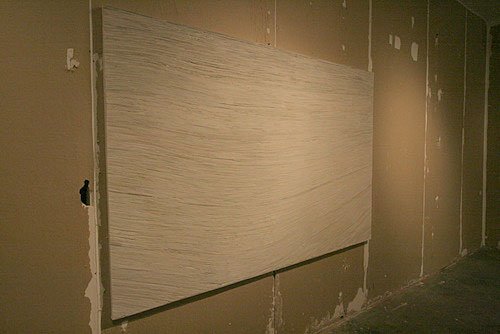 At Locust Projects, Loriel Beltran stripped down all the walls, then thin-sliced the painted layers and meticulously stacked them onto boards. This one, built from a wall that had been painted red sometime in its past, evidences a slight pinkish tone. Not pictured, the patched remains from the wall where Jen Stark's piece had once been installed.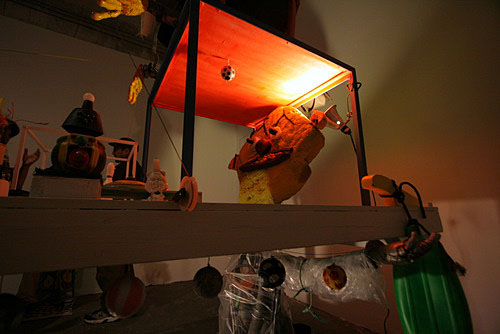 In the project space, Mike Swaney's zany installation.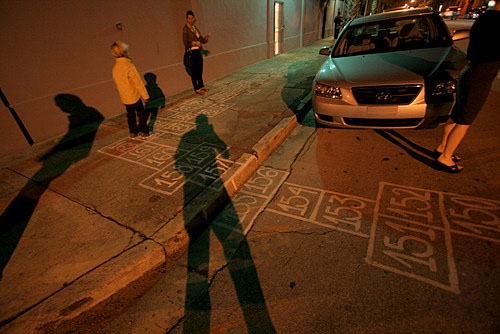 Agustina Woodgate's titanic hopscotch game winds through Wynwood. There were actually quite a few kids at the artwalk this month, which was sort of fun.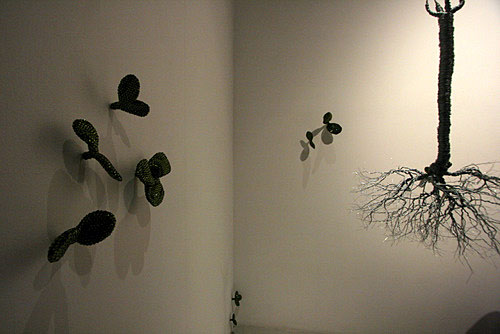 Wendy Wischer's installation in the project room at Castillo.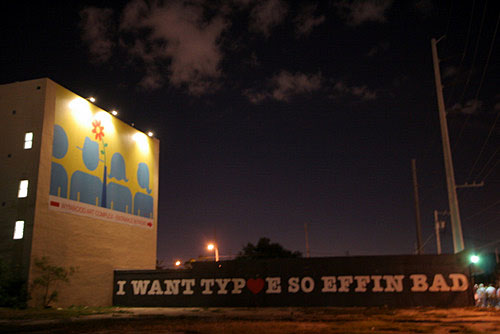 These are just the normal murals we have here. Programming note: when I have my new camera, things like this will be in focus. Whatever; this is a 2/3 second exposure.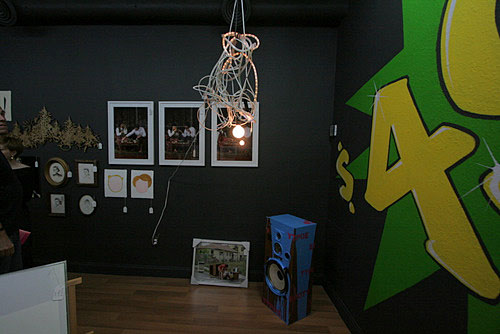 The $499 art sale at Spinello, replete with price tags on every item.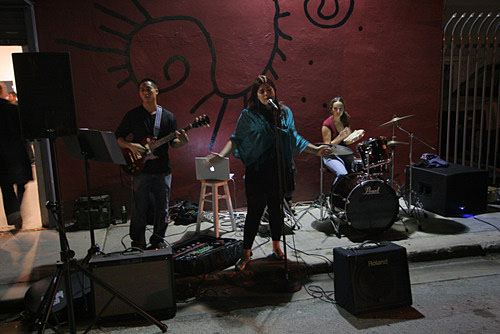 A little samba band perfrorms in front of Artformz. Seen but not photographed: Abby Manock's Counters at Gallery Diet, a mesmerizing video and exhibition of props used in its creation.
Posted: Monday January 12, 2009 by Alesh Houdek · Permalink · Comment [1]
WLRN is considering cutting traffic reports? Check out the survey they're asking folks to take. Since cost-cutting is going to come from somewhere (in These Uncertain Economic Times), may as well cut back here. Can't they get the info from traffic.com or Google anyway?
Club Deuce is dead. First Hotel Clinton and now this — weep for the last nail in the coffin of slummy old South Beach.
More fun with Broward County lawns. Left to right: Poseidon, a deer, two lions, and a crude Michelangelo David with a fig leaf.
Salon predicts another election disaster in Florida. Actually, the trouble has already started — lots of people have reported the early-voting problems the article references (why anyone would want to vote as soon as possible escapes me), we have brand new voting machines, droves of new voters, and this cockamamie new "no match, no vote" law (which is almost like Charlie Christ looking for a way to make himself less popular (but nevermind, because I got my address change in, so I'm good to go)).
A certain shady South Florida "museum" has been sending me spam at regular intervals with the following message affixed to the top of the message:
This e-mail has been classified as WHITE MAIL by AOL (America On Line).
This mail is originated by a 501©(3) non profit cultural organization and cannot be considered as Spam. You have the right to be DELETED from our mailing list sending back this email with the word UNSUBSCRIBE on the subject. This mail has been sent with the authorization of AOL (America On Line) and according the U.S. laws. Thank you.
Is it just me, or is this weird three ways to Sunday and back? Anyone seen anything like this or have any explanation whatsoever?
Posted: Wednesday October 22, 2008 by Alesh Houdek · Permalink · Comment [2]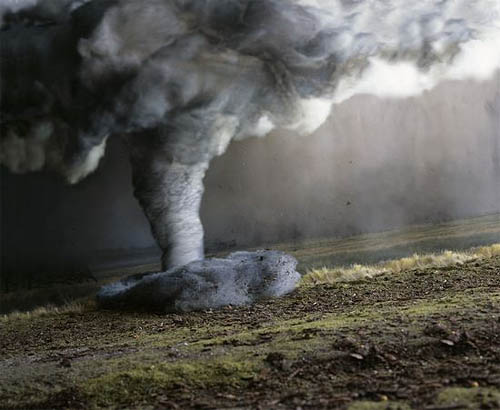 We begin at Gallery Diet, with Samantha Salzinger's spectacular photos. By the way, I just built her a website. Anybody else want one? Get in touch.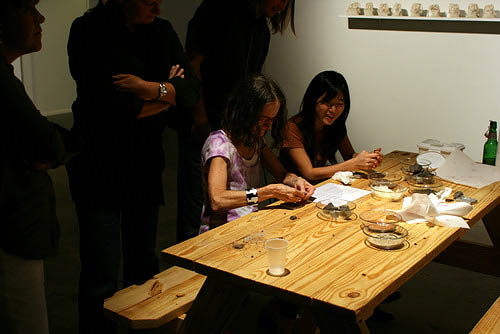 Peggy and Harumi make stones at Mark Kowen's show at Dorsch.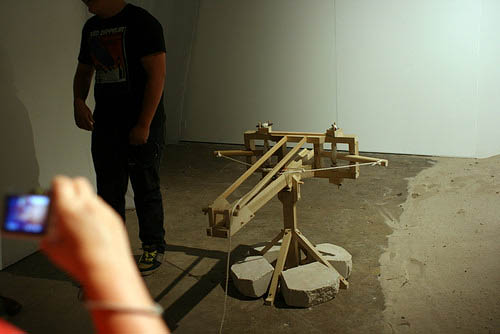 The rest of the gallery is filled with several dumptrucks worth of sand dunes, and a catapult/crossbow type device where you can launch someone else's stone after you've made one of your own.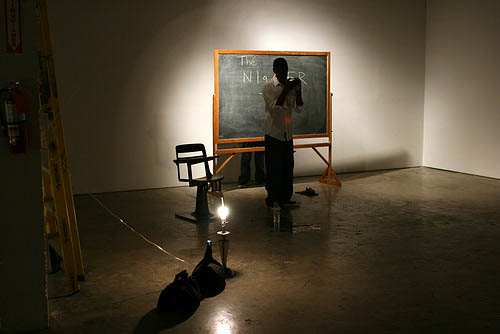 In the smaller space, an impromptu Classroom. The schedule is filling up.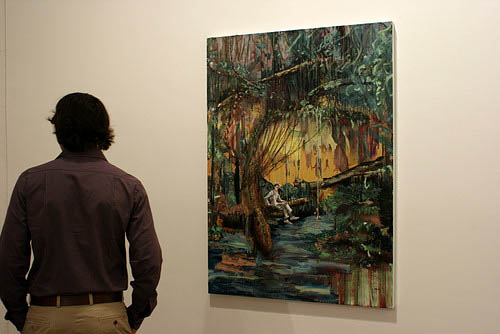 Hernan Bas delivers new work at Snitzer — several spectacular large-scale paintings, and a large series of fairly abstract pencil drawings.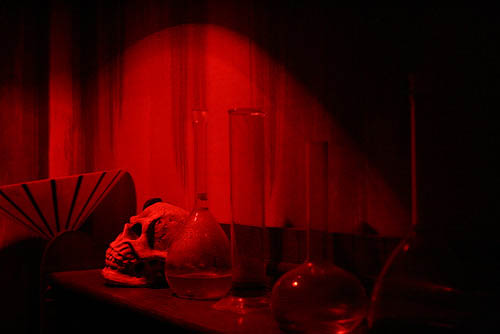 Clifton Childree's installation at Locust Projects, the result of a two-month residency. Try to stop in at Locust if you haven't seen this — they're open Saturday afternoons until 5.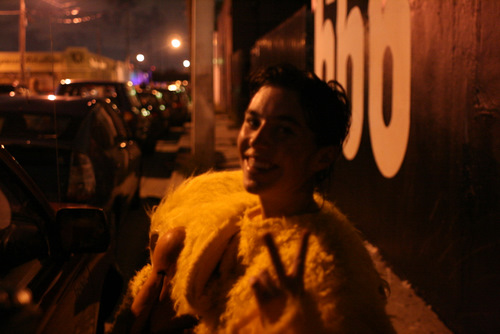 The chicken person, unmasked!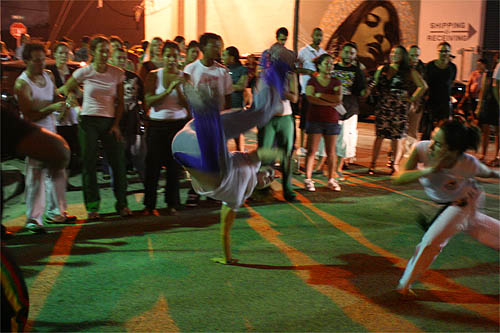 Looked like break-dancing to tribal beats to me. Major festivities in the streets despite a partial ban on alcohol. Apparently word got out (perhaps partially my fault), and during the September gallery walk crowds of fools showed up with the sold intention of getting drunk for free, got all sorts of rowdy, and knocked over a sculpture in World Class Boxing, resulting in aforementioned ban. I don't give it more then one more month.
Towards the end of the night, a legion of cyclists showed up, their rides chained up in twos and threes up and down 24th. Check: one of the three bikes pictured has brakes.
Posted: Tuesday October 21, 2008 by Alesh Houdek · Permalink · Comment
A recent car accident took out my car, and I've been using my parents car, as they were out of the country. They returned on Wednesday, but I'd decided to try living completely without a car. I've been commuting mostly by bike for about a year anyway, and this seems like the next step. It's an ideal time of year to try it. I've figured out a lot of the practicalities of getting around on a bike, such as dealing with breakdowns (knock on wood) and hauling moderate loads.
But of course there's a big difference between getting around mostly on a bike and relying on it as one's sole transportation. There are rainy days, large packages, and days when you just don't wanna. But part of the joy of riding is overcoming obstacles, so I'm looking forward to dealing with all of that. Let's try it for a few months and see how it goes.
Posted: Friday October 17, 2008 by Alesh Houdek · Permalink · Comment [2]
Here are some goofy photos of animals from Lion Country Safari. LCS is worth a visit once every decade or so, just avoid the tourist-trap "Safari World" unless you have kids. It's worth driving through twice, which you can do at no additional charge. (Regular admission is $23 per person, a $5-off coupon is here.)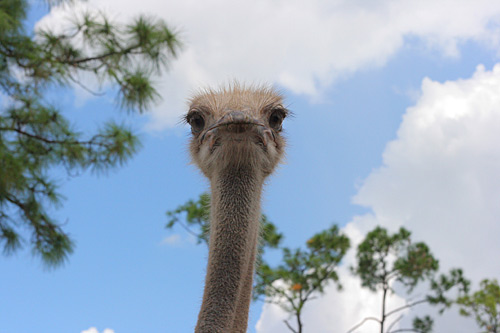 CLICK FOR SLIDESHOW
Posted: Wednesday September 24, 2008 by Alesh Houdek · Permalink · Comment [2]
Labor Day. This is when I love Miami. Just as Fall starts to set in just about everywhere else, with the leaves browning, animals and people stocking up for the winter, here it is the opposite. Bring in the first tentative indications of the subsiding of the sweltering of the Summer. Bring in the first trickles of snowbirds, returning from the four corners of the world (but mainly Canada) to which they've retreated from that sweltering. And bring in the peak of the hurricane season, when God fires the low-pressure storms like bowling balls, one right after another. I'm not even remotely close to kidding, either: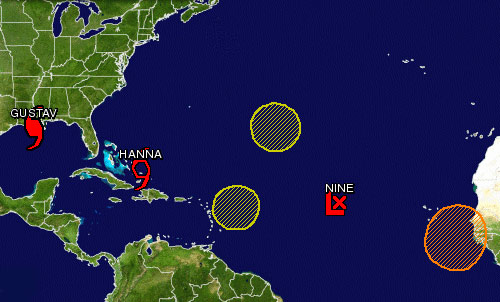 To the left we have Gustav, Category 2 Full Blown Hurricane, currently hitting New Orleans and the rest of Louisiana, maximum sustained winds of 110 mph, and as we speak keeping me in terror of turning on the TV. (But seriously, can you imagine? — an entire city built under sea level, so that in times like these, 100% of them there populace has to evacuate, (and despite the much-publicized few holdouts, I believe most of them in fact have), and the city is presumably empty but for (futile?) looting-prevention squads of National Guard, waiting to be hammered like a fat kid at best, or at worst — what? — wiped off the face of the Earth?)
Next up we have Tropical Storm Hanna, maximum sustained winds of 60 mph, currently doing its business to the Bahamas, and strengthening as it moves towards Florida, the cone of danger veering wildly from the north to the south from advisory to advisory (the NHC really should archive its advisories and maps, so we can see just how well their computer models have done over the years), but with an excellent chance of ruining next weekend for me.
The next low-pressure system appears to have split up into two areas of crappy weather. They may continue to move westward, but they've forfeited any chance of blooming into cyclones. Not much, but what heavy weather they bring will be seen as a resting point between volleys.
. . . hot on the heels of which is currently Tropical Depression 9, maximum sustained winds 35 mph, and so probably by the time you read this to be proclaimed Tropical Storm Ike. Doesn't look like much, but by next weekend it'll have likely covered two thirds of the distance between its present location and Miami. Are you starting to see my point?
And of course we have the seemingly big orange blob, officially "a strong tropical wave," where the butterflies are currently doing their fluttering between the coast of Africa and the Cape Verde islands. Orange indicating here "medium potential for tropical cyclone formation," natch. It too is moving towards us, 15 to 20 miles per hour. OK, so I turned on the TV for a bit. Something about a little bit of good news, and but "some of the levies may already have been breached." Spawning tornadoes.
But wait, I was talking about why I like this time of the year. The danger I guess is part of it. We don't have those browning leaves down here to remind us, yadda yadda, of the circle of life, the Forces at Work, on this planet. We have these volatile storms that always look like they're just bearing down on you, and sometimes they do bear. There is a level of danger, but it's what's called a tolerable level. There are warnings, and there are possible preparations and evacuations, and the damage is usually the kind that you can put just dollar signs in front of. My heart goes out to the city of New Orleans. Hope you're safe. But this, as they say, is part of it.
(Sorry about the high-school-newspaperesque fever of my writing here. I'm just getting back into it, ok?)
Posted: Monday September 1, 2008 by Alesh Houdek · Permalink · Comment [2]
Friday I was riding my bike South down Pine Tree Drive after the rain had stopped. I'm dodging puddles, mud, and slippery wet grates, and so I'm farther from the right curb then I normally would be, but no worries — there are two lanes going in every direction, and the namesake pines give the road a relaxed sort of mood. Suddenly comes honking from behind me. Incredulous, I turn around, flip off some asshole in a silver sports/luxury car, and move farther over into the lane, just to make it perfectly clear that I have a right to be where I am and he needs to back off or get over and pass.
Dude chooses the latter, then merges over and proceeds to mess with me by braking in front of me, fist slowly and then when that doesn't particularly faze me, sharply. I move over to pass him on the left (the rest of the cars have passed now) he moves over too, cutting me off. I then stay on the left side of the left lane. There's a big median with those big pine trees, and now I'm not really letting his shenanigans get to me he, unwilling to actually run me off the road, speeds off.
As it happens the red light up ahead is a long one, and I pass him again, zipping by his driver's side window and shooting him a dirty look. I run the red light but now I'm in a bit of a dilemma, with no good idea of what this guy is going to do when he gets a second chance to pass me. I move over to the sidewalk for the next block. Sure enough, he slows on passing me.
"That's more like it," yells he.
"You're a real tough guy against a bike, asshole," yell I back at him.
And he zips off. Good times. At Washington Avenue I cross a bridge that's under construction and closed to cars, and I'm almost home, crossing another intersection when a car standing at the red light on the cross street pulls a few feet out into the pedestrian cross walks and honks a few times. I'm light wtf, but then I look up, and it's the same dude, who I guess had to go the long way, except now he's suddenly my buddy, smiling and giving me a thumbs up. I give him a quick nod and I'm gone. Whatev's.
Posted: Sunday June 22, 2008 by Alesh Houdek · Permalink · Comment [6]