You are viewing articles in the category: Meta
I don't think I'm not going to make a whole big post about this every week going forward, but of course the new episode of On The Fence is out today. Go listen!
On The Fence Episode 12: A Warm and Pleasant Dinner, in which we suffer through some of the worst audio tribulations yet to talk about the Republican race and the State of the Union. On the plus side, it's only 45 minutes.
You can subscribe in iTunes here. And please drop us a rating while you're there.
Posted: Thursday January 26, 2012 by Alesh Houdek · Permalink · Comment
On The Fence Episode 11: Goat Brains, in which we talk about Facebook, timeline, Google Plus, and Andrew Sullivan's Newsweek article about Barack Obama's performance in office and legacy.
If you haven't already, you should subscribe in iTunes here. And give us a rating.
Posted: Wednesday January 18, 2012 by Alesh Houdek · Permalink · Comment
On The Fence Episode 10: 22.8 percent, in which we talk about the New Hampshire primary, Ron Paul, $7.77 trillion, and whether prison inmates should have the right to masturbate.
If you haven't already, you should subscribe in iTunes here. And give us a rating.
Posted: Wednesday January 11, 2012 by Alesh Houdek · Permalink · Comment
On The Fence Episode 9: My Pants They're Tight, in which we talk about many things, but mainly the Miami Art Museum renaming, pertaining to which Steve just sent me a link to this NYTimes article, of which the most important bit is the ending:
Though it's not uncommon for a smaller art museum to take on the identity of a major benefactor, it is less common with larger institutions, said Maxwell L. Anderson, who in January will become director of the Dallas Museum of Art. "No one has ever seen this happen at a museum that aspires to be a major metropolitan museum," he said.

Mary E. Frank, a former president of the Miami museum, not only resigned from the board in protest but also took out a full-page newspaper advertisement with her husband, Howard, the chief operating officer of Carnival Corporation. She said the ad's opposition to the name change had drawn nearly 300 e-mails of support and that she and her husband would not fulfill the remaining half of a $500,000 pledge they had made.

Mr. Rodríguez, another trustee who resigned, said his company, Carnival Cruise Lines, is now debating whether to come through on the balance of a $5 million endowment gift, of which $1.5 million had already been awarded.

"We feel we made a pledge to the Miami Art Museum," he said. "Not to the Jorge Pérez Museum."

But Craig Robins, a member of the board who is a developer and prominent collector, suggested that those opposed to the renaming should collectively match Mr. Pérez's contribution and try to retain the name. "It's not fair to be critical unless you're willing to do something about it," he said.

He said he was sure Mr. Pérez "would gladly relinquish it," adding: "He's being the generous one. He's the only one stepping up to the plate."
As per always, you should subscribe in iTunes here. And while you're there, why not throw the show a rating or write a review?
Posted: Wednesday December 7, 2011 by Alesh Houdek · Permalink · Comment [1]
My first batch of photos from Basel Etcetera is up at The Atlantic along with a saucy 350 words about the fair. Coming soon: a second batch, here, of some of my favorite art. Tay stooned…
Posted: Tuesday December 6, 2011 by Alesh Houdek · Permalink · Comment
Posted yesterday and linked today: episode 8 of On the Fence, wherein Steve and I talk about how congress seems to be going out of its mind (the police state bill passed the senate as we were recording), Newt Gingrich's lasting legacy, and Moral Relativism.
As per always, you should subscribe in iTunes here. And while you're there, why not throw the show a rating or write a review?
Posted: Thursday December 1, 2011 by Alesh Houdek · Permalink · Comment
Also just posted: episode 7 of On The Fence, my podcast with Steve. This week: Thanksgiving special! After sorting out a couple of Steve's myriad computer issues, he and Alesh talk about what they're grateful for, Edgewater, transvestites, the budget super committee, and Grover Norquist.
As per always, you should subscribe in iTunes here.
Posted: Wednesday November 23, 2011 by Alesh Houdek · Permalink · Comment
Also just posted: episode 6 of On The Fence, my podcast with Steve. This week, we continue our conversation from last week about whether foodies are terrible people, and touch on whether the budget supercommittee has a prayer of getting anything useful done.
As per always, you should subscribe in iTunes here.
Posted: Wednesday November 16, 2011 by Alesh Houdek · Permalink · Comment
Hey y'all: A longish article by me about Lawrence Lessig's Republic Lost and Occupy has been just posted at The Atlantic.
In Episode 5 of On The Fence, Steve and I talk about Greece, the Eurozone, Goldman Sachs, what the conviction of Michael Jackson's doctor says about our medical system, and why foodies are terrible, terrible people. Anniversary episode!
If you haven't already, you should subscribe in iTunes here.
Posted: Wednesday November 9, 2011 by Alesh Houdek · Permalink · Comment
In Episode 4 of On The Fence, we talk about the past, present, and future of the Occupy movement and the Move Your Money Project with local artist and Occupy Miami activist Misael Soto. You should follow him on Tumblr and on Twitter.
Posted: Friday November 4, 2011 by Alesh Houdek · Permalink · Comment
In Episode 3 of On The Fence, we talk about Gaddafi's death and the future of the world, North Korea, the present of Occupy Wall Street, and Steve Jobs. You should really subscribe in iTunes so I don't have to keep posting these links.
Posted: Thursday October 27, 2011 by Alesh Houdek · Permalink · Comment
Here's episode 2 of the On the Fence podcast. Steve and I talk about Occupy Wall Street, and whether there's any chance at all of Herman Cain becoming president. But here's the thing: you can now subscribe in iTunes.
Posted: Thursday October 20, 2011 by Alesh Houdek · Permalink · Comment
Rate photos. I'm talking about the 0 to 5 score that can be stored in an image file's EXIF data. I'm talking about getting a batch of photos previously synced to my Mac to the iPad (perhaps in a reduced size), viewing them in a Photos-like app that allows me to set the rating (and maybe make other EXIF edits, but that's strictly gravy), and then sync the ratings back to the original files.
You have NO IDEA how badly I want this. I'm learning iOS development in hopes of building the app that'll be able to do this (Filterstorm Pro comes close, but ends up failing I think). The reason: I believe that my photo library will outlast any single photo organization software. Hence the EXIF approach. It's the reason I use Lightroom instead of Picasa or iPhoto (tho I'm considering just using Bridge exclusively). But for me, looking at photos and making judgements is 100 times more pleasant on the iPad than on a computer. On the Mac, it feels like work — like a chore. On the iPad, it's practically a game. I don't know why, but I NEED this. Eventually, Apple will make an amazing iPhoto for the iPad the way they did with GarageBand. But I can't wait any more. Help!
Posted: Friday October 7, 2011 by Alesh Houdek · Permalink · Comment [3]
Published yesterday, my rant at The Atlantic about text messaging fees and how the new iOS begins to do away with them.
Here's episode 1 of On The Fence, a hopefully weekly podcast by me and Steve of Obalesque. The not insignificant audio issues are all my fault, and will be reduced in coming episodes, I sure hope. An iTunes listing is pending.
Posted: Friday September 30, 2011 by Alesh Houdek · Permalink · Comment
Go read my latest article at The Atlantic, Why Amazon's new tablet could beat the iPad. We'll all likely have a completely different perspective on this tomorrow, after Amazon makes their announcement.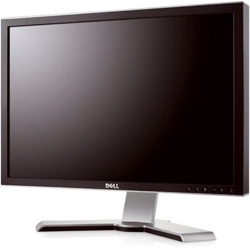 I took a passing swipe at Dell in my latest article at The Atlantic, but I wanted to just tell you one specific story. Here's the old-style Dell 24" UltraSharp monitor. Expensive, premium — it cost $599 back in the day, and the current version still goes for $399 today. I've had personal experience with three of these, and let me tell you.
The first is the one I still use at work. It's survived about three years. But. First of all, the

USB

-hub thingy built into the monitor never worked. Also, lately, the bottom left area of the monitor is way darker than the rest of the screen. I originally thought this was dust somehow getting sucked between the

LCD

and the backlight, but now there are weird faint horizontal bars in the same area depending on what's on the display (i.e., a black square on a white background will make the area above and below it slightly than the surrounding white), so something funky is going on.
The second one arrived in the mail, turned on for a split second, shut down, and never powered up again.

DOA

.
The replacement worked fine for three years. Just about a month ago, though, the power button stopped working. Monitor works just fine, self-powers down when it looses a signal, but if I want to manually turn it off I have to unplug it. Mind you, I've never used the power button regularly, so it's not like it's worn out from overuse.
Is the Apple 27" display overpriced at $999? In light of all this, maybe not.
Posted: Wednesday August 31, 2011 by Alesh Houdek · Permalink · Comment
The Paleo Diet: Caveman Cure-All or Unhealthy Fad?, my latest article for The Atlantic, is online now. I was expecting to write a more balanced thing, but working through it, my conclusion sort of shifted towards the negative.
Hey look: I get quoted all throughout this article Liz wrote about Sade in the New Times. In fairness to me, I was pretty drunk at the time that I made these statements.
My mind's made up: I'm buying a Mac mini. Apple has a serious problem with their lineup: their middle of the road computers, the iMacs, only come with monitors built in. I already own a monitor, so I'm forced to choose between the underpowered minis and the outrageously expensive Pros. (I've never felt the need to own a laptop.) Well, it's settled; with the next update, I'm going to get a mini.

Hey, I totally forgot to tell you guys, but last week, I got a story about Art Basel Miami Beach published on The Atlantic's website. Huzzah! It comes in two parts, a writeup and a slideshow, though my favorite link to come out of the whole thing is this: TheAtlantic.com/Alesh-Houdek. And I've every intention of adding to it in the non-too-distant future.
So how did this happen? Well The Atlantic's deputy editor J.J. Gould, who runs the website, used to read Critical Miami. We've recently been in touch on Twitter and, well, the whole thing was his idea. By the way, there's an interesting article about The Atlantic's web rebirth in Sunday's New York Times.
Meanwhile, I still have a bunch of images from Art Basel to share. It's going to be long after the fact, but I'll probably get them up this week, despite my second cold in one month. Blurgh.
Posted: Tuesday December 14, 2010 by Alesh Houdek · Permalink · Comment [1]

New Today!: The Heat Lightning, a group website/blog founded by me and Liz of Miami, Bro, and featuring an as-yet-unspecified number of contributors (maybe you?).
Hopefully this will revive a little of that 'ol Critical Miami spirit, with, uhh, "a fresh new vibe," i dunno. I don't need to convince you it's going to be great, because sooner or later you're going to click over and you'll see for yourself.
Posted: Monday May 10, 2010 by Alesh Houdek · Permalink · Comment [3]
This Wednesday I'll be part of a panel discussion, and no, it's not at SXSW. It's at MoCA, and it's about, I guess, contemporary digital design, social media, and architecture? The info is on Facebook, I'm reproducing it here for those who haven't seen it. There's also an e-flyer, and here is the sparsely populated MoCA link. Come by and say hi!
New Paradigms in Communicating Design Culture
'Time for Design' Panel Discussion at MOCA – moderated by Armando Montilla

7 pm, Wednesday, March 17, 2010
Museum of Contemporary Art, North Miami
770 NE 125th Street North Miami, FL 33161

Traditional ways of communicating design though printed media now share their role in communicating the culture of design with subversive/alternative publishing means such as blogs and social networks sites. Physical versus virtual, high-institutionalized versus low-alternative; and individual versus collaborative are the new paradigms in communicating design culture in times of financial challenges.

This event will suggest Mediation and Subversion as means of spreading Design Culture, in the format of discussion panel with short (5 min. max.) visual presentations included, within the frame of the 'Time for Design' Discussion Panel Events at MOCA.

The underlined questions of the discussion will be:

1. Can we go beyond traditional means of mediation in architectural design such as printed publications?

2. Can we promote a good design-oriented culture through the use of Internet blogging at the present lacking of available funding to produce publications?

3. What could the role of sub-cultures in the city to promote 'unappreciated' aspects of innovative design?

4. How can we have a participative 'design community' exchange using virtual/non-traditional means?

5. How can we activate community participation in collective design efforts?

The discussion will also aim to: "[The] identif[ication of] different actors in the mediation process of the city, particularly in what refers to the realm of contemporary artists, urban hackers and para-architects dealing with media and the city…[..]…'Wiki' collaborative modes and 'Smart Mob' organizational strategies, not only lead to physical manifestations in real space – such as the so-called 'Flash Mobs' – but also enable bottom-up, edge-in social innovation in times of financial hardship and environmental consciousness. How are these platforms envisioned by designers today in search of social impact in the city? What are architects to learn from the field of contemporary art at the level of capacity to mediate with different actors in the city? …[…]…how can designers learn from the latest field of digital techniques and prototyping, in order to allow collective authorship to come into the realm of collaborative design?" Link

List of Panelists:

1. Damir Sinovcic, Editor, South Florida Design Book Magazine and Principal of Liquid Design in MIami

2. Elite Kedan, Architect, Faculty at FIU School of Architecture, Editor of the recent Book: Provisional: Emerging Modes of Architecture Practice in USA

3. Eric Goldemberg, Faculty at FIU School of Architecture, Principal of MONAD Studio in Miami, and Editor of the forthcoming book "Pulsation in Architecture", a Catalogue of the accompanying same name upcoming Exhibit.

4. Michael Alfonso, Graphic and Web Designer, editor of the Site The Graphic Gospel

5. William Virgil, former Grafitti Artist, who has now gone into graphics and into underground pop sub-cultures. Partner of ABSOLELUTE, a company producing custom laser printing on Sneakers

6. Alesh Houdek, Internet Blogger of the Site Critical Miami and Buildings and Food

7. Martha Skinner, Assistant Professor at Clemson University School of Architecture and a graduate of the University of Florida; who has been very active in interactive projects involving Social Networking Sites and the community

Moderator:

Armando Montilla, Assistant Professor of Architecture, History & Theory and Criticism at Clemson University School of Architecture
Posted: Monday March 15, 2010 by Alesh Houdek · Permalink · Comment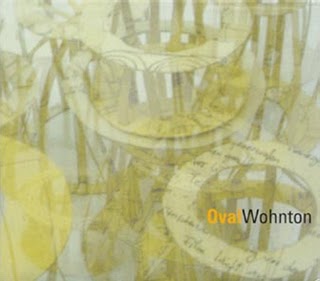 We could really use a 5,000 word look back at the glitch movement from Pitchfork or someone, couldn't we? It ain't happening, but in any such feature, Oval would play feature centrally. They began by experimenting with manipulated CDs (played in primitive CD players that wouldn't give up in the face of extreme digital errors), and soon were exploring complicated computer-based composition. At its best, their music was hazy, gentle, and abstract; here's a great example. They released about a half dozen albums through the 90s, oscillating between accessible collage anchored with the (surprisingly melodic) digital skipping and a completely abstract soundscape (Dok being an example of the latter, and maybe their best work).
The one album that is all but forgotten is their 1993 debut, Wohnton
. Long discontinued, it is from before Oval was just a solo project for Markus Popp, and features, unexpectedly, singing. We're talking here a sort of untrained German warble, which appeared on less then half the songs. What's impressive is that while the group didn't think so, and never attempted anything like it again, the singing actually works? Kind of? But so I was looking for one of these weird charming lyrics for "my music video blog"http://alesh.tumblr.com/ the other day, and was bummed to not find any. But hey, I've got the technology. I decided to make one myself. Warum nicht?
So without any further ado, here's my little video:
Posted: Monday March 8, 2010 by Alesh Houdek · Permalink · Comment [1]
Who am I? I've been asked to submit a 100-word bio of myself for a panel at MoCA on March 17th. So… you people know me, right? I never ask you for anything, right? Submit a sentence for my bio! One line! I promise to use some of them! But quick — I promised to get them a thing by the end of the day Wednesday.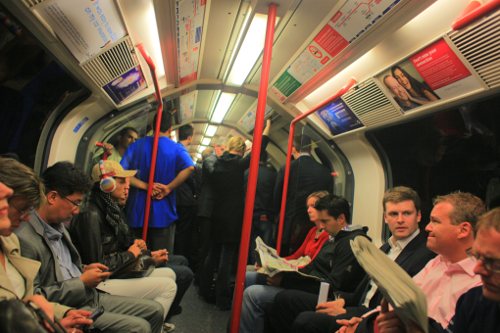 Here's a zippy photo of the London Underground for all you sassy types. I'm traveling around Europe for a few weeks. Posting shall to be nonexistent until Friday, and intermittent afterwards. (The itinerary goes thiswise: Thursday was in London, then to Prague, tomorrow morning to Paris by car, Back on Wednesday/Thursday with some time in Germany (Oktoberfest!), then another week and change in Prague.) I'll try to post photos as often as possible here
Posted: Saturday September 19, 2009 by Alesh Houdek · Permalink · Comment [1]
Attention recovering stalkers: mild voyeouristic content alert. Where were you when you heard that Jim Carroll died? I was sitting in front of my computer last night, when I came across the news reading the Awl in my RSS reader. The reason that this struck me as odd is that at 5:47 pm on Sunday (that would be the day before yesterday), I posted a video of Carroll's song People Who Died on my tumblr (you can confirm this by refreshing the page today at 5:47, when the date stamp should change from "one day ago" to "two days ago"). I assumed that I'd heard about the death sometime Sunday afternoon, and that'd sparked the post. So, I checked my firefox history — you can see me posting the video at the top, and no mention of Carroll in the preceding few hours. Ah, maybe I heard about it on twitter? Nope.
SO, I'm provisionally going with Coincidence, but watch the tumblr for predictions of future deaths.
A pretty good time to remind you people that I have a frequently-updated photo blog that you should be checking.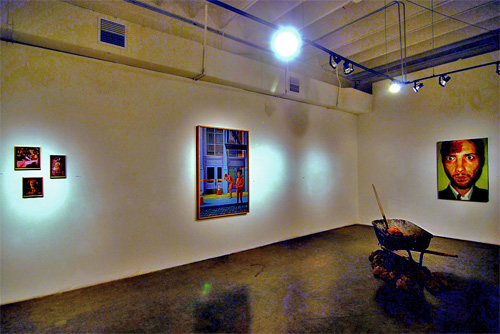 I'm messing around with the idea of a photoblog. Just stripped down the default template to the bones and worked it up with some minimalist CSS, so it's looking semi-presentable. Too, it's easy to add stuff to it, so I'll be posting images regularly at least for a little bit. All I really need is a name, if anyone has suggestions?
Why ads on this dinky little blog? While I acknowledge that they suck, in a way, for the reader, the ads do a few things that make them interesting for me: (1) At the other place, they actually brought in a little money (although a couple of orders of magnitude less then some experts would have predicted considering the readership). (2) It's interesting to see what sort of ads Google serves up, and how it's influenced by what's been on the site recently. (3) It makes this technically a business, which might possibly allow me to write things off on my taxes, though I'll have to research that a little more between now and next April. (4) It's another way of measuring; e.g., at aforementioned Other Place, readership was growing long after ad revenue plateaued, and while I never figured out why that was, the puzzle was nagging in a good way.
In any case, it's an experiment. If it goes nowhere, the ads will disappear just as quickly as they came, and you'll probably be subjected to another navel-gazing post like this one. Meanwhile, I'm pretty sure that if you want to advertise specifically on this site (rather then just target search terms), you can do exactly that through Google Adwords.
Posted: Wednesday May 13, 2009 by Alesh Houdek · Permalink · Comment
I think they're going to make the e-reader I want.
How to look at billboards has NOT spread like wildfire since its launch three weeks ago. It has garnered a not-so-whooping 358 page veiws from 225 distinct hosts. However, at a standard direct-marketing conversion rate of 3%, that means 6 lives have been touched by this project, and since touching even one person would have made me happy, I am SIX TIMES happy. Thank you, internet.
I could show you the paltry few sites that have linked to it, but I thought it more interesting to bring you the above graph, representing the top search phrases that brought visitors to the site. Can you guess how many clicks are represented by each slice of the pie?