You are viewing articles in the category: Czech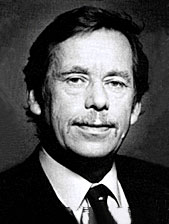 "Tidy yourself up! We might be Czechs, but we don't have to let the rest of the world know." This is apparently one of the lingeringly popular jokes from The Good Soldier Švejk, one of the resounding classics of Czech literature. The fact that I don't find it any funnier than you will tell you what you need to know about my embarrassingly sparse connection to Czech literature (if the fact that I had to Google it didn't tip you off). With that serving as a pre-emptive appology, let me tell you as best as I can why Václav Havel was important (without any more Googling, I promise).
At the end of World War II, Roosevelt and Churchill sold my people out to Stalin at Yalta, and the big 'ol Iron Curtain fell on us. And while it was a light-sneeze version of the Stalinist/Totalitarian sort of thing that they're, for example, still living up in North Korea to this day, it was still a very different lifestyle from ordinary poverty. There's an extremely real paranoia that exists, because even if you've never gone before the officials on charges that were made against you buy anonymous spies, you know that it happens all the time. Also, this: you can join "The Communist Party" or not. YOUR CHOICE. If you don't join, the government and others in positions of power won't trust you. You'll be denied perks, career advancement, and safety. If you do join, you'll loose the respect and trust of all your friends. Unless they're all Party members too. But those are the people with sticks up their ass, right? You either sacrifice your integrity or you sacrifice your prosperity and comfort.
Posted: Monday December 19, 2011 by Alesh Houdek · Permalink · Comment [1]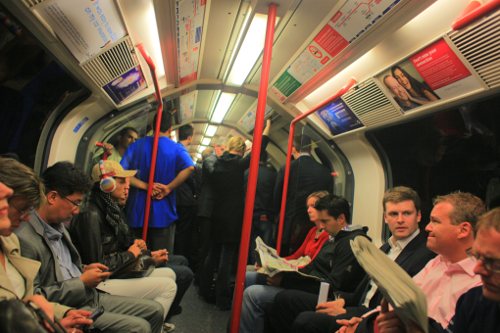 Here's a zippy photo of the London Underground for all you sassy types. I'm traveling around Europe for a few weeks. Posting shall to be nonexistent until Friday, and intermittent afterwards. (The itinerary goes thiswise: Thursday was in London, then to Prague, tomorrow morning to Paris by car, Back on Wednesday/Thursday with some time in Germany (Oktoberfest!), then another week and change in Prague.) I'll try to post photos as often as possible here
Posted: Saturday September 19, 2009 by Alesh Houdek · Permalink · Comment [1]
Vaclav Havel in the New York Times: The United Nations Human Rights Council is a farce, and membership is based on political maneuvering, oblivious to people suffering under tyrannical oppression.
New Year's Day Absinth. I have no idea why they're spelling it without the 'e' at the end. A Czech historical glass I got as a present from my parents. 50mm, f1.8, off-camera flash. Scratched up table. Bourgeoisie clutter.