You are viewing articles in the category: Culture

Last Friday I deleted the 400+ to-read items from The Awl in my RSS so that I could start fresh and really stay with it. And before I did, one thing caught my attention that deserves a little bit of explanation. If ever there was one canonical example of the sheer brutal Strength of this particular little site, maybe this is it.
Okay, so here is the post: I Mean, Really, "J-Setting"? I Spent Half An Hour On Wikipedia Figuring Out What That Is. You're going to want to read it before I go on, and you may want to click through to the "J-Setting Marmaduke Welfare Office Cat Fight Video Dance-Off" link in it, and watch both the videos. I don't want you to get lost here. There's going to be a quiz.
A little backstory: Choire Sicha is a guy primarily known for being the editor of Gawker a few years ago, and though he's been published in all sorts of other publications (even in print!), his name redirects to the entry for Gawker on Wikipedia, just to give you some idea. (I just added "wtf?" to the discussion page for the discussion page of the redirect, so that's your half-hearted attempt at making the internet more coherent for the day.) Alex Balk worked for Gawker too, tho him I'd never heard of before the two launched The Awl last April. The consensus (scroll to #2) is (a) the Awl is fucking great and (b) how the hell is it going to survive, if the people who are writing it are hoping to eventually/soon do it as a major source of their income and not as a hobby (and keeping in mind that they're good at their fucking job and live in New York City so a salary of like $30,000 is not really what we're talking about here), considering the state of the publishing world and the generally accepted suckiness of online advertising revenue.
So you could be forgiven for thinking at first blush that this post is pretty sincere — we're trying to make money, can we please take it just a touch more seriously. And while I ponder that there may be a grain of that literal sentiment behind it, I presume that would be about all there is. It's an inside-joke of a throw away-post, quickly typed up by a guy who's got so many hilarious/great ideas going that he can just pull stuff like this out of his ass anytime he wants. (Or is it? Read on!)
OK now on to the post with the videos. I'll save you the 30 minutes on Wikipedia and just tell you that J-Setting is the dance that Beyoncé does in that Single Ladies video. Watch carefully: The guy in the first video does it as he's being escorted out the welfare office. And the dogs do it at the end of the Marmaduke trailer. They are both fucking upsetting. Furthermore, you will note that the pairing is pretty interesting and maybe even says Something Important about our culture, and that the headline "J-Setting Marmaduke Welfare Office Cat Fight Video Dance-Off," is just about prefect (if smart-alecky, but of course smart-alecky is what sites like this use to make the medicine go down).
But there is more. Because, it is not enough that The Awl (I'm pretty sure I need to capitalize the "T" every time for the title to hold together) publishes 25 posts per day, at least a few of which run long. Also shockingly great are the comments, and sometimes indispensable. That fake Balk memo? Well take a look at this and try to not crap your pants. You probably know that Nick Denton is the wildly controversial head of Gawker Media (not just internet-controversial either, since the wider journalism world is afraid that his management model may be the way of the future for writers, and it's not representative of a world in which they feel they can live), and as such Balk and Sicha's former boss. And so yes, this is how "successful" blogs are run, and this is how successful blogs that are not run this way mock and poke fun at the ones that are, while simultaneously wondering what the future holds for them. And more to the point, this is how clever you have to be in 2010 to make it out here on the internet.
Posted: Tuesday March 30, 2010 by Alesh Houdek · Permalink · Comment [1]
The Times' 100 best films of the decade. Great list! But!: I like the Bourne series too, but number2?! Also overrated: Slumdog Millionaire (#6), Borat (#11), and Bad Santa (#54). Underrated: The Royal Tenenbaums (#88), Milk (#53), and the films of Spike Jonze, of which Being John Malkovich is #29, and Adaptation and Synecdoche, New York are missing. Also missing: Rachel Getting Married. (via)

You know how episodes of This American Life are supposed to be based on a theme? But they're not, right? The "theme" thing is a conceit, and the episodes are really an excercise in tying together the most disparate possible group of stories. It's pretty fantastic, but what if a radio program picked a theme and really tried to explore and shed some light on that theme. Well, that radio program would be To The Best of Our Knowledge. But TTBook, as it calls itself, is not dry and didactic. It's every bit as poetic and inspirational as This American Life. It's contributors have enough Midwestern NPR sincerity make Steve Inskeep sound like Steven Colbert, and they sometimes veer dangerously close to paralyzing self-consciousness, but it's always in the line of trying to get to the real heart of the issue.
But the best way to explain how great this all is might be to present a few episodes. Almost all of the episodes on the site are in RealAudio(!), so I figured I'd try to make them a little more user-friendly. I'd suggest subscribing to the podcast for future episodes.
The New Abolitionists: There are more human slaves in the world today then at any other time in history. The first interview in this show is with a woman who was abducted from the street in New York, and spent 5 years as a slave. The second, with a journalist who wrote a book on contemporary slavery, is about going to Haiti to purchase a child. Then follows the story of the successful abolitionist movement in Britain, over two hundred years ago, which succeeded — while innovating many of the techniques still used by political activists — because it got the whole of society to care. Finally, looks at a modern-day family's attempts to come to grips with its slave-trading legacy and an interview with a Nobel Peace Prize winner about the economics of poverty which drive slavery. In one hour, the program explains how slavery works, argues that it can be stopped, and explains how to stop it. mp3 link

Alone Time: The first two segments are the quintessential TTBOOK juxtaposition: an in-depth discussion of the neurological and evolutionary origins and consequences of the cognitive process of loneliness, followed by an interview with a guy who spent a year living in complete isolation in the near-Antarctic part of Chile. Plus songs of loneliness, and a look at how American society is becoming increasingly isolated. mp3 link

David Foster Wallace: Obviously a labor of love for the crew, this posthumous look at DFW's life and writing includes interviews with book critics, family, editors, and the writer himself (the program interviewed him three times between 1996 and 2004). There are links at the bottom of the page to the full versions of these interviews (recommended!) as well as an excerpt from the famous commencement speech DFW gave at Kenyon College in 2005. mp3 link

Posted: Tuesday September 8, 2009 by Alesh Houdek · Permalink · Comment [1]
A list of pivotal points in various figures' lives, ordered by their age at the time. Hank Williams starts drinking liquor at age 9, Grandma Moses has is discovered at 78, has a show at MoMA one year later.
The Andy Kaufman Chronicles
Here's a file I put together something like 12 years ago about Andy Kaufman, with information pulled from the then-internet.
Let me set the stage: back when I was your age, there was no YouTube, no Wikipedia, no blogs. There was no friggin' Google yet. What there was were tons of websites, lovingly hand-crafted with the first wave of web authoring tools (Dreamweaver 1.0 was cutting-edge), which you browsed on your crappy bulging-front 15" CRT monitor. And these websites had tons of stuff on them. And so if a subject popped into your head, you could pull up the Yahoo[!] and find information — sometimes on multiple sites! — and get your information piped directly into your eye-stream, or whatever. And I used to put together these dossiers on different things to print out and read offline. Well, a dozen years and at least half that many computers later, these files live on (and who says hard drives crash?) on my computer, which suddenly seems like such a shame.
Microsoft Word, which I originally put these together with, of course now exports HTML (hideous, bloated html, but whatever, right?), which I was able to cobble together enough to get it into the most rudimentary of my templates.
I hope you'll get a kick out of my younger self's enthusiasm for Kaufman (of course today you can see a lot of the stuff I could only read about) and overlook the horrendeous design choices (more my fault then Word's, a testament to getting over-the-top formatting stuff out of your system while you're young) and probably copyright violations (I hope to add citations and links to this file at some point). I hope you enjoy it.
Posted: Tuesday September 1, 2009 by Alesh Houdek · Permalink · Comment [2]
Trailer for My Son, My Son, What Have Ye Done, the new Werner Herzog film (produced by David Lynch!). Looks like it's much closer in surface appearance to a regular Hollywood picture than typical Herzog works, which is sort of exiting.
Larry Wilmore on the white majority, from last night's Daily Show. Wilmore is always brilliant, but this was particularly good. There's a great Fresh Air interview where he discusses how he figured out his role on the Daily Show.
Are they serious? 2 Girls and a Cupcake is a real cupcake store (in Miami!)??? Do these people understand what they're punning on?
"This particular 'nativeass' was encountered in the Bahamas when Robert asked our taxi driver the one thing all white people ask their Bahamian taxi drivers, 'Show us the REAL island.' This request, though not original in the least, always results in some pretty interesting shit."
I haven't read much on TVTropes yet, but apparently lots of people have fun poking around in there. The idea is to take certain re-occurring ideas from our culture and lay them out explicitly, thereby revealing something about ourselves and generally to amuse and enlighten.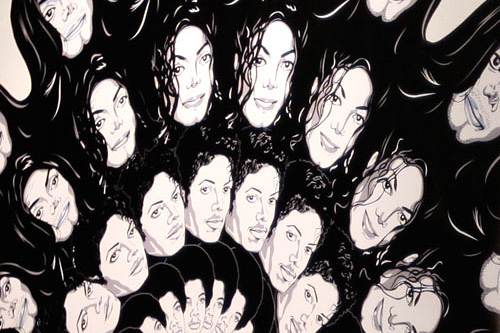 Michael Jackson spiral (via). See also: Michael Jackson street art. Update: The piece is by Kelly Coats.
Woody Allen on Fresh Air Monday. I suspect that even kids who enjoy his movies don't realize how fascinating he is in interviews.
A pretty good argument for Twitter by Steven Johnson in Time (via). People keep asking me this question, but I figured someone would come along and make the case. Still, a few thoughts:
The following aspect and the composing aspect are both equally important to what Twitter is all about, yet they deserve completely separate discussions.
On the following side, you have three distinct groups: Your friends, celebrities you admire, and Twitter stars — people you pay attention to just because they happen to be really good at making awesome 140-character collections of words (e.g., SeoulBrother!). There's also assorted weirdness (the Mars rover?), and a zillion tools. And it's all mixed together in chaotic order on a page custom-made just for you. (In fact, feature request: show me what other users' home pages look like.)
On the writing side, Johnson observes that it really can be interesting to describe what you're eating. The real challenge tho is: what is the awesomest thing you can say in 140 characters right now, which turns out to be an interesting question to try to answer.
Twitter can now be set to update your Facebook status, so you have no excuse from that perspective.
I personally do not get the buzz that the search stuff has been getting. It turns out that I care what people have been saying over the last few seconds or minutes about any particular thing approximately never. Maybe there were a few minutes after the plane hit the Hudson that Twitter live search was really shining, but as soon as the first bulletin went up on

CNN

.com (what, 15 minutes later?), Twitter is back to being useless in this particular respect.
For the time being, the only way to see what Twitter is about is to try it out for a few days. It's pretty easy to find people to follow — just see who other people are following. The harder part maybe figuring out what to say. I guess it's like blogging — the fear of the proverbial blank piece of paper. On Facebook there are a million pictures to comment on, cheesy quizzes to play with, and an endless stream of other stuff to react to. Twitter is all about you and what's in your brain at that particular moment.
Posted: Friday June 5, 2009 by Alesh Houdek · Permalink · Comment [6]
Still my favorite blog of the last few months: Cakehead Loves Evil. A few of the things found there this month (in case the 'love will tear us apart' masthead isn't enough for you): Marilyn Minter's oral fixation photography, insect sushi, the Bush Administration's disaster coloring book, Battleship Island (amazing abandoned settlement featured on Life After People), 1600 Pandas, People living in a "space station" in the middle of Berlin, this insane set of images from a Pop magazine fashion shoot, 70s porn interiors, Amy Stewart's garden of poisonous plants, the Janet Jackson Virgin Mary tattoo, and the burst whale.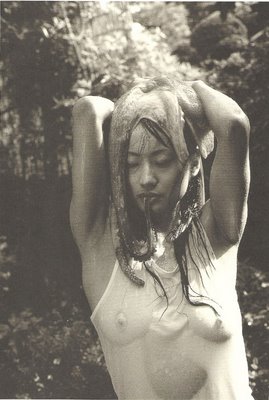 A collection of photos of photos of people … being … with octopuses. Slightly disturbing. Update: This shit obviously runs deeper then I imagined. Just for instance: octopus tote bags on Etsy.
This conversation about race sounds like it could have taken place fifty years ago!!
Pan African Space Station ("it's only music, but we love it"), an internet radio thing the awesomeness of which I'm just beginning to understand. For example, African Noise Foundation, Kalahari Surfers, and Dala Flat Music. OK, now how do I get this into iTunes again? Update: A cockroach-eye view of life for Marechera.
Nomic is a game that is played by changing the rules of the game. During each turn a player proposes a rule change, and everyone votes. Things get out of hand quickly. Starting rules.
Positive and negative things about living in Beijing.
ebay and looting: Archeologists were freaked out when ebay first appeared that the democratization of the antique market would lead to an upsurge in looting. But actually, looting has decreased over the years. Why? Because the massive growth of the market has instead fueled a boon for the antique forgery industry. Not sure whether this is good, bad, or funny. (via)
Why don't people boo more at the opera? Tyler Cowen thinks he knows: "When these high-status people are slighted, as they might be by a bad performance, their privately optimal response is to ignore the slight. Reacting to the slight suggests that they have let it bother them …" I'd think it has everything to do with herd mentality and accepted tradition, which could just as easily have gotten started randomly (and which a couple of spontaneous instances of booing could turn around).
Misael and I sometimes debate the relative artistic merits of film vs. television. Lots of different analogies are possible in these discussions (e.g. film as short story, television (think The Wire, etc.) as novel), none perfect. In the end though, I think this exercise is a little like arguing the relative merits of dance and architecture; each is a distinct artform that deserves to be judged on its own merits.
Or maybe it makes more sense to say that each is a family of different artforms. Shows like Murder She Wrote have very little to do with shows like Lost, and few things are as open-ended as a feature film (I note Gummo without further comment). Nonetheless the argument that film is inherently an inferior artform (because (1) a television series is not conceived as a single artistic statement, as every film is, and (2) however deconstructed and contemporary, every episode of every television show must be stand-alone satisfying to a certain degree) has obvious appeal, on its face. And "sometimes you're in the mood for bubble gum" is sort of like damning TV with faint praise.
But so I've been watching 24 lately (I'm on season 3). Structurally, the show is fascinating: each season is 24 episodes, each of which is part of one intense 24 hour period in the life of the California anti-terrorism unit. The show runs in real-time, while juggling numerous interconnected story lines. The politics of the show are sometimes questionable, but the achievement of crafting the stories is staggering.
Yet what's most impressive about 24 is something else. The Ramones claimed that their idea was to take the peak moment of pop music — the most energetic dizzying crescent — and create music that was about extending that moment for an entire song. Somewhat analogously, 24 takes the most intense moments of spy movies (Bond), and attempts to stretch them into an entire season. The idea is that the tension does not let up — indeed, does not even ease — for the entire 24-hour season (this is best experienced, as much modern TV is, by watching the entire season on DVD over a short period of time (in fact, a season of 24 could arguably be best experienced in an actual 24 hour period, watching time synchronized to the fictional time)). This is odd, since even a Bond movie has peaceful and romantic interludes between sequences of action. Here are 24 hours of unrelenting tension.
I'm not making a case for 24. I'm making the case that despite the illusion that film is a more free-form artform, in reality television has the ability to do certain things that cannot be done in any other way.
Posted: Tuesday March 24, 2009 by Alesh Houdek · Permalink · Comment
Quick video of Joaquin Phoenix rapping. This is from Las Vegas; no video has surfaced from the Miami performance, which apparently was replete with a fake fight with a fan. This is all pretty good, but I think the Andy Kaufman comparisons are still a bit premature.
Posted: Monday March 16, 2009 by Alesh Houdek · Permalink · Comment
One of the truly inspirational and thought-provoking things I've read is Howard Gossage's essay from the February 1960 issue of Harpers, How to look at billboards. I got so exited when I found it yesterday that I whipped up a little home for it on the internet. Thanks to Carrie McLaren for hosting it all this time. It's probably through Stay Free that I originally ran across it (but I couldn't find it despite much googling when I was writing about billboards back in 2006).
Gossage is not prescient — he argues that billboards are on their way out. But his arguments that billboards have no right to exist rings just as true as it ever has:
What a billboard looks like has nothing to do with whether it ought to be there. Nor does the fact that it carries advertising have anything to do with it, either. It would be the same thing if it were devoted exclusively to reproductions of the old masters; just as the open range would have been the same thing if they had only run peacocks on it. The real question is: has outdoor advertising the right to exist at all?

The industry says it has. It claims two rights, in fact. In asserting the first of these it clasps the flag firmly to its bosom and, in cadences worthy of William Jennings Bryan, invokes the spirit of free enterprise. Now, it should be understood that the outdoor industry is fighting only against what it regards as discriminatory regulation. It seems never to have occurred to the industry to question its basic right to any existence whatsoever. Therefore, when it protests against operational restrictions, it is not effrontery, as one might think, but outraged indignation. Its reaction is that of an old-time cattle baron the first time a farmer dared to fence in his potato patch.

Outdoor advertising is, of course, a business and as such would ordinarily have a strong case against inroads on its domain. However, there is a very real question whether it has title to its domain. Outdoor advertising is peddling a commodity it does not own and without the owner's permission: your field of vision. Possibly you have never thought to consider your rights in the matter. Nations put the utmost importance on unintentional violations of their air space. The individual's air space is intentionally violated by billboards every day of the year.
Please go read the whole thing. It's a pleasure, and while its arguments are unlikely to sway any public policy now, almost 50 years later, you never know. At the end, Gossage asks you to complete a little billboard ballot, indicating "there ought to be billboards" or "there ought not to be billboards," and send it back to him so he can track the results. The Stay Free version of the article says, "since Howard Gossage is dead, you can send your coupon to us at Stay Free! . . . and we will take care of it." I'm not sure whether someone is still compiling these, but even if so it doesn't seem particularly useful. If you don't like looking at billboards, I think a much better course is to write to your city, county, and state elected officials. They are the ones that can actually do something, and a little sometimes goes a long way with moving your local governments. Good luck.
Update (4/13/09): Linked at Kottke, Boing Boing, and elsewhere.
Posted: Tuesday March 3, 2009 by Alesh Houdek · Permalink · Comment [10]
Wow, Dr. Jack Kevorkian was radicalized by his time in jail — he gave a talk at Nova a couple of weeks ago, and got the crowd riled up, at one point breaking out a US flag modified with a Swastika. So, it turns out uVu, South Florida's odd little video service, has an archive of the talk: Part 1, Part 2, Part 3, Part 4, Part 5. There's also an interview.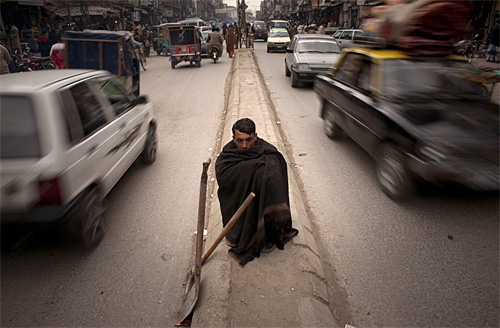 Scenes from Pakistan. What strikes me is the vast overwhelming number of these photos show street scenes, without a single woman in sight. Of the photos that show men and women together, there is a scene of refugees fleeing from an area overrun by war, a husband and wife in hiding because they married without their families' permission and so risk death, and a group of Christians in prayer.
According to a not completely serious analysis, rock bands will die out around 2026 (via). This month's Atlantic: Can Guitar Hero Save Rock.
The New York Times floats the idea of turning newspapers into non-profit organizations. Nice idea, which I liked even more when I had it, back in 2005. Also find if funny that the New York Times would be mentioning this idea at this particular time, when Michael Hirschorn just reported in the Atlantic that there is a small but not indistinct possibility of the Times going out of business, perhaps as early as May. (Thanks, Squathole)
"Paranoia is just another word for ignorance." Hunter S. Thompson motivational posters.
At the end of the year, when most bloggers are kicking back and taking it easy (ahem), Rex Sorgats has been busting his butt, bringing the excellent 30 Most Notable Blogs of 2008, the Top 35 Albums of 2008, and the monster List of Lists. Crazy.
The NY Times' best 1,000 movies ever made. Only goes through 2002, and lists alphabetically not chronologically, but still a good reference.
Tina Fey talks to Terry Gross about playing Sarah Palin, 30 Rock, and her husband.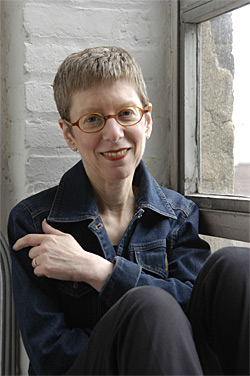 Who's the best interviewer on TV or radio? Charlie Rose? Larry King? Please. To some extent it's a subjective question, your answer possibly skewed by your preferences in guests. For me, the answer lately has been Fresh Air's Terry Gross. Her bio talks about her empathy with her guests, and that's certainly a big thing, but the thing that is key to her success is a palpable curiosity that is rarely matched by television and radio personalities. Nothing is more disturbing then listening to an interviewee say something super-interesting, and the interviewer goes down to the next question on their little piece of paper, as if they had cotton in the ears. I've seen Charlie Rose actually cut people off sometimes (and here I'm not talking about political interviews, when cutting people off is not done nearly enough, at least in this country). Gross is right there with a spot-on followup question, inevitably better then the one I was hoping she'd ask. Too, her interviews have a satisfying quality, such that when she does 18 minutes with someone, she almost always seems to have gotten the best 18 minutes out of that person there was to get.
Her choice in guests in my opinion over-relies on the film industry (and I just flat don't understand why she doesn't regularly feature contemporary visual artists), but otherwise it is pretty excellent. She doesn't do political figures, but frequently features experts who have vital information that ought to be factoring into our political decisions.
A few recent Fresh Air segments I do not recommend to be missing:
Some older things I've recommended previously:
Philippe Sands says Bush administration officials, including Bush and Cheney, have a decent chance of being tried for war crimes at some point in the future!
Posted: Monday October 27, 2008 by Alesh Houdek · Permalink · Comment [1]
I came across this old nugget while doing research for my forthcoming comprehensive appreciation of Missy Elliot's work. This track, credited to Notorious B.I.G. (his second posthumous #1 hit single, an all-time record), is really a Puffy vehicle, and one of the strangest bits of art to make it onto MTV in the 90s. We open with a parody of a climactic moment of a golf tournament, Puffy playing a Tiger Woods character, cut to a "conventional" rap video, back to a bit of golf footage, back to rap video, then to some home-video of Biggy rambling, then cut to more rap video footage, now with a primo verse of posthumous Biggy spliced in from some abandoned track* (this is far and away the highlight of the whole thing), and then back to the previously scheduled song. The hook is lifted from a Diana Ross track (re-recorded), but what holds the track together is the line "more money, more problems," repeated in the golf skit and in Biggy's candid monologue.
When I saw this video in 1997 I loved it immediately, and for two reasons. One was the (* not so conventional, really) completely new vision of a bright shiny approach to hip-hop. Credit for this of course goes to Hype Williams, who directed the video, and who'd certainly directed equally eye-popping videos before. This one, though, sunk into my consciousness as much as (and just before) Missy's I can't Stand the Rain. The 90's were a desolate time for rap, where the gangsta (sp?) ruled, and it was all about pictures of yourself and your crew in baggy denim and Timberlands in a bleak urban landscape, and all about your flow. It seems quaint now, but the idea that rap could be Glam again (like it had been in in the mid 80s) struck like a hammer. So did Mase's lackadaisical flow, which seemed like a challenge to the silver-tongued MC's of the day (e.g. DMX, who you may not remember being that fierce, but really, he kind of was) that ruled in those days, and of course Puff Daddy's rapping was that much closer to a joke from a conventional perspective — dude got over purely on personality, and plus being the dude who's business acumen built the building in which the party was taking place.
But much more then that, what hit home was the song's frank discourse with reality. The toss-off line "more money more problems," which the posthumous Biggie attributes to Puffy (who's really creating the song, follow?), seems to accuse the whole post-barter system of human trade of being a way of keeping the little guy (ie the black man) down. Success = problems, or so it sounded to me at the time. I don't think anyone cared at the time whether this very real critique held any merit — what was so powerful was that it sounded true, and that it helped break the mold of a pop-song, propelled it into something that looked like a particularly biting form of social commentary.
This really strikes home in the middle of Biggy's verse, when we're treated to a brief shot of a party with several dozen women dancing, while the song tries to to sell the idea that its grandiose concept is based on a seed in B.I.G.'s words. Of course, this leads us to an inevitable conclusion: that Biggie's death was somehow the result of his success. More money leads to more problems, most money leads to getting gunned down by a never-to-be-identified assailant. That is some strong medicine, and in terms of the alleged exploitation of the Notorious B.I.G.'s death for commercial gain, challenges even the sappy ballad I'll be Missing You.
So there it is: a weird/powerful truism about social politics delivered in a catchy, post-modern package that uses parody, found video, and cutting-edge video techniques (and let's not sell Hype Williams short for a second — check out the shots of Puffy and Mase in the yellow suits — I mean, what the hell is that?!), all montaged together with an off-handed mastery (check out how some of the transitions are deliberately not on-beat) to create something that felt so like the future that it could never really be the future. Just like all videos for pop singles, it was dug, and it was forgotten. And so it goes. Somewhere out there there is a list of videos that really truly did something new, and this one belongs on that list.
Correction: While the single and the album it appears on were released after Biggie's death, the song was almost certainly created while he was still alive, with everything as it appears except the 2-part golf skit.
Posted: Friday October 24, 2008 by Alesh Houdek · Permalink · Comment [9]
Um, so the underlined things in all the stuff I've been writing are hyperlinks, and they usually point to things that I thought were worth reading or whatever. Most of y'all never click them, and that's fine, but it bears mentioning. Here are some things that are also probably worth reading:
Posted: Wednesday October 22, 2008 by Alesh Houdek · Permalink · Comment [1]

Honestly, dealing with the Bush presidency has been a lot easier then it'd otherwise be by the Daily Show. It's been especially great for the last few months, when the shows are uploaded nightly to their Hulu page, available for convenient and legal watching the next morning, no cable required. The show has been on the air with Jon Stewart since 1998, picking up Emmys, accolades, and scads of viewers — it's indispensable.
So why the 4-days-a-week, when-we-feel-like-it schedule? Wouldn't the show benefit from borrowing a slightly less anchor-centric approach from the real news shows, and go on a 7-days a week rotation? It'd give some of the other folks on the show a chance to host once in awhile, which would be interesting in any case. ("John Oliver, sitting in for Jon Stewart.") A recent New York Times profile reveals that Stewart, "functions as the show's managing editor and says he thinks of hosting as almost an afterthought," which is a clue. But come on, after 10 years, there have got to be other folks on staff that can do this stuff. The Daily Show is Comedy Central's cash cow, so they sure could afford to bring on more writers, put them on 7-day rotations, and get this going. The result would be maybe a little less consistency, but I actually think that would be a cool thing.
It's interesting that Stewart has been making occasional comments about their scheduling on the air lately. During the crash, he said something about how the show was scheduled to be off the next week, but they decided (graciously) to come in and do it anyway. When Congress was off for Rosh Hashanah, he again pointed out "We're here — I guarantee you the Daily Show has more Jews then Congress!" Well, I say that the Daily Show has gotten big enough for them to figure out how to do it every day. They need to abandon their fears of being less then perfect without every member of some imagined indispensable core team, and give some other folks a crack.
Posted: Tuesday October 14, 2008 by Alesh Houdek · Permalink · Comment [6]
OK, I'm going back to read what Gessen thinks of the word 'twat.'
Posted: Sunday July 13, 2008 by Alesh Houdek · Permalink · Comment [13]
Soon to come are little byte-link posts like at the other place. In the meantime, some things of which you ought not to be without:
Posted: Saturday July 5, 2008 by Alesh Houdek · Permalink · Comment [2]
Happy 4th, folks. Don't fear, I'm going to spare you the list of America's evils (which in any case have been better documented elsewhere), except maybe to direct you to the Fresh Air interview with Philippe Sands, who makes a persuasive case that the Bush administration committed war crimes, and explains why they have an excellent chance of being indicted at some point in the future.
What I want to talk about instead is patriotism and nationalism. You're proud to be an American? Why? Isn't it an accident of birth that you're here? It's not really something you get credit for. Why not be proud of being a good person instead? The thing to realize, and really my central point, is that when we celebrate our peoplehood as a nation, we diminish our peoplehood as a global society. This leads to support for dubious wars, unethical immigration policy, and inane arguments against foreign aid on the basis of "there's hungry people right here in America." Sorry, but the people starving to death in Africa have no less a right to food then the people starving in America (and possibly more of a right, since their opportunities to feed themselves are likely vastly inferior).
"Patriotism is the last refuge of a scoundrel," said Samuel Johnson in 1775. In Sex, Drugs, and Coco Puffs, Chuck Klosterman describes reaction to an e-mail he sent to a number of his friends:
Just about everyone . . . viewed patriotism as a downside. I wasn't too surprised; in fact, I was mostly just amused by how everyone seemed to think extremely patriotic people weren't just updateable, but totally fucking insane. One of hte mwrote that the quality of "patriotism" was on par with "regularly listening to Cat Stevens" and "loves Robin Williams movies." Comparisons were made to Ted Nugent and Patrick Henry. And one especially snide fellow sent back a mass message to the entire e-mail group, essentially claiming that any woman who loved America didn't deserve to date him, not because he hated his country but because patriotic people weren't smart.
So, that's just silly, right? Plenty of patriotic people are smart. But when you ease back on thinking of yourself as "American" and see yourself as a citizen of the world foremost, a funny thing happens. You become more interested in the events of the world. You start to care about all humans everywhere, and in so doing come in touch with a more profound aspect of your own humanity. And you become more able to see the flaws in your country and criticize them, which in turn makes you more engaged and in the long term leads to making your country better.
I hope its clear that I don't have any problem with America. It's a great country; better then most. What I'm saying here goes just as well for any country in the world. Let's all be members of the human race, and see national borders as a maybe necessary but increasingly less significant political construct, and let's all get along. I'll drink to that.
Posted: Thursday July 3, 2008 by Alesh Houdek · Permalink · Comment [7]