You are viewing articles in the category: Art
Recently, I came back across Walter Darby Bannard's Aphorisms for Artists — 100 short "chapters" of observations, quips and warnings. They are meant to and indeed do inspire thinking about what is valuable in art, but they espouse a very particular conception of art. Bannard believes that art is a purely visual experience, and that the creation of art is almost solely about the materials. He's an abstract expressionist painter, and post modernism is his enemy, where post-modernism is taken to include almost all of the art created by contemporary artists. I find this view peculiar and limiting, but I do enjoy living in it off and on. And I think that the contemporary approach to art making, which thrives on playing with meaning as much as materials, on mixing generes and media, and on voraciously devouring as much of the world for incorporation into art, will find much to use here.
Chapter 59. Making art is not risky.

Any true artist will immediately object to this. Why? because making art feels so risky. After all, you are putting heart and soul on the line.

When you are serious about your art, every perceived little success must be preserved, every perceived failure is a testament to your abject lack of talent, and every hesitant, anxious new stroke of paint betrays your meager ability and exposes you to ridicule.

Put a stop to this. When making art forget you are making art. Tell yourself you are working with a few dollars worth of disposable materials, trying to make something you and maybe some others will like to look at, something nice to pass the time.

It probably won't work, but it's worth a try.
I spent a couple of days reading through these, and during that time came across an interview of Ornette Coleman being interviewed by Jacques Derrida. As the pioneer of free jazz, Coleman is Bannard's ally. As the de-facto inventor of post-modernist deconstructive analysis, Derrida is more or less his proclaimed nemesis. The interview was conducted in 1997, some 35 years after the release of Coleman's first seminal works. It was conducted in English and published in French, but the original transcript was lost so this edition is the French translated back into English.
JD: Do you think that your music and the way people act can or must change things, for example, on the political level or in the sexual relation? Can or should your role as an artist and composer have an effect on the state of things?

OC: No, I don't believe so, but I think that many people have already experienced that before me, and if I start complaining, they'll say to me, "Why are you complaining? We haven't changed for this person that we admire more than you, so why should we change for you?" So basically I really don't think so. I was in the South when minorities were oppressed, and I identified with them through music. I was in Texas, I started to play the saxophone and make a living for my family by playing on the radio. One day, I walked into a place that was full of gambling and prostitution, people arguing, and I sara a woman get stabbed — then I though that I had to get out of there. I told my mother that I didn't want to play this music anymore because I thought that I was only adding to all that suffering. She replied, "What's got hold of you, you want somebody to pay you for your sould?" I hadn't thought of that, and when she told me that, it was like I had been re-baptized.
There's something funny going on there at the end. The idea was either fuzzy to begin with, or likely it's gotten mangled in re-translation. I do not mean to say that these two pieces are in any way two ends of a spectrum, or that they offer two diverging points of view, but merely that they signify an interval, and that there is something to be taken about their relationship to each other, and their mode of creation, and their ability to evoke something useful in the mind of the reader. As the saying goes, there's a lot of reality in there.
Update: Franklin Einspruch and Walter Darby Bannard respond and clarify their positions. Franklin and I (with many many others) had a lot of debates about this stuff in the old days of Artblog. Good times. Needless to say that Franklin and Darby are much smarter about art than me, and spend a lot more time than me thinking about this stuff, and you will find their positions persuasive.
Also note that comments are fixed and re-enabled.
Posted: Thursday March 22, 2012 by Alesh Houdek · Permalink · Comment
You should go look at my photos at The Atlantic first, but here are some more, and with snippier commentary.
Let me tell you: I am BURNED OUT on basel. Y'all saw the Lindemann article, right? He's been getting hate from all over, including Jerry Saltz and Saatchi. But I sort of agree with the guy. It's all too much. Anyway, read on.
Posted: Thursday December 8, 2011 by Alesh Houdek · Permalink · Comment [3]
My first batch of photos from Basel Etcetera is up at The Atlantic along with a saucy 350 words about the fair. Coming soon: a second batch, here, of some of my favorite art. Tay stooned…
Posted: Tuesday December 6, 2011 by Alesh Houdek · Permalink · Comment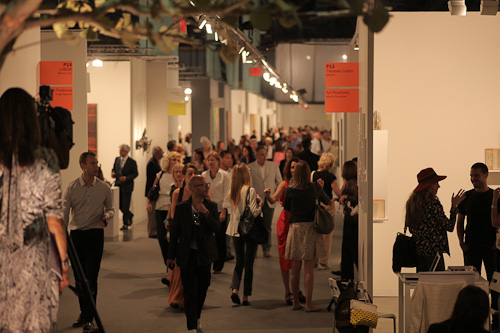 Art Basel opened with a whimper yesterday. After walking around the fair for over an hour I suddenly realized that I had seen no art of any particular outlandishness, it suddenly hit me—everything about the fair this year is subdued. The infrastructure of the fair, including the highly-stylized viewing pods in the vide lounge and the tote bags distributed with catalogs, were the same as last year, the first time in the fair's ten years. (The Oceanfront looked like its lowest-budget incarnation ever. NO Art loves Music performance.) The mood in the air was boisterous, but toned down several notches even from last year. And the art, by Art Basel standards, was downright conservative.
Heading out this morning to catch Gabriel Orozco at Art Conversations, then off to the satellite fairs.
Posted: Thursday December 1, 2011 by Alesh Houdek · Permalink · Comment [3]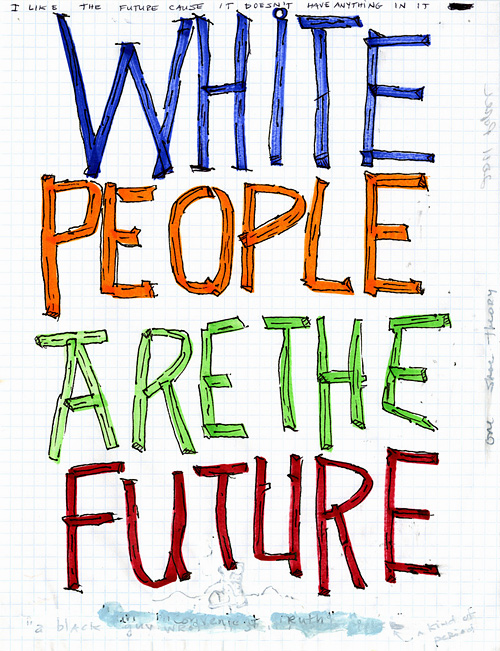 The legendary William Pope.L has three pieces up for sale at 20×200, one each for $50, $100, and $500. I have no idea where to send someone on the internet to first learn about Pope.L … maybe as good a place as any is this interview.
Posted: Thursday September 29, 2011 by Alesh Houdek · Permalink · Comment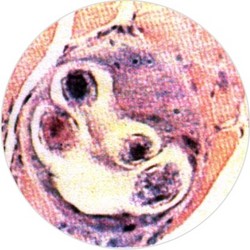 Optic Nerve is this Saturday: the MoCA's annual showcase of the best of video art, submitted from all over South Florida. It's one of the highlights of the Miami yearly art calendar — not to be missed. Except that I'm not going to be there. And neither are you.
Unless you've gotten your tickets way ahead of time, that is. When I went to the website on Wednesday to RSVP, I realized that all the tickets — both screenings — were sold out.
This is absurd. This event grows more popular every year; why doesn't MoCA add more shows? Why not do a friggin' week of Optic Nerve? Or, heck, a month of screenings, like they do for Pablo Cano?
Please don't tell me that I can go night-of and stand in a line to vie for one of a small number of day-of tickets. I'm not 21, and this is not an indie band that needs to be in Atlanta the next day for another gig.
Also do not tell me that it's some sort of deliberate scarcity thing, where MoCA is deliberately trying to make Optic Nerve cooler by making it hard to get into. MoCA's mission statement is to make the arts accessible to "diverse audiences," which ought to include casual art fans who do not plan their outings a week ahead of time. C'mon, MoCA — add some shows!
Update: Valerie Ricordi of MoCA says: "We will have an auxiliary viewing area set up so that folks who do not have tickets will still be able to see the films. … Also wanted you to know that the Optic Nerve videos will be on view in the MOCA Lobby next week and on Uvu website. Also the de la Cruz Collection will be screening them September 10-October 8." Good news!
Posted: Friday August 26, 2011 by Alesh Houdek · Permalink · Comment [1]
Thom Collins, the semi-new director of the Miami Art Museum, has a video blog, which he opens by apologizing for the crappy quality of: "I'm a rank amateur!" It's shot at the construction site of the new MAM building, and it's actually pretty good!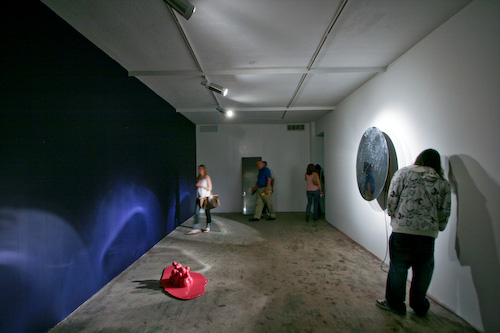 A few years ago I was on a panel of Miami arts writers at Locust Projects with Anne Tschida, Omar Sommereyns, and a few others (my qualifications seemed a bit sketchy, but it was certainly a good discussion). Probably the biggest takeaway from the (sizable!) audience was that they were clamoring for more local arts coverage and, in particular, criticism.
Since then, as other locally-oriented writing has flourished, art criticism remains stuck in a rut. The New Times continues to regularly run criticism by Carlos Suarez De Jesus. But the Miami Herald hasn't had a full-time art critic for years (I hear Elisa Turner has a blog somewhere on the Art Circuits site, but good luck finding it. South Florida Daily Blog lists four "Art Blogs," but they are mostly dedicated to listings and brief descriptive posts. The notable exception is Artlurker, which has been running surprisingly substantial art reviews by a number of writers since 2008. But Art Lurker has been averaging one or two posts per month, so not sure what's going on there.
Meanwhile, the art scene is flourishing — art schools are pumping out MFA and BFA art majors, artwalk is a huge monthly cultural event, and there are more galleries and private collections open to the public than ever. So what's happening? Where's the criticism?
I think the explanation is perfectly explained by a George Orwell quote I heard yesterday (on the Slate Culture podcast). Orwell apparently had written a scathing review of a book by Stephen Spender, only to meet him at a party and end up liking him quite a bit. Smitten with guilt, Orwell wrote the man a letter in which he said,
[W]hen you meet anyone in the flesh you realize immediately that he is a human being and not a sort of caricature embodying certain ideas. It is partly for this reason that I don't mix much in literary circles, because I know from experience that once I have met and spoken to anyone I shall never again be able to show any intellectual brutality towards him, even when I feel that I ought to[.]
Now look at the Miami arts community — exactly to the extent that someone is involved and interested to where they might be willing/able to write some criticism, they're hanging out with the artists and gallerists they'd need to be critical of from time to time. The scene is just not large enough that you can have a few dozen friends and another few dozen acquaintances and still have most of the scene left to impartially cover. I was talking to Misael about this, and he pretty well said as much about why he doesn't write criticism. (By the way, all this probably applies to other art scenes — I'm addressing Miami because that's what I know.)
Franklin Einspruch used to write some great criticism at ArtBlog.net. But Franklin was pretty well recognized as being in the camp of the Miami AbEx'ers, so his constant rear-guard action as all things PoMo was sort of taken in stride.
One solution of course is to write anonymously. Artlurker actually started out at least in part as anonymous. But in the long run it's not sustainable for most people. One of the payoffs that seems to be a necessary reward for consistent blogging is a level of name recognition and attention. Too, anonymous or pseudonymous criticism is inherently less credible.
I still think there's a role for a site of one or two consistent writers (hello, art/art history majors at UM, FIU, et al.) that pursues advertising more aggressively than Artlurker has. A financial reward would be a decent motivation to take a page from Orwell's book and stay away from associating closely with the folks in the art scene, the better to show it intellectual brutality when necessary.
Update: Leyden pointed out just as I was posting this: A new golden age for art criticism? at the Knight Arts blog. A promising title — but it doesn't offer any solutions! It just says we need a golden age of art criticism. Still, there's a way forward here: a few people interested in writing criticism start a site (maybe mix in some other sort of coverage), and apply for a Knight grant to jump-start them. Would make it much easier for them to attract advertisers with the Knight name behind them, and tide them over before the site is self-sustaining.
Posted: Wednesday August 17, 2011 by Alesh Houdek · Permalink · Comment [10]
Research shows that certain vision defects help in the production of art. Examination of Rembrandt's eyes in portraits indicates a misalignment, and art students do worse on 3D vision tests than control groups. The work of Van Gogh speaks for itself.
Shirin Neshat discusses what it's like to be an Iranian artist working in exile, always having to be conscious of two completely different audiences. She says she envies western artists for their freedom to eschew politics in their work. She ends on an optimistic note about the Green movement, though it's worth noting that this talk was recorded in 2010, and the lack of momentum towards freedom in the time since might dampen that optimism. (Weird aside: there's no mention of the movement on Iran's wikipedia page, just an odd reference on the talk page.)
Posted: Tuesday May 31, 2011 by Alesh Houdek · Permalink · Comment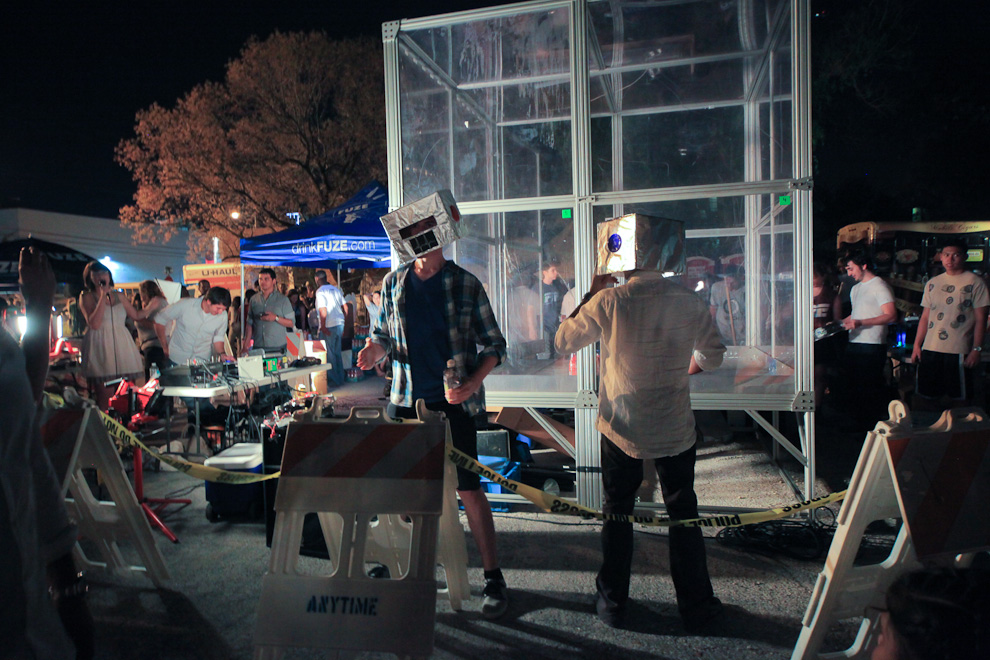 The gallery walk has become a completely different thing over the last couple of years. As more and more people show up each month, it's become a positive street fair, where the majority of the people have minimal interest in the actual art, and the galleries are almost just along for the ride. Stores have begun to open up along N.E. 2nd, and the food truck / street vendor thing has positively exploded. Some of the art is responding by reaching for out-sized dimensions and spectacle, while other galleries determinedly stay on course. The number of galleries has also expanded — seems that every space near the Wynwood nexus is open and displaying art these days (with the exception of die-hard Harold's Body Shop). But nevermind all that—let's look at some art.
Posted: Thursday April 14, 2011 by Alesh Houdek · Permalink · Comment [2]
A fantastic review of The Clock by Christian Marclay, a 24-hour film of movie excerpts of clocks, each lining up exactly with the actual time. The more I hear about this the more desperately I want to see it, and this essay by Zadie Smith is the best thing on it I've read yet. (Note that there are some skeptics, though.)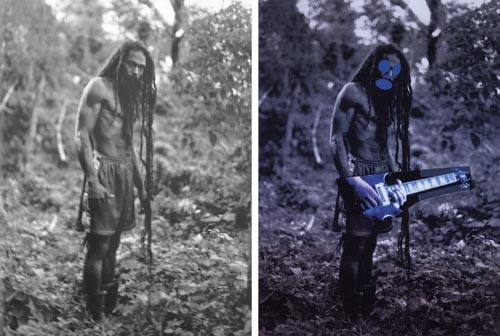 Richard Prince, famous for re-photographing Marlboro cigarette ads and selling them as high-concept artwork, recently lost a lawsuit about yet more flagrant appropriation. He took photos made by Patrick Cariou of Rastafarians, and manipulated them and painted over them and just generally had a grand time. In court records, Prince was incredulous, claiming fair use and citing the history of appropriation in contemporary art.
Defendants [Prince et al.] assert that Cariou's Photos are mere compilations of facts concerning Rastafarians and the Jamaican landscape, arranged with minimum creativity in a manner typical of their genre, and that the Photos are therefore not protectable as a matter of law, despite Plaintiff's extensive testimony about the creative choices he made in taking, processing, developing, and selecting them.
It's tough to know how serious Prince was with all this. The man is a prankster. He's said of himself, "I am a liar. And I cheat too. I make things up and I can't be trusted. It's not my fault." Obviously taking the work of another artist, and taking multiple pieces from the same body of work, is a new level of appropriation (and plenty of people were pretty pissed off about that). But given the way the ruling is worded, it by extension implicates a whole tradition of appropriation-based work.
I note all this mainly for its amusement value. Prince is out a lot of money, but it seems that everyone involved benefits from the notoriety, including collectors who bought the paintings which can now "not be legally displayed." If anything, we can take it as another signal of how screwed up our copyright/fair-use law is: that sampling/appropriation, so widely practiced in so many different practices, can be so curtailed by one aggrieved party.
Posted: Wednesday April 6, 2011 by Alesh Houdek · Permalink · Comment [1]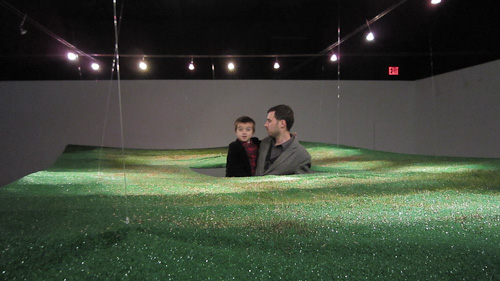 Jeroen Nelemans has made a career of working with living materials. He's created spectacular large-scale installations with barnacles, seaweed, and even mold. His installation Six Feet Above is currently on view at the gallery at Broward College. The piece is a large hanging rectangular grid composed of a combination of astroturf and real grass. A pedestal in the center allows the viewer to emerge above the surface of the grass, which cuts the space in half horizontally.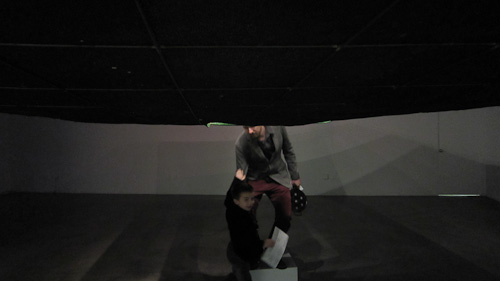 Though they're concerned with the transformation and recontextualization of natural phenomena, Nelemans' work is always about the experience of the spectator. These are not conceptual pieces, meant to be understood and known about, or earth works, meant to be experienced either as vast monuments or as ephemeral aerial photographs — they are carefully scaled to the human body, intended to be moved through and experienced. The presence of the viewer's body often completes the pieces.
The other part of Nelemans' practice is video work, and the Broward College show includes a loop of some of his time-manipulation works, including TheLOOP, which combines three different filmings of the same sequence of a run of a train on Chicago's elevated transit train line. Also on view is Live Feed-ing, in which a video monitor mimics a fish tank with goldfish in real time.
At the opening reception Nelemans gave a talk and showed several of his other pieces, explaining the connections between his video work relates to traditional Dutch landscape painting, and revealed some of the sophisticated techniques he's had to figure out to achieve certain effects. This piece, for instance, uses Adobe After-effects to combine 231 close-up shots of insects into a single grid:
I've known Jeroen Nelemans for many years, and it's interesting to see him staying with the impulses that motivated his earliest work while branching out into both more playful and more serious directions.
Posted: Wednesday January 19, 2011 by Alesh Houdek · Permalink · Comment [2]
Cool: The Daily Beast brings a new site dedicated to art. I love mainstream coverage of contemporary art, and I'm befuddled by how little of it there is, e.g., on the shows of NPR stars (Gross, Rehm, et al.) who otherwise do not shun the Quasi-esoteric.

Hey, I totally forgot to tell you guys, but last week, I got a story about Art Basel Miami Beach published on The Atlantic's website. Huzzah! It comes in two parts, a writeup and a slideshow, though my favorite link to come out of the whole thing is this: TheAtlantic.com/Alesh-Houdek. And I've every intention of adding to it in the non-too-distant future.
So how did this happen? Well The Atlantic's deputy editor J.J. Gould, who runs the website, used to read Critical Miami. We've recently been in touch on Twitter and, well, the whole thing was his idea. By the way, there's an interesting article about The Atlantic's web rebirth in Sunday's New York Times.
Meanwhile, I still have a bunch of images from Art Basel to share. It's going to be long after the fact, but I'll probably get them up this week, despite my second cold in one month. Blurgh.
Posted: Tuesday December 14, 2010 by Alesh Houdek · Permalink · Comment [1]
Hey folks, Art Basel's here! Time to break out your dark suits and pink sneakers, or whatever it is you do when you want to impress your fellow art people. I can't tell if it's me or the art, but I'm starting to get bugged by the over-prevalence of art that combines a few random elements in a faux-careless arrangement and calls it a day. Luckily as always there are lots of exceptions to every rule, and lots of delightful and profound things to be seen. Overall the fair's taken a more subdued turn from years past, but there are plenty of exceptions to that rule, too. For example see above: The Brain Trap, by Robert Williams at Tony Shafrazi's booth.
Posted: Thursday December 2, 2010 by Alesh Houdek · Permalink · Comment [3]
Well folks, it's that time again. The weather is completely going to be cooperating this year: a little drizzle tomorrow, and then cool and beautiful straight through the weekend. You can find some absurdly overstuffed lists of "events" so I'm going to link to a few of the more moderated things
Here's a tentative list of things I may or may not do, which I WILL be adding/correcting to:
Tuesday Nov 30
Opening of Frances Trombly: Paintings at Girl's Club, Ft. Lauderdale.
Arts for a Better World opening.
Wednesday Dec 1
10 pm Art Loves Music (Metric)
Thursday Dec 2
MAM

Party, Scope party,

NADA

party(?)
Basel Antics (Phantogram!)
Transit lounge: live performance by Panic Bomber with a band
Friday Dec 3
4 – 8 pm — Island (at the mondrian)
7-11 pm — Reception at Carol Jazzar
Saturday Dec 4
Sunday Dec 5
Breakfast in the park,

FIU

Frost art Museum
Posted: Tuesday November 30, 2010 by Alesh Houdek · Permalink · Comment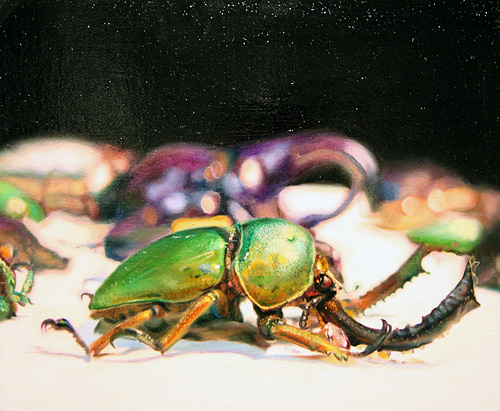 The November artwalk is for all intents and purposes a sort of opening act to ArtBasel, and considering the impressive showing last month, it's surprising how underwhelming everythign was. With some notable exceptions! Take, for example, the Littlest Sister show at Spinello Gallery: this is an "art fair" that truly earns its scare quotes, packing a dozen or so "booths" into the gallery's storefront space (tho note that the space is at least three times the size the gallery was in when Littlest Sister was inaugurated). It's replete with a slick website, high production values, and a "VIP lounge" reaturing spiffy photorealist paintings of insects by Marc Dennis. (More photos after the fold!)
Posted: Wednesday November 17, 2010 by Alesh Houdek · Permalink · Comment
October is supposed to be the beginning of the Official Art Season, and while September gallery exhibitions may be impressive in their own way, October is when we begin to expect to see the up-to-ArtBasel-leading A-game. And, unless you're double-scoop, capital-S Serious about your Art, you were happy this month.
Posted: Friday November 12, 2010 by Alesh Houdek · Permalink · Comment [3]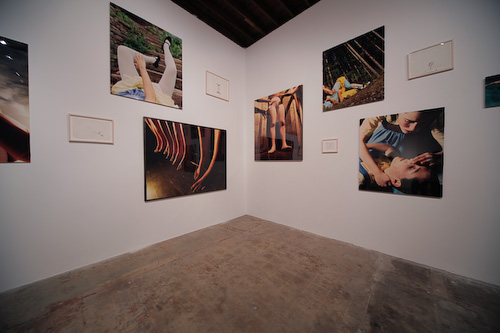 Come the first Wynwood artwalk of Spring, you might expect to see a downturn in the quality of work on view, what with Basel now a distant memory, but no such luck, although you will have to scroll a few photos. Here's the Scholl's collection of Anna Gaskell's work, which you have seen before but which is always worth another look. Bonus, Miko No Inori in the next room.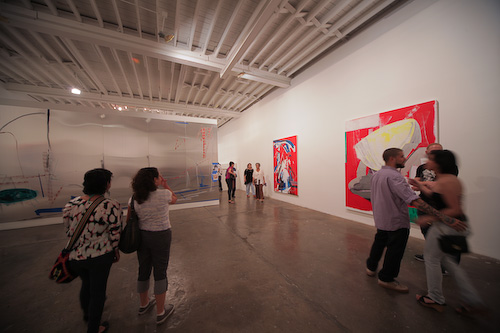 Diego Singh's paintings at Snitzer, some of which were pretty nice. A huge metal panel with a few primitive markings covers one wall, trying too hard to not try hard.
Still the worst thing in Wynwood. Is there a petition or something we can sign to get this removed?
Christy Gast's video installation at Diet. There was a sort of manic necessity to the videos, but the grandiose three-screen treatment, with deluxe log seating, seemed unnecessary.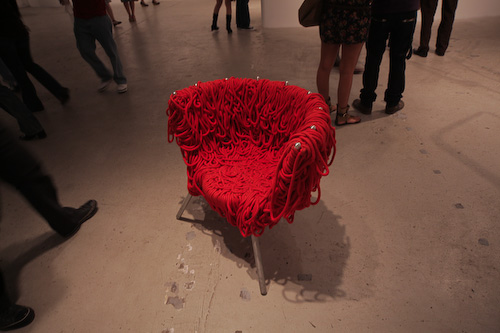 A Fernando + Humberto Campana chair, part of a group show at Castillo. Nicole had to shoo people out of it a few times, even though it's on loan from Craig Robins, and obviously sees its share of asses in its regular life. I for some reason did not photograph either of Jose Alvarez's two spectacular abstract pieces, which included feathers and porcupine quills and were selling for $24,000 each, your choice. If anyone has an image, send it over.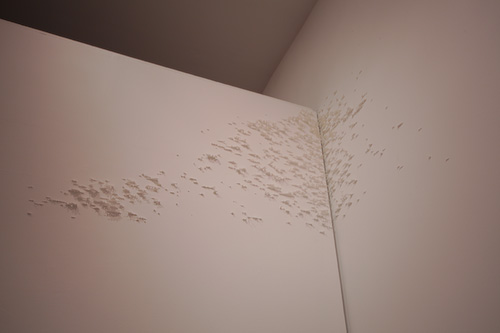 Lisa Perez at Dorsch, an installation of paper cuttings and other mischief. The way Dorsch is divided up right now is really effective, with three completely different spaces for artists to work with.
Magnus Sigurdarson. I was not interested in the big installation, but this video, where the artist stares at you without moving ("he chose to not put his sunglasses on," Carolina remarked)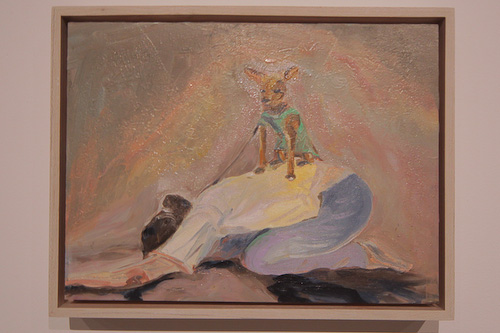 Also, Mette Tommerup's paintings. Sort of great!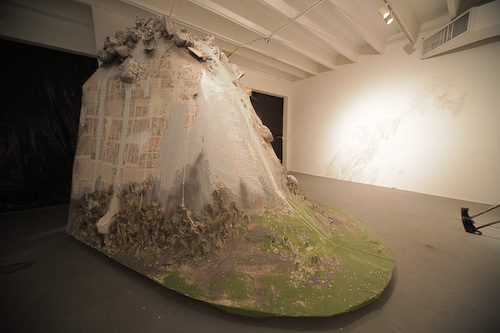 Update: Jay Hines at Dimensions Variable
Pachi Giustinian installation at Spinello.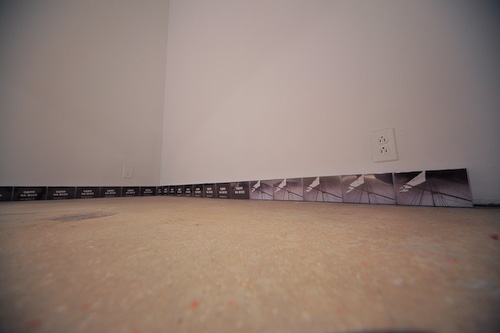 Installation at Locust, which their website currently does not list on either the current or past exhibitions page. Whatever, some big film themed thing.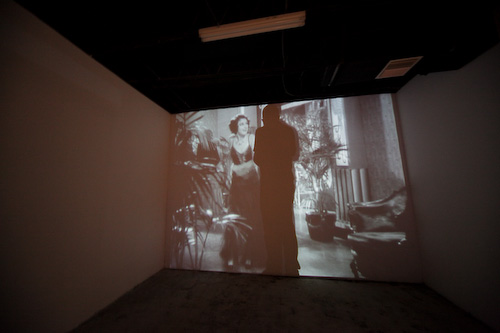 Here's me interacting with the frame on short-loop projection.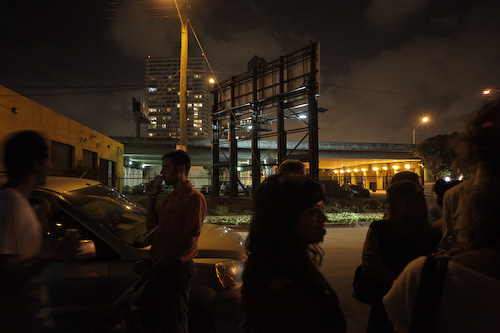 Quick breather.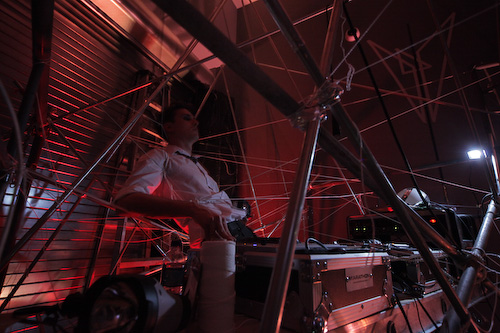 … and then off to the de la Cruz collection. This is turning out to be a really interesting institution, with a series of talks and, here, an installation/preformance by Federico Nessi …
… with two other performers.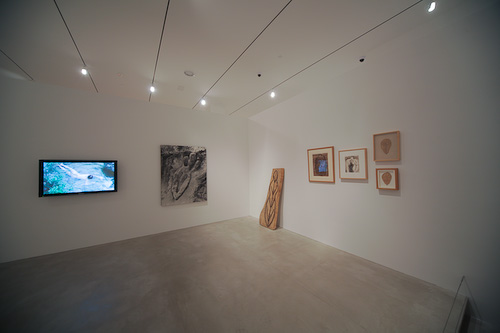 And by the way, if you haven't been to the de la Cruz space, I'd recommend heading straight to the top floor first and making a beeline for the Ana Mendieta room.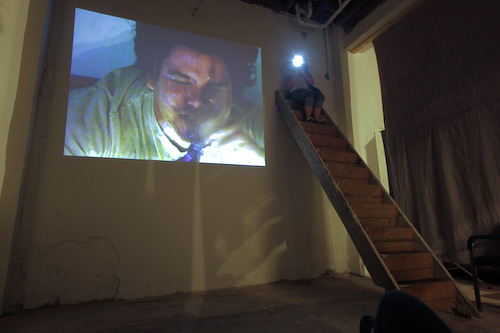 Posted: Tuesday April 27, 2010 by Alesh Houdek · Permalink · Comment [2]
OK, here we are at Lost & Found, home of awesome food and bafflingly slow service. Check out this harmless-looking sculpture that adorns the tables, which my friends and I deconstructed: taken from the top, we have a cluster or orchids (the most vaginal of all flowers, right?), right under that little egg-like shapes, then a column of bananas, all planted atop a metal cup with a cock on it. Not pictured is a wisp of another type of flower protruding from the orchids on one side which apparently are called baby's breath.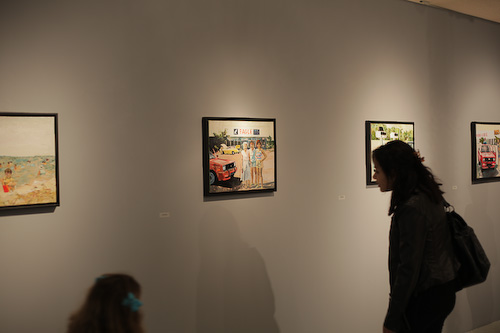 Catalina's pretty paintings at Hardcore.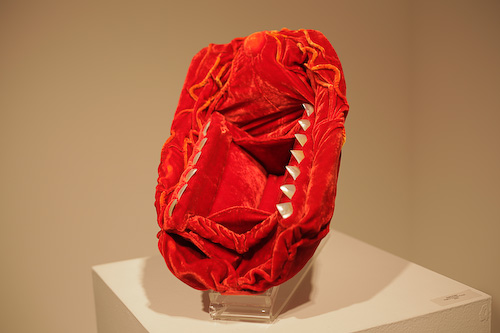 Also at Hardcore, Kate Krets' man-eating vagina purse.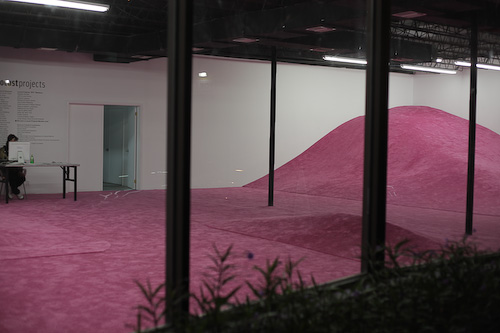 Leyden Rodriguez-Casanova updates Locust Projects with a carpet installation. I was exited to learn that the supporting structures were built to support people, so these things are completely climbable, but I'm bummed out about the seams around the protruding pieces.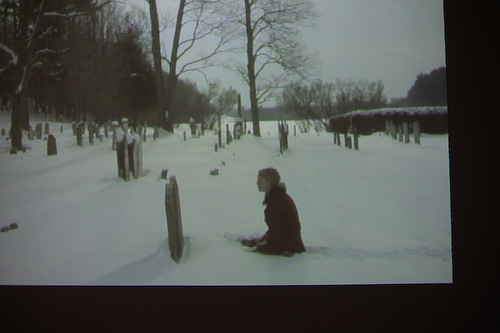 Christina Pettersson at Spinello. She had some fantastic drawings that you ought to go see, but the thing that I like about her work is its connection to the physical world and her intervention in it, so this video really captivated me.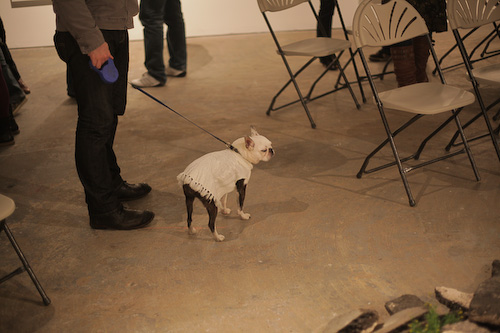 I think this dog was sent by Satan to tell me something important, but I slipped out before he got a chance. Missed opportunity!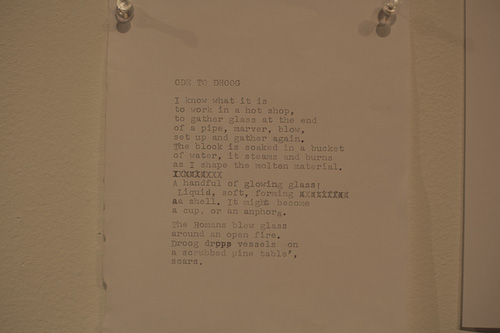 I don't know why we don't have poetry exhibitions more often at Bas Fisher. Which reminds me, you have like less then a month left to get your submissions in to the Knight Foundation for that amazing project you are totally going to do.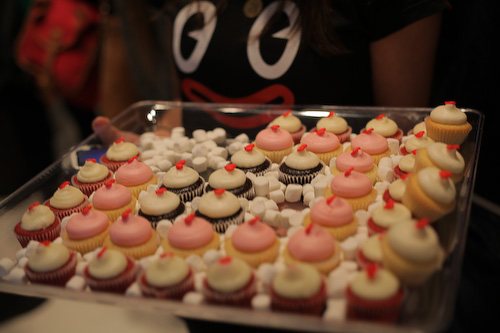 If you only have one cupcake at the Friends with You store make it a red velvet cupcake. Honestly, I wanted these to be better than they were. They were good, but I guess I was really in the mood for an amazing cupcake, and it does not seem like it would have been that hard to pull off, right? Isn't it just a matter of putting in a ton of Crisco or something? Whatever, any cupcake is better then no cupcake.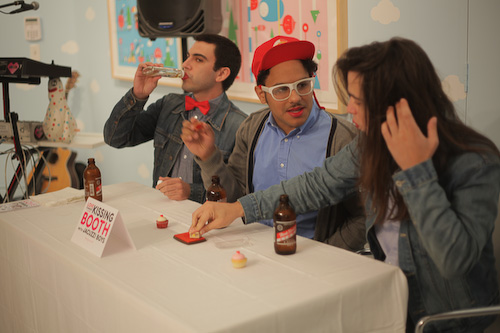 Wow, Danny makes a really good Pee-wee. Also, I think it has now—I think!—been six images with nothing vagina-related.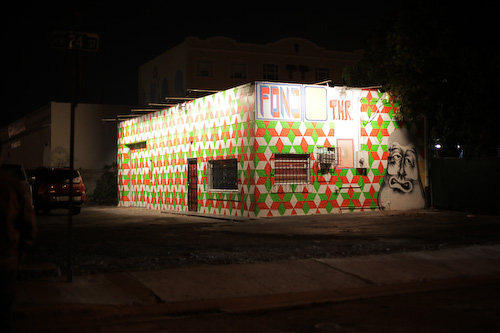 I think that if there is one lesson that planet graffiti can learn from planet art, it is the importance of proper illumination. Step it up, folks.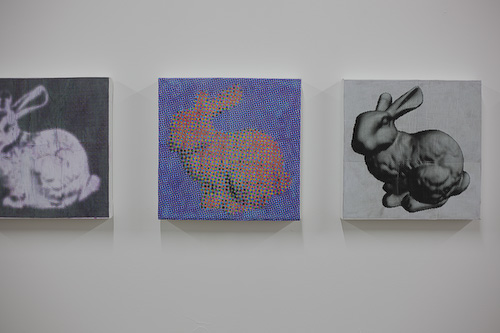 A series of mixed-media bunny pieces by Shelter Serra in the Castillo Annex. Go look!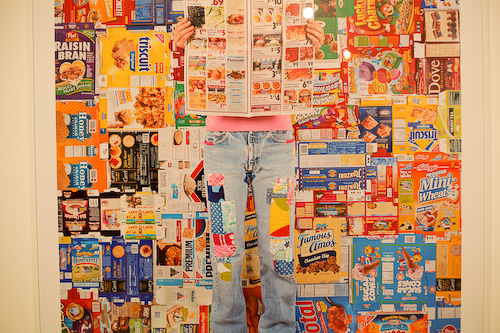 Gallery Diet. Did not get the name of the artist, too scared to go look at the website.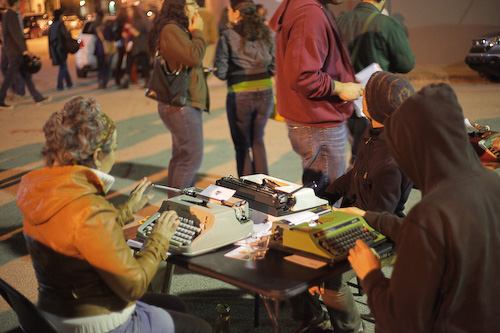 More unexpected poetry, here made to order on the corner of 23rd Street one block over from NW 2nd Avenue.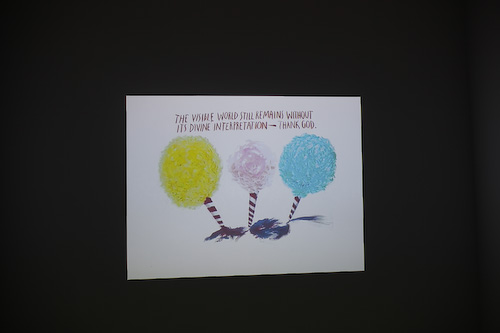 Impenetrable film at World Class Boxing. Or maybe not. Impenetrable, that is.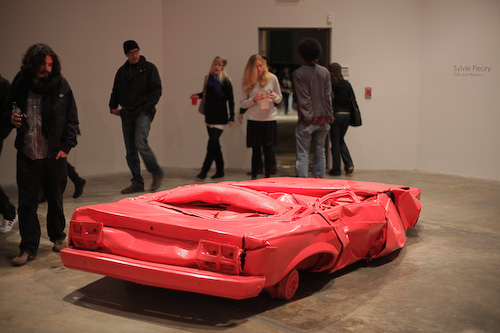 I certainly enjoyed Sylvie Fleury's crushed Fiat more. So, uh, what is it with all the pink things, anyway?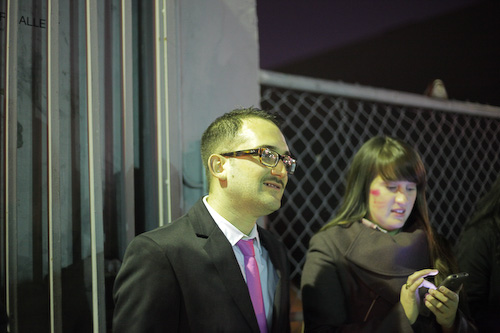 Outside Snitzer, an optimistic Bert Rodriguez semi-appologetically explains that Fred locks up at 9 pm, SHARP, and you my friend would be well served by showing up more promptly in the future. Or better yet coming to the artist's reception the night before, as you were told to do.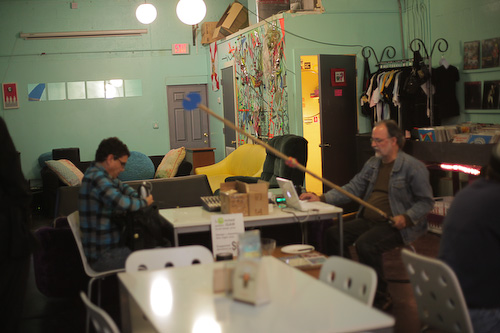 Oh right, so the Noise Conference! Here's Rene Barge and Gustavo Matamoros performing at Sweat. (Actually, I got there late, too, and it's really Gustavo performing and Rene putting his shit away, but the sounds were sweet!)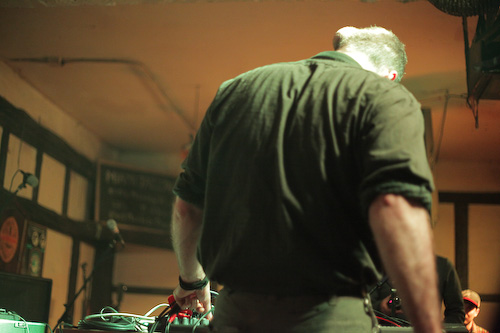 And now on to Churchill's for the Main Event! And if the rules were (1) No Droning (2) No Laptops (3) No Mixing Boards, then this guy was breaking at least two of the three but no matter, he was pretty incredible. I'm eventually going to go back into the computer and make this picture much darker and more dramatic, but yes, that is a big lump on the back of his head, and sorry but I couldn't help but wonder whether that had anything to do with how amazing his music was.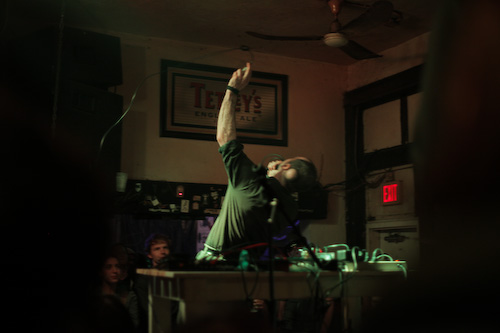 Here he is literally flinging his sound all over a stunned Miami audience.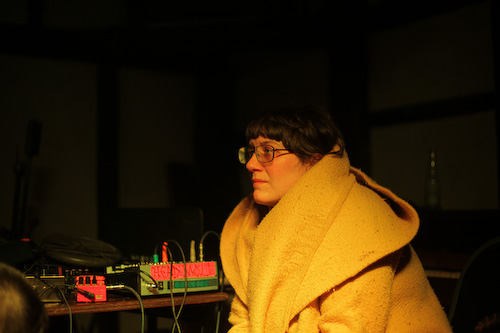 And when I say "stunned" I am not exaggerating. Also: wow. Between this and the photo from in front of Snitzer I think we have proof of need for a new Miami fashion photo blog. Where are the camera-toting UM club kids when you need them? Come on camera-toting UM club kids, get it together here.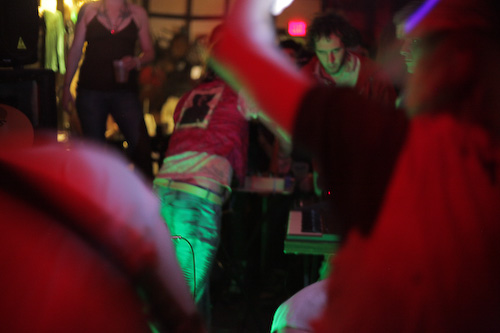 You know what the other thing about the Noise Conference is? It's actually not that loud. I guess maybe certain acts are pretty loud, but it's not at all what you'd expect. It's quite pleasant actually, and really the single distinguishing characteristic these bands all share is an inclination towards the theatrical. (I also was going to say something here about being sandwiched between all these people, and just how disgusting my clothes smelled when I got home, but really, just nevermind.)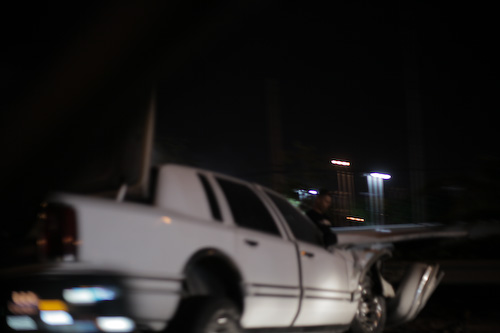 Wow… hate to end on a somber note, but here but for the grace of God goes you if you keep driving drunk. Big cars may protect you in a crash, but I sure hope it's true that small nimble cars are more likely to let you evade a crash before you get stuck in it. Let's all be careful out there my people.
Posted: Friday February 19, 2010 by Alesh Houdek · Permalink · Comment [4]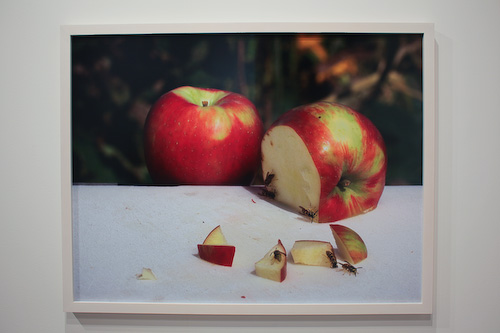 I think we're here back at Art Basel for another quick look. To be honest, you could do a lot worse next year than to get yourself a fair pass and spend four days straight inside the main fair instead of running around like a crazy person to see whether Aqua is better then Scope, etc. Whatever. At least you'd see more stuff like this gorgeous photo (artist unknown, but I can tell you that it's from Andrew Kreps' booth) and fewer crappy Canadian paintings.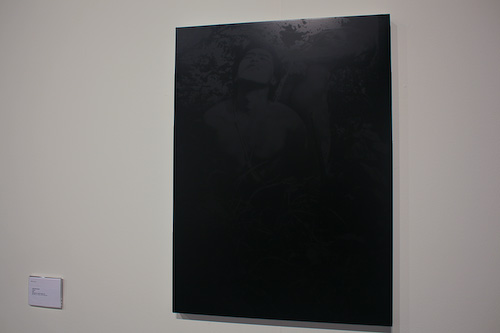 Also: Cerith Wyn Evans' painting(?) at White Cube, made by silk-screening gloss varnish onto solid black. (I think you could totally get away with stealing this idea, by the way.)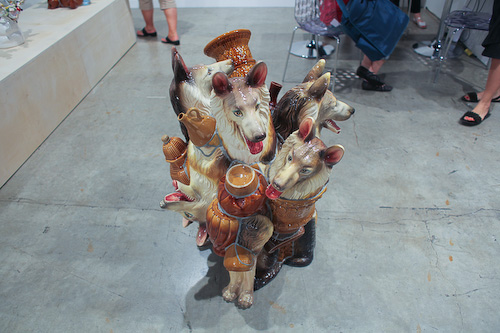 Galeria Laura Marsiaj, Rio de Janeiro. These seemed like a good idea at the time — break crappy "sculptures" from thrift stores, and assemble for color and theme, caulking all the way.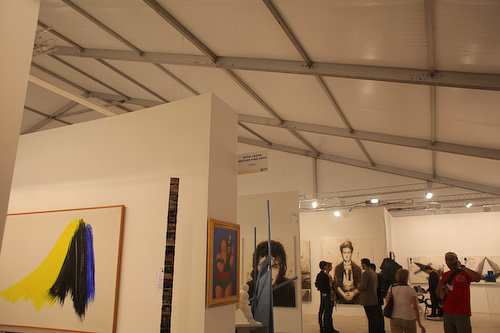 Art Miami was a clusterfuck of an extent that mere words would not have been enough to explain, so I took this photo, which I think does it due justice. Last year may have been Art Miami's one good year, and I guess it's my fault for expecting it to be decent again. I sure hope nobody listened to my advice to go there!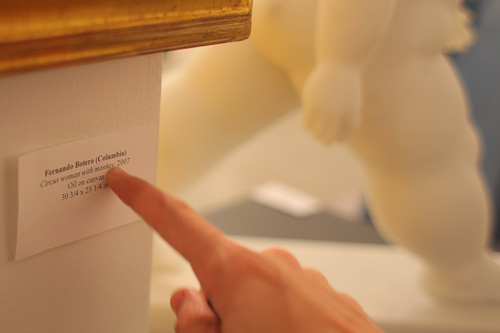 Nobody can force the Art Miami galleries to show good art, but do they not think that it would be a constructive use of their pre-fair time to double check the spelling of the countries that they feel they need to put on their crappy little tags?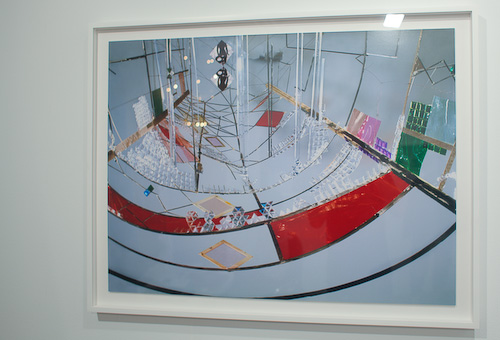 So, the cool thing about NADA was that even though it's in a hotel, the booths are not in the rooms — they're in like the ballrooms of the hotel, which are big and lavish in a mob-era-Miami-Beach way, plus there is a lobby that will knock your socks off. Anyway. This is a weird thing that Yamini Nayar made and photographed.
Another re-appropriation of found sculpture, this time stacked with glass and made-to-size glass pedestals. Photos are not doing this stuff justice. Francois Ghebaly.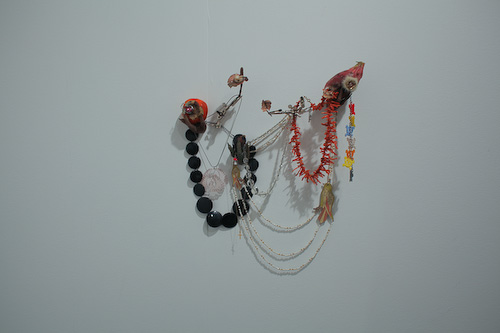 Jo Coupe's little assemblages. I think the photo is doing this particular thing plenty of justice, so you can dislike it if you please, but I think it's perfectly charming.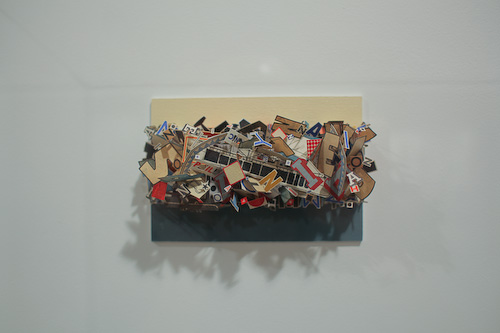 So is this little three dee collage at Man&Eve.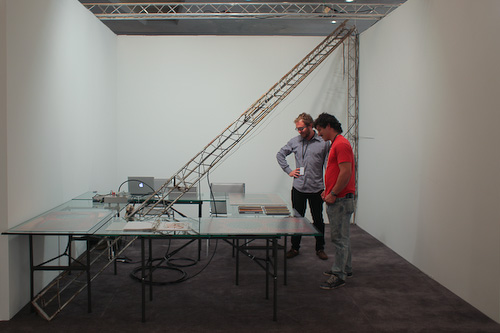 Tom Scicluna. Twenty Twenty. Hialeah. Nuff said.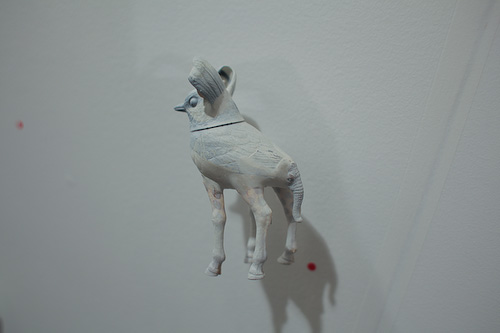 A big mostly-sold collection of painted metal sculptures at Johansson Projects. Mismatched animal parts done particularly well.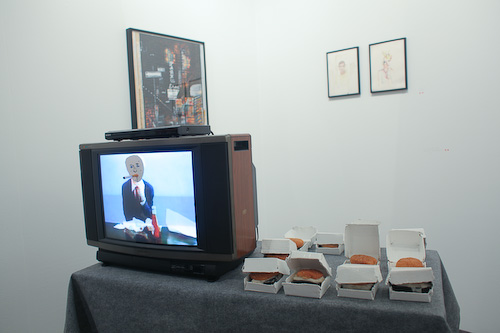 Yet another joke about the Andy Warhol hamburger video. It's over, people; move on.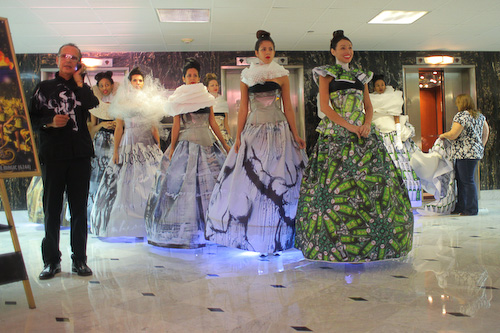 In an attempt to Ruin Everything™, Grolsch beer dressed up a good dozen women in dresses themed in their beer bottles and the US constitution (!!) and had them parade around, with glowing transparent platform boots.
Ahh, Wynwood…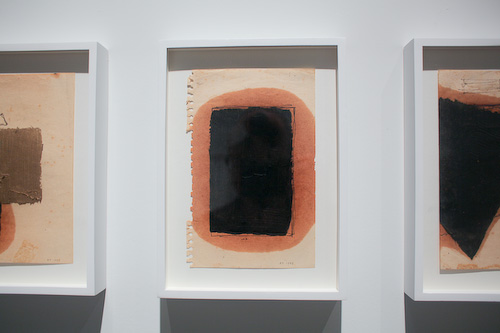 All I have is this one picture, but the Robert Thiele retrospective at Dorsch is something you need to see.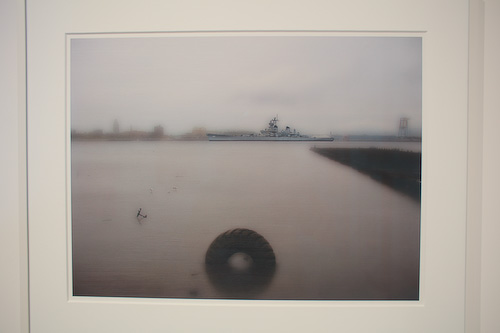 Aqua Art now, and this manipulated ("wax diffused"?!) photo by Edward McHugh.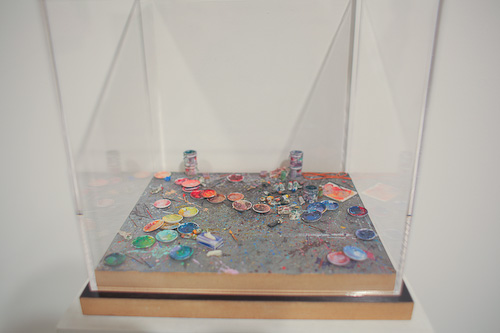 A teensy weensy diorama of a painter's studio. The lady at the booth of this artist talked to me about the work (art about artists, blah blah) and handed me a card with his name on it, so I didn't take a snap of his name or of the name of the gallery. Maybe I'll find the card eventually and come back and put the name here, but until then, that'll teach her. Joe Fig! Thanks, Franklin.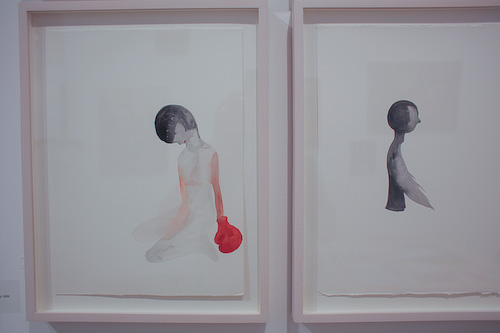 Love love love this series of watercolors by Julia Kuhl called Everything is Impossible. You should track one of them down and buy it for me. Maybe you could all pitch in or something.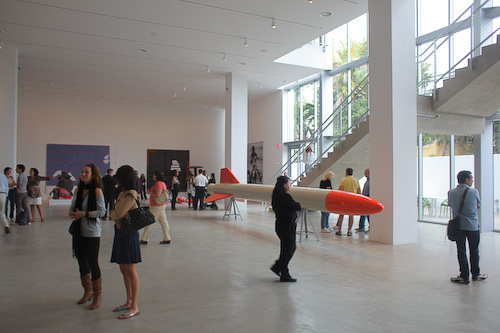 The De la Cruz space. It was like culture shock going from these Everything Fresh fairs to a collection created over decades. There's a fantastic group of Ana Mendieta work on the third floor.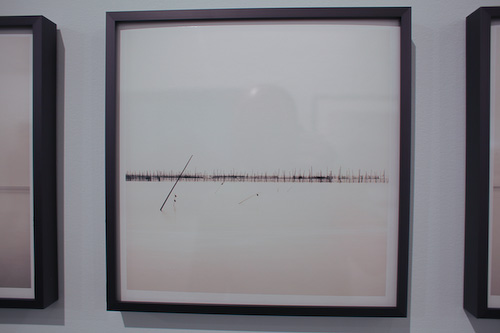 Photo Miami. I tried very hard to find things to like here, and Josef Hofiehner's photos from China came pretty close. Where Art Miami was terrible and huge, Photo Miami was terrible and small, and the propagation of Miami galleries suggests that it may be struggling, and may not come back next year, which would be just as well.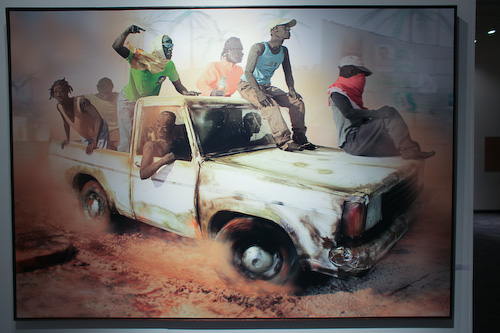 It was mostly bad-boring, but here's something bad-interesting for you. I sort of thing this is a photo of a (life size?) cardboard sculpture. And this is in the booth of a German gallery, so I'm pretty sure that whatever they were thinking, they just shouldn't have.
Posted: Thursday December 10, 2009 by Alesh Houdek · Permalink · Comment [4]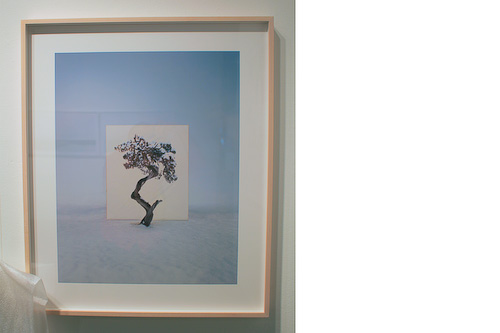 I hadn't noticed the relative lack of photography at this year's Basel until I walked into Pulse, where it was in rich abundance. Well known photographers like Myoung Ho Lee (who's Tree series I love) were everywhere, and even relative superstars like Thomas Ruff and Candida Hofer (Hofer was one of the photographers still well represented at Basel, while Ruff was completely absent) were to be found.
The mood of art collectors closely tracks the stock market, which is a leading indicator of the overall economy, and so we've had this weird asynchronous double dip over the last two years. Last year's Basel was terrible for sales, which at the time could have been seen as a surprise. This year, reeling from that bad experience and hit by current economic factors, galleries from around the country and world just were less willing to spend the money to come to Miami. And so with the exception of Art Basel, all the other fairs this year were smaller than last. (This had the consequence of bringing many new Miami galleries into play, as some of the less discriminating fairs offered last-minute cut-rate booths.) But meanwhile, with the stock market back up, collectors were biting again, and so apparently sales went pretty well.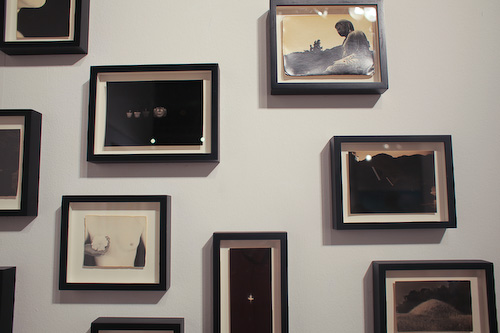 Masao Yamamoto's small toned photo-objects were particularly well suited to the Ice Palace, Pulse's home for the year. What apparently had happened is that the Ice Palace had been raising the fees on Nada every year, prompting their move to the Deauville Hotel and starting the shuffle that left many fairs in new digs. Pulse took full advantage of the venue, augmenting it with a few additional tents and an outdoor stage.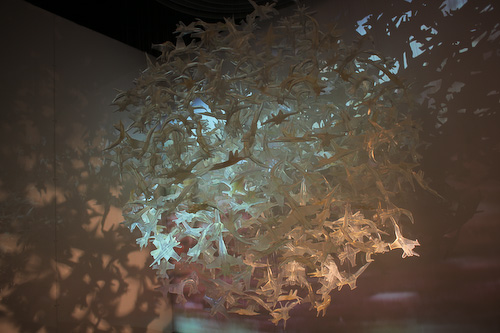 Teresa Diehl's spectacular room-sized installation, F-18's in a in a bird-like turmoil.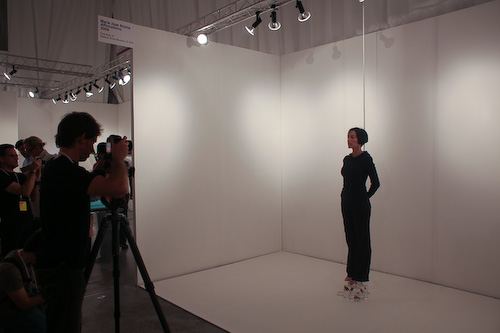 Maria Jose Arjona's performance, with Siamese fighting fish.
Yigal Ozeri's oil on paper works look like photos until you get real close. By the time I saw a few more at Scope the charm (as well as the artist's focus on scantily clad women) of these was wearing off though.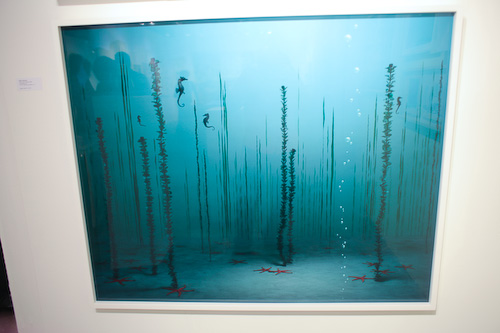 An underwater diorama photo by Didier Massard.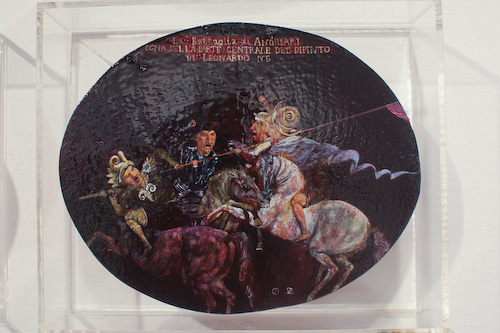 At Amelia Johnson Contemporary there was a group of Konstantin Bessmertny's fantastic little oil paintings on oddly shaped oval pieces of wood. Their ghoulish scenes portrayed strife and antiquity, without looking like recreations of past objects or styles.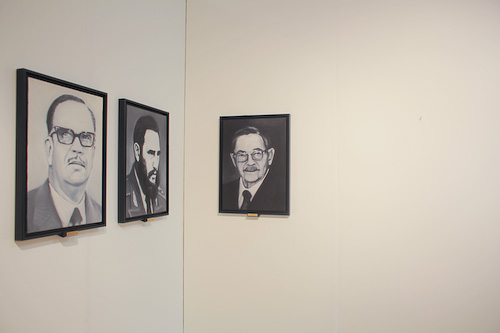 At a side-tent adjacent to Pulse, a sequence of 35 black and white oil paintings, one of every person who's been the president of Cuba since the 1860s, with a big conspicuous nail in empty the wall next to Raul Castro under which older Cuban couples were photographing each other holding Cuba libres mojitos.
Right at the entrance, a mechanized Gamelan orchestra sets expectations for Scope to be at least as good as it's been for the last two years. Alas, it was not meant to be, and the economic decline hit Scope hardest. It was not without a lot of good work, but the overall effect was of a let-down, and the pairing with Art Asia, which was wrongheaded last year, now just seems foolish. (Art Asia has the same problem as Photo Miami, which is that galleries try to get into the best fair they can, so what you're mostly left with a themed fair with only galleries that couldn't do any better.)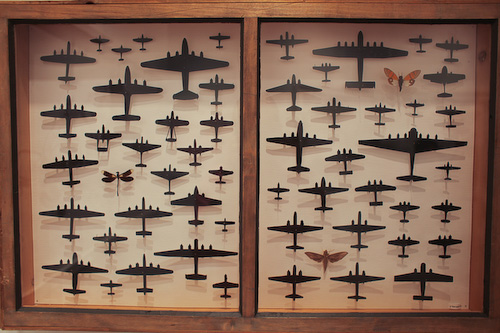 That said, some highlights. Karin Sabine Krommes' mounted insects and airplanes.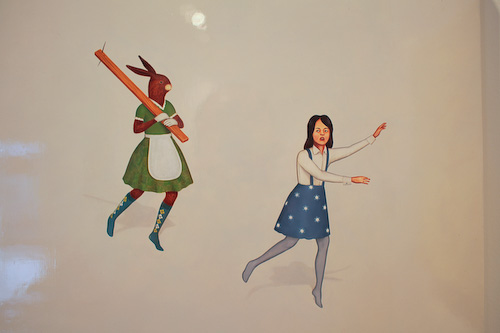 Edward del Rosario's playful oil paintings at Irvine Contemporary. I predict that argyle socks will be to next year's fair what Michael Jackson was to this year.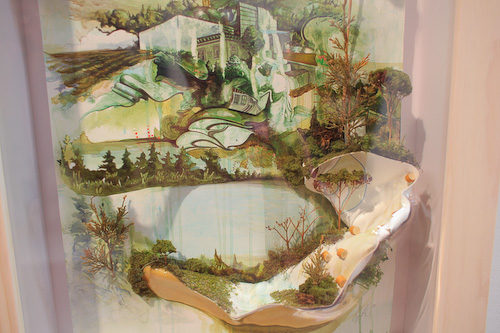 David B. Smith Gallery chose not to put up artist names with the work, but this part drawing part diorama, bulging through it's enclosing glass, was a real treat.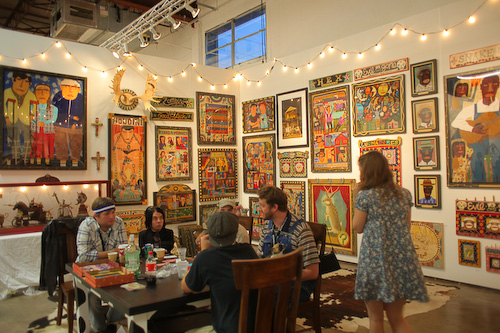 Making the fair worthwhile was the Red Truck Gallery from New Orleans, which seemed for all the world to be a bona-fide bunch of misfits. They'd brought along a table and a dog, and were having a great time, eating, drinking cheap vodka, and generally having a jolly old time. They were friendly and fun, and generally a breath of fresh air, and the work it was great. Unselfconsciously outsidery, but with real wit, technique, and style.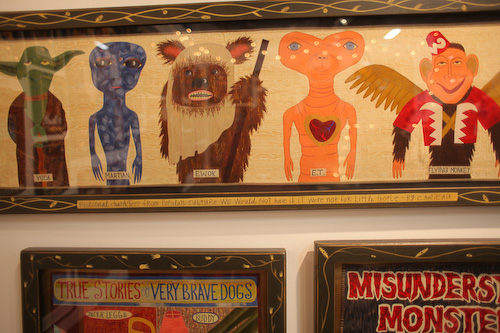 Chris Roberts-Antieau's Fictional characters from popular culture we would not have if it were not for little people. There were also great needlepoint portraits, cast concrete teddy bears, and a couple of absolutely perfect post-Katrina photos, and it all worked spectacularly well together.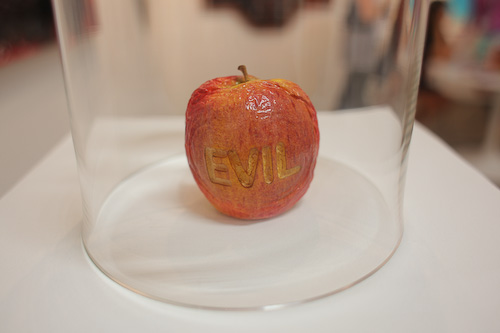 Another big cliche this years was the word "EVIL" in all caps. Carving it into a freeze-dried apple — how many other ways can YOU think of to write it?! (This is by Linda Hesh, who I guess does have a point.)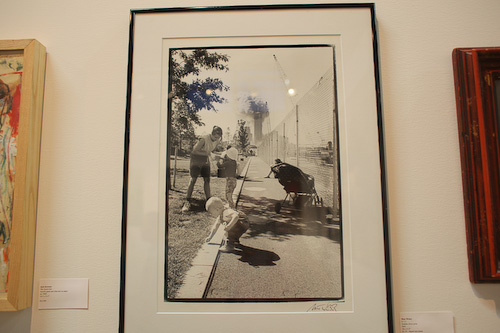 Matt Weber's tasteless 9/11 darkroom trick. Yikes! This was at a Miami gallery in Scope (the name of which I've lost!!) which probably pertains to the over-exposure of Miami galleries in the various fairs I mentioned. For whatever it's worth, it was hanging next to a presumably real painting by Jack Kerouac. Not an auspicious pairing, as they say.
Posted: Monday December 7, 2009 by Alesh Houdek · Permalink · Comment [4]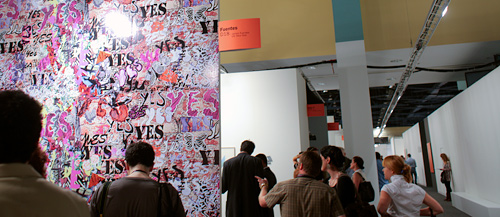 This is for folks who are in Miami this weekend but don't really know from art. You've heard of Art Basel, and thought about maybe checking it out, but you're really not sure what exactly it is, and it all sounds very expensive and intimidating and complicated, right? There are like 20 different fairs, and a million different events, traffic is crazy, and there are sneering art people and punk kids everywhere. Also, who understands art today?
But the fact is that you should go. You don't know anything about biology, either, but if the best zoo in the world came to town, you'd check it out. Same situation. Don't worry, in a minute I'm going to teach you to look at art. But first, the question is what to do, and the answer will depend on your budget. If you're broke, you can go to NADA, check out some of the stuff at Oceanfront (pdf), and maybe hit up a couple of the smaller fairs. The de la Cruz Collection will be in town after this weekend, but it's free for Basel, so I guess that's an option. If you have a little money to spend, you could try to do some of that, and spend a few hours at Pulse. It's the best non-Basel fair I've seen so far this year, and there are interesting performances, and lots of little areas and things to discover. But if you can swing it at all, by far the best value is the $35 admission to the Art Basel fair at the convention center.
You can easily spend an entire day at Basel and not come close to seeing everything. The contemporary weirdness there is a notch above what you'll see anywhere else, and there are plenty of Big Name artists thrown in. And it's more fun to walk around in than the other fairs; because of the layout, you'll almost immediately get lost, and walking through the same areas always reveals things you missed before. (This is not an easy effect to achieve — every other fair seems like rows of boring stall-shaped booths in comparison.) Pick a day, go early, and plan to spend all day. Bring the kids! (There's arty childcare onsite if bad comes to worst.) Dress up (serious or zany — your choice!), prepare yourself to fight some crowds, park in the garage (or better yet, spring the $20 for valet parking), sneak in a camera (they check bags, but you can figure it out), and make a day of it. Take a break and wander over to Collins or Lincoln Rd for lunch. Grab an Oceanfront program and wander over there if something interesting-sounding is happening (there are also talks at the Art Salon, right inside the fair). Pick up a Showguide (a free fat brochure they hand out at the counters by the entrance) and see if you can figure out what the different color-coded booth signs mean (most of the booths have white signs, but there are also yellow, teal, and orangeish ones).
How to look at art
Ok, so what the hell is this stuff, do they really consider this art, and do people really pay thousands of dollars for it? The first thing to understand is that there's nothing necessarily to "get." If something has an explanation and a reason for existing, it's a tool, not a piece of art. That said, we can come to understand something about any given thing, and I suggest the following strategies when confronted with something that looks pointless, impenetrable, and maybe stupid:
First, really look at it. Almost everything here rewards close inspection, even if does not seem so at first glance, and very little about what you're seeing is arbitrary. Pick up on as many details as you can.
Imagine it in your living room. Imagine living with it there for a year. Now imagine it in an empty room. How does it transform a space?
Think about a collector who would pay lots of money for it. (By the way, few galleries post prices, but you're allowed to ask.) Everything in Basel is there because someone thinks it has a good shot at selling, so imagine why someone would want to own this thing you're looking at.
Think about the artist that made it. They are, by at least one definition, successful at what they do. How and why did they make this particular thing in this particular way? Most artists have a somewhat cohesive body of work, so what sort of things might they have been making that brought them to international prominence? Remember that they are not trying to make an easily articulated "statement" with any given piece, but it should evoke a unique sensation and intangible realization. Go with that.
Think about the actual process that would have been required to create it. Lots of artists have outside help; how do they imagine the final product, and how might they have communicated that image? Is the piece meant to show how it was made, or is it all about the final physical object?
Think about the gallerist. Very few galleries at Basel specialize in only one genre or style, so the juxtapositions of works often seem haphazard. However, lots of thought actually goes into laying out the booths. Why is this particular combination of things together? What is the aesthetic common thread between all these pieces. (Hint: this is not the point on which you want to spend the least amount to time.) Feel free to ask questions — keep it open-ended. Most of the people working the booths have something they can say about any piece, and a simple, "what's the story here?" will get it out of them. Sometimes there's an interesting tidbit that will really help.
Good luck! Here are some links:
Google Maps link to the location of the Convention Center
Art Basel website
Yelp search for nearby restaurants
List of fairs and other things going on
Posted: Friday December 4, 2009 by Alesh Houdek · Permalink · Comment [3]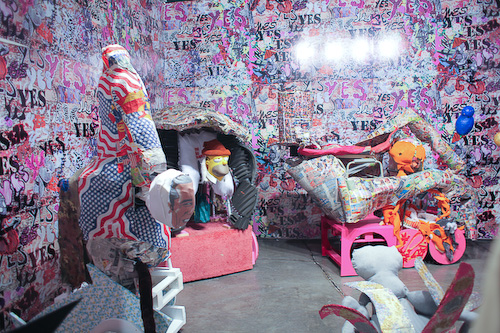 Fuentes, D18. The mood was of course more subdued then at past Basels on Wednesday, but not by too much! Still, there was much less pranky stuff like this then in years past. "You go to school to learn not for a fashion show," and you go to Basel I guess to shop for art that you want to live with, not to see a carnival freakshow. But to say that nothing was over the top would be a tragic misrepresentation. Let's see…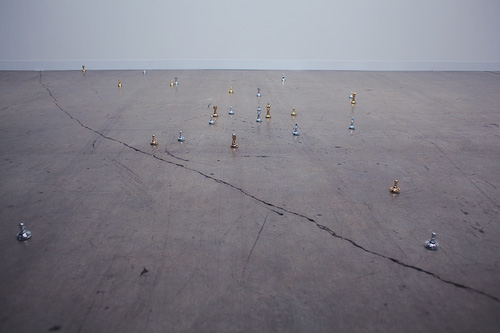 Haye, H19. Nothing says "I have $35,000 to blow on a Basel booth rental and the rep to score one, but it ain't no thang" like some gold and silver plated chess pieces scattered around, with only an incognito guard for staff.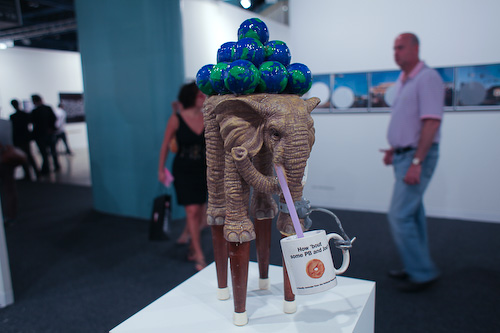 This elephant's cup says, "How 'bout some PB and Joe? / A friendly reminder from the National Peanut Board." Serious contender for best-of in the sculpture category.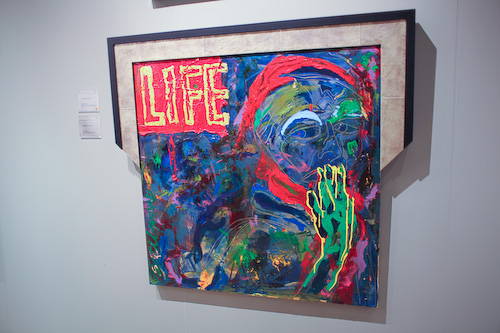 Yes-That-Sylvester-Stalone's horrible self-portrait from a Life cover was one of the few things with a red dot.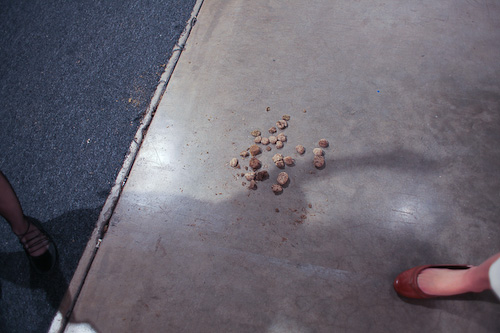 The "is that art or have you just not gotten a chance to tidy up yet?" category is alive and well, represented here by some actual animal poop.
Some quarters modified to contain blades. If we can't use art to make suggestions to terrorists, then the terrorists have already won.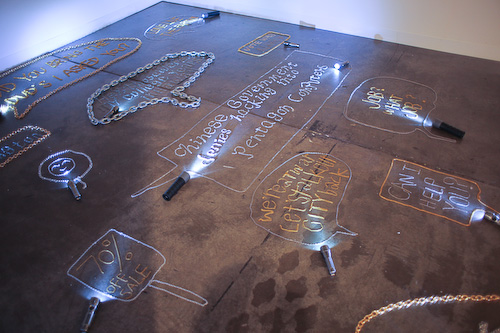 Beautiful but ephemeral. MadeIn's Metal Language 1 at ShanghaiART.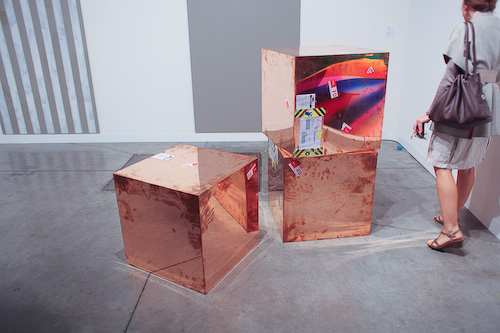 Art that got shipped is always a hit. Here are some copper boxes that show fingerprints, smudges, scrapes, and FedEx tracking labels. Walead Beshty.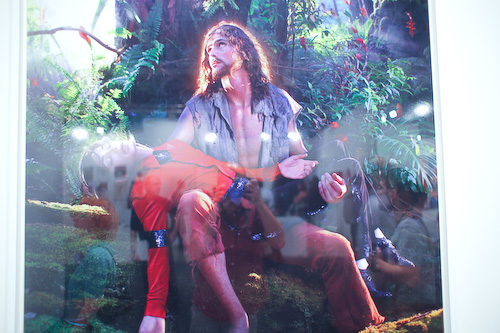 Anyone who made anything even vaguely Michael Jackson-related got their piece into Basel. The best of the bunch were Dave LaChapelle three (photoshopped?) images. Here, the MJ Pieta.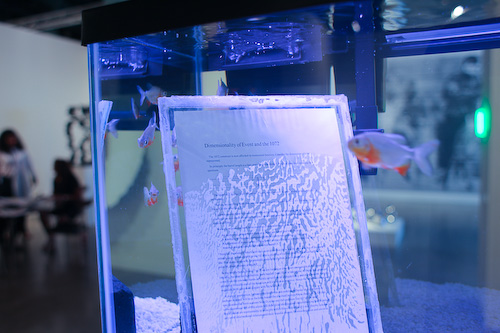 I loved these goldfish swimming around some impenetrable legal-looking documents. Titled "They are learning fast," John Latham, Lisson Gallery.
These Lorna Simpson photos were more poignant than spectacles, but don't miss them.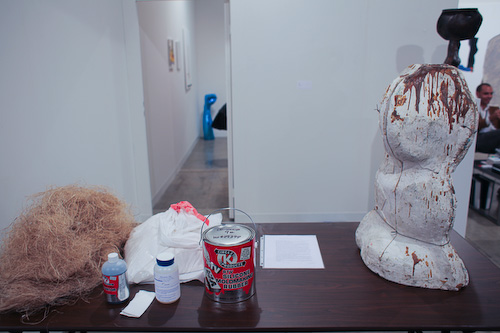 This piece comes with instructions. At least it has the decency to be titled "WTF."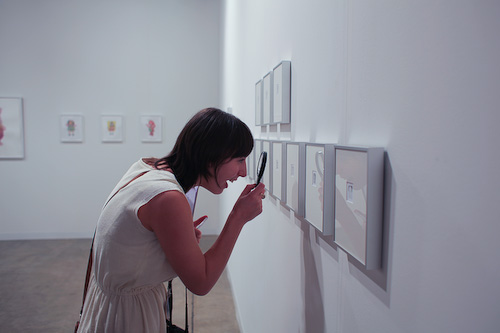 If you choose to include a little shelf and some magnifying glasses next to your little newspaper cutouts, be sure that they really reward a close look.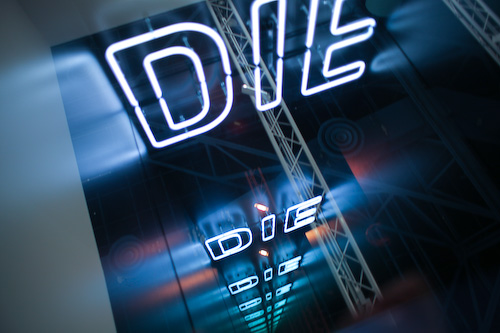 A giant wooden box that tells you to DIE over and over, into infinity. Ivan Navarro. Edition of three, so you probably still have a chance.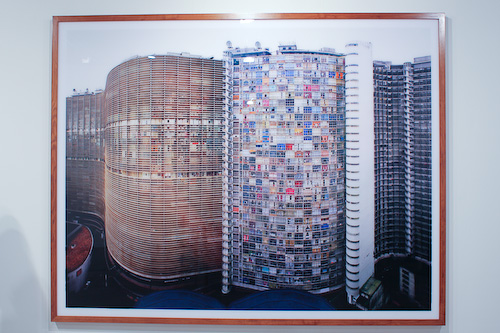 You get two primo Gurskys this year, and here's one.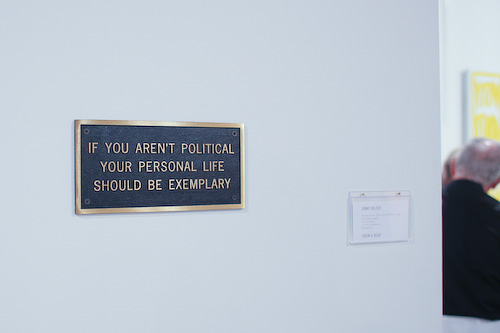 Probably my favorite Jenny Holzer piece of all time.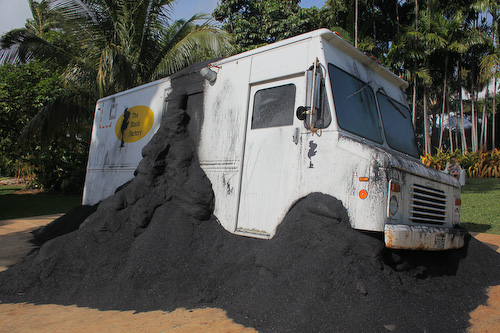 William Pope L's "The Black Factory" at the Botanic Gardens.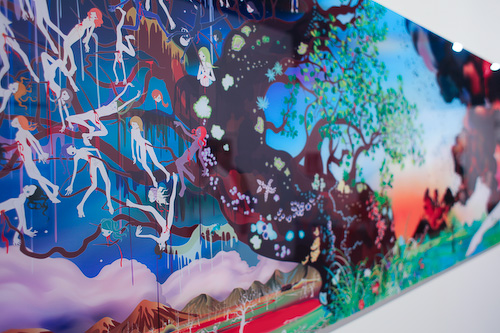 Probably my favorite thing so far was this Chiho Aoshima digital drawing at Perrotin.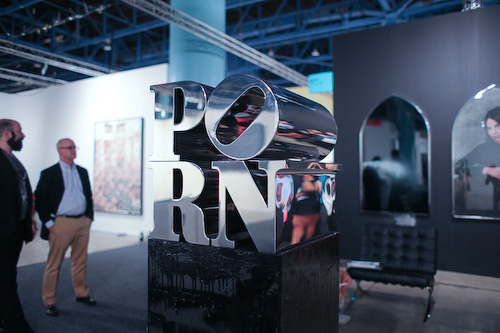 It turns out that the Robert Indiana "LOVE" game is way too easy to play, and this year everyone got in on it. Here's my winner.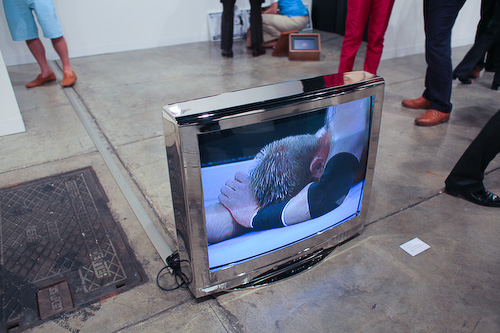 This whole time you could have chromed an old TV and set it to play nothing but wrestling match footage. Paul Pfeiffer.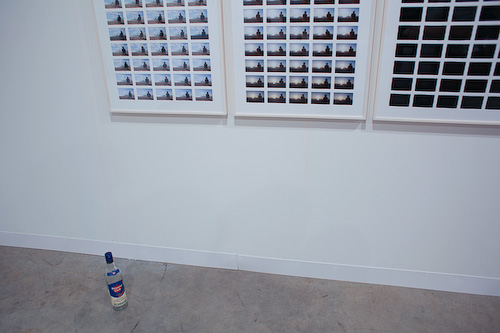 Empty bottle of 90 proof Cuban rum, and time lapse of the artist consuming it over 24 hours. Once again proving that anyone can have a good idea, but it's only if you execute it elegantly that victory shall be yours.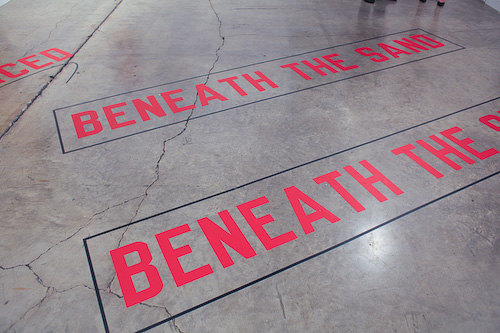 Lawrence Weiner's "PLACED BENEATH THE SAND BENEATH THE SEA" got me. Regen Projects.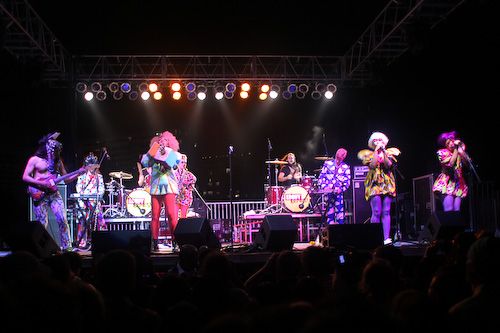 And last but sure as hell not least, Ebony Bones, easily the best performer ever at Art Loves Music (but I missed Peaches), who galvanized the crowd by getting them to move the left. Awesome (but she needs a ballad to break up the set a little). More Later!!
Posted: Thursday December 3, 2009 by Alesh Houdek · Permalink · Comment
Updated 10:58 am, 12/02/09.

"NO" / "Feel Good" respectively from the Convention Center parking lot and the Oceanfront installation.
I've shaved off the links to articles and information from the main list, which continues to be updated. Newer entries here will be added to the top.
Posted: Tuesday December 1, 2009 by Alesh Houdek · Permalink · Comment [3]
Updated 5:57 pm, 12/01/09.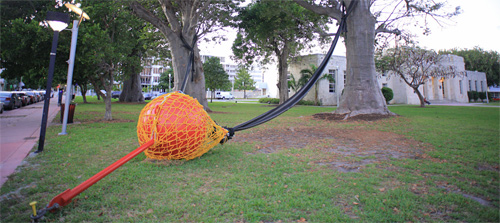 Preparations are under way all over town for the Main Event, starting more or less this Wednesday morning. Tents have sprouted over the generous undeveloped portions of Midtown Miami for many of the larger satellite fairs, art delivery trucks are fighting for unloading spaces at the hotels housing the less fortunate fairs, and the din of hammering and unwrapping is emanating from the Convention Center. It's that time of the year where the New York Times runs stories about Miami that neither mock or pity. It's the time of the year where the average IQ of the tourist arriving at MIA spikes unexpectedly, and when the cool kids from all over the world wish they were here. It's Art Basel Miami Beach, y'all, and the weather this year (give or take a stormy Thursday) looks to be cooperating.
But for now we wait, not unlike Robert Chambers' giant slingshot (pointed at the Bass art museum). Today brings the list below, which will to be updated throughout the week. A few more tidbits and links tomorrow. Wednesday comes a first look at the convention center, with stuff from the rest of the fairs daily probably into next week. Friday brings the perennial Art Basel guide for Normal People. Also follow me on twitter, as updates will be live and glorious. (Note: I'm indicating Miami galleries showing at each fair on an 'as I notice' basis — not comprehensive.)
Main fairs
Smaller fairs
Special projects, local endeavors, etc.
You can just assume that all these are free admission, and many will have an opening reception with free drinks. Quality tends to be very good, tho many are up for weeks after Basel.
Primary Flight (more info here ..): mural project featuring several notable local artists, and Shepard Fairey(!). Street art, plus a show at Art Center South Florida. Video.

FALLOUT

, 23 artists mostly from around the US, showing work in the actual fallout shelter of the old Burdines building (now Macy's) at 2 W. Flagler Street in downtown Miami.
Littlest Sister, "smallest art fair in town," Spinello Gallery. 50 artists, 8 booths, 1 store-front space. 155NE 38 St, #101, Miami.
"He Believes in a Beauty" — your pal Nick Cindric is back, and curating this oddly named exhibition. Includes work by Christina Pettersson, Gavin Perry, Carlos Betancourt, and Cristina Lei Rodriguez. So, worth checking out despite any web presnece. Buick Building, 3841 NE 2dn Ave, Miami.
Subtropics' Autonomous Sounds, sound art performance/installation, Thursday and Friday, 7 – 11 pm, 2100 Washington Avenue, Miami Beach (just northeast of the Convention Center).
Art | Baselita / Zones. Lots of local art, both fine and funky.
Dark Night of the Soul / It Ain't Fair, the former being the collection of photographs by David Lynch with accompanying music by Danger Mouse and Sparklehorse that you've heard of and the latter being, well, another show with a bunch of artists. At

OHWOW

, which is getting mad buzz, 3100 NW 7 Avenue Miami.


Events
Wednesday
Art Loves Music: Ebony Bones, free concert at "Oceanfront," 9 pm-ish. Free.
Thursday
Vivian Girls perform at Pulse at 7pm, with locals Little Beard playing at 6. Don't miss the whole list of art performances at Pulse, which sound impressive. (thanks, misael)
Friday
G. Love at Fountain, 7 pm, $5
Art Film: 'Jean-Michel Basquiat: The Radiant Child', at Oceanfront. This is apparently a rough unfinished cut of the documentary. Free.
Saturday
Posted: Monday November 30, 2009 by Alesh Houdek · Permalink · Comment [3]
I've been just informed that Terence Riley resigned as director of the Miami Art Museum. This indicates one of two things — either they've raised the money they need, and the new building is happening, or he's realized that it ain't gonna happen and he's bailing. The former reason is what is stated, but the latter seems disturbingly more likely, especially given the lack of a fundraising update with the announcement. This majorly blows. Update: here's the longer story. But scant new info: the fundraising numbers are 6 months old(!). "Riley said he leaves the job with very few regrets. One is that he didn't do enough to muster the support of Miami's art heavyweights." Yikes!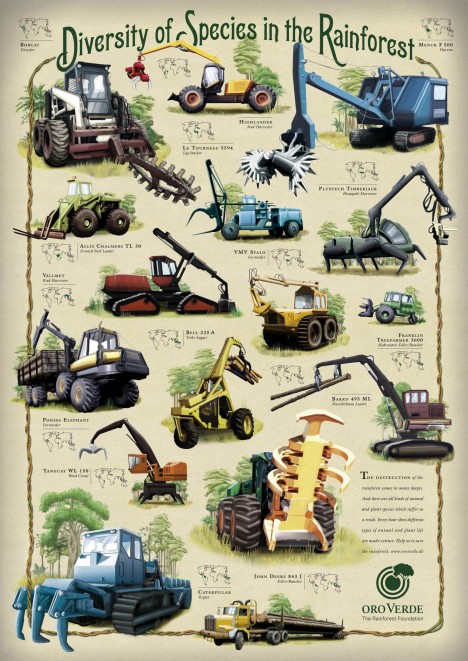 Illustration by Oro Verde. (via)
When do photographs become photo illustrations?
Posted: Sunday July 12, 2009 by Alesh Houdek · Permalink · Comment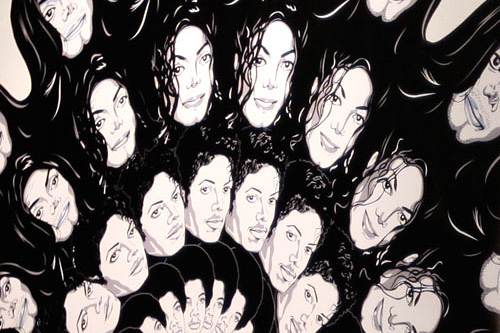 Michael Jackson spiral (via). See also: Michael Jackson street art. Update: The piece is by Kelly Coats.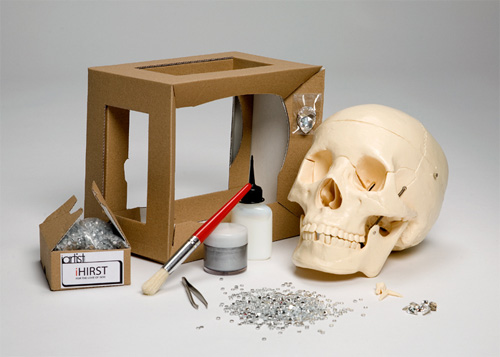 Make your own Damien Hirst skull with this kit available from iartist, £49.99. (via)
Posted: Saturday May 16, 2009 by Alesh Houdek · Permalink ·
"Artist sells to Collector and Collector purchases from Artists this Sale Purchase and Steal Agreement … Artist guarantees that he — after having sold and delivered the Artwork — will steal the Artwork back from Collector, or have it stolen from the Collector by a third party to be assigned by the Artist (hereinafter: "the Theft")." That's IT, conceptual art is DONE.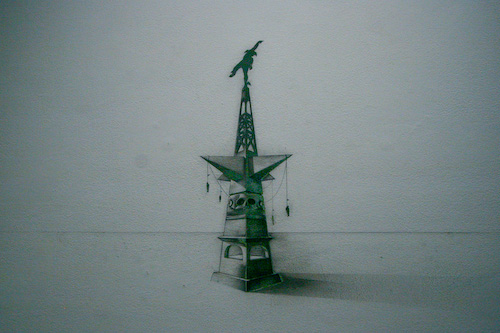 New Glexis Novoa wall drawing at Castillo. Bodies left hanging from the architecturally ambiguous tower!
In the project room, Pepe Mar's installation.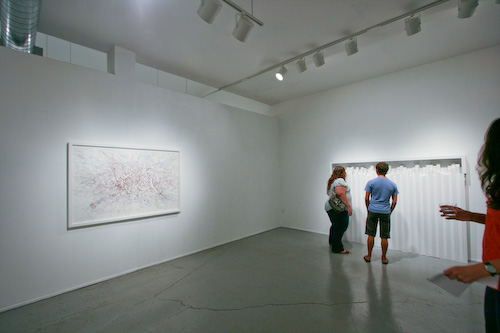 Felice Grodin's show at Diana Lowenstein, a must-see.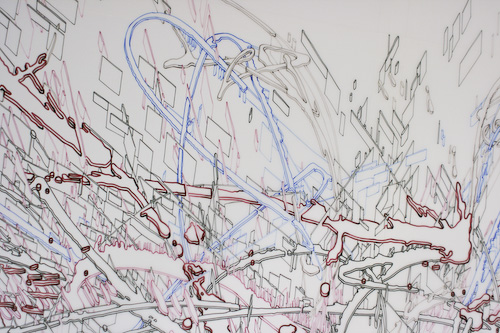 Detail.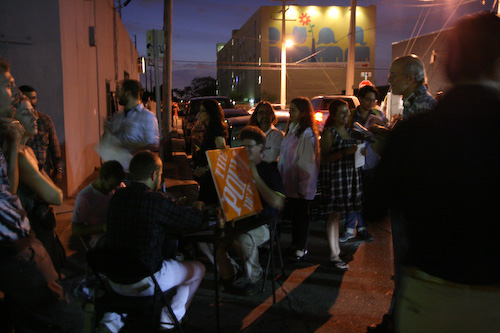 Custom poetry composed while you wait! Seriously, the energy is a little weird around Wnywood. I guess part of it is the impending approach of Summer, but there's more. The Prevailing Economic Climate is making sales of actual art increasingly unlikely. There's the move of Twenty Twenty Projects to Hialeah(!) and the move of Locust Projects to the Design District (a location "secret and for the most part inaccessible to those not closely associated with the residents"). It's hard to not believe that the PEC is not behind both relocations.
Peter LaBier's gremlin painting at Gallery Diet!!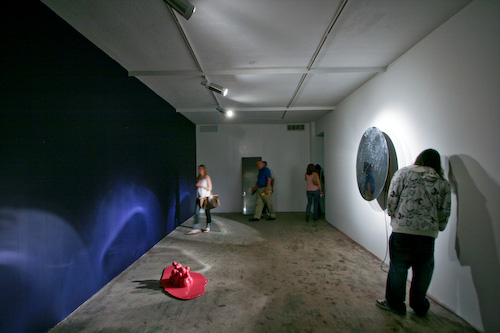 Sinisa Kukec's installation in a new space across from the street from Kevin Bruk. (The space is a nice collection of staggered rooms which evokes the Margulies, and I'm looking forward to future shows there. Provided by Goldman Properties, it is one of the positive consequences of the PEC.)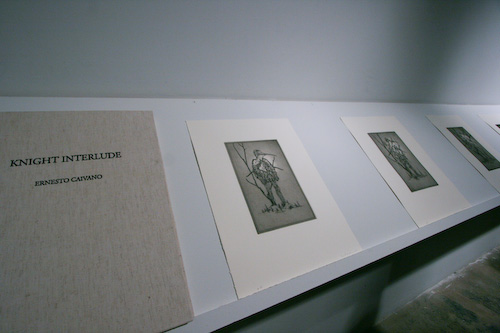 At Dorsch, Ernesto Caivano's spectacular dissolving knight series of etchings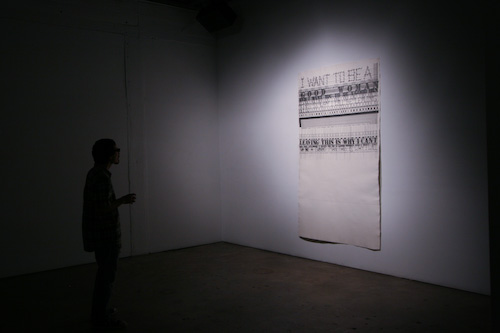 Alyssa Phoebus' Good Woman, which I believe is not a graphical presentation of Cat Power lyrics (but am prepared to accept evidence to the contrary. Seriously though, you should see this show too, if at least for the Patricia Smith pieces, which were beautiful but hard to photograph).
Posted: Thursday May 14, 2009 by Alesh Houdek · Permalink · Comment [1]
Oh, speaking of Herzog and de Meuron, how far is the Miami Art Museum in their fund raising for the building? Not bad, reports Daniel Chang in Sunday's Herald — the MAM has secured $45 million in pledges from private donors. This is out of targeted $120. The science museum is to raise $100 million, and various public funding for the two buildings comes to $280 billion. No word on what happens when if the project goes overbudget.
Man Ray describes ten of his favorite photographs he's taken. Also maybe a little experimental film — Le Retour A La Raison.
A collection of meta/weird/arty twitter accounts and related twitter sites, including @On_Kawara, a twitter feed of a pet door, and an app that creates tetris blocks out of tweets. (via)
David Lynch explains how to make a good movie. This advice works for anyone leading a group of people in realizing a particular artistic endeavor, which to me is the most frightening thing in the world. (Somewhat related: audio slideshow by Roxy Paine re the stainless tree installation on the roof of the Met. Both via C-Monster.)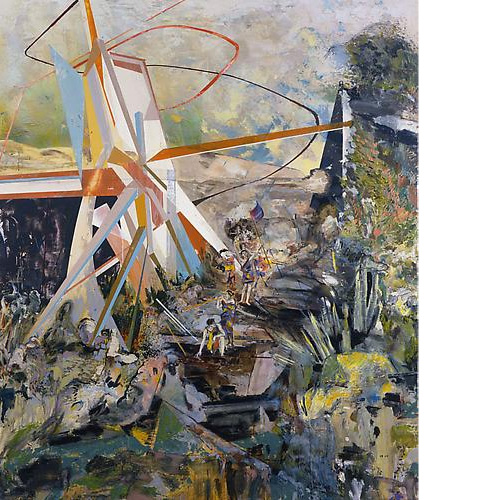 Images from Hernan Bas' show in New York this Summer look spectacular.
Update: Extensive coverage, with lots if images and details. #2: Franklin reviews a retrospective at the Brooklyn Museum. Interesting perspectives from someone who is decidedly not a Bas cheerleader.
Four of Jorge Colombo's iPhone sketches are available as editions on 20×200: 1, 2, 3, 4. They're literally selling like hotcakes.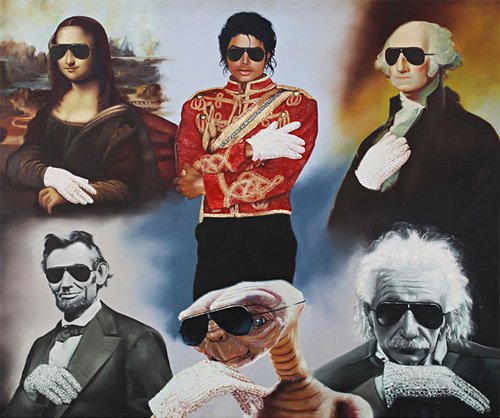 A painting, one of the items from Michael Jackson's estate being auctioned off. I would very much enjoy owning this piece. Those of you who still have not gotten me a present, a month after my birthday, you know what to do. (via)
New Orleans Biennial, 2008, acrylic on diverse materials, by Katharina Grosse. (via)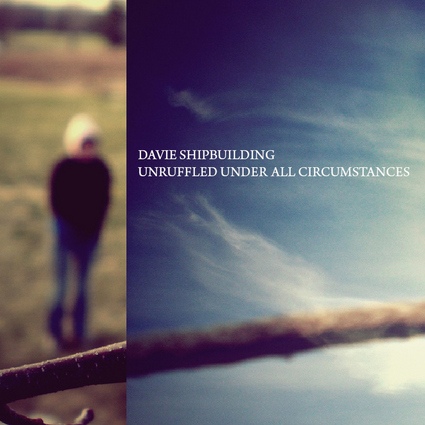 Wikipedia names your band, a clever band name/album title/cover art randomizer, with some gorgeous results. It's worth sifting through all the submissions. (I have a few in there.)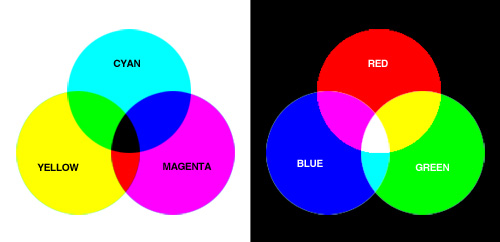 I was inspired by Liz Elliot's Magenta Ain't a Color (via) article to write out my favorite color theory rant: art teachers are lying when they say that red, yellow, and blue are "the primary colors."
There are two ways that color is created in the real world: in the additive model, used by light-based devices such as your computer monitor, uses red, green, and blue. When all three are combined in full strength, they create white in other combination, they create all the other colors you see on your screen.
The subtractive model comes into play when physical pigments are mixed. The primary colors there are the slightly less familiar cyan, magenta, and yellow. Again, they can be combined to create all the color you see on the printed page of a magazine (actually, the printing process also uses black, because combining the three dyes makes a muddy, unsatisfying black).
What makes these color models so obviously correct is how they interact — combining any two colors from one model creates one of the primary colors of the other model! Check out my graphic above, or open your favorite graphics program and create one for yourself.
So what the heck is "red, yellow, and blue"? It's a lie, plain and simple. It started when people didn't know any better, and it's perpetuated by art teachers everywhere who for some reason believe that it makes color easier to understand than the truth.
It's a shame, too, since the RGB/CMY color models are strikingly obvious and beautiful, but a little tricky to understand and remember if in the back of your mind you're tending to revert to RYB. If art teachers could get with the program, we'd have a much easier time understanding how color actually works.
Posted: Wednesday February 18, 2009 by Alesh Houdek · Permalink · Comment [14]
A brand new wave of street art has hit Miami, and Scenic Sidewalk has lots of great images (via).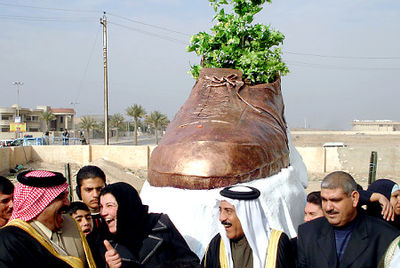 A statue honoring Muntadar al-Zaidi, the guy who threw a shoe at George W. Bush, recently built in Tikrit, Saddam Hussein's home town. (via Eyeteeth)
Artist Neville Gabie has spent the first of 4 months at the Halley Research Station in Antartica. He's making great one minute videos there and posting them to tumblr. The one of him suiting up to go outside is appropriate for this, one of the coldest days of the year here in Miami, when the high is expected to be 63° F. (via Tomorrow Museum)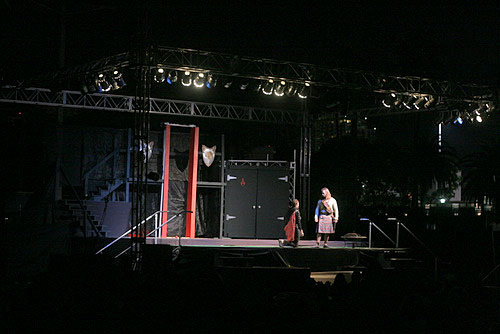 Not related to the Artwalk, but by my place on the beach, Shakespeare Miami was performing what sounded like a very decent version of MacBeth. Wow. Now, on to the show.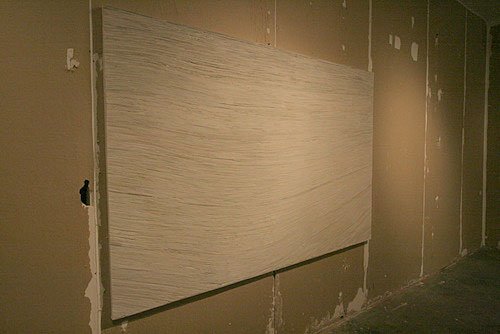 At Locust Projects, Loriel Beltran stripped down all the walls, then thin-sliced the painted layers and meticulously stacked them onto boards. This one, built from a wall that had been painted red sometime in its past, evidences a slight pinkish tone. Not pictured, the patched remains from the wall where Jen Stark's piece had once been installed.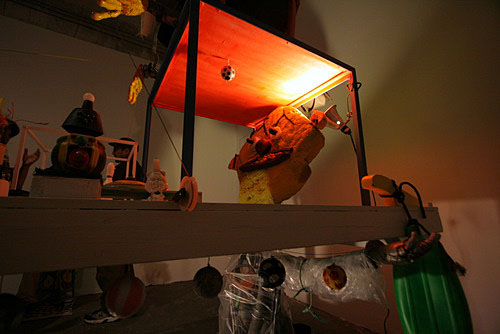 In the project space, Mike Swaney's zany installation.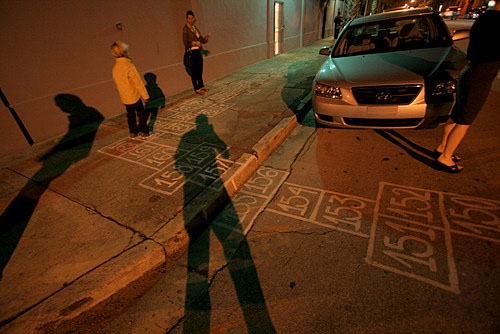 Agustina Woodgate's titanic hopscotch game winds through Wynwood. There were actually quite a few kids at the artwalk this month, which was sort of fun.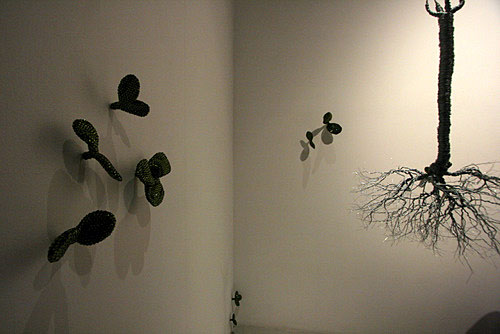 Wendy Wischer's installation in the project room at Castillo.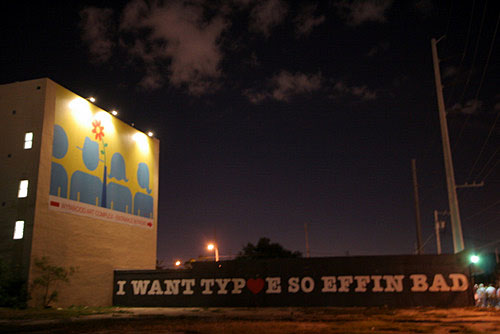 These are just the normal murals we have here. Programming note: when I have my new camera, things like this will be in focus. Whatever; this is a 2/3 second exposure.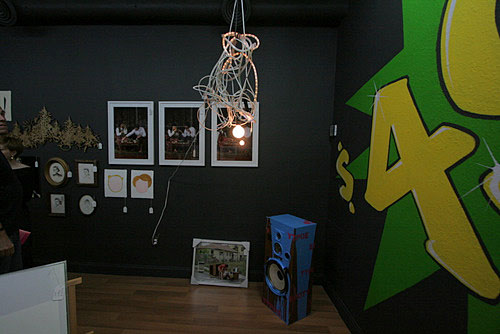 The $499 art sale at Spinello, replete with price tags on every item.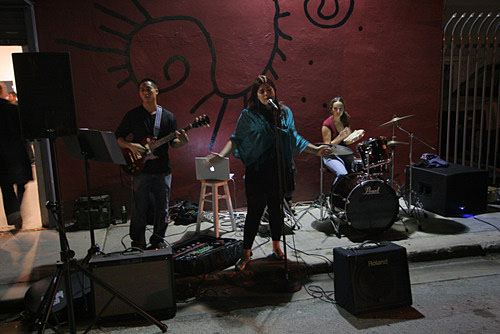 A little samba band perfrorms in front of Artformz. Seen but not photographed: Abby Manock's Counters at Gallery Diet, a mesmerizing video and exhibition of props used in its creation.
Posted: Monday January 12, 2009 by Alesh Houdek · Permalink · Comment [1]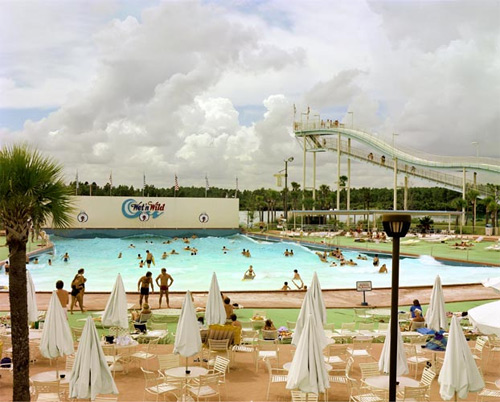 I was talking to my friend Christiaan Lopez-Miro the other day, and he pointed me in the direction of a couple of his favorite photographers: Joel Sternfeld and Alec Soth. In looking at these photos I'm struck at how alien the very notion of photoshop becomes. "Straight photography," as a branch of art, is all about the delicate tension between two seemingly incompatible motivations: the desire to show something inherently interesting, and the desire to create an image — through a shift in perspective, the posing of people, etc. In other words, a subject is photographed in such a way that it is simultaneously transformed and not transformed at all.
This delicate tension requires that the viewer implicitly trust the authenticity of the image before them. While photo manipulation has a long history and we are all well-advised to view any photo with a certain amount of skepticism, for straight photography it is imperative that we believe. To question such images, to begin to look for digital seams and other evidence of tampering, is to immediately weaken them. This is why many photographers who do choose to tamper with their photos, digitally or otherwise, do so in a way that is fairly easy to spot (see for example Joel-Peter Witkin's The Raft of George W. Bush). It's why artists who use photoshop in a way that is not immediately obvious, such as Andreas Gurskey, occasionally cause such a stir. And it's why certain bodies of work, such as Denis Darzacq's falling series, are accompanied by not-so-subtle whispers of "its not photoshopped."
Photo manipulation is of course a much more pressing problem in news photography then in art. But photojournalists have extremely clear guidelines about what is permissible. (Or do they?) But in art, ostensibly anything goes if the results are compelling. Photos that required extremes of effort and endurance sit alongside simple digital tricks.
Yet straight photography has its own aura. Manipulated images can be powerful, but they are either obvious or they are susceptible to debunking. And as manipulated photos become more and more ubiquitous and shameless, one craves the integrity of the unmanipulated image, shot on film and printed optically.
Posted: Tuesday December 16, 2008 by Alesh Houdek · Permalink · Comment [1]
Photos from a couple of the Wynwood fairs from yesterday: NADA, Art Miami, Scope, and Pulse. Art Miami was mostly a disappointment, while Scope and Pulse were very good. A weird entanglement at NADA kind of soured me.
The galleries at these fairs are often pretty lax about labels with artist names, so I'll provide them when I've got 'em, and just give you the name of the gallery when not.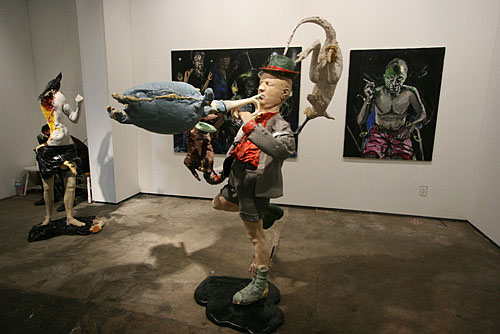 NADA: Figge von Rosen Galerie, Germany. The life-size surreal sculpture made of foam was hitting on all cylinders this year around all the fairs.
Cutesy drawing, on the other hand, was on the wane a bit. Did spot this grouping at Parker Jones, Los Angeles.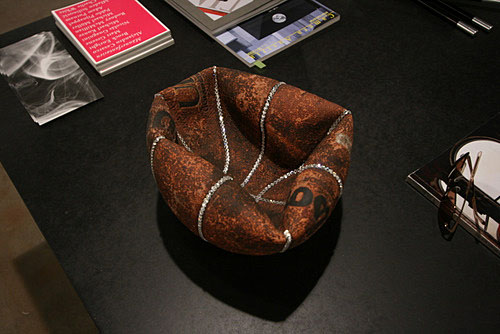 Peel 'n stick bling was another big trend, with this basketball maybe the best sample (some other folks just coated an entire piece of paper with it and called it a day). COMA Center for Opinions in Music & Art (?), Berlin.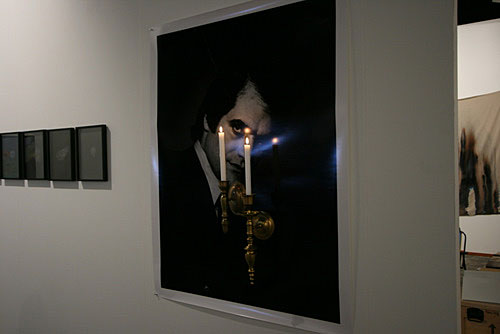 A few light cleverness pieces at Karma International, Zurich.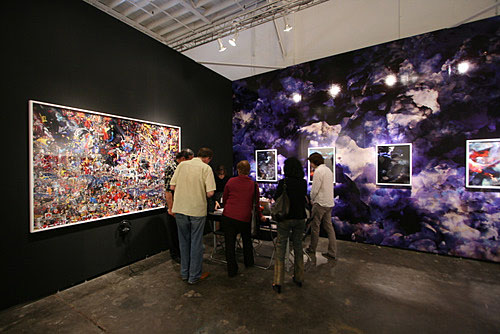 Installation, Kim Light/Light Box, LA.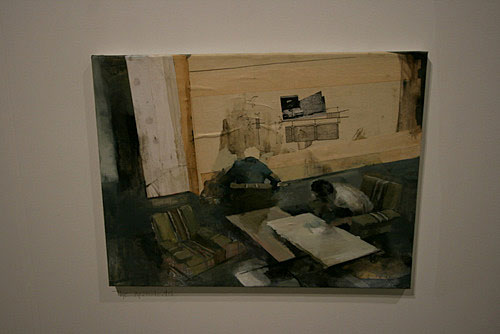 Mixed media piece (very poorly photographed…), Hunt Kastner, Prague.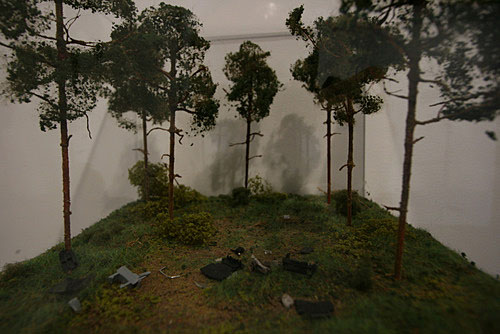 A few dioramas showing human disregard of the environment (trite, but done well enough) at Galeria Czarna, Warsaw.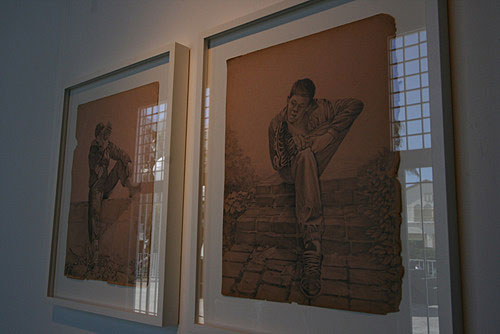 These Drawings at Upstream, Amsterdam, were great. One shows a kid sniffing his Nikes, in the other he's taken one off and is apparently making out with it. The titles were like "Ritual #03."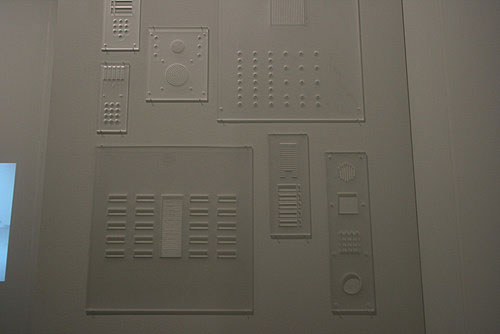 Carved plexiglas replicas of European dorbell/intercom panel covers by Kristina Matousch, Elastic Ola Gustafsson.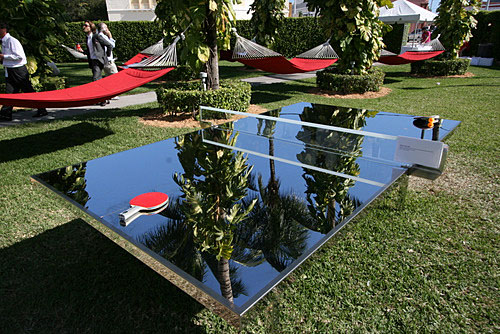 The area outside NADA is pleasant as ever, I guess because they're keeping out the undesirables. Grassy field, hammocks, and a mirror ping pong table.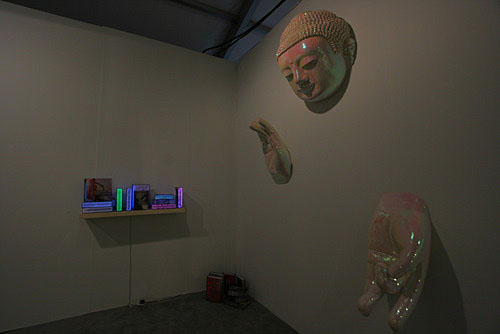 Art Now: In a vast see of "meh," there were a few standouts. Noh Sang-Kyoon's sculpture at Bryce Wolkowitz, NY.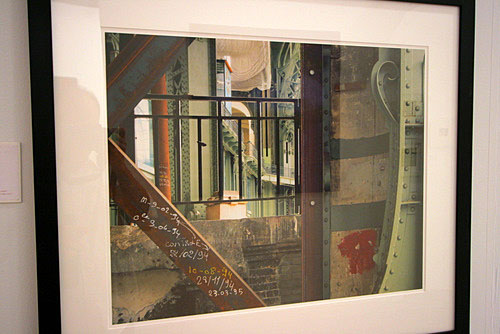 One of a series of photos by Stephan Couturier, LMG.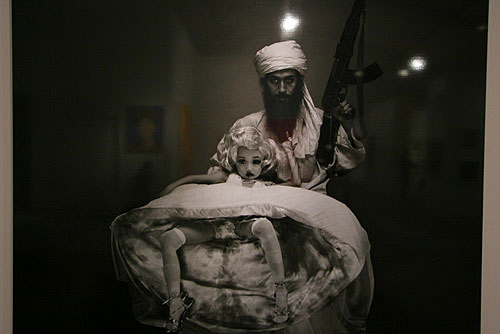 The star of this huge piece by Zhang Peng at Olivia Oriental Contemporary Art is in fact the little girl — the series deals with child sexualization, and toys, and I guess terrorism.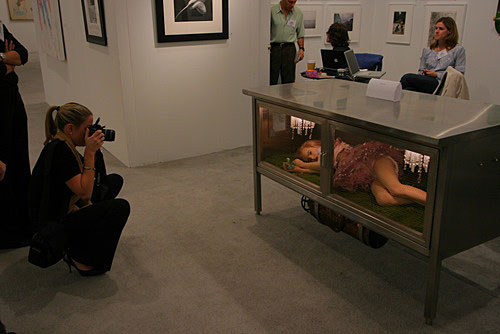 Completely not related, Rick Wester Fine Art, NY.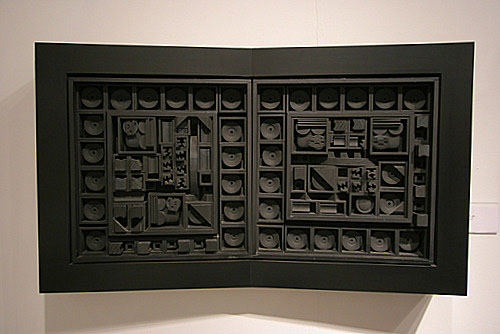 There were a bunch of Nevelsons lurking around. This one can be had for $185,000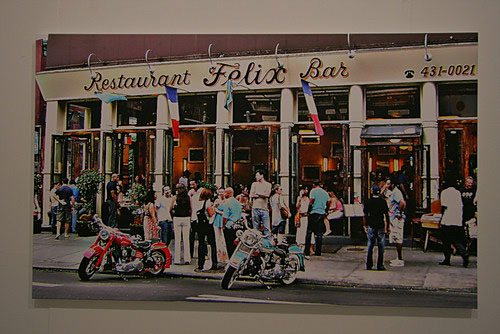 And then, BAM, in one fell swoop, Philipp Hofmann discredited himself, his gallery (Barbara von Stechow), and perhaps his whole fair, by taking a photo, applying a photoshop filter, and printing it out onto canvas. Now when they say "yeah, well, anybody could do that," you'll have to shrug and say, "yep, it's true."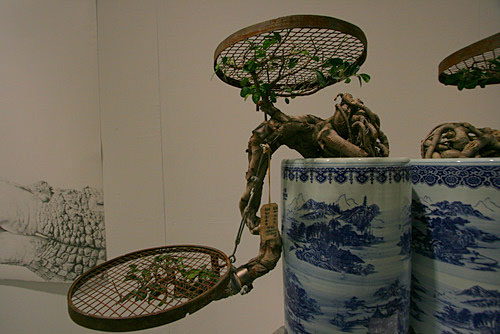 Plants were harmed in the making of this artwork! (Actually, they're being harmed still.) Frey Norris Gallery.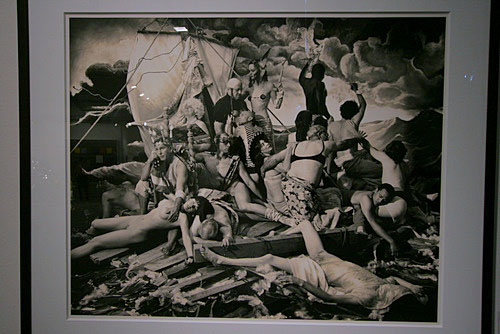 Joel-Peter Witkin's new bag is photoshop! Check this out: The Raft of George W. Bush ($18,500). OK, let's stop there, on a positive note. Off to…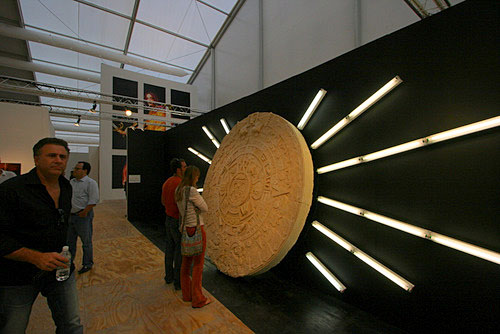 Scope: Actually, I just made a brief stop. Back for more later. Here's Joe Berg stepping into my frame, and a liberaged Aztec monument finally getting the flourescent treatment it always deserved.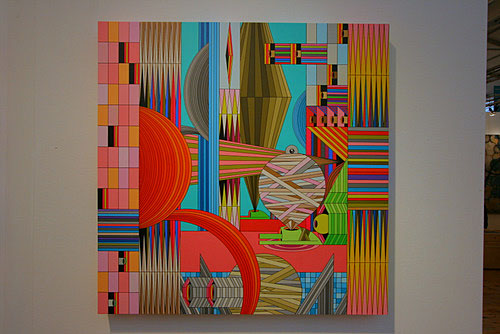 James Marshall (Dalek), Irvine Contemporary, Washington D.C.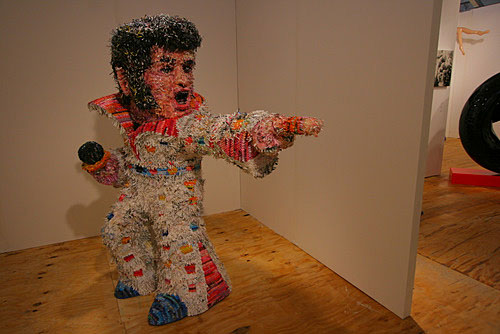 Pinata Elvis, Gana, NY.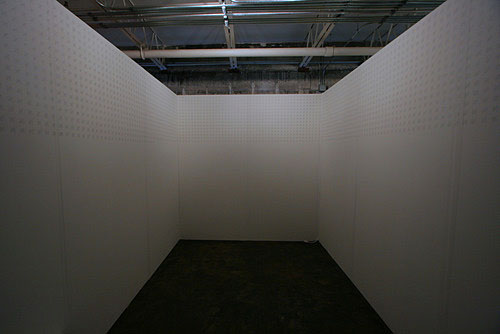 GEISAI: Tom Scicluna's booth. (One mark for every day from the day he was born to the date the piece was finished.)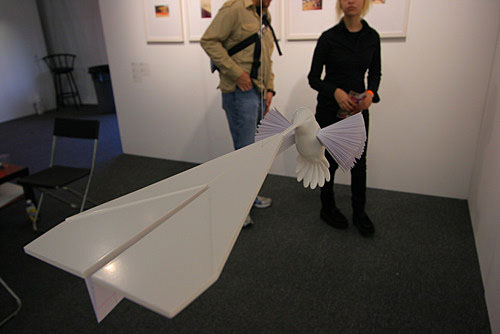 Pulse: Paper bird and Humming plane, Yarisal & Kublitz, Galleria Enrico Fornello.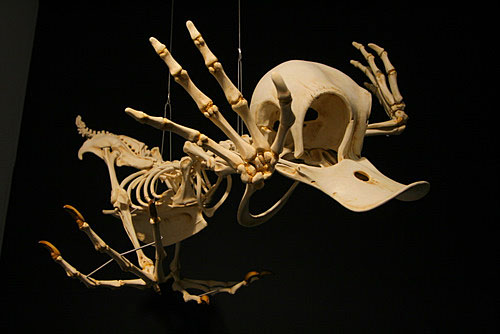 Daffy's skeleton, Arario Gallery, Cheonan, Seoul.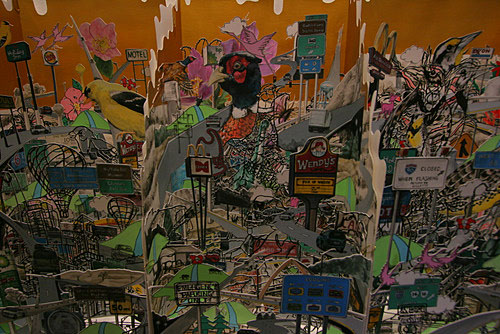 Same place.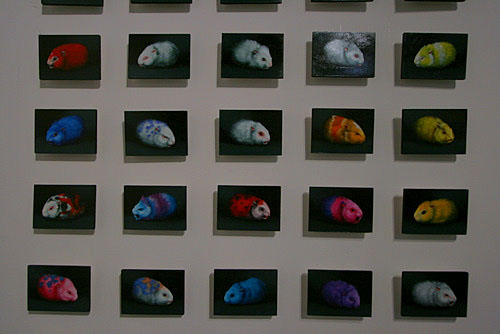 Mini hamster paintings(!) at Schroeder Romero, NY.
Sneakers made out of paintings! Also, hats and a jacket. Tait Roelofs, Lyons Wier Gallery, NYC.
NY Times cover reproduced alphabetically, all with tricky scalpel and glue work. Kim Rugg, PPOW NY.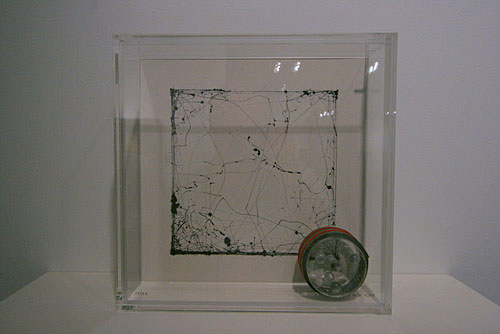 Finally, Tim Knowles, the same guy who figured out how to let trees draw, created this drawing by shipping a package from London to New York.
Posted: Friday December 5, 2008 by Alesh Houdek · Permalink · Comment [7]
A weird entanglement I witnessed at the door of NADA, where a guy wasn't being allowed in apparently because of his dreadlocks (?! — but that's actually what the security was telling him) and being black. "We've had some gang activity." Meanwhile, dude was there with his girlfriend and a baby in a stroller, so wtf?? The two security idiots stood their ground, and eventually somebody else was called in and it looked like the situation was diffused and they were going to let him in. But seriously.
A couple of times I heard him ask, "is it because I'm black?"
And the security guys would get all indignant, "don't start that shit!" when really they weren't giving him much reason to doubt that that was exactly what it was.
Talk about an absolutely moronic response by the management of NADA to whatever incident they may or may not have had.
Posted: Friday December 5, 2008 by Alesh Houdek · Permalink · Comment [7]
Posted: Wednesday December 3, 2008 by Alesh Houdek · Permalink · Comment [3]
Here's what stuck out during a first dash through Art Basel today. I'm struggling with the best way to present these photos, but for now, here's a big dump of clickable, enlargeable images.
Right at the entrance, Miro gallery from London has two big and spectacular Grayson Perry urns.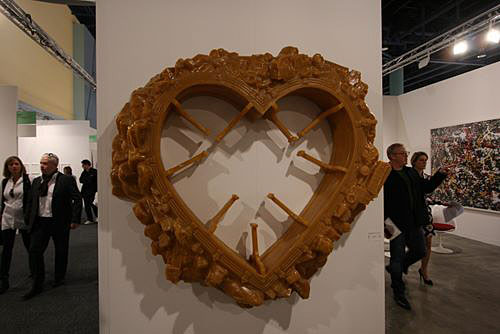 Jitish Kallat's sculpture at Arndt & Partner, all waxy heart and toys goodness.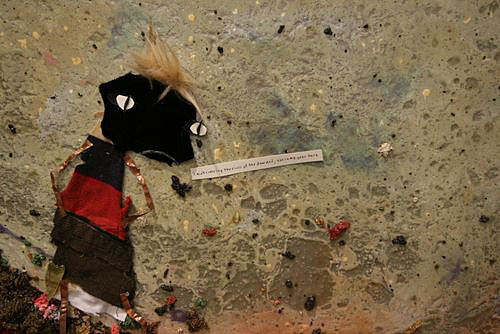 Detail from a mixed media piece by Jon Pylypchuk at China Art Objects. "i ain't crossing the river of the damned, you come over here" he says to the other character in the picture.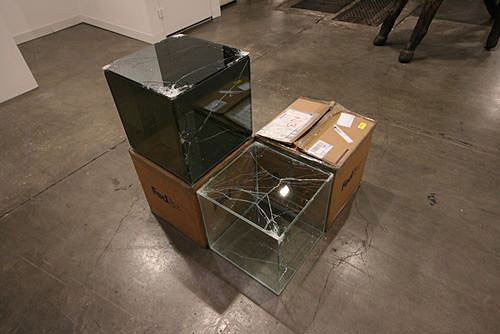 At the same gallery, some wiseguy who's name I don't have (Tom Watson?) shipped two glass cubes FedEx with no packing materials from Los Angeles.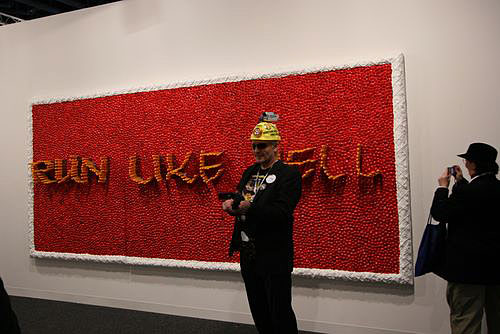 Hell hath no fury like an Art Dude who needs to videotape his entire fucking existence. Run Like Hell, indeed. (He's got another camera on a stick that he holds out so he can film himself.)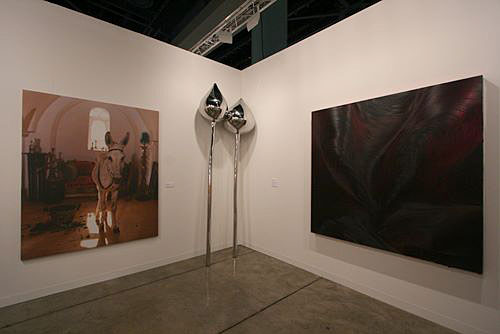 Installation, Ropac, Paris.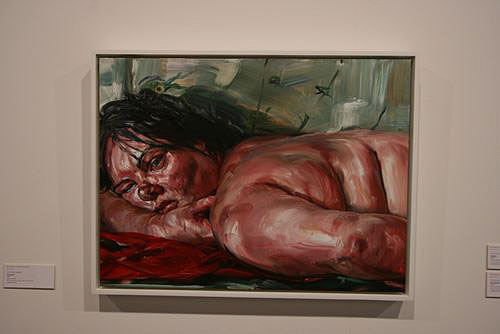 If there was a more beautiful painting in the hall then this one by Natalie Frank, I sure didn't see it. (But check out the whole series, at Mitchell-Innes & Nash, 'cause some of them were pretty racy.)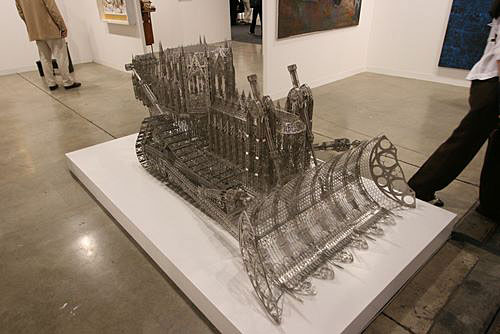 Wim Delvoye's laser-cut steel sculpture at Sperone Westwater. The more I look at this the more it irks me. Moving on…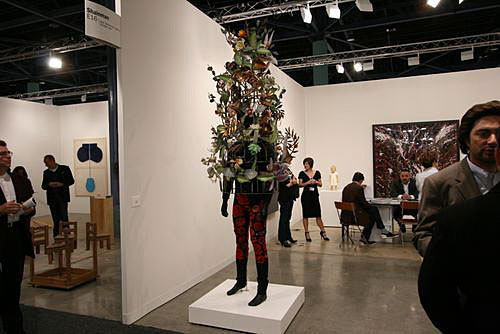 …a sculpture by Nick Cave…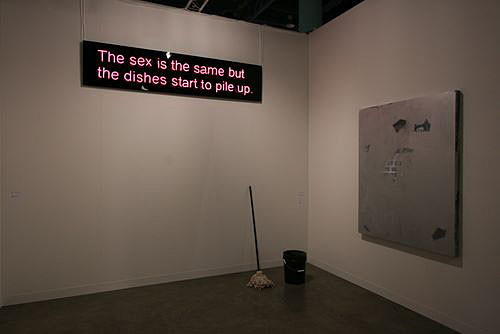 Installation at Lambert, NY. Neon signs get me every time.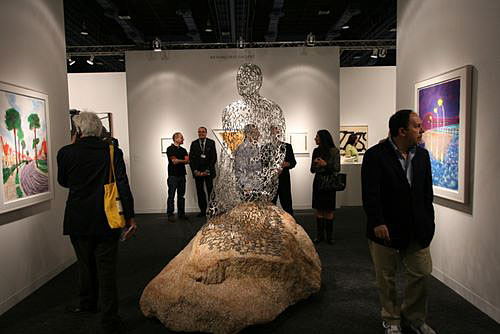 This dude needs to be stopped. And the people who keep buying it.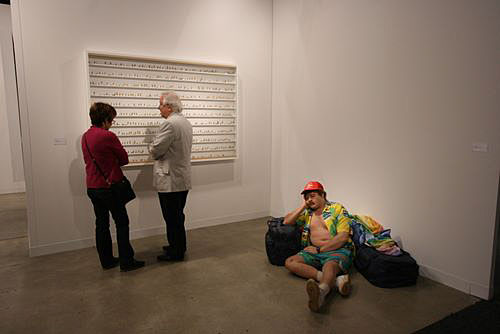 Installation at Van de Weghe. Duane Hanson and Damian Hirst. How many of these people are art!!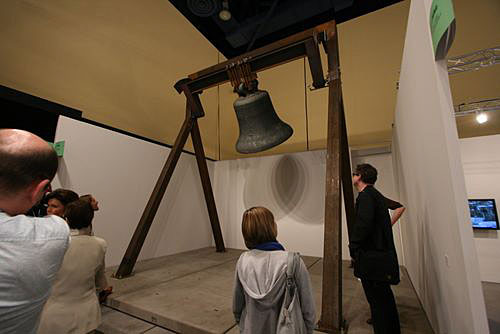 Big swinging bell by Kris Martin, Sies + Höke, Düsseldorf. This is not that impressive in a little photo, but the shadows on the wall are pretty nice.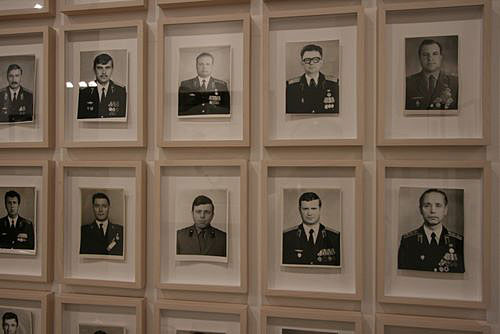 In the corner, lots of nice photography (and some terrible photography) at Kicken, Berlin. Here are some found photos of Russian Soldiers, ominously dated "1961-98."
This guy has got your glam sculpture ready to go. Meile gallery.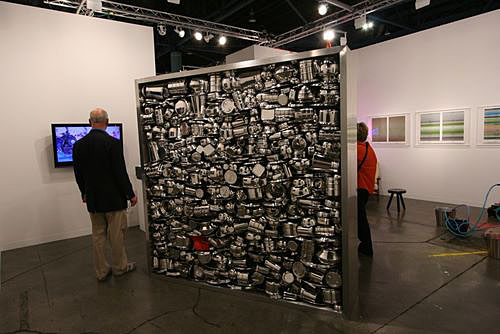 Pots 'n pans sculpture by Subodh Gupta.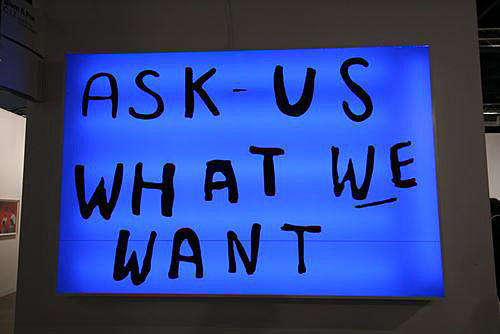 Um, yeah.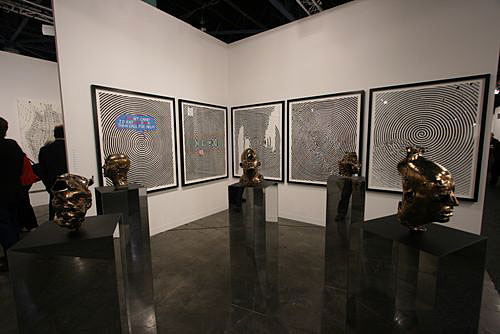 Installation, Blum & Poe, LA. Those heads are actually pretty disturbing.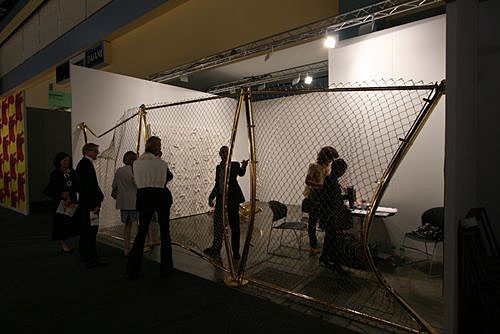 Installation at Bortoiami. You just squeeze through the gaps in the fence and you get to see some art.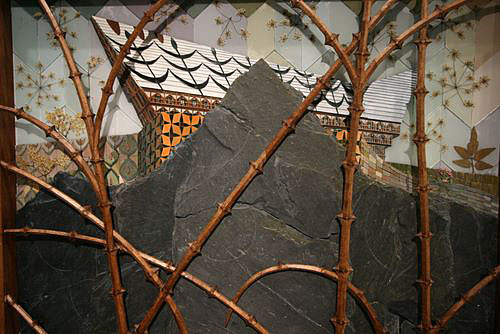 Detail of a mixed-media piece by David Thorpe. Another of my favorite pieces in the show. Maureen Paley gallery. (If you're wandering around the perimeter and you see a big wooden room divider, get to the other side to catch this one.)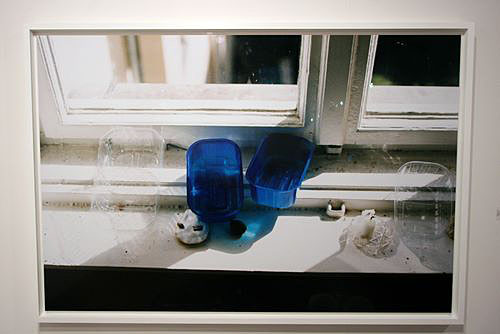 A big disappointment was that there was less Wolfgang Tillmans then last year. There were a few to be sniffed out tho, and this one, printed huge, was a winner.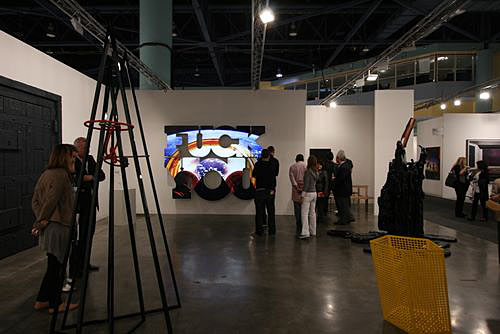 Installation at Presenhuber. The "Fuck You" lightbox is growing on me. The execution is really first class, and the stage-transition Apollo (?) liftoff photo is inspired.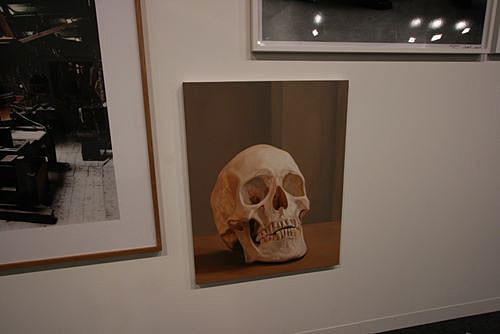 God I am sick of the skulls. Hirst finished it people, so let it go already.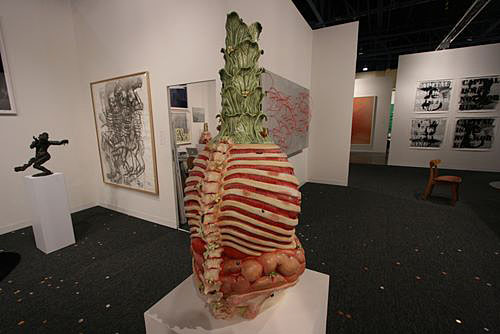 Zhang Haijun's ceramic torso/plant sculpture at OMR was another big winner. Replete with ceramic flies. Anyone with a fat pocketbook and an ill-advised desire to get into my good graces can get me this for x-mas.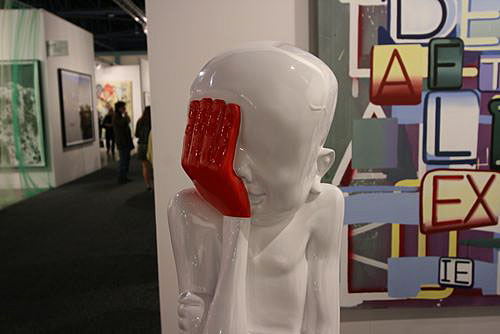 One more ceramic happy at OMR: Liu Bolin's three "red hand" sculptures. I feel obliged to mention that these have tiny penises.
Awesome "smashed car" at Campaña.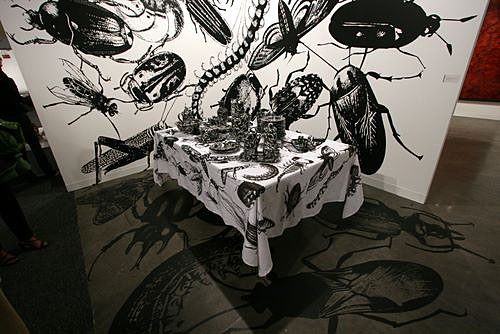 I think we can declare the winner of Art Basel 2008: Regina Silveira's installation with glazed porcelain, embroidered linen, plus wall and floor decals, all bug-themed (Galeria Brito Cimino).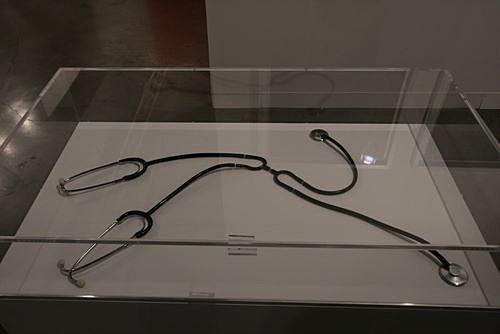 João Onofre's connected stethoscopes. If you're like me, you are touched.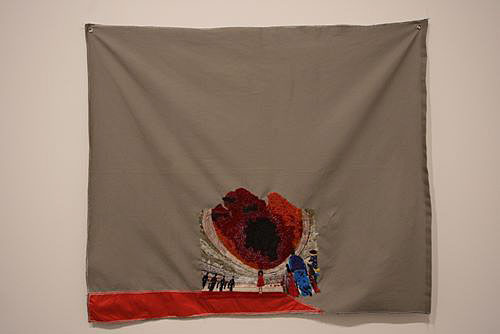 Embroidery by Isa Melsheimer. This was a standout in the otherwise ho-hum "Supernova." Part of Basel.
More tomorrow!
Posted: Wednesday December 3, 2008 by Alesh Houdek · Permalink · Comment [4]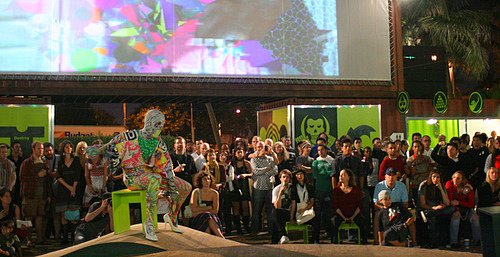 Every year I try to get non-art people to come to Art Basel. Obviously, this applies to my folks in Miami (if you're flying in, you probably already know all this stuff). It's perfectly fine to come for the spectacle, but if you're willing to be open-minded and a little patient, it's hard not to come away with your mind a little bit blown by the scope and occasional power of contemporary art.
Art Basel is fun! You don't need to be an expert, or have a big checkbook, to enjoy it. In fact, most people there this weekend will just be there for fun, to look. If you're thinking about it, you should probably go! The Herald, the New Times, and everybody else will have big "Art Basel Guides" this week, but if all you want is to go for a few hours and see what all the fuss is about, just read the next paragraph and go! It's not rocket science, and you don't need to do any major preparations.
Art Basel is here. Google will give you very nice driving directions if you need them. It costs $35 to get in, plus something to park. (See below for how to do it for free.) The earlier you'll go, the less crowded it'll be and the more time you'll have to look, and maybe take a break for food at Lincoln Road; just tell the person at the door you're coming back and they'll stamp your ticket stub or whatever. Once you're inside, you can find out about Art Video Lounge, Art Positions, Art Perform, and Art Sound Lounge, which are in the neighborhood and which you may want to check out, too. Unless you want more then a casual day trip, don't worry about anything else; some of the other fairs are great, but they're much smaller, and a bit of a hassle. The "special events" are a hassle too, especially for parking. I usually spend about a day and a half total at Basel every year, and I still don't see everything.
What to expect
I have pictures from previous shows here and here. Expect to do some serious walking — wear comfortable shoes. The fair is laid out in rows, but when you're walking around it feels like a complete maze. I'd wandering around at random and getting lost. They have a little map, but trying to follow it to "see everything" is an exercise in futility, and you can walk through the same area over and over and see new stuff anyway.
The people who work for the galleries are all very nice. Unlike at some of the other fairs, they generally won't start conversations with people, but they're happy to answer questions. If someone tries to talk to you and you're not interested, nod and walk away — they'll think you don't speak their language.
(Oh, about "stupid question." Yes, unfortunately there is such a thing as a stupid question. Don't ask "what makes this art?" or "couldn't anybody do that?' Questions about how something was made, or details about the artist, are great. It's considered polite to preface "How much does that cost?" with a question that suggests why you're interested in a particular piece. Eavesdropping on conversations between gallery employees and visitors is a good way to learn interesting little tidbits.)
Officially, cameras are banned, although these days it's easy to sneak a little camera anywhere. I walk around with a big camera over my shoulder and photograph everything, and though I have credentials that say I can do so, nobody really checks. Lots of people take photographs, so you should be able to sneak one here and there, so long as you turn off your flash.
Do save some time for Art Video Lounge, which is across the street from the convention center. Art positions is about a 10 minute walk from the convention center. It's usually worth it, especially if you're wanting to get some fresh air anyway, but mainly it's more of the same. If you're still hungry for more, head on over to NADA and Scope, the two best satellite fairs.
By the way, here's a link to the Art Basel website, not that it's particularly helpful.
Do it for free
Art Basel is worth the money, but it is expensive. If you don't want to spend the money, NADA is free, and it's great! It's like a smaller, more relaxed Basel. There isn't nearly as much to see, and not all the artwork is quite as impressive, but it's very much worth a visit.
You can also get in free to Basel's Art Positions and Art Video Lounge, as well as a couple of the hotel-based fairs on the beach. In fact, a perfectly great itinerary would be to spend an afternoon at NADA, grab dinner, then head to the beach for Art Positions, where there are performances (pdf) every evening at 8pm (the photo above is from Saturday night at last year's Positions).
Whatever you do, don't waste your time this weekend going to the Miami Art Museum, Miami Art Central, the Margulies Warehouse, or any other place with art that you can visit next weekend, or in a month. These places are all very much worth visiting, but this weekend they're overrun with out-of-town art people.
More
I'm going to be posting more about events and whatnot. If you're event-inclined, the thing to worry about is the free show Wednesday night.
[Originally posted here]
Posted: Tuesday December 2, 2008 by Alesh Houdek · Permalink · Comment [2]
All this week: Art Basel coverage. Comes tomorrow, a slightly updated version of the Basel Guide for Normal People from Critical Miami. Here today: some reading to get us into the mood.
Posted: Monday December 1, 2008 by Alesh Houdek · Permalink · Comment [5]
A slideshow of the opening of the new Frost Art Museum at FIU. Hard to judge the size from the photos, but looks impressive enough. "The only free art museum in South Florida."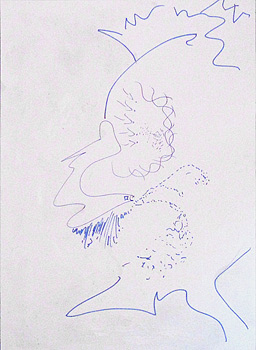 Saturday Started DrawMoween, a thirty-day challenge to make one drawing a day for thirty days. I'm in, and I'm going to be uploading my pictures here all month (newest drawings will show up first). We'll see how it goes (and yes, I do know that I can't draw).
Posted: Sunday November 2, 2008 by Alesh Houdek · Permalink · Comment [2]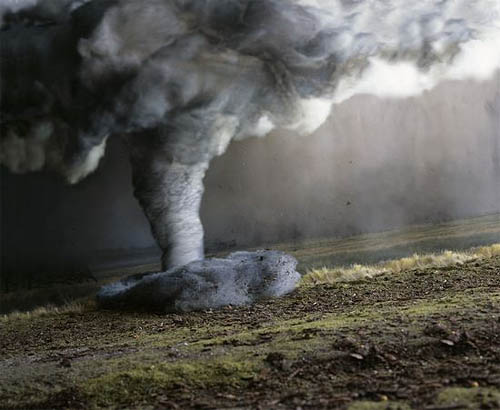 We begin at Gallery Diet, with Samantha Salzinger's spectacular photos. By the way, I just built her a website. Anybody else want one? Get in touch.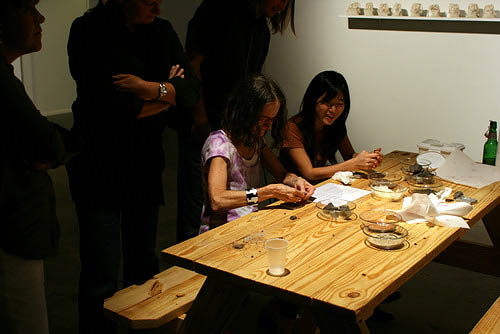 Peggy and Harumi make stones at Mark Kowen's show at Dorsch.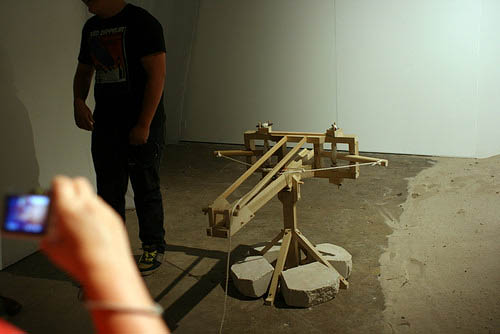 The rest of the gallery is filled with several dumptrucks worth of sand dunes, and a catapult/crossbow type device where you can launch someone else's stone after you've made one of your own.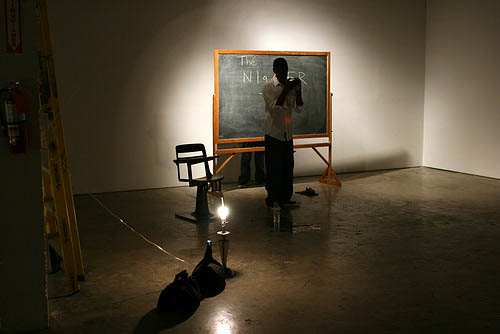 In the smaller space, an impromptu Classroom. The schedule is filling up.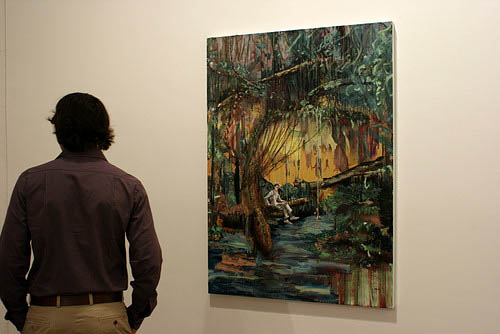 Hernan Bas delivers new work at Snitzer — several spectacular large-scale paintings, and a large series of fairly abstract pencil drawings.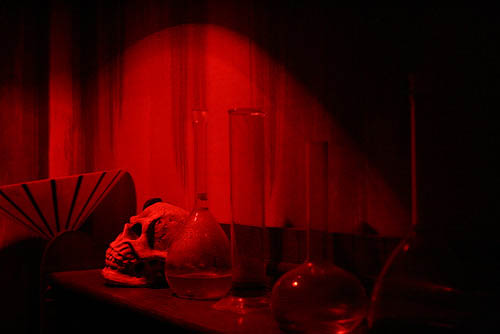 Clifton Childree's installation at Locust Projects, the result of a two-month residency. Try to stop in at Locust if you haven't seen this — they're open Saturday afternoons until 5.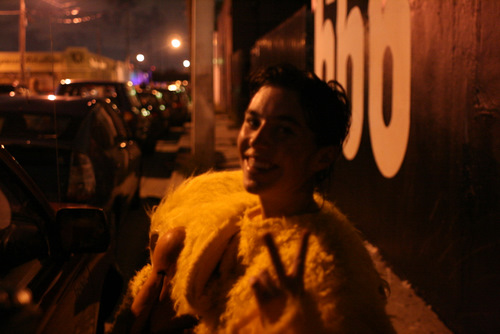 The chicken person, unmasked!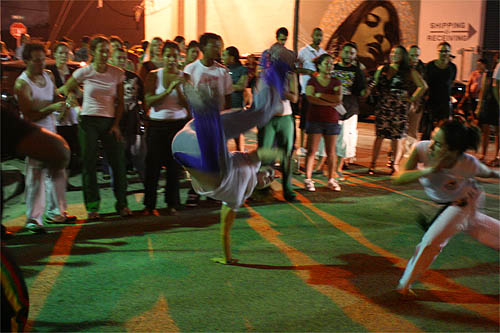 Looked like break-dancing to tribal beats to me. Major festivities in the streets despite a partial ban on alcohol. Apparently word got out (perhaps partially my fault), and during the September gallery walk crowds of fools showed up with the sold intention of getting drunk for free, got all sorts of rowdy, and knocked over a sculpture in World Class Boxing, resulting in aforementioned ban. I don't give it more then one more month.
Towards the end of the night, a legion of cyclists showed up, their rides chained up in twos and threes up and down 24th. Check: one of the three bikes pictured has brakes.
Posted: Tuesday October 21, 2008 by Alesh Houdek · Permalink · Comment
"Mass butterfly deaths are rather disturbing." — Ross, reporting from Cambodia, where he is waiting out visa issues before he can get back into China. (Also: Vietnam photos from a couple of months ago.)