Updated 5:57 pm, 12/01/09.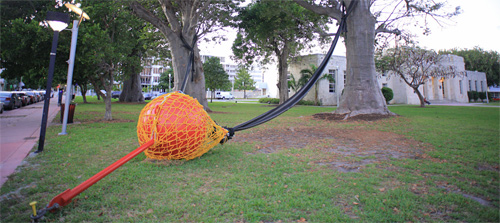 Preparations are under way all over town for the Main Event, starting more or less this Wednesday morning. Tents have sprouted over the generous undeveloped portions of Midtown Miami for many of the larger satellite fairs, art delivery trucks are fighting for unloading spaces at the hotels housing the less fortunate fairs, and the din of hammering and unwrapping is emanating from the Convention Center. It's that time of the year where the New York Times runs stories about Miami that neither mock or pity. It's the time of the year where the average IQ of the tourist arriving at MIA spikes unexpectedly, and when the cool kids from all over the world wish they were here. It's Art Basel Miami Beach, y'all, and the weather this year (give or take a stormy Thursday) looks to be cooperating.
But for now we wait, not unlike Robert Chambers' giant slingshot (pointed at the Bass art museum). Today brings the list below, which will to be updated throughout the week. A few more tidbits and links tomorrow. Wednesday comes a first look at the convention center, with stuff from the rest of the fairs daily probably into next week. Friday brings the perennial Art Basel guide for Normal People. Also follow me on twitter, as updates will be live and glorious. (Note: I'm indicating Miami galleries showing at each fair on an 'as I notice' basis — not comprehensive.)
Main fairs
Smaller fairs
Special projects, local endeavors, etc.
You can just assume that all these are free admission, and many will have an opening reception with free drinks. Quality tends to be very good, tho many are up for weeks after Basel.
Primary Flight (more info here ..): mural project featuring several notable local artists, and Shepard Fairey(!). Street art, plus a show at Art Center South Florida. Video.

FALLOUT

, 23 artists mostly from around the US, showing work in the actual fallout shelter of the old Burdines building (now Macy's) at 2 W. Flagler Street in downtown Miami.
Littlest Sister, "smallest art fair in town," Spinello Gallery. 50 artists, 8 booths, 1 store-front space. 155NE 38 St, #101, Miami.
"He Believes in a Beauty" — your pal Nick Cindric is back, and curating this oddly named exhibition. Includes work by Christina Pettersson, Gavin Perry, Carlos Betancourt, and Cristina Lei Rodriguez. So, worth checking out despite any web presnece. Buick Building, 3841 NE 2dn Ave, Miami.
Subtropics' Autonomous Sounds, sound art performance/installation, Thursday and Friday, 7 – 11 pm, 2100 Washington Avenue, Miami Beach (just northeast of the Convention Center).
Art | Baselita / Zones. Lots of local art, both fine and funky.
Dark Night of the Soul / It Ain't Fair, the former being the collection of photographs by David Lynch with accompanying music by Danger Mouse and Sparklehorse that you've heard of and the latter being, well, another show with a bunch of artists. At

OHWOW

, which is getting mad buzz, 3100 NW 7 Avenue Miami.
Events
Wednesday
Art Loves Music: Ebony Bones, free concert at "Oceanfront," 9 pm-ish. Free.
Thursday
Vivian Girls perform at Pulse at 7pm, with locals Little Beard playing at 6. Don't miss the whole list of art performances at Pulse, which sound impressive. (thanks, misael)
Friday
G. Love at Fountain, 7 pm, $5
Art Film: 'Jean-Michel Basquiat: The Radiant Child', at Oceanfront. This is apparently a rough unfinished cut of the documentary. Free.
Saturday