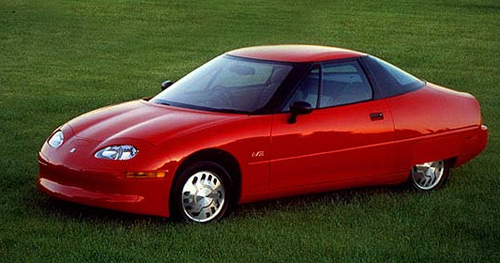 The American auto industry deserves to die so richly it makes me sputter. It's pretty well exemplified by Bob Lutz, G.M.'s vice chairman, who's been infamously quoted as saying, "…global warming is a total crock of shit. … Hybrids like the Prius make no economic sense." It's been just like with the housing bubble and the Iraq war, where a chorus of reasonable voices called out for the obvious correct action for years. Except that with the auto industry, we've been telling them for decades. Please build us better cars. Please not with the upsized SUVs. Oh, and, who killed the electric car again?
Thomas Friedman was watching TV in September:
They were interviewing Bob Nardelli, the C.E.O. of Chrysler, and he was explaining why the auto industry, at that time, needed $25 billion in loan guarantees. It wasn't a bailout, he said. It was a way to enable the car companies to retool for innovation. I could not help but shout back at the TV screen: "We have to subsidize Detroit so that it will innovate? What business were you people in other than innovation?" If we give you another $25 billion, will you also do accounting?
So, yeah, this is sure as hell an industry that does not deserve to be encouraged. Steve says let 'em die. But Friedman is more cautious. He quotes the Wall Street Journal's Paul Ingrassia, who wrote:
In return for any direct government aid, the board and the management [of GM, and any other U.S. automaker accepting a bailout] should go. Shareholders should lose their paltry remaining equity. And a government-appointed receiver — someone hard-nosed and nonpolitical — should have broad power to revamp GM with a viable business plan and return it to a private operation as soon as possible.

That will mean tearing up existing contracts with unions, dealers and suppliers, closing some operations and selling others, and downsizing the company. After all that, the company can float new shares, with taxpayers getting some of the benefits.
But you see where this starts to lead. Back to Friedman:
I would add other conditions: Any car company that gets taxpayer money must demonstrate a plan for transforming every vehicle in its fleet to a hybrid-electric engine with flex-fuel capability, so its entire fleet can also run on next generation cellulosic ethanol.
Of course others have plenty of more drastic ideas, and those strict minimum-mileage requirements we've been talking about for years are just the tip of the iceberg. But you see it's not as easy as "fix it and then make them run it better." You can solve problems with banking with more regulation, because "innovation" in the banking industry is generally considered the source of trouble. In the auto industry, innovation is the way out, and you cannot use legislation to force innovation. Just doesn't work. Might work for a few months or a year, but eventually you'll be forcing the wrong kind of innovation, and digging yourself a deeper bailout hole for next time. Friedman even acknowledges this — sort of — by jokingly suggesting putting Steve Jobs in charge of GM for a year.
No my friends. The American auto industry has had ample opportunity to fix itself. Instead it has chosen to cruise on easy Lincoln Navigator profits ("take a Ford Expedition, add some sound insulation, raise the price by $10,000, and hold your breath") and a powerful Michigan legislative delegation. It fought safety standards, it fought milage standards, and it churned out the same crap, clad in differently styled plastic, for decades. The legion of workers it employs are the only plausible argument for saving it, but ultimately you'd be doing them no favors. Bailing out an industry and then regulating it to "improve" really is straight Socialism. And even if Republicans are right that this is the time to throw everything they've ever stood for out the window, the problem remains that Socialism does not work. Good money after bad. Delaying the inevitable.
Sorry, but I'm with Steve on this one. These companies have been bailed out before. They've been warned. They had plenty of opportunity to fix their shit when they were flying high on those 100% SUV profits. And they staunchly refused. They need to survive on their own or die this time.