Yesterday I casually mentioned going back to vegetarianism on Twitter, and I got some responses! Arielle Castillo, music blogger turned chef, mentioned The Vegetarian Myth
. I haven't read it, but I'm familiar with the basic argument — that it's ok to eat meat so long as it's sustainably produced.
Sustainable meat means something fairly specific, described best in Michael Pollan's The Omnivore's Dilemma
(which I have read, and which I heartily recommend). It involves animals raised the way they would have been on small farms before industrialization — cows eating grass while fertilizing the ground with their manure, chickens eating the grubs that grow in the manure, etc etc. It's markedly different from the factory farming that raises 99% of the meat available in the US. And — critically — the factory farming that raises 100% of the meat available in South Florida. Because the small farms that produce truly sustainable meat? They just ain't here.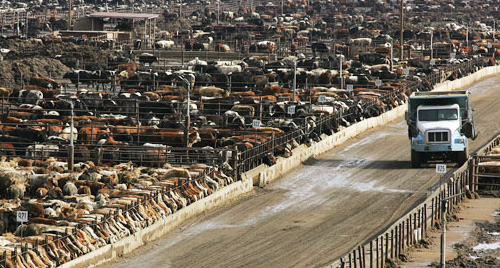 Feedlots — how practically all meat is produced in the world today.
Or maybe that's an exaggeration? The chain Chipotle makes some weak claims to "attempting" to buy "some" of their meat from sustainable sources. I suppose eating there is at least a wallet-vote for more production like that. Then there's places like Miller's Organic Farm, which produces sustainable meat in Plantation for customers it deems sufficiently worthy. The application asks why you're interested in their products and provides a box for a short essay answer. What's going on here?
Maybe it's the start of something. Michael Pollan started a wave of increased consciousness that's slowly sweeping the nation, and places like Miller's Farm are the tip of the iceberg. Maybe their bizarre buying model is based on their small quantities and slowness of retailer interest. Arielle tweeted later that she's maybe working on a story about these farms, so let's look forward to that.
Two things to mention before I end. The other book I should mention is Jonathan Safran Foer's Eating Animals
, which is very well summarized in his article for the New York Times — as pasionate an argument for vegetarianism eating non-sustainable meat as you're going to find. And lastly, forget "organic" meat. The stuff at Whole Foods labeled organic comes from the exact same factory farming system as non-organic food, except that those animals are fed "organic" corn meal instead of regular corn meal. They're better, but only marginally, and they don't address the basic objections raised in these books.