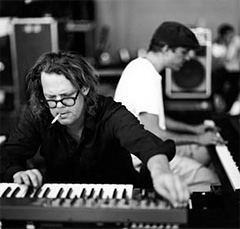 This will perhaps make sense only for those who have seen I Am Trying to Break Your Heart (trailer), the film about the making of Wilco's uncanny Yankee Hotel Foxtrot. A key layer in the movie is the increasing frustration that Jeff Tweedy has with Jay Bernnett, whom he eventually fires.
That's all ancient history, and it may be a complete coincidence that Wilco hasn't had an album approaching YHF artistically, or commercially, since. But look at the song-by-song list of Bennett's contributions and the accompanying interview, and a distinct picture forms. It's sort of Bennett's musically technical Paul to Tweedy's spontaneous John, right? Like, he was the guy, as Brent DiCrescenzo said, that every artist needs in the room occasionally to say "no" to the bad ideas (which you could see how that would annoy someone, and get you fired if that someone had absolute control of the situation). Maybe not, but that's my reading of the situation.
Anyway, subsequently Bennett released some solo albums, needed hip replacement surgery which he couldn't really afford (!), filed a lawsuit against his former bandmate, and, last week, died for an as yet undisclosed reason.
Stereogum remembers with a live Wilco performance of Misundersood, featuring Bennett on organ and piano. And here's a remembrance from Don Gerard, who was close to Bennett. RIP.