This episode of the Diane Rehm Show was billed as, "a look at how the Barack Obama administration may modify or dismantle anti-terror tools adopted under President Bush," but ended up being a completely predictable discussion about torture. Mark Thiessen, a Bush staffer, argued that "the program" is completely responsible, the people behind it are "heroes," that it was applied to an extremely small group of people, and that it saved thousands of American lives.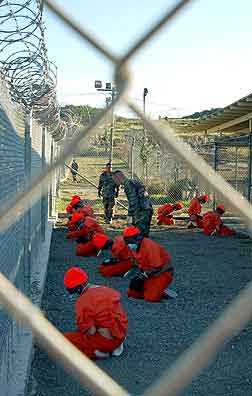 Mike Posner, of Human Rights First, gave the canned "we don't have to sacrifice our principles to keep ourselves safe" argument. And reporter Jess Bravin should have played referee, but was just a little too careful and didn't have nearly enough to say.
What struck me was something that was never directly acknowledged in the conversation. All three commentators seemed happy to conflate two different questions: "Should we torture?" and "Does torture work?"
Thiessen claimes that in fact there are situations where standard interrogation techniques simply do not work, and in those cases the extended techniques often produced results. Posner claims, as do so many others, that in addition to all the other reasons for which they are deplorable, that the so-called extended techniques in fact do not produce results.
What became clear is that in fact the evidence is not conclusive about whether torture does, at least in some cases, get people to reveal information that they otherwise would not. This super-important point really ought to have been the pivot of the entire conversation, and future conversations about this should be framed thus:
Is it effective? If it can be established that a particular technique does not produce results, then presumably nobody would want to use it, and the debate is settled.
Is it ethical? If a particular technique can be effective, then we need to balance all the other arguments against using it specifically against its effectiveness.
There is a lot of stickiness about the legal definition of torture, and about just what exactly the US does and how often, and about what is routine and what is reserved for extreme cases, and it all gets unpleasant very fast. But the unpleasantness is no reason not to keep the issues straight, and to keep the argument clear. And in this we have been failing, and we need to try harder. We need to get some sort of definite handle on how effective different techniques are, and then move on resolutely to the ethical and practical issues.
* It's interesting that these conversations often revolve around something that gets called the Jack Bauer exception, raising the separate issue of whether a situation presented not just in a hypothetical, but in an actually fictional account, ought to be relevant to this sort of national discourse.