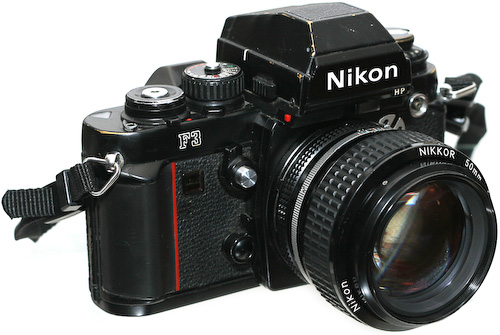 The F3 is Nikon's top professional camera from the 1980s. I picked one up on ebay recently, mainly because of how absurdly inexpensive they've gotten. It was only a couple of years ago that they routinely sold for $500. But despite a resurgent interest in 35mm film equipment from some quarters, I was able to get this one for $130. A perfect little 50mm f/1.8 will set you back another $50 or so, or you can go the way I'm doing, and get top of the line lenses for completely absurd prices (this 180mm f/2.8 cost $127; similarly performing modern lenses cost ten times that).
On the minus side you're going to be spending money buying and developing film. This runs about a dollar per every three or four shots. (Drop your film at any drugstore, and they'll develop it and burn you a CD in an hour, which you can then load into your computer just like any digital camera.) Then there's the matter of focusing, which if a big deal to adjust to if you've been shooting with digital cameras.
But as in the year with a Leica, this way of making pictures is revelatory. The F3 has aperture-priority automatic exposure, which means that you set the aperture on the lens, and the camera comes up with a shutter speed (of course you can also shoot in manual mode, where the shutter speed is just a recommendation). In other words, you have hands-on control of the basic elements of what the camera is doing. Same difference as driving a car with manual transmitting — it may not be easier, but it is better, in a way.
The other big benefit is the pleasure of using something that is the best of its kind. You can see that my F3 is pretty well beat up, yet it works more solidly then any of my digital cameras. Then there's the magical quality of film images. Even scanned and seen on screen, there is something unmistakeably analog and delicious about them.