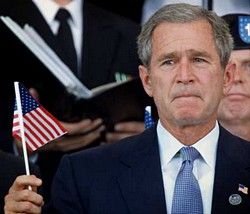 Colin Powell famously endorsed Barack Obama yesterday. He joins a pretty impressive list conservative leaders who have abandoned McCain over the last few months, notably (to me, anyway) including George Will and Christopher Hitchens.
So, it looks like Obama's a lock, and some reasonable folks are even talking about a 350 electoral vote sweep. But let's breathe deeply — it doesn't matter by how much Obama wins. It doesn't even matter how great of a president he is. Eventually (read: 2016), Republicans will come back into power. The thing to do now, with the Republican party in the shambles it's in, is to be reasonable. Don't make Karl Rove's mistake and start thinking about a "Permanent Democratic Majority." Not only is it a fantasy, but it's the stuff that moronic policy comes from (sorry, Turd Blossom).
The real question we should be asking ourselves (and this goes for Democrats as well as right-minded Republicans) is, "how can we help the Republican party become less dysfunctional." How can we help them from nominating fools like George W. Bush in the future? There are lots of questions with easy answers floating around these days, but I haven't heard this one asked yet, much less answered.