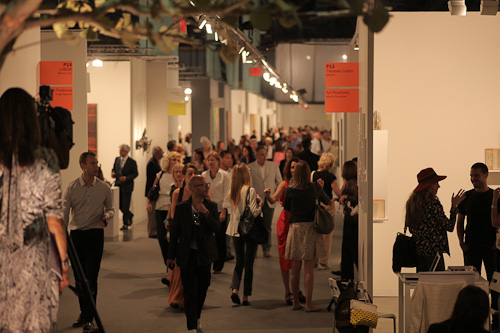 Art Basel opened with a whimper yesterday. After walking around the fair for over an hour I suddenly realized that I had seen no art of any particular outlandishness, it suddenly hit me—everything about the fair this year is subdued. The infrastructure of the fair, including the highly-stylized viewing pods in the vide lounge and the tote bags distributed with catalogs, were the same as last year, the first time in the fair's ten years. (The Oceanfront looked like its lowest-budget incarnation ever. NO Art loves Music performance.) The mood in the air was boisterous, but toned down several notches even from last year. And the art, by Art Basel standards, was downright conservative.
Heading out this morning to catch Gabriel Orozco at Art Conversations, then off to the satellite fairs.
Posted: Thursday December 1, 2011 by Alesh Houdek · · Comment feed for this post: RSS, atom
Comment
swampthing    Dec 1, 12:43 PM #  


sub- dude, any word on basel moving to another city next year?




alesh    Dec 1, 01:17 PM #  


I don't believe it. The only place that's even a remote possibility would be L.A., but I think they originally picked Miami for geographic reasons (easy to travel to From NYC and Europe) that still pertain. Ft. Lauderdale? You've got to be kidding.

Basel could go anywhere. Las Vegas. Austin. Atlanta. Savannah. San Diego. Don't believe the hype.




Steve    Dec 3, 10:11 AM #  


"…then off to the satellite fairs."

That is the whole point. The satellite fairs is where all the action is these days.




Commenting is closed for this article.