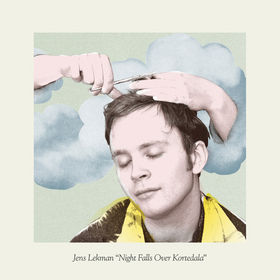 Rather than try to explain how mind-tingling pretty and unabashedly likable everything on this album sounds (ok a little: think Esquivel meets Sade meets Morrissey meets the Velvet Underground), I though I'd run down what each of the songs was about, which was fun with Coney Island Baby. You can listen to a few of these songs on Jens' MySpace, or download them from Amazon
.
And I Remember Every Kiss: I miss my girlfriend so much that when I got drafted into the army I named my gun after her.
Sipping On the Sweet Nectar: An open invitation to bring more nostalgia into your life. Featuring the immortal line: "I see myself on my deathbed saying / 'I wish I would have loved less.'"
The Opposite of Hallelujah: Jens hangs out with his kid sister and tries to tell her about being depressed, basically by shouting the title phrase after his metaphor gets ruined by a hermit crab.
A Postcard to Nina: Jen's lesbian Berlin penpal takes him to her parents' house and tries to pass him off as her boyfriend. Awkward hilarity ensues. "Your father's e-mailing me all the time … I send back out-of-office autor-eplies." Also, the last line before the outro is "Sincerely, Jens Lekman."
Into Eternity: Hugs are nice.
I'm Leaving You Because I Don't Love You: Mostly just the title repeated over and over. But also a breakup song with the line, "So you pick up your asthma inhaler / And put it against your lips."
If I Could Fly (It Would Feel Like This): This one really is just the words that are in the title.
Your Arms Around Me: Jens' girlfriend comes up from behind (on "silent brand new sneakers") and gives him a hug while he's working in the kitchen. He accidentally cuts himself, bad enough to have to go to the hospital. Mild gore and hallucinatory imagery.
Shirin: Jens longs for the Iraqi woman who cuts his hair out of her apartment salon.
It Was a Strange Time in My Life: Assorted meditations about a vow of silence, including flirting with deaf girls.
Kaske Ar Jag Kar I Dig: Google has the title meaning "Perhaps I am in love with you," so this is maybe the oddest come-on song ever.
Friday Night at the Drive-In Bingo: Jens and his girlfriend play bingo with some country people they discover while exploring the Swedish countryside. Also features some class politics and a fantasy about a rabbit farm ("Watching them copulate is very funny") during a coda that is a hilarious mimicry for Andy's Chest.