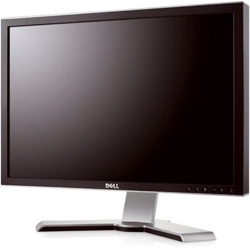 I took a passing swipe at Dell in my latest article at The Atlantic, but I wanted to just tell you one specific story. Here's the old-style Dell 24" UltraSharp monitor. Expensive, premium — it cost $599 back in the day, and the current version still goes for $399 today. I've had personal experience with three of these, and let me tell you.
The first is the one I still use at work. It's survived about three years. But. First of all, the

USB

-hub thingy built into the monitor never worked. Also, lately, the bottom left area of the monitor is way darker than the rest of the screen. I originally thought this was dust somehow getting sucked between the

LCD

and the backlight, but now there are weird faint horizontal bars in the same area depending on what's on the display (i.e., a black square on a white background will make the area above and below it slightly than the surrounding white), so something funky is going on.
The second one arrived in the mail, turned on for a split second, shut down, and never powered up again.

DOA

.
The replacement worked fine for three years. Just about a month ago, though, the power button stopped working. Monitor works just fine, self-powers down when it looses a signal, but if I want to manually turn it off I have to unplug it. Mind you, I've never used the power button regularly, so it's not like it's worn out from overuse.
Is the Apple 27" display overpriced at $999? In light of all this, maybe not.