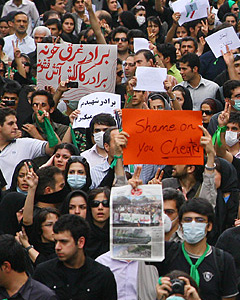 After over a week, the daily protests in Iran are going strong, and have spread all over the world, but it doesn't exactly seem like "a matter of time" until the government gives in and gives the protesters what they want. And this may be all for the better — by not nullifying the election, the legitimacy of the whole system, not just of the election, is cast into question. A new president may not be forthcoming, but the future power of the Supreme Leader seems to be under gradual revision.
In the meantime, it's a matter of forces of will, the people against the government, right versus wrong. And it's encouraging that you can't have partial oppression. It works in North Korea because there is no money in North Korea. Introduce a little entrepreneurial spirit and education into a society, and what follows is the internet, cell phones, signs of a free media, and before you know it, the tide is shifting irrevocably in the direction of freedom. Maybe it will not be this time, but the future of Iran is clear — it's going in the way of Eastern Europe in the late 80s. It may not be quite a Velvet Revolution (which, remember, took almost two months), but it's got a poetry all its own.
Oh, right, the forces of will. On the one side you've got a vast cross-section of the Iranian public. On the other, a government increasingly driven to desperate-seeming tactics. Yesterday, they began parading college students in front of the media who were forced to say that they were influenced to protest by foreign media. (One of the losing candidates from the election was also persuaded to withdraw his complaints of vote rigging.)
Meanwhile, the photos keep rolling in — people taking to the streets by the hundreds and thousands, despite the government practically shutting down the city. Maybe not tomorrow, and maybe not next week, but something new is coming to Iran.