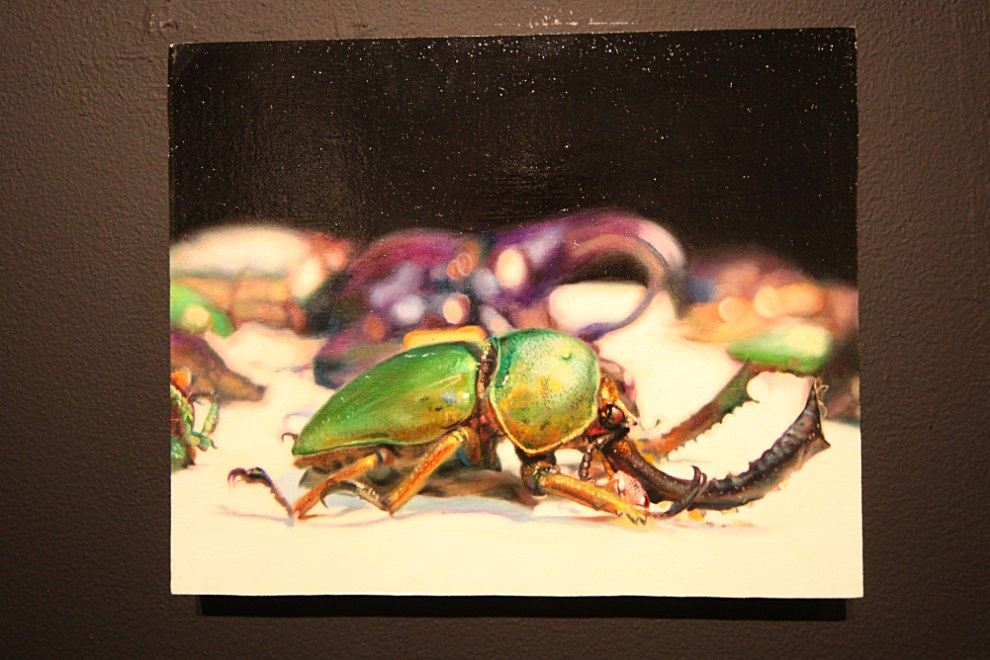 The November artwalk is for all intents and purposes a sort of opening act to ArtBasel, and considering the impressive showing last month, it's surprising how underwhelming everythign was. With some notable exceptions! Take, for example, the Littlest Sister show at Spinello Gallery: this is an "art fair" that truly earns its scare quotes, packing a dozen or so "booths" into the gallery's storefront space (tho note that the space is at least three times the size the gallery was in when Littlest Sister was inaugurated). It's replete with a slick website, high production values, and a "VIP lounge" reaturing spiffy photorealist paintings of insects by Marc Dennis.
The work is mostly small-scale, and organized into "booths." It's "intimate" as all getout, and actually a surprising number of the pieces are worth the close look that the setup demands.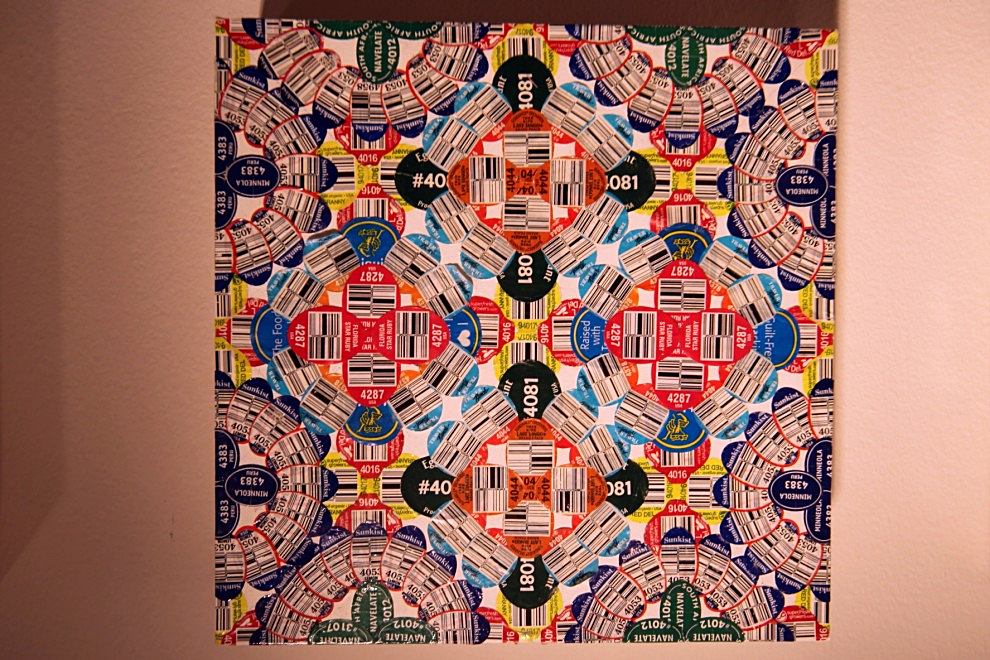 For example, this pretty fruit-sticker collage piece.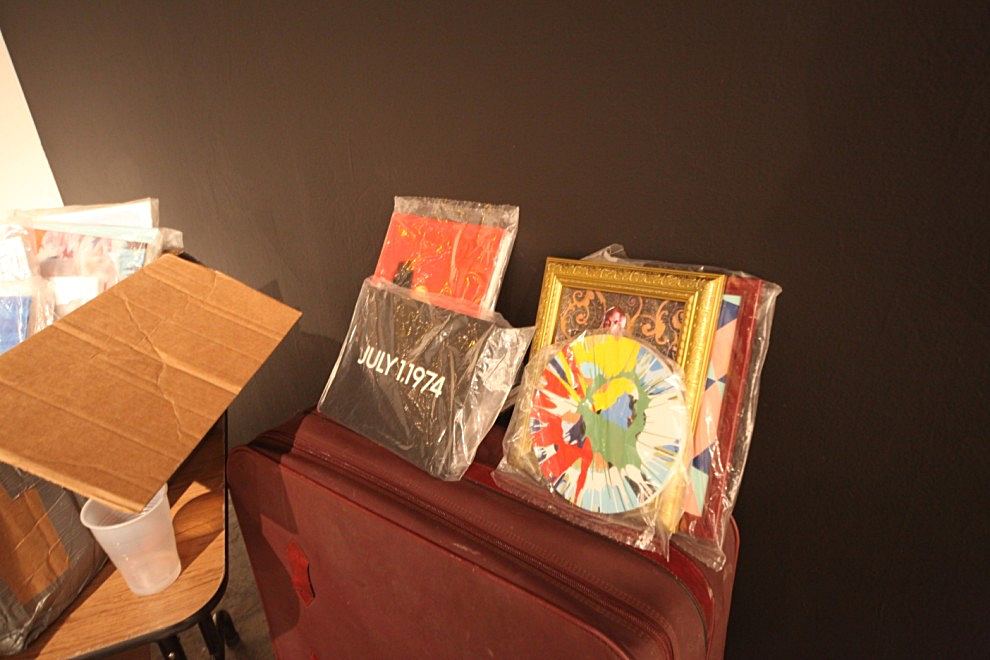 Eric Doeringer, also in the house!
A particular low point was the Cum Rag Manifesto, which incredulously claims to have been produced with the, um, assistance of homeless men and "street hustlers" in exchange for free fast food.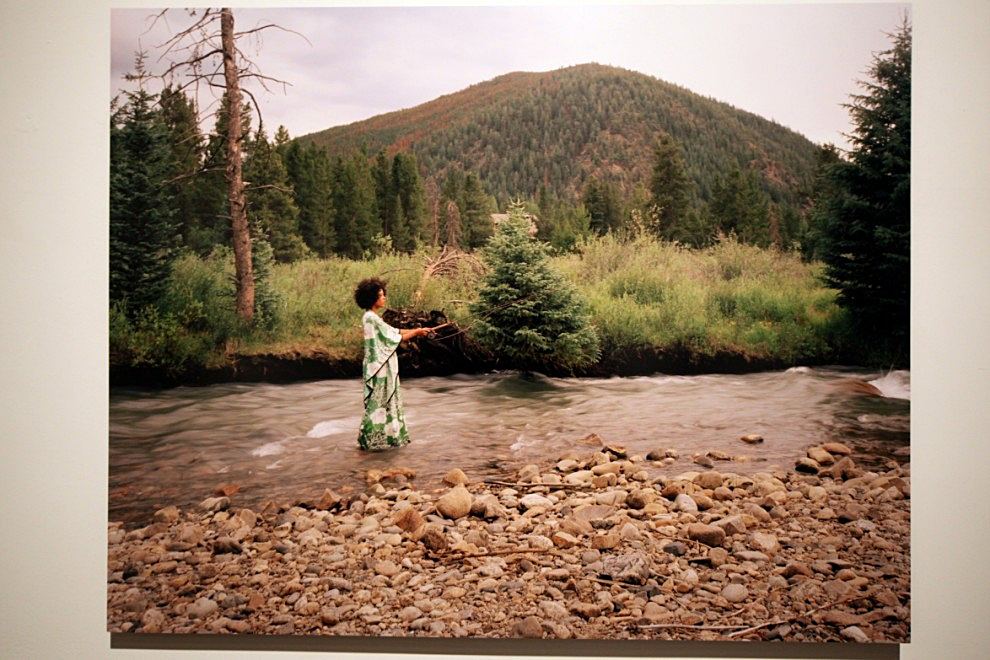 One of a series of similar photographs by Xaviera Simmons at David Castillo. These were particularly striking in Wynwood, where contemporary straight photography often seems verboten. They were accompanied by a large wooden wall sculpture and a train-window video with which they did not quite mesh, but that's how good photography does sometimes.
I walked by this one place, and a doorman opened the door for me? I was really thrown off by that, and ended up walking in out of sheer curiosity. There was a decked out bar, some sort of gifts being given out, and models selected for their height and looks walking around giving out price lists. The gallery was overflowing with competently executed lowbrow paintings and sculptures in something of a mishmash of styles, which it turns out is the work of Miguel Paredes, mogul of Miami's rave flyer printing empire.
Works of a few of Miami's fringe cultural celebrities, including Otto Von Schirach, the TM Sisters, Rat Bastard, and Dino, by Francesco Lo Castro.
I wanted just to convey how Artwalk has changed over the last couple of months — not just the little food fair, but all along NW 2nd Avenue there are food carts and vendors. This picture was taken very early, so there aren't crowds parading up the street yet.
It's always fun when Snitzer has something that's a complete laughable disaster, right? Check out Jon Pylypchuk's sculptures and paintings, made with Great Stuff™ (overused art material par excellence) arranged into vague faces with blacklight bulb eyes, many smoking a cigarette.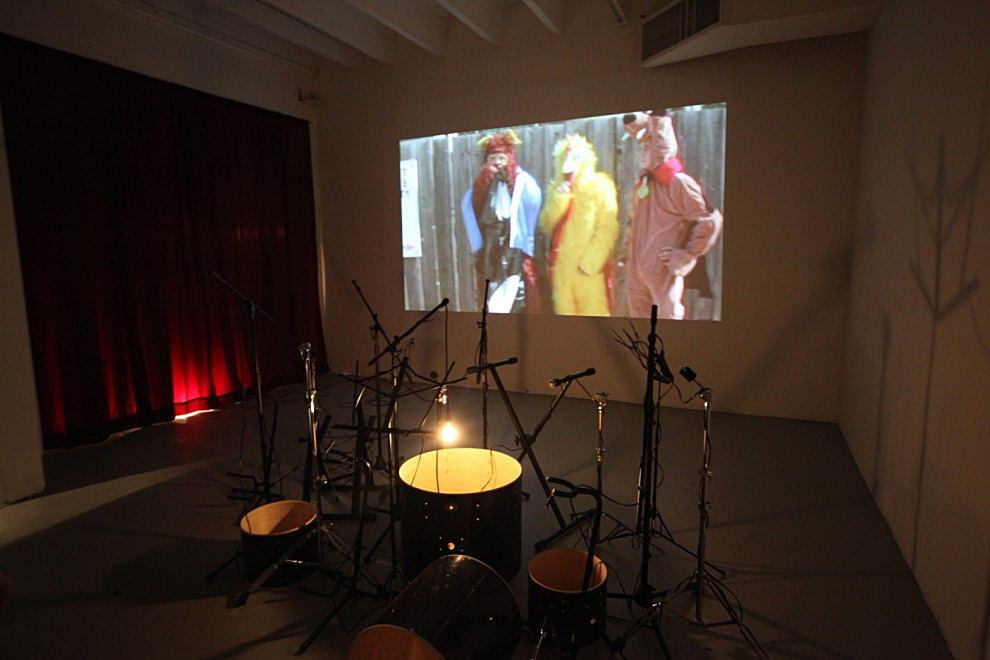 Meanwhile, back uptown! At Dimensions Variable, a somewhat half-baked but rockin installation/video by Daniel Milewski.
Last but not least! Jim Drain at Locust! I walked in and immediately noticed the not unpleasant smell of Art Being Made, and what do you know? This art is in point of fact not finished. You can't blame the artist, as the gallery hosted the Smash and Grab fundraiser just a week ago, and it's sort of cool to let people walk in and look at your unfinished stuff (without really even clarifying that it's unfinished — quite a few people were confused on the point). That's it — I'll see you