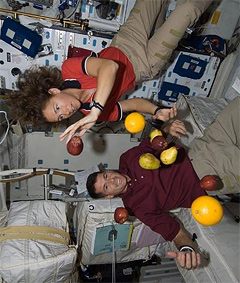 NicFitKid asks, "Is your beef with the shuttle program, or with manned spaceflight in general?"
Well, I mostly think that both the space shuttle and manned spaceflight the space program in general are super cool, but I do not trust my reasons, with what them (the reasons) hinging entirely too much on little-boy "wow" appeal. Meanwhile, when you look at the costs involved your mind really does reel (even putting aside "you could feed X hungry children" lines of argument, which strike me as naive).
Said reeling is particularly vivid as pertains to the space shuttle program; it was supposed to be a more-cost effective (reused vehicle = recycling) way to get to space, the costs end up averaging out to $1.3 billion per flight.
Same goes for just about everything NASA does, right? You wonder just where the money's going, and can't help but think that this could all be done a heck of a lot cheaper. And maybe it can, but probably not without making the program even less safe, and anyway, don't the costs of all large-scale projects seem impossible to wrap head around? (Maybe not?: quick, how much would you guess that the Hoover Dam cost to build in today's dollars? Here's the answer, which I found surprisingly low.)
NASA's budget over its 50-year history has averaged 1.23% of the federal budget, though it's been under 1% since the early 1990's. It's .55% of the 2009 budget, or about $17.2 billion. In the 1960's, while the Apollo program was being developed, it spiked to 5.5% of the budget, over $33 billion (these dollar figures are in 2007 dollars).
So, what have we gotten for this money, other than the undeniable fun of watching it all slowly, slowly unfold? Well, precious little actually. There are some scientifically useful things, e.g. the Hubble space telescope. And there is the list of advances that came about as by-products of getting stuff into space. Lots of useful stuff on that list, but it all could — and probably would — have been developed (and much cheaper) outside the context of a space program. Scientific experiments done in space mostly consist of testing the effects of weightlessness on various things. The results are rarely particularly interesting, and in any case almost completely useless to us here on earth.
One day, maybe, we'll be a space-going civilization. The argument that we should be working towards that holds some water. Yet I wonder if the challenges of going into space wouldn't be better tackled later, when advances from pure science and other scientific endeavors make them far easier to solve. We weigh the money it would cost to work this stuff out later not just against the money we're spending now, but against all the missed opportunity cost of what would have otherwise been done with that money. If all we have to show for the difference is the entertainment value of the space program, then it seems difficult to justify rationally.
Update: See also The Economic Value of the Space Program.