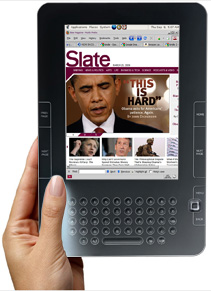 Everybody's raving (via Fimoculous, where I first typed most of this out) about the Kindle, and I do not doubt their sincerity. But neither Amazon nor Sony have quite figured out what they need to make. These devices are the Treo of five years ago — good enough to be loved, but about to be made irrelevant by the coming iPhone.
No matter how good the Kindle is, it is patently absurd to pay $2.50 per month to read Slate on it. And Bezos should be blushing at the contortions people go through to get PDF on their Kindles. The point here is that mostly what people want on an e-reader is not books — it's the internet, stupid.
So, what do we want? Simple: a Kindle form factor with the guts of a Dell Mini, and a little sprinkle of iPod Touch. It goes roughly like this:
Intel Atom processor

ARM

processor, 16 GB internal storage, SD card slot
WiFi, vestigial keyboard
Ubuntu: just enough to run Firefox full-featured and an mp3 player
Color e-ink display (I'd settle for an

LCD

)
Touch-sensitive screen
What the hell: compatible with Amazon's e-book format
The Kindle is $350, as is the new Sony reader (which has the touch-sensitive screen). The Dell Mini starts at $199. The 16GB iPod Touch is $300. Come on hardware makers, you can do this.
Update (4/13/09): TechCrunch is working on it.