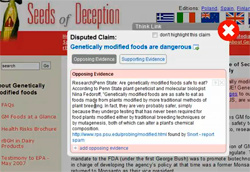 While discussing the alleged death of polite disagreement at Rex's blog last week, I expressed the idea that a lot of the disagreement stems from a disagreement about simple facts. It's almost impossible to support healthcare reform bill if you think it includes "death panels," and there are folks who consume media in such a way that they genuinely believe this. But even those with every right to call themselves reasonable are at prone to this effect — we tend to be more likely to believe the facts that jibe with our view of the world. Those facts then push our opinion farther along toward certainty, and make those who disagree with us seem ever less reasonable.
It follows that clarifying the facts is a potential way to begin restoring some of the civility that's been lost from public discourse. By this I mean not only correcting incorrectly held beliefs, but also by exposing reasonable disagreements about what are often presented as established facts.
Interestingly, there is a tool intended to do exactly that: the Dispute Finder. It works like this: you install it as a Firefox extension, and it then alerts you when a fact you are seeing on the internet is in dispute, and cites a few disagreeing sources. It gets to know what sources you respect, and so if you're a Republican, say, it's more likely to point you to a story about how death panels are a hoax in the Wall Street Journal then in Harper's magazine. (Demo here.) Try this at home!: do any of the statements below make you nod in agreement? Click through for contradictory evidence.
The point here isn't that any of those claims are wrong — the point is that they are not nearly as clear cut as we might suppose, and that having our beliefs challenged makes us more likely to listen to those we disagree with, ergo more civil discourse. Two problems.
1) This is all well and good on the internet, but can we attach it to Rush Limbaugh and Glenn Beck's asses? And also better yet, what about my uncle who parrots Limbaugh, Beck, et al. at the Sunday cookout? Well, it turns out they're working on that! Explains Dispute Finder developer Rob Ennals on a recent On the Media:
The bullshit detector is a thing that we're planning to do next. It's trying to apply the same kind of ideas we're applying to the Web to information you hear in real life. So let's say you're in a conversation with somebody and they tell you something which is disputed. The device is going to buzz in your pocket and let you know that you just heard something disputed and perhaps you should question it. … [A]nother thing we're planning [is] to apply this to closed caption TV text; that if some pundit on TV says something disputed, a thing will flash up at the bottom of your screen saying, this is a disputed claim. This source you trust disagreed with some of this.
Nice, right? Sign me up. And sign up my uncle. Better yet, sign up YOU and YOUR uncle, which brings us to
2) This is great, but how do I get the people who disagree with me to sign up for this? To wit, aren't the very people who are disagreeably disagreeing the least likely to pay any attention to this type of technology? And at first I think this will be true. But I think it'll have a snowball effect. As this type of technology spreads and improves, the desire for intellectual honesty will begin to drive its adoption. That is, even the most extreme conspiracy theorists want to claim to be open to opposing arguments, right? So unless this whole project manages to get painted as part of the liberal conspiracy (not inconceivable!), some portion of even the wackos at the fringes of the political parties will get on board, which will begin to soften — maybe — the craziness that's therein harbored.