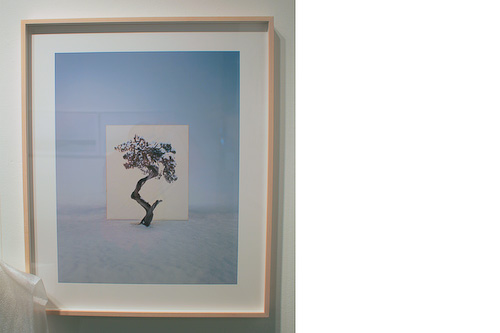 I hadn't noticed the relative lack of photography at this year's Basel until I walked into Pulse, where it was in rich abundance. Well known photographers like Myoung Ho Lee (who's Tree series I love) were everywhere, and even relative superstars like Thomas Ruff and Candida Hofer (Hofer was one of the photographers still well represented at Basel, while Ruff was completely absent) were to be found.
The mood of art collectors closely tracks the stock market, which is a leading indicator of the overall economy, and so we've had this weird asynchronous double dip over the last two years. Last year's Basel was terrible for sales, which at the time could have been seen as a surprise. This year, reeling from that bad experience and hit by current economic factors, galleries from around the country and world just were less willing to spend the money to come to Miami. And so with the exception of Art Basel, all the other fairs this year were smaller than last. (This had the consequence of bringing many new Miami galleries into play, as some of the less discriminating fairs offered last-minute cut-rate booths.) But meanwhile, with the stock market back up, collectors were biting again, and so apparently sales went pretty well.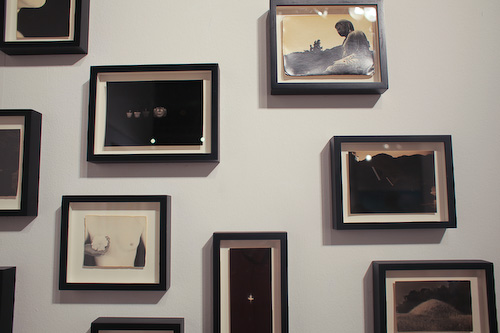 Masao Yamamoto's small toned photo-objects were particularly well suited to the Ice Palace, Pulse's home for the year. What apparently had happened is that the Ice Palace had been raising the fees on Nada every year, prompting their move to the Deauville Hotel and starting the shuffle that left many fairs in new digs. Pulse took full advantage of the venue, augmenting it with a few additional tents and an outdoor stage.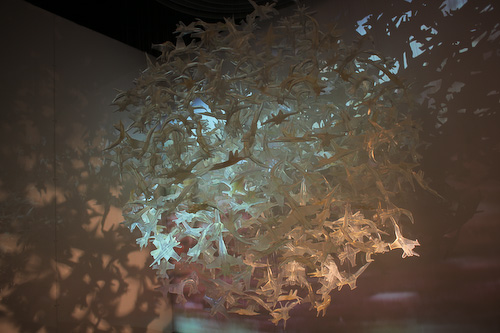 Teresa Diehl's spectacular room-sized installation, F-18's in a in a bird-like turmoil.
Maria Jose Arjona's performance, with Siamese fighting fish.
Yigal Ozeri's oil on paper works look like photos until you get real close. By the time I saw a few more at Scope the charm (as well as the artist's focus on scantily clad women) of these was wearing off though.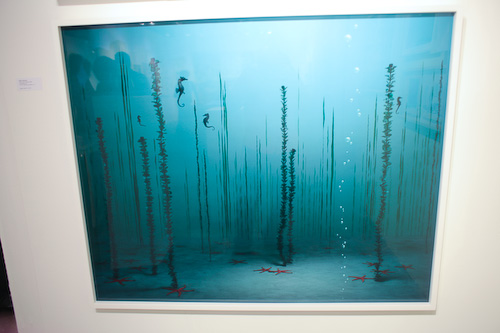 An underwater diorama photo by Didier Massard.
At Amelia Johnson Contemporary there was a group of Konstantin Bessmertny's fantastic little oil paintings on oddly shaped oval pieces of wood. Their ghoulish scenes portrayed strife and antiquity, without looking like recreations of past objects or styles.
At a side-tent adjacent to Pulse, a sequence of 35 black and white oil paintings, one of every person who's been the president of Cuba since the 1860s, with a big conspicuous nail in empty the wall next to Raul Castro under which older Cuban couples were photographing each other holding Cuba libres mojitos.
Right at the entrance, a mechanized Gamelan orchestra sets expectations for Scope to be at least as good as it's been for the last two years. Alas, it was not meant to be, and the economic decline hit Scope hardest. It was not without a lot of good work, but the overall effect was of a let-down, and the pairing with Art Asia, which was wrongheaded last year, now just seems foolish. (Art Asia has the same problem as Photo Miami, which is that galleries try to get into the best fair they can, so what you're mostly left with a themed fair with only galleries that couldn't do any better.)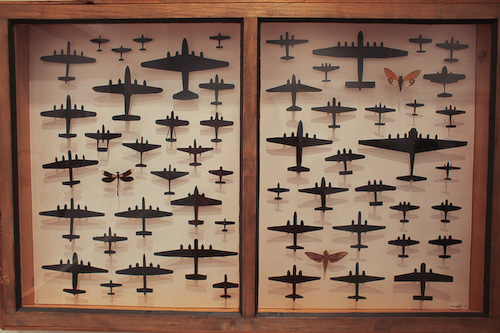 That said, some highlights. Karin Sabine Krommes' mounted insects and airplanes.
Edward del Rosario's playful oil paintings at Irvine Contemporary. I predict that argyle socks will be to next year's fair what Michael Jackson was to this year.
David B. Smith Gallery chose not to put up artist names with the work, but this part drawing part diorama, bulging through it's enclosing glass, was a real treat.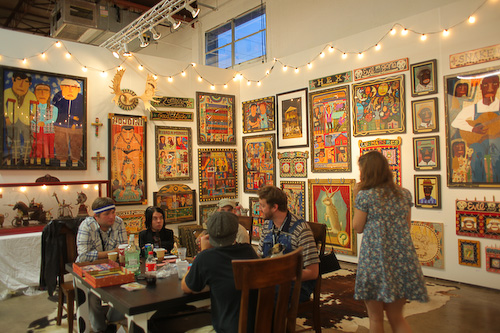 Making the fair worthwhile was the Red Truck Gallery from New Orleans, which seemed for all the world to be a bona-fide bunch of misfits. They'd brought along a table and a dog, and were having a great time, eating, drinking cheap vodka, and generally having a jolly old time. They were friendly and fun, and generally a breath of fresh air, and the work it was great. Unselfconsciously outsidery, but with real wit, technique, and style.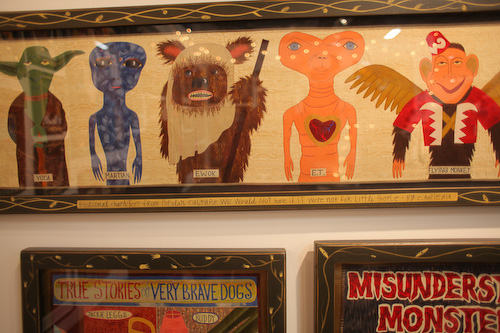 Chris Roberts-Antieau's Fictional characters from popular culture we would not have if it were not for little people. There were also great needlepoint portraits, cast concrete teddy bears, and a couple of absolutely perfect post-Katrina photos, and it all worked spectacularly well together.
Another big cliche this years was the word "EVIL" in all caps. Carving it into a freeze-dried apple — how many other ways can YOU think of to write it?! (This is by Linda Hesh, who I guess does have a point.)
Matt Weber's tasteless 9/11 darkroom trick. Yikes! This was at a Miami gallery in Scope (the name of which I've lost!!) which probably pertains to the over-exposure of Miami galleries in the various fairs I mentioned. For whatever it's worth, it was hanging next to a presumably real painting by Jack Kerouac. Not an auspicious pairing, as they say.