Photos from a couple of the Wynwood fairs from yesterday: NADA, Art Miami, Scope, and Pulse. Art Miami was mostly a disappointment, while Scope and Pulse were very good. A weird entanglement at NADA kind of soured me.
The galleries at these fairs are often pretty lax about labels with artist names, so I'll provide them when I've got 'em, and just give you the name of the gallery when not.
NADA: Figge von Rosen Galerie, Germany. The life-size surreal sculpture made of foam was hitting on all cylinders this year around all the fairs.
Cutesy drawing, on the other hand, was on the wane a bit. Did spot this grouping at Parker Jones, Los Angeles.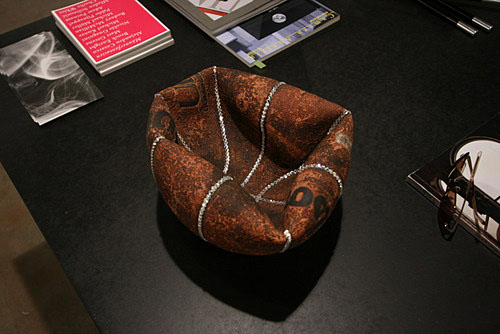 Peel 'n stick bling was another big trend, with this basketball maybe the best sample (some other folks just coated an entire piece of paper with it and called it a day). COMA Center for Opinions in Music & Art (?), Berlin.
A few light cleverness pieces at Karma International, Zurich.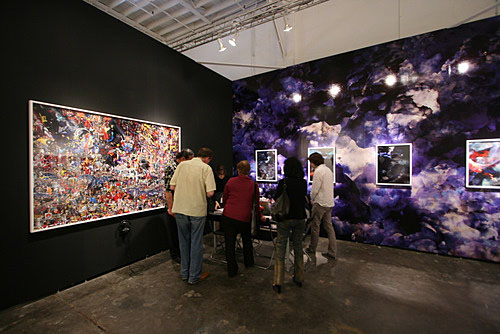 Installation, Kim Light/Light Box, LA.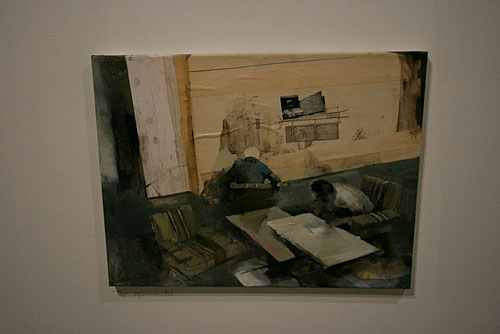 Mixed media piece (very poorly photographed…), Hunt Kastner, Prague.
A few dioramas showing human disregard of the environment (trite, but done well enough) at Galeria Czarna, Warsaw.
These Drawings at Upstream, Amsterdam, were great. One shows a kid sniffing his Nikes, in the other he's taken one off and is apparently making out with it. The titles were like "Ritual #03."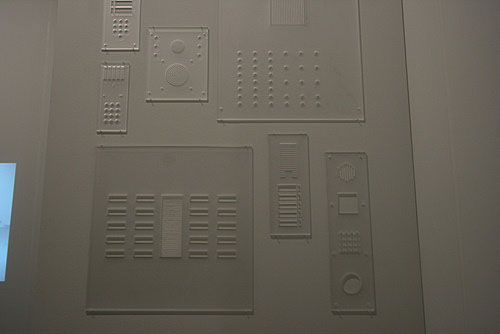 Carved plexiglas replicas of European dorbell/intercom panel covers by Kristina Matousch, Elastic Ola Gustafsson.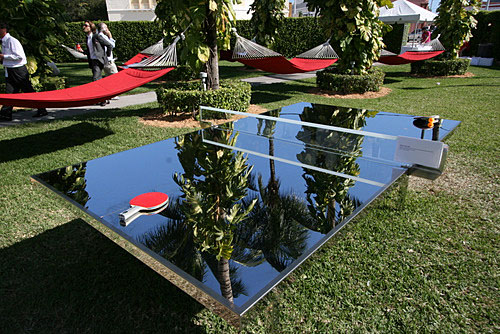 The area outside NADA is pleasant as ever, I guess because they're keeping out the undesirables. Grassy field, hammocks, and a mirror ping pong table.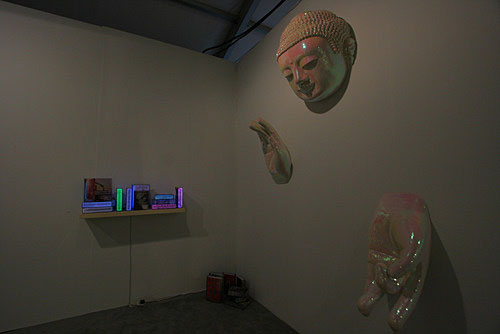 Art Now: In a vast see of "meh," there were a few standouts. Noh Sang-Kyoon's sculpture at Bryce Wolkowitz, NY.
One of a series of photos by Stephan Couturier, LMG.
The star of this huge piece by Zhang Peng at Olivia Oriental Contemporary Art is in fact the little girl — the series deals with child sexualization, and toys, and I guess terrorism.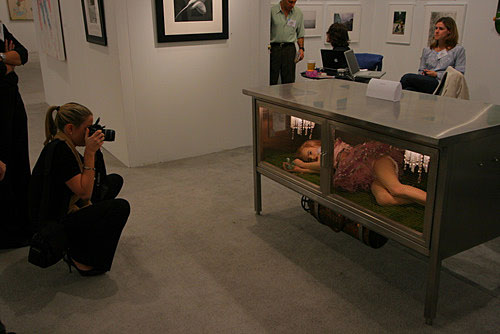 Completely not related, Rick Wester Fine Art, NY.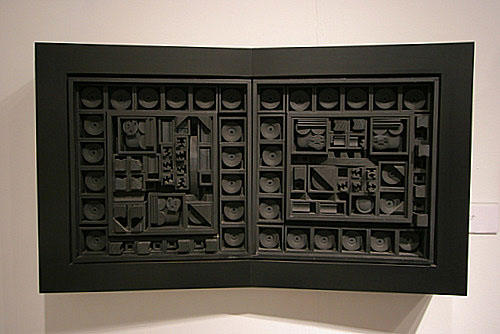 There were a bunch of Nevelsons lurking around. This one can be had for $185,000
And then, BAM, in one fell swoop, Philipp Hofmann discredited himself, his gallery (Barbara von Stechow), and perhaps his whole fair, by taking a photo, applying a photoshop filter, and printing it out onto canvas. Now when they say "yeah, well, anybody could do that," you'll have to shrug and say, "yep, it's true."
Plants were harmed in the making of this artwork! (Actually, they're being harmed still.) Frey Norris Gallery.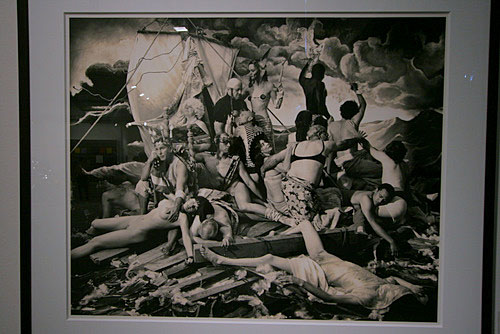 Joel-Peter Witkin's new bag is photoshop! Check this out: The Raft of George W. Bush ($18,500). OK, let's stop there, on a positive note. Off to…
Scope: Actually, I just made a brief stop. Back for more later. Here's Joe Berg stepping into my frame, and a liberaged Aztec monument finally getting the flourescent treatment it always deserved.
James Marshall (Dalek), Irvine Contemporary, Washington D.C.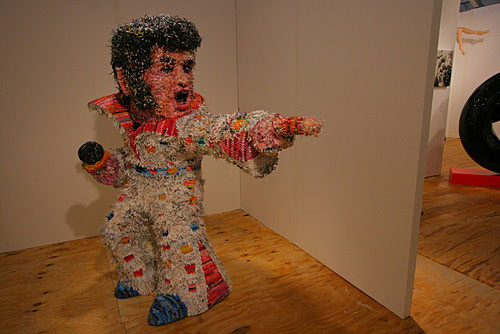 Pinata Elvis, Gana, NY.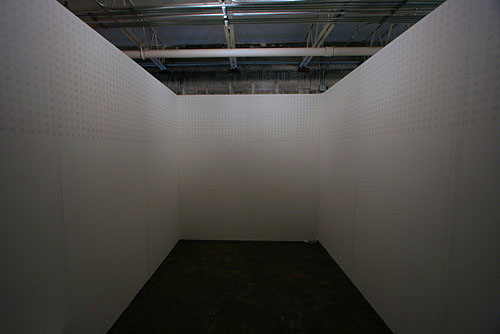 GEISAI: Tom Scicluna's booth. (One mark for every day from the day he was born to the date the piece was finished.)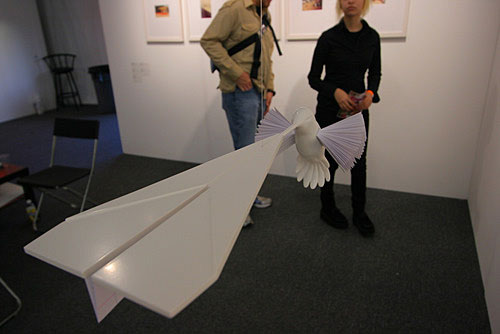 Pulse: Paper bird and Humming plane, Yarisal & Kublitz, Galleria Enrico Fornello.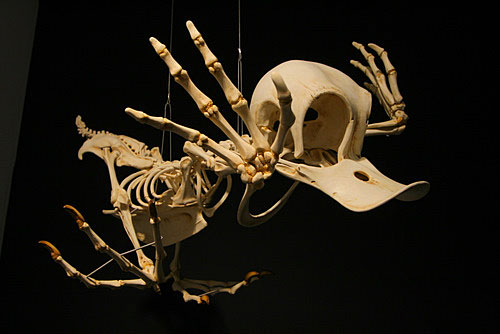 Daffy's skeleton, Arario Gallery, Cheonan, Seoul.
Same place.
Mini hamster paintings(!) at Schroeder Romero, NY.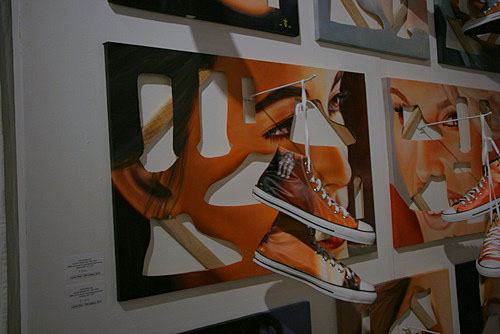 Sneakers made out of paintings! Also, hats and a jacket. Tait Roelofs, Lyons Wier Gallery, NYC.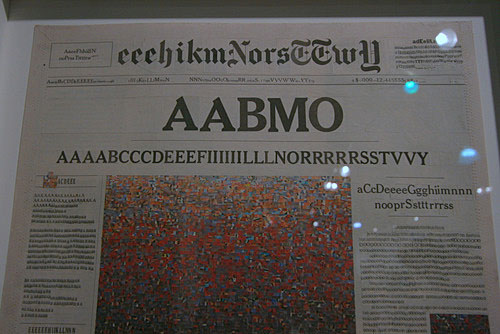 NY Times cover reproduced alphabetically, all with tricky scalpel and glue work. Kim Rugg, PPOW NY.
Finally, Tim Knowles, the same guy who figured out how to let trees draw, created this drawing by shipping a package from London to New York.