Come the first Wynwood artwalk of Spring, you might expect to see a downturn in the quality of work on view, what with Basel now a distant memory, but no such luck, although you will have to scroll a few photos. Here's the Scholl's collection of Anna Gaskell's work, which you have seen before but which is always worth another look. Bonus, Miko No Inori in the next room.
Diego Singh's paintings at Snitzer, some of which were pretty nice. A huge metal panel with a few primitive markings covers one wall, trying too hard to not try hard.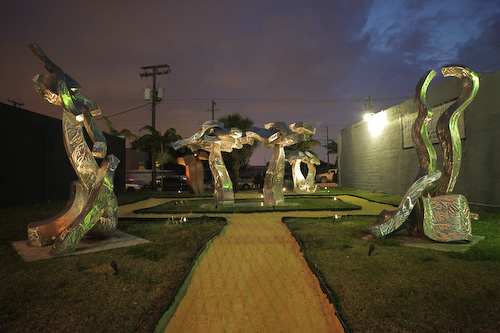 Still the worst thing in Wynwood. Is there a petition or something we can sign to get this removed?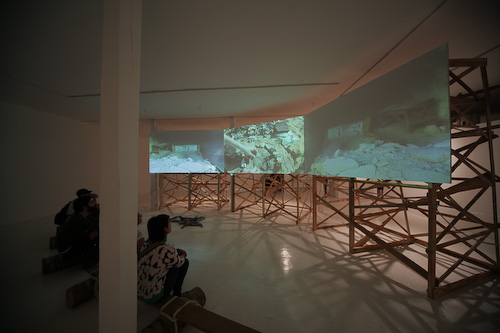 Christy Gast's video installation at Diet. There was a sort of manic necessity to the videos, but the grandiose three-screen treatment, with deluxe log seating, seemed unnecessary.
A Fernando + Humberto Campana chair, part of a group show at Castillo. Nicole had to shoo people out of it a few times, even though it's on loan from Craig Robins, and obviously sees its share of asses in its regular life. I for some reason did not photograph either of Jose Alvarez's two spectacular abstract pieces, which included feathers and porcupine quills and were selling for $24,000 each, your choice. If anyone has an image, send it over.
Lisa Perez at Dorsch, an installation of paper cuttings and other mischief. The way Dorsch is divided up right now is really effective, with three completely different spaces for artists to work with.
Magnus Sigurdarson. I was not interested in the big installation, but this video, where the artist stares at you without moving ("he chose to not put his sunglasses on," Carolina remarked)
Also, Mette Tommerup's paintings. Sort of great!
Update: Jay Hines at Dimensions Variable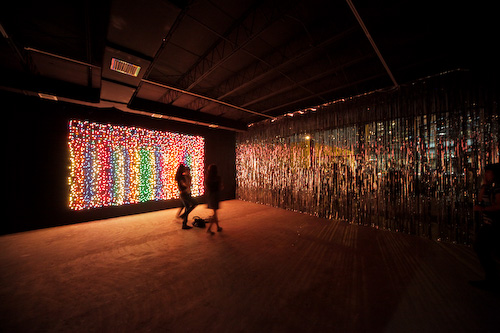 Pachi Giustinian installation at Spinello.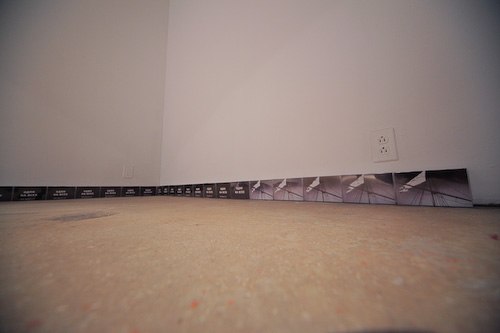 Installation at Locust, which their website currently does not list on either the current or past exhibitions page. Whatever, some big film themed thing.
Here's me interacting with the frame on short-loop projection.
Quick breather.
… and then off to the de la Cruz collection. This is turning out to be a really interesting institution, with a series of talks and, here, an installation/preformance by Federico Nessi …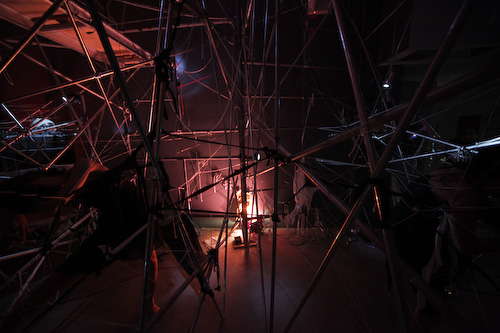 … with two other performers.
And by the way, if you haven't been to the de la Cruz space, I'd recommend heading straight to the top floor first and making a beeline for the Ana Mendieta room.