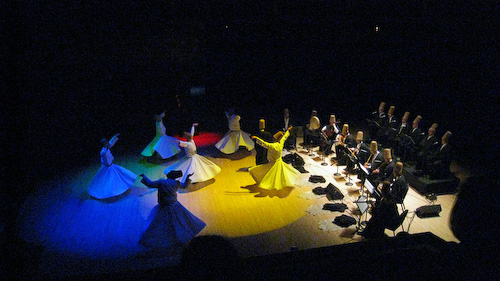 There is a whole body of literature, going back at least to Susan Sontag, that argues against photography. The process of making a photograph distracts you from experiencing the thing itself, distorts the relationship between subject and the viewer, and creates a visual record that is inevitably later perceived as somehow more real than memory. To be honest, I've always found these sorts of arguments to be overblown. I let instinct be my guide about when to bring a camera with me (almost all the time) and when to use it. And I couldn't honestly tell you of a time when I regretted making a photo because of the imposition it created on the experience.
Until this weekend. The Whirling Dervishes of Rumi performed (actually I'm not sure that's the right verb) at the Arsht Center, and I had a relatively great box seat. The way this works is that the evening is over two hours long, opening with a musical performance, explanations of the meanings of the dance, a movie, more music, then the solemn entrance of the Mevlevi themselves, followed by the actual ceremony. The point is that there is a major buildup of a particular type of a solemn mood, which elevates the already daunting trance-like spiritual weight of the event.
So I wasn't going to take a picture. And then all these other idiots started in. Now, photography is "strictly prohibited" at the Arsht Center, and having worked around the performing arts I know that the two primary concerns are (1) your photographing distracts the person next to you, and (2) the flash, stupid, which distracts everybody, most especially the performers (which in the case of dance is actually dangerous). Needless to say that there were at least a dozen camera flashes from around the audience. So first of all, you people are stupid. You haven't read your manual, you don't know how to control the camera, you have no regard for anyone else but yourself, and you did not get a photograph, because your flash covers approximately three meters (10 feet), and you weren't sitting in the first few rows (thank Jesus).
But so somehow these idiots made me think that my taking a picture the right way (ISO set to maximum, exposure compensation -2 stops, flash off, autofocus assist light off, sound disabled, continuous shutter on) was somehow permissible. I held my shutter down for about a second, got three frames, and put the camera away. And yes, the moment was destroyed. But you know what? It came back. The thing is that if you're discreet about this (my friend sitting two seats down didn't know I took a picture until I showed her later afterward) it's really not that big of a deal.
There is something to be said here about the trade-off between imposition of technology and quality of photograph (contrast the ubiquity of the cell phone with a 4×5 camera), but mostly a pocket camera is a decent trade off.
The thing that it comes down to for me is that looking at a photograph years later brings back the memory of an event more vividly than anything else. There are many reasons for making a photo, but the marking of something as worthy of vivid memory is perhaps the best.