You are viewing a monthly archive page.
I was slow to post it, but I got a response to my email to Oxford Press and Handmark regarding the Oxford American Dictionary app almost right away.
This is the old libertarian saw, stated by P.J. O'Rourke like this (only longer, better, and funnier): If your grandmother doesn't pay her taxes, she'll be fined. If she doesn't pay her fine, she'll eventually be put in jail. If she tries to escape from jail, she'll be shot. So!: Anything that you agree the government should do, you should be willing to put a gun to your grandmother's head and threaten to shoot her for. Something like that.
This is a pretty old libertarian saw (contrary to the folks who posted the video above, libertarianism doesn't argue for a completely stateless society, just for a minimal state): the government should do the minimum amount necessary to keep a society functioning, and no more. This means enforcing minimal laws against harming others, and a small national defense system. Everything else, the argument goes, is better privatized. I've been a registered Libertarian since the day I registered to vote, so I've given these arguments some thought.
One day the libertarians may go off and create their dream society, maybe on a floating island. In the meantime, we have Somalia, which has been without a central government since 1991.
So here's the solution, and it has more than a little to do with game theory. Stuff that the government does is not like forcing some one individual to contribute to something. There's a whole range of things that, if we weren't all contributing, it wouldn't make sense for an individual to give any money towards. Let's start with the Libertarian's example of national defense. It makes sense to have a national defense system only if everyone contributes. But it ends up that there are lots of things that directly or indirectly help everyone in a society. And while there are ways that a lot of these things could be accomplished by groups of private individuals, it makes sense for the government to do them. Would you shoot your grandmother for the interstate highway system? Probably not. But the highways unquestionably help our society in ways that a privatly-funded and tolled highway system would not.
The welfare system, public education, food safety inspections, drone strikes in foreign countries, eviction of protesters from public spaces, public healthcare, air traffic control. You probably agree that some of these things are good, and that some are bad. That's not the point, though. The point is that they're all things that a central government is in a unique position to provide, and that arguments exist that they are a net benefit. Once we've agreed to create the structure of the government, we're all in it together, and we all need to decide together what we think are appropriate roles for that government.
It's not that we need a system to make George help Oliver. It's that we're all better off if there's a system that helps all those that need help, not just those that can find someone willing to help them.
Posted: Tuesday December 27, 2011 by Alesh Houdek · Permalink · Comment [2]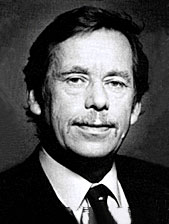 "Tidy yourself up! We might be Czechs, but we don't have to let the rest of the world know." This is apparently one of the lingeringly popular jokes from The Good Soldier Švejk, one of the resounding classics of Czech literature. The fact that I don't find it any funnier than you will tell you what you need to know about my embarrassingly sparse connection to Czech literature (if the fact that I had to Google it didn't tip you off). With that serving as a pre-emptive appology, let me tell you as best as I can why Václav Havel was important (without any more Googling, I promise).
At the end of World War II, Roosevelt and Churchill sold my people out to Stalin at Yalta, and the big 'ol Iron Curtain fell on us. And while it was a light-sneeze version of the Stalinist/Totalitarian sort of thing that they're, for example, still living up in North Korea to this day, it was still a very different lifestyle from ordinary poverty. There's an extremely real paranoia that exists, because even if you've never gone before the officials on charges that were made against you buy anonymous spies, you know that it happens all the time. Also, this: you can join "The Communist Party" or not. YOUR CHOICE. If you don't join, the government and others in positions of power won't trust you. You'll be denied perks, career advancement, and safety. If you do join, you'll loose the respect and trust of all your friends. Unless they're all Party members too. But those are the people with sticks up their ass, right? You either sacrifice your integrity or you sacrifice your prosperity and comfort.
Posted: Monday December 19, 2011 by Alesh Houdek · Permalink · Comment [1]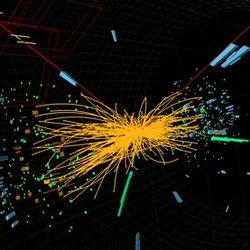 You know, I love advanced physics. It's given us satellite navigation, GPS, and fancy medical imaging, and that's just the theory of relativity, which when Einstein cooked it up seemed like the height of quasi-fictional abstraction. Physicists study the most basic level of reality, the stuff that's a whole conceptual level below chemistry, so they're the closest to understanding what the hell reality actually is. Great for them, great for us.
But I'm not sure about where they've been going for the last couple of decades. If you talk to a theoretical physicist today, almost any one of them will tell you with almost absolute certainty that existence has exactly eleven dimensions. And the thing is, most of us will never understand why they think it's so, however many NOVA specials we watch, because when physicists talk to one another they talk almost completely in math. 99% of the physics information is controlled by 1%, etc.
So, they just awarded the Nobel Prize to some physicists who discovered—over a decade ago—that the universe's expansion is accelerating. They were sure that the expansion was slowing, and were trying to measure the rate, when they discovered the opposite. They measure the rate, by the way, by looking for redshift — a little bit of a red haze that's caused by light traveling over millions of light years through space. The amount of redshift indicates how fast something is moving away from us. When you look at the redshift for everything we can measure, you get that the universe is expanding at an accelerating rate. So, that's pretty indirect, but I'm willing to go along with it.
The problem is that they've got no way to explain why the universe is expanding. It doesn't make sense according to the currently otherwise perfectly functioning laws of physics. The best explanation that physicists have come up with (and again, they did this by plugging the results into mathematical equations, not by sitting around philosopher-like thinking about it) is dark matter: STUFF that exists but cannot be measured by any device or process known to science. And here's my favorite part: this dark matter makes up roughly 70% of all the matter in the universe. That's right: you, me, our planet, it's sun, our galaxy, and all the other galaxies … it all accounts for only 30% or so of everything that exists.
At this point you've got to ask: IS IT POSSIBLE THERE'S A MISTAKE IN THE MATH GUYS?????? Well, you'll not get a good answer. Well, a few years ago they built the Large Hadron Collider, an $8 billion device(!) that was supposed to prove the existence of the Higgs bison particle, which is the stuff this dark matter is made up of. Now, the Large Hadron Collider is near and dear to my heart, because it was built around the time I started this blog, and some of the first posts here, back around 2008, were about it. Cool thing! But here's the problem: they haven't found shit. They haven't found the Higgs Bison! Oh sure, there are tantalizing signs that it's there, but so far — over three years later — no proof. Ouch, man. Ouch.
Posted: Thursday December 15, 2011 by Alesh Houdek · Permalink · Comment [2]
On The Fence Episode 9: My Pants They're Tight, in which we talk about many things, but mainly the Miami Art Museum renaming, pertaining to which Steve just sent me a link to this NYTimes article, of which the most important bit is the ending:
Though it's not uncommon for a smaller art museum to take on the identity of a major benefactor, it is less common with larger institutions, said Maxwell L. Anderson, who in January will become director of the Dallas Museum of Art. "No one has ever seen this happen at a museum that aspires to be a major metropolitan museum," he said.

Mary E. Frank, a former president of the Miami museum, not only resigned from the board in protest but also took out a full-page newspaper advertisement with her husband, Howard, the chief operating officer of Carnival Corporation. She said the ad's opposition to the name change had drawn nearly 300 e-mails of support and that she and her husband would not fulfill the remaining half of a $500,000 pledge they had made.

Mr. Rodríguez, another trustee who resigned, said his company, Carnival Cruise Lines, is now debating whether to come through on the balance of a $5 million endowment gift, of which $1.5 million had already been awarded.

"We feel we made a pledge to the Miami Art Museum," he said. "Not to the Jorge Pérez Museum."

But Craig Robins, a member of the board who is a developer and prominent collector, suggested that those opposed to the renaming should collectively match Mr. Pérez's contribution and try to retain the name. "It's not fair to be critical unless you're willing to do something about it," he said.

He said he was sure Mr. Pérez "would gladly relinquish it," adding: "He's being the generous one. He's the only one stepping up to the plate."
As per always, you should subscribe in iTunes here. And while you're there, why not throw the show a rating or write a review?
Posted: Wednesday December 7, 2011 by Alesh Houdek · Permalink · Comment [1]
My first batch of photos from Basel Etcetera is up at The Atlantic along with a saucy 350 words about the fair. Coming soon: a second batch, here, of some of my favorite art. Tay stooned…
Posted: Tuesday December 6, 2011 by Alesh Houdek · Permalink · Comment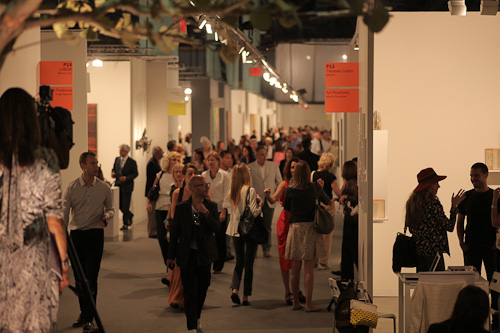 Art Basel opened with a whimper yesterday. After walking around the fair for over an hour I suddenly realized that I had seen no art of any particular outlandishness, it suddenly hit me—everything about the fair this year is subdued. The infrastructure of the fair, including the highly-stylized viewing pods in the vide lounge and the tote bags distributed with catalogs, were the same as last year, the first time in the fair's ten years. (The Oceanfront looked like its lowest-budget incarnation ever. NO Art loves Music performance.) The mood in the air was boisterous, but toned down several notches even from last year. And the art, by Art Basel standards, was downright conservative.
Heading out this morning to catch Gabriel Orozco at Art Conversations, then off to the satellite fairs.
Posted: Thursday December 1, 2011 by Alesh Houdek · Permalink · Comment [3]
Posted yesterday and linked today: episode 8 of On the Fence, wherein Steve and I talk about how congress seems to be going out of its mind (the police state bill passed the senate as we were recording), Newt Gingrich's lasting legacy, and Moral Relativism.
As per always, you should subscribe in iTunes here. And while you're there, why not throw the show a rating or write a review?
Posted: Thursday December 1, 2011 by Alesh Houdek · Permalink · Comment