You are viewing a monthly archive page.
Well folks, it's that time again. The weather is completely going to be cooperating this year: a little drizzle tomorrow, and then cool and beautiful straight through the weekend. You can find some absurdly overstuffed lists of "events" so I'm going to link to a few of the more moderated things
Here's a tentative list of things I may or may not do, which I WILL be adding/correcting to:
Tuesday Nov 30
Opening of Frances Trombly: Paintings at Girl's Club, Ft. Lauderdale.
Arts for a Better World opening.
Wednesday Dec 1
10 pm Art Loves Music (Metric)
Thursday Dec 2
MAM

Party, Scope party,

NADA

party(?)
Basel Antics (Phantogram!)
Transit lounge: live performance by Panic Bomber with a band
Friday Dec 3
4 – 8 pm — Island (at the mondrian)
7-11 pm — Reception at Carol Jazzar
Saturday Dec 4
Sunday Dec 5
Breakfast in the park,

FIU

Frost art Museum
Posted: Tuesday November 30, 2010 by Alesh Houdek · Permalink · Comment
You might have missed it, but GM stock sale last week sealed the deal on a sea change in how our economy is going to work for huge companies going forward. When the bailouts of the financial industry were initiated, the outcry assumed that the taxpayers were "paying" to save the industry, and that the money was either mostly or totally gone. But in fact, many banks have repaid the money with interest, and while the government has not broken even on the deal, it is still possible that it will turn out to be profitable. We now see that the same may end up being true of GM, too: the sale of the government's initial batch of GM stock went remarkably well — the company appears to have recovered, and if it continues to flourish it's possible that the remaining stock will be sold at a sufficiently high price that we taxpayers will end up making money on the GM bailout, too.
This should make us uncomfortable. And the not unreasonable presumption that the government's interventions in the management of GM had a role in the success should make us even less comfortable. Because these pieces of good news set an irresistible precedent for how to deal with future calamities.
Liberal and conservative economists so vary in their proposed remedies to problems that it's it's seldom possible to untangle economic facts their statements. But in the darkest days of the financial collapse, the one thing that all economists agreed on was that if you were going to bail out these huge companies, you had to make sure that no company was allowed to stay "too big to fail" going forward. Companies behave dangerously if they believe they have the safety net of a government bailout protecting them, but the safety net is unavoidable for huge companies. They'd have to be broken up into smaller companies, lest the whole process be repeated in the future.
But when the financial reform bill came along in July, too big to fail provisions were conspicuously absent. Why? Well, the whole bill just barely squeaked by Republican opposition. Measures to limit the sizes of companies were practically laughed out of the legislation by Senate Republicans, who instead proposed new bankruptcy procedures for large failing institutions. Republicans are fundamentally responsible for the absence of too big to fail provisions in the current legislation.
So consider these two facts: that the U.S. government now implicitly backs our largest corporations, and that when needed, government intervention may likely be good for both the taxpayer's bottom line and for the companies involved. This, much more so than healthcare reform of anything else that has happened under the Obama administration so far, is classic Socialism. It's richly ironic that Senate Republicans and the administration of George W. Bush, which began the whole process, are the ones fundamentally responsible.
Posted: Wednesday November 24, 2010 by Alesh Houdek · Permalink · Comment [4]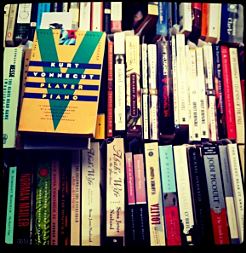 In the past I've questioned the point of going to a book fair, but of course there are lots of great things about the fair. Hopefully by now you've "scoured the program": and figured out which author events you're attending. Now it's time to hit the tents and look at some books. There are a couple of hundred exhibitors, and many have thousands of books, so you're going to be overwhelmed. Even if you're not planning on buying anything, bring a couple of sturdy tote bags, just in case. Here's a taxonomy of booths you're going to find, in ascending order of how useful I, personally, find them.
Sponsor booths: Bless the sponsors, for they make the book fair possible. Some of them are actually great organizations, too, such as

WLRN

and the Arsht Center. But you've got books to see and no time to chat. Walk on by.
Libros en español: Actually some of these are fun to look at. In particular the books in the Mexican pavilion are fun to browse for their interesting, European-style cover designs.
Spiritual/religious stuff: Lots of books are religious books, and lots of book stores are religious book stores. If that's your thing, have at it.
Single-book booths: These are mostly lunatics with a self-published title and to be avoided, however one guy with a guide to retiring into homelessness is completely entertaining and worth checking out (you'll see a chair made of pvc pipe and soda bottles).
Event booths: For example, the Key West Literary Seminar has a very nice booth with a carefully culled selection of food books (food books being the theme of their January 2011 get together).
Used books: Just be careful — it's very easy to buy more than you can comfortably carry for the rest of the day. Come back at the end of the day on Sunday when you're going straight home — odds are you'll be able to get a better deal then anyway. The better used book booths have their stuff meticulously organized into categories. I gout a copy of a book published by UM in 1970 about the effects of pollution on Biscayne Bay from Leedy's books for $10, but if you're in the market for Freakonomics, The Audacity of Hope, a Kurt Vonnegut novel, or something along those lines, you should be able to find them used for very nice prices.
Historical/collectors books: You book collectors know who you are. For the rest of us, these are lots of fun to browse (they sort of merge with the category above to some extent).
The Council of Literary Magazines and Presses: This one is worth seeking out — literary journals you haven't seen since that time you got lost in the library at college. But lots of the writers in these publications are the stars of tomorrow, and some are hardcore avant-gardists. Generally all these publications are exceptionally well edited, and they're beautiful as little mini-book objects. Many have art and photography in addition to poetry and short stories. When I stopped by, they were going 2 for $2 or 5 for $5(!), and i found it irresistable not to grab a bunch just on the basis of covers.
One last thing — DO stop by the Mexican pavilion to eat. They have awesome stuff, not the least of which are shockingly good mole pork enchiladas. Yum.
Posted: Saturday November 20, 2010 by Alesh Houdek · Permalink · Comment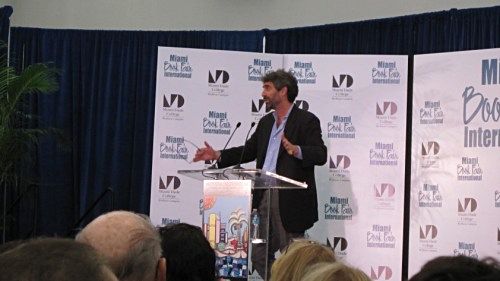 I went to see Eugene Robinson and Pat Conroy last night; both were really interesting, and as entertaining as John Waters in their own ways. (That's Mitchel Kaplan, owner of Books & Books the patron saint of the fair, introducing Conroy.) But onward and upward! Here's what's on my to-do list after a cursory look through the Fair's guide and website. You should still check out Hillary's guide for the full scoop. I'll be adding to this post a little bit throughout the day from the fair.
Friday, Nov. 19
8pm, Patti Smith: Hopefully you have your ticket already!
Saturday, Nov. 20
11:30 am, Dave Eggers: Talking about his book Zeitoun. Like he's ever not interesting. (Tickets required, but free. Hit the site now to get them. Room 3210.
2 pm, Write that Book Already!: I think this is part sort of a motivational thing, part guide to the publishing industry. I'm not aware of planning to write a book, but this might be fun? Room 3314.
3:45 pm, Storyteller Gerald Hausman: In the kids area! Folktales from Native Americans, the Caribbean, and and Old Florida.
4 pm, Climate and the Environment: "Experts exchange views, both terrifying and hopeful." I wonder if there will be any experts or pro-geoengineering folks on the panel. Room 7106
Sunday
11 am, How to Get Published Successfully: This sounds like the guide to the publishing industry. Also: "harnessing the power of social media." Room 3314.
Also at 11, Doxtors Without Borders – Writing on the Edge: Based on a book for which a bunch of writers and a photographer visited

DWB

sites around the world. Could be amazing! Room 7128.
12 pm, Haiti Noir: Murdes and mysteries set in post-earthquake Haiti. Moderated by Les Standiford. Presentation Pavilion A.
2:30 pm, Bits N Pieces Puppet Theatre, Hansel and Gretel: Four words: Nine foot tall puppets. Once Upon a Time Stage, kids area.
5 pm, Jonathan Franzen: On Freedom, and on being Franzen. Room 3201.
Posted: Friday November 19, 2010 by Alesh Houdek · Permalink · Comment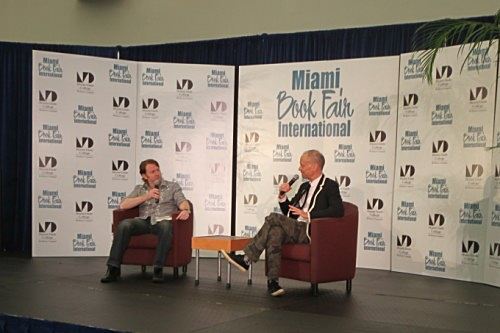 Downtown Miami was going crazy last night because of the Heat game, but a few blocks away there was a smaller, but in its own way more intense gathering. John Waters was in town for the Miami International Book Fair. In a huge room at Miami Dade College (don't call it "Community!"), Waters packed in a crowd of intense folks of both genders and all ages — many born after his most notorious films were released.
Waters is a charmer. He's got the self assurance about him that comes to many with a ge, though I get the feeling he was a pretty confident guy from the beginning. He was interviewed by my pal Brett Sokol (who, incidentally, did a great job, tho the q&a afterwards suggested that you could throw absolutely anything at Waters and elicit a stream of fascinating anecdotes), who at one point asked if Waters and his friends felt cool when they were making the first few movies. "Well, yes," Waters responded. I don't know exactly what it is about film directors, but they seem to almost always be fascinating people. (For example, check out the video of Errol Morris and Werner Herzog chatting recently—the conversation is irresistqble even if you've never seen a single film by either of them.) Here, then, a few of my favorite of Waters' anecdotes from last night:
He had a subscription to Variety when he was 12 years old.
He's currently got a film in pre-production, but his last film fell through/was rejected by the studio. It was "a children's Christmas movie … about a family of meat thieves."
When he was a little kid, he'd look up Tennessee Williams in the library, and the index would say "see librarian," because Williams' work was considered controversial. Same thing when he looked up "homosexuality." See librarian. Waters quips, "well, I could see that the librarian was homosexual…" But he quickly makes an interesting point — not just that there's absolutely no reason to keep any book fron children, but that it's a bad idea to keep children from exploring anything that they're interested in, because the things that they're forbidden from doing can come to loom large in their imagination and form obsessions later in life. (He said it much smarter than that…I'm working off some sketchy-ass notes here.)
Complete strangers tell him their darkest secrets all the time. "I'll get on a plane, and the woman next to me will lean over and say, 'my whole family fucked me Easter morning.'"
"Don't as a fat person to be Santa Clause for Christmas — that's rude!"
He also talked about the current state of student filmmaking, and how good the scene is for people like him coming up now, what with studios being happy to fund low-budget indie work on the hopes that it might pay off. Converesely, he's having a hard time attracting the ~$5 million or so budgets he needs to make the polished movies he currently does, because at that price studios only want blockbusters. And he had a fascinating bit of advice for aspiring filmmakers: watch lots and lots of movies, and watch them with the sound off, because dialog and music are a distraction from cinematography, which the lack of sound forces you to analyze.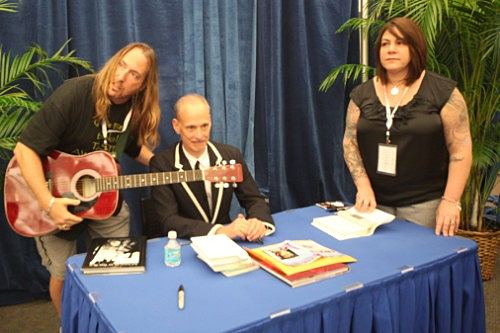 So, wow, the book fair is awesome. After the talk, Waters sat at a table, and everyone and their face-pierced niece lined up and got to chat, be photographed with, and get their book signed by him. No kidding, one guy had three copies of the new book (which, by the way, is awesome, and you totally should get a copy. If you hurry you might be able to nab a signed coppy at Books & Books), plus another of Waters' books, plus a guitar, and everythign got signed and the guy posed with Waters and the guitar and took up long moments from everyone's life and it was totally cool. There are about a million authors coming between now and Sunday (weekday evenings, plus all day Friday – Sunday).
You should check out my awesome girlfriend's guide to the bookfair (she's deep in the Books & Books crew, so the "insider" thing is no line), and check back here — I'm going to be more or less camped out over there for the next few days, and with any luck blogging regularly. BTW, earlier this week I wrote a quickie thing about Waters' mustache at The Heat Lightning, where it's JOHN WATERS WEEK!
Posted: Thursday November 18, 2010 by Alesh Houdek · Permalink · Comment
Can you fix the budget? Sure, the Tea Party is full of batshit crazy and staggeringly stupid people. But the idea at its core — that the federal budget is a mess and we've been deficit spending like it's crack — is pretty sound. So, ok smart guy, what would YOU cut to make it work? Don't tell me, because your local New York Times digital department has put together a nifty little app that lets YOU play with the budget. You get all the different suggestions floating around, and you get to see the effects on the budget shortfall in 2015, and 2030. (It'd be even cooler if you could generate a unique URL to your solution for twitter, etc.)
A story in The Atlantic about Airbnb, a service that lets you turn your apartment into a mini-hotel. I used the service on a recent trip to New York, and found an awesome little apartment in Brooklyn for a kind of amazing price.