You are viewing a monthly archive page.
Ryoji Ikeda Radio So I'm reading Haunted Weather by David Toop
, and right off he starts talking about Ryoji Ikeda a Japanese experimental musician / sound artist who's music is like a more cerebral version of Pan Sonic. I totally recommend the Toop book, btw (his previous, Ocean of Sound, had a lot to do with how I listen to music), but it demands a suitable soundtrack. Here for you as much as for me, I give you:

I was in a store yesterday and Christmas music was playing, but presumably that's the last vestige of "the holidays" now that it's The Monday After. And so we're on to the next thing, which is the end of the year. Party party. But not so fast; isn't there some stuff you're supposed to take care of before the first of the new year? Things that, if you're going to do them, now is the time to do them?
Posted: Monday December 28, 2009 by Alesh Houdek · Permalink · Comment [2]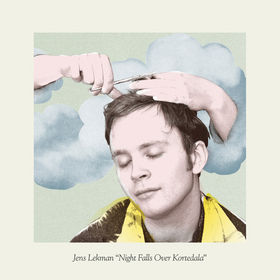 Rather than try to explain how mind-tingling pretty and unabashedly likable everything on this album sounds (ok a little: think Esquivel meets Sade meets Morrissey meets the Velvet Underground), I though I'd run down what each of the songs was about, which was fun with Coney Island Baby. You can listen to a few of these songs on Jens' MySpace, or download them from Amazon
.
And I Remember Every Kiss: I miss my girlfriend so much that when I got drafted into the army I named my gun after her.
Sipping On the Sweet Nectar: An open invitation to bring more nostalgia into your life. Featuring the immortal line: "I see myself on my deathbed saying / 'I wish I would have loved less.'"
The Opposite of Hallelujah: Jens hangs out with his kid sister and tries to tell her about being depressed, basically by shouting the title phrase after his metaphor gets ruined by a hermit crab.
A Postcard to Nina: Jen's lesbian Berlin penpal takes him to her parents' house and tries to pass him off as her boyfriend. Awkward hilarity ensues. "Your father's e-mailing me all the time … I send back out-of-office autor-eplies." Also, the last line before the outro is "Sincerely, Jens Lekman."
Into Eternity: Hugs are nice.
I'm Leaving You Because I Don't Love You: Mostly just the title repeated over and over. But also a breakup song with the line, "So you pick up your asthma inhaler / And put it against your lips."
If I Could Fly (It Would Feel Like This): This one really is just the words that are in the title.
Your Arms Around Me: Jens' girlfriend comes up from behind (on "silent brand new sneakers") and gives him a hug while he's working in the kitchen. He accidentally cuts himself, bad enough to have to go to the hospital. Mild gore and hallucinatory imagery.
Shirin: Jens longs for the Iraqi woman who cuts his hair out of her apartment salon.
It Was a Strange Time in My Life: Assorted meditations about a vow of silence, including flirting with deaf girls.
Kaske Ar Jag Kar I Dig: Google has the title meaning "Perhaps I am in love with you," so this is maybe the oddest come-on song ever.
Friday Night at the Drive-In Bingo: Jens and his girlfriend play bingo with some country people they discover while exploring the Swedish countryside. Also features some class politics and a fantasy about a rabbit farm ("Watching them copulate is very funny") during a coda that is a hilarious mimicry for Andy's Chest.
Posted: Wednesday December 23, 2009 by Alesh Houdek · Permalink · Comment [1]
Posted: Sunday December 20, 2009 by Alesh Houdek · Permalink · Comment [1]
The Cleveland Orchestra performs Beethoven's 5th, January 28th. I'm almost inclined to buy a couple dozen tickets to this just to scalp later for Big Profit. Quick, people!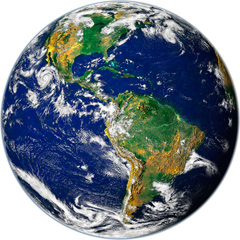 Right now, a 7-year old girl in India is dying, and it's because you're buying a Toyota Prius. Read on to see why this is true, and what it has to do with the future of environmental policy for the planet.
Al Gore will go down in history as a pivotal figure in helping the human population realize that it's wreaking havoc with the planet's temperature, and helping set us on the path to correcting the problems. However, it is an intellectual fallacy to thing that because the man is right about the problem, he must also be correct about the proper solution. We have serious problems, and we need some major solutions. I could try to convince you that we should be glad that Al Gore isn't setting world policy on this stuff, but that's not really necessary, since there isn't even a remote possibility of that happening. So I'll instead try to convince you that you don't need to worry quite as much as you have been about global warming.
But first a brief and semi-obvious point about politics. We don't have a King of the World. Boy don't we. We have a couple of hundred sovereign countries on this planet, and whatever happens has to deal with the millions of political realities that come into play as these countries try to work together. (And yes, game theory comes into play here — if China thinks the US is doing something about reducing carbon emissions, their incentive to reduce their own emissions is lessened. Etc, etc, etc.) So, sometimes it's useful to talk about environmental policy as though you could snap your fingers and make anything World Law. But at some point in your discussion you need always to come back to political and economic reality.
Okay, so here's the doomsday scenario that has been painted for us: the world is on the brink of massive environmental change that will cause myriad changes, both predictable and unpredictable, and be catastrophic for the human race. Furthermore, we may be on the edge of a Tipping Point™, wherein after a certain point it will be too late for us to do anything. Therefore, despite scientific uncertainty1 about the exact rate and effects of global warming, we need to Error on the Side of Caution, and take drastic steps to cut our carbon emissions and generally live in a much different way than we have been.
Now, I agree to some extent that this is all true. But increasingly, I think that it's all going to work out. We're going to be able to do what is necessary, which is not what Al Gore right now thinks is what is necessary. To get a whiff of what I've been smoking, you need to hold all of the following ideas in your head all at one time:
It's not the planet that needs saving. The world has been through major environmental upheaval over and over in its history, and generally everything comes back better than before eventually. What we're talking about saving is the human race. Maybe. More likely, we're talking about an outcome that would create massive problems for some percentage of the world's population at some point in the future. Bad enough, but the distinction is worth remembering.
Even the most grandiose solutions being bandied about, the ones that cost on the order of tens or hundreds of trillions of dollars, are not going to solve the problem. They reduce the rate of increase in temperatures — reversing those changes is farther off than what we're talking about today.
I love Malcolm Gladwell just like everyone else, but generally the concept of a tipping point is overstated when talking about most phenomena in the world, and this is likely the case with regard to the environment too.
Scientists have a track record of overstating environmental emergencies, and overstating the extent to which these emergencies cannot be corrected once they've occurred. In my lifetime we've seen several supposedly-irreversible ecological disasters reversed after some human effort was expended towards fixing the causes. Bird populations were practically eradicated in the Everglades around 1990; today they're restored and fine. Acid rain was a scourge on the US in the 80s; today its unheard of. Chernobyl today is a nature preserve where wild animals happily roam as they hadn't for decades, because people have left it alone. The environment is self-correcting to a greater extent than we often realize.
We are doing stuff about the environment. Political opinion worldwide is shifting (even in the US, which remember is the only nation in the world that didn't sing the Kyoto Protocol), and "green technologies" are being developed and refined all the time. These two things feed each other — as people become more conscious of damage to the environment, they become more willing to adopt sustainable technologies. And as the demand for these technologies grows, they will become even more profitable, affordable, and ubiquitous. China is developing green tech, and it's out of a pure profit motive — they know that they'll be able to sell it to the Americans.
In addition to this incremental improvement in pro-environment technology, there are bound to be technological sea-changes that make drastic improvements in ways we can't envision right now. We can't assume that they will make the problem disappear overnight (the way, for example, the horse manure problem was solved overnight), but we can expect that they'll make significant improvements that are today unpredictable.
If bad comes to worst, we have quick and dirty solutions to global warming that we can deploy. Yes people, it's geo-engineering. The concept is simple: you pump sulfur dioxide or something into the atmosphere to shade some of the sun's light from hitting the earth. It's not pretty, but it works. Volcanic eruptions cause temporary global cooling, and there are things we could do to replicate those effects. It's best not to talk about this stuff too much, because it undermines the impetus for the more substantial change that we need, but it's good to know it's there as an emergency brake.
Yes, it's terrible that global temperatures are rising. However, the catastrophic damage from this rise is still a pretty long way off. We're talking something like 100 years. (Note that, even though the last decade has been .9 degrees warmer then the average temperature of the 20th century, the ocean hasn't risen.)
When it comes, the damage we're talking about will boil down to economic damage, right? People being displaced, food shortages, etc. You can put this stuff in economic terms, and you need to put it into economic terms, so that you can compare the cost of the solution to the problem today with the cost of the solution to the problem in future money.
And this is where it gets complicated. The world is getting richer all the time, so that future money is a lot cheaper then today's money. At least economically, a problem that can be fixed for $10 trillion today is not worth fixing if it can be fixed for $100 trillion in 100 years. The reason for that brings me back to the starving 7-year old in India and your Prius. We have massive problems in the world today. In fact, 16,000 children die every day of starvation. Millions of people die every year of easily preventable diseases like malaria. There are more slaves in the world today then at any other point in history. The list, I don't have to tell you, goes on.
Money spent on some of these problems often goes a long way towards saving and improving the lives of real people living and dying today. So when we spend money on improving the environment of the future, we need to be aware of what we're not using that money for right now. If you have an ounce of compassion in your body, you need to look at these opportunity costs with clear eyes. Is it better for you to buy a Prius, or to buy a Yaris and donate the difference to Oxfam? Is it better for the world to spend tens of trillions trying to reduce carbon emissions, or should we direct big chunks of that money towards fixing the very real problems that we have right now in the world today?
1 Yes, there is no scientific uncertainty about the fact that global warming exists, that it's being caused by carbon emissions, and that human beings are causing it. Or rather, the uncertainty is among some fraction of one percent of scientists, who at this point are doing nothing but making a lavish living flying from one conservative asshole's talk show to another and feeding the pathetic self-deception of ideological assholes. But make no mistake — there is vast uncertainty about the details, about the rate of change, and about the specific effects. ↩
Update: In today's Wall Street Journal, Bjorn Lomborg touches on many of these same notes (with some interesting specific figures), which makes sense, since his Ted Talk from a few years ago is what started me thinking down this path.
Posted: Tuesday December 15, 2009 by Alesh Houdek · Permalink ·
'Editor & Publisher' to Cease Publication After 125 Years. Zoiks!
The New Yorker's portraits of world leaders is a pretty good example of print and online media working together: small images and audio accounts of the photos by photographer Platon, beautiful full-page prints in the mag. The photos are striking, and they're a profound examination of whether you can learn anything new about a person by gazing into their eyes in a simple still portrait. Conversely, almost all the short snippets of words reveal something startling, and they're heightened by being spoken aloud.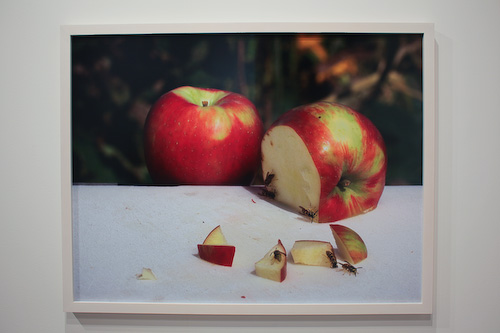 I think we're here back at Art Basel for another quick look. To be honest, you could do a lot worse next year than to get yourself a fair pass and spend four days straight inside the main fair instead of running around like a crazy person to see whether Aqua is better then Scope, etc. Whatever. At least you'd see more stuff like this gorgeous photo (artist unknown, but I can tell you that it's from Andrew Kreps' booth) and fewer crappy Canadian paintings.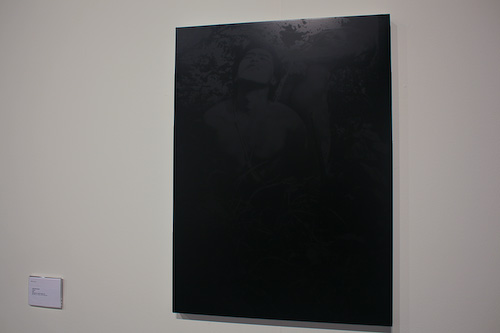 Also: Cerith Wyn Evans' painting(?) at White Cube, made by silk-screening gloss varnish onto solid black. (I think you could totally get away with stealing this idea, by the way.)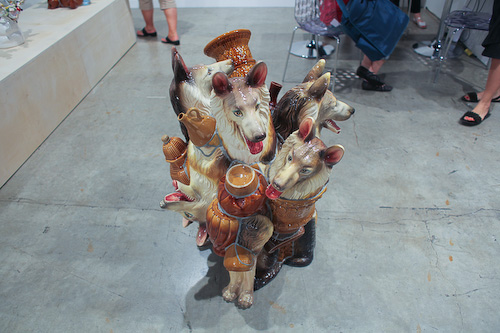 Galeria Laura Marsiaj, Rio de Janeiro. These seemed like a good idea at the time — break crappy "sculptures" from thrift stores, and assemble for color and theme, caulking all the way.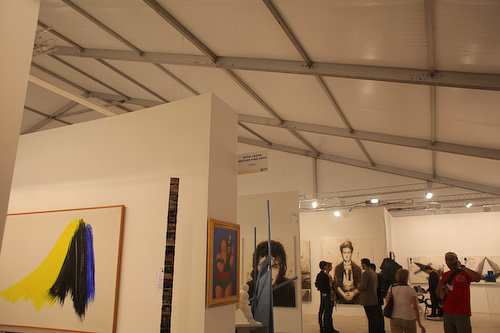 Art Miami was a clusterfuck of an extent that mere words would not have been enough to explain, so I took this photo, which I think does it due justice. Last year may have been Art Miami's one good year, and I guess it's my fault for expecting it to be decent again. I sure hope nobody listened to my advice to go there!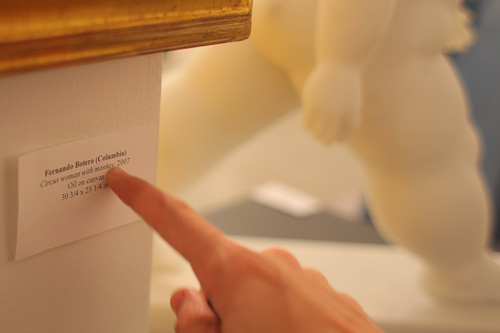 Nobody can force the Art Miami galleries to show good art, but do they not think that it would be a constructive use of their pre-fair time to double check the spelling of the countries that they feel they need to put on their crappy little tags?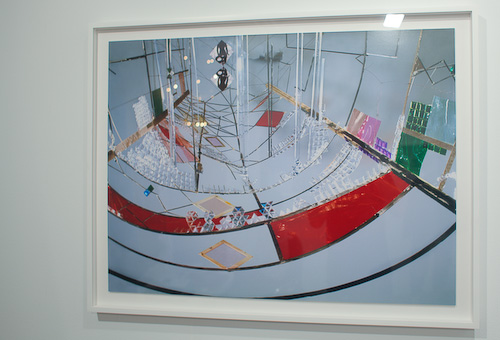 So, the cool thing about NADA was that even though it's in a hotel, the booths are not in the rooms — they're in like the ballrooms of the hotel, which are big and lavish in a mob-era-Miami-Beach way, plus there is a lobby that will knock your socks off. Anyway. This is a weird thing that Yamini Nayar made and photographed.
Another re-appropriation of found sculpture, this time stacked with glass and made-to-size glass pedestals. Photos are not doing this stuff justice. Francois Ghebaly.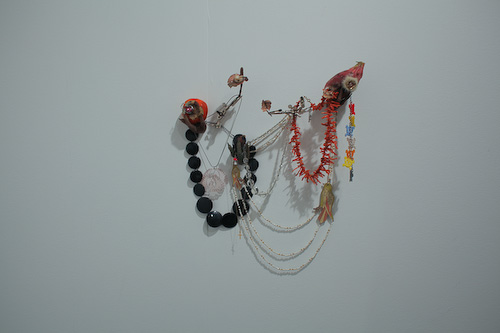 Jo Coupe's little assemblages. I think the photo is doing this particular thing plenty of justice, so you can dislike it if you please, but I think it's perfectly charming.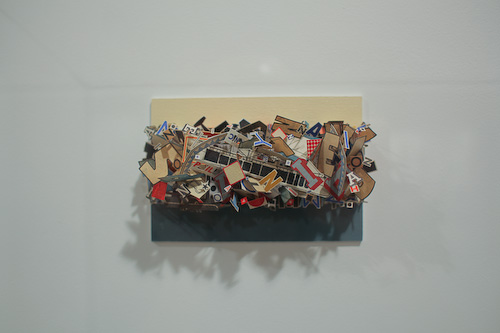 So is this little three dee collage at Man&Eve.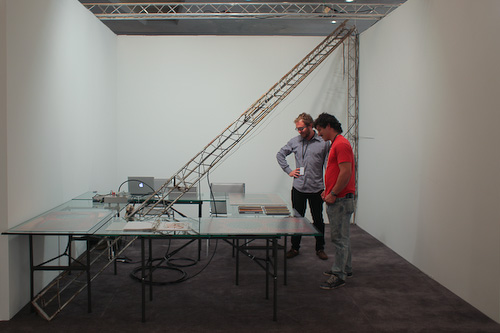 Tom Scicluna. Twenty Twenty. Hialeah. Nuff said.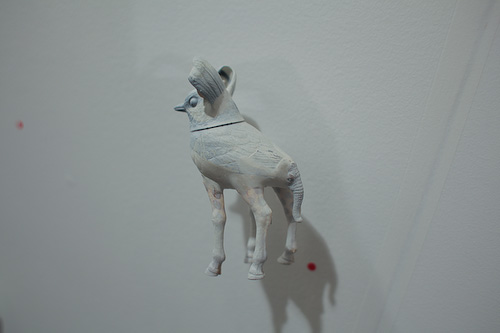 A big mostly-sold collection of painted metal sculptures at Johansson Projects. Mismatched animal parts done particularly well.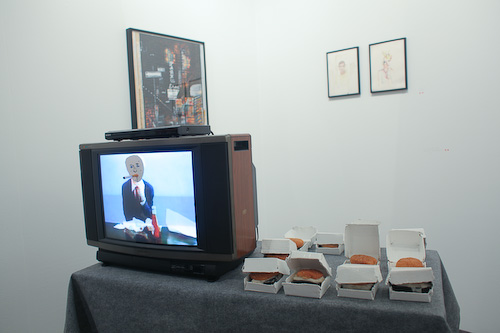 Yet another joke about the Andy Warhol hamburger video. It's over, people; move on.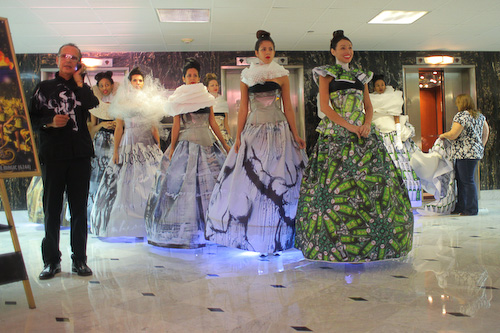 In an attempt to Ruin Everything™, Grolsch beer dressed up a good dozen women in dresses themed in their beer bottles and the US constitution (!!) and had them parade around, with glowing transparent platform boots.
Ahh, Wynwood…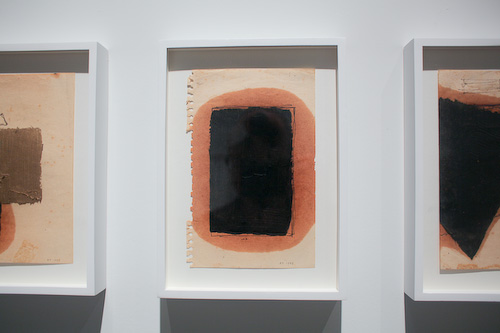 All I have is this one picture, but the Robert Thiele retrospective at Dorsch is something you need to see.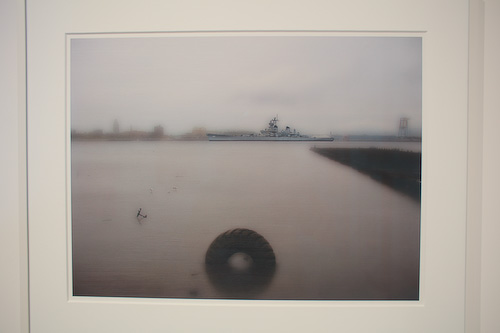 Aqua Art now, and this manipulated ("wax diffused"?!) photo by Edward McHugh.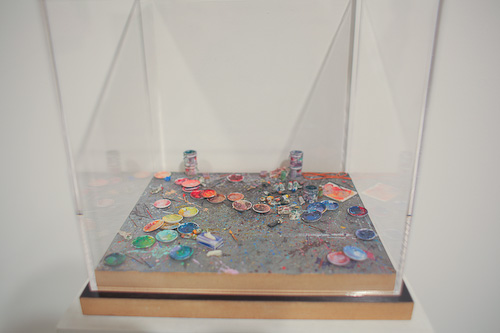 A teensy weensy diorama of a painter's studio. The lady at the booth of this artist talked to me about the work (art about artists, blah blah) and handed me a card with his name on it, so I didn't take a snap of his name or of the name of the gallery. Maybe I'll find the card eventually and come back and put the name here, but until then, that'll teach her. Joe Fig! Thanks, Franklin.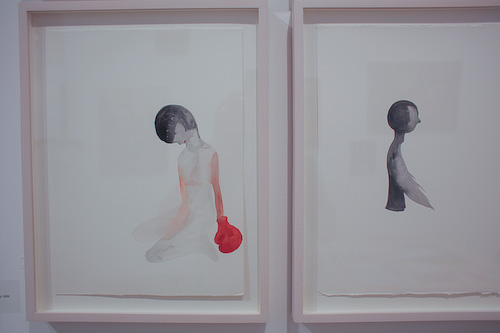 Love love love this series of watercolors by Julia Kuhl called Everything is Impossible. You should track one of them down and buy it for me. Maybe you could all pitch in or something.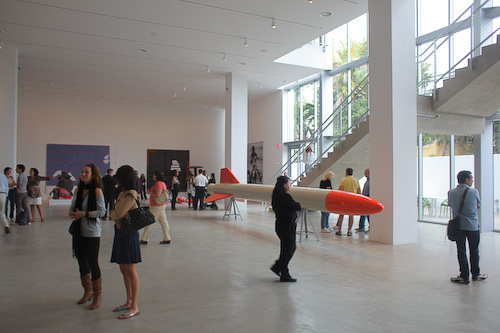 The De la Cruz space. It was like culture shock going from these Everything Fresh fairs to a collection created over decades. There's a fantastic group of Ana Mendieta work on the third floor.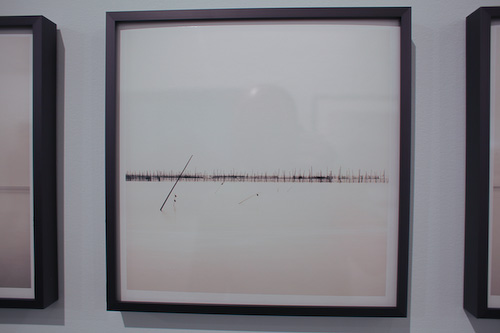 Photo Miami. I tried very hard to find things to like here, and Josef Hofiehner's photos from China came pretty close. Where Art Miami was terrible and huge, Photo Miami was terrible and small, and the propagation of Miami galleries suggests that it may be struggling, and may not come back next year, which would be just as well.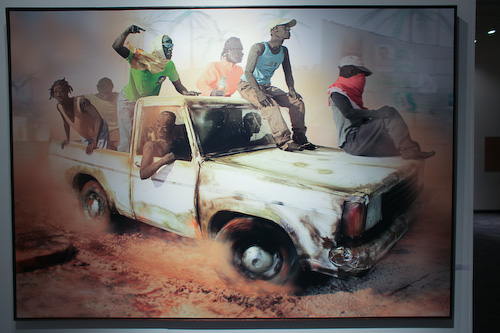 It was mostly bad-boring, but here's something bad-interesting for you. I sort of thing this is a photo of a (life size?) cardboard sculpture. And this is in the booth of a German gallery, so I'm pretty sure that whatever they were thinking, they just shouldn't have.
Posted: Thursday December 10, 2009 by Alesh Houdek · Permalink · Comment [4]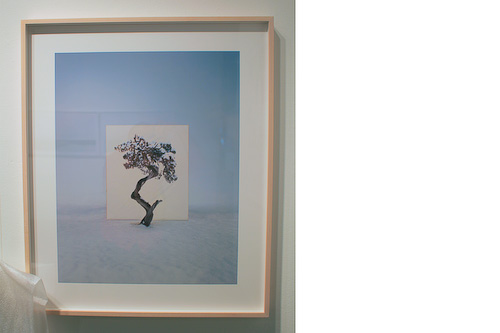 I hadn't noticed the relative lack of photography at this year's Basel until I walked into Pulse, where it was in rich abundance. Well known photographers like Myoung Ho Lee (who's Tree series I love) were everywhere, and even relative superstars like Thomas Ruff and Candida Hofer (Hofer was one of the photographers still well represented at Basel, while Ruff was completely absent) were to be found.
The mood of art collectors closely tracks the stock market, which is a leading indicator of the overall economy, and so we've had this weird asynchronous double dip over the last two years. Last year's Basel was terrible for sales, which at the time could have been seen as a surprise. This year, reeling from that bad experience and hit by current economic factors, galleries from around the country and world just were less willing to spend the money to come to Miami. And so with the exception of Art Basel, all the other fairs this year were smaller than last. (This had the consequence of bringing many new Miami galleries into play, as some of the less discriminating fairs offered last-minute cut-rate booths.) But meanwhile, with the stock market back up, collectors were biting again, and so apparently sales went pretty well.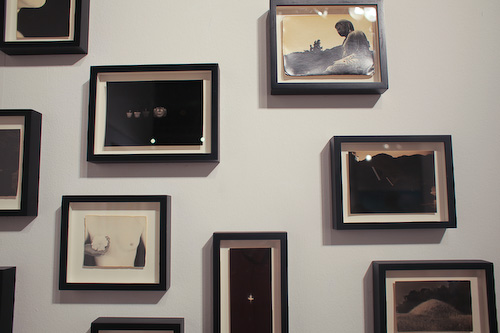 Masao Yamamoto's small toned photo-objects were particularly well suited to the Ice Palace, Pulse's home for the year. What apparently had happened is that the Ice Palace had been raising the fees on Nada every year, prompting their move to the Deauville Hotel and starting the shuffle that left many fairs in new digs. Pulse took full advantage of the venue, augmenting it with a few additional tents and an outdoor stage.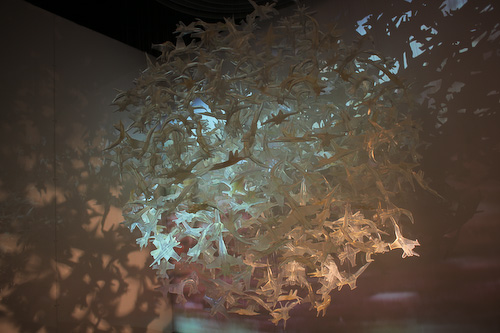 Teresa Diehl's spectacular room-sized installation, F-18's in a in a bird-like turmoil.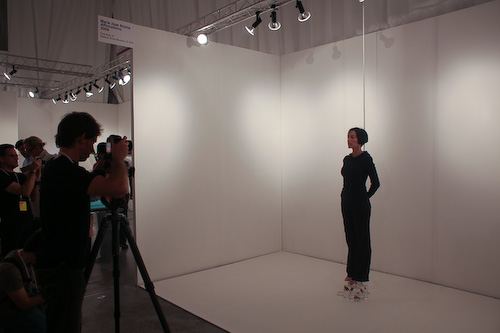 Maria Jose Arjona's performance, with Siamese fighting fish.
Yigal Ozeri's oil on paper works look like photos until you get real close. By the time I saw a few more at Scope the charm (as well as the artist's focus on scantily clad women) of these was wearing off though.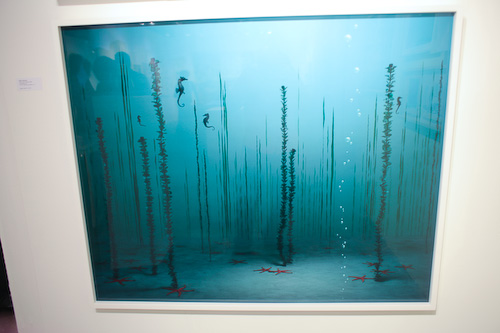 An underwater diorama photo by Didier Massard.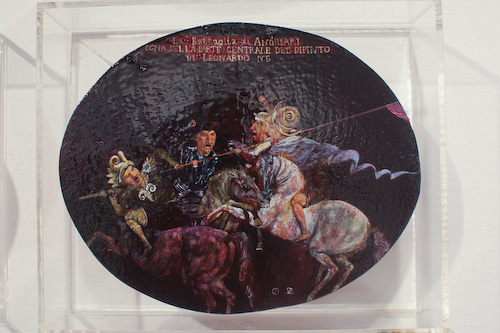 At Amelia Johnson Contemporary there was a group of Konstantin Bessmertny's fantastic little oil paintings on oddly shaped oval pieces of wood. Their ghoulish scenes portrayed strife and antiquity, without looking like recreations of past objects or styles.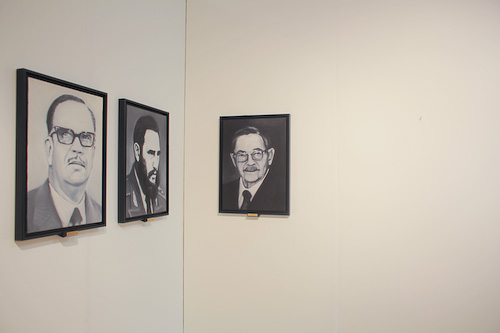 At a side-tent adjacent to Pulse, a sequence of 35 black and white oil paintings, one of every person who's been the president of Cuba since the 1860s, with a big conspicuous nail in empty the wall next to Raul Castro under which older Cuban couples were photographing each other holding Cuba libres mojitos.
Right at the entrance, a mechanized Gamelan orchestra sets expectations for Scope to be at least as good as it's been for the last two years. Alas, it was not meant to be, and the economic decline hit Scope hardest. It was not without a lot of good work, but the overall effect was of a let-down, and the pairing with Art Asia, which was wrongheaded last year, now just seems foolish. (Art Asia has the same problem as Photo Miami, which is that galleries try to get into the best fair they can, so what you're mostly left with a themed fair with only galleries that couldn't do any better.)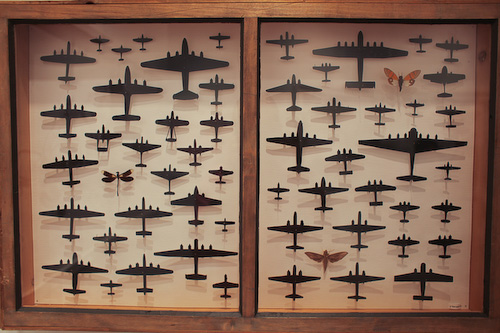 That said, some highlights. Karin Sabine Krommes' mounted insects and airplanes.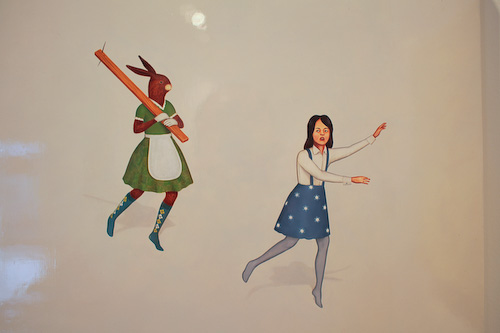 Edward del Rosario's playful oil paintings at Irvine Contemporary. I predict that argyle socks will be to next year's fair what Michael Jackson was to this year.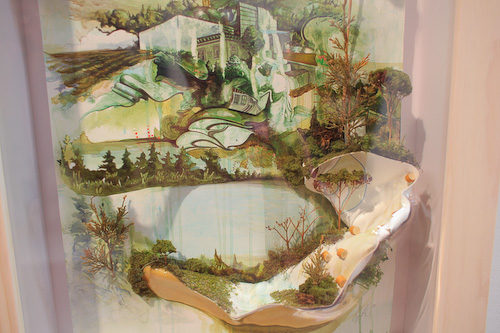 David B. Smith Gallery chose not to put up artist names with the work, but this part drawing part diorama, bulging through it's enclosing glass, was a real treat.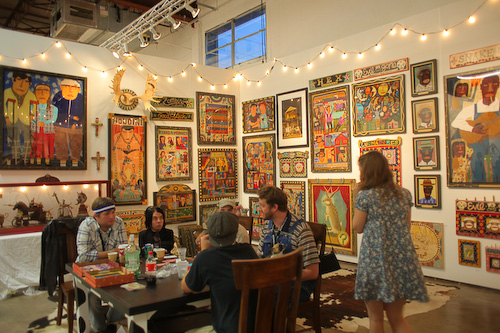 Making the fair worthwhile was the Red Truck Gallery from New Orleans, which seemed for all the world to be a bona-fide bunch of misfits. They'd brought along a table and a dog, and were having a great time, eating, drinking cheap vodka, and generally having a jolly old time. They were friendly and fun, and generally a breath of fresh air, and the work it was great. Unselfconsciously outsidery, but with real wit, technique, and style.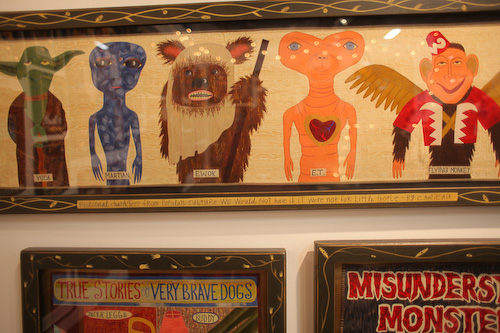 Chris Roberts-Antieau's Fictional characters from popular culture we would not have if it were not for little people. There were also great needlepoint portraits, cast concrete teddy bears, and a couple of absolutely perfect post-Katrina photos, and it all worked spectacularly well together.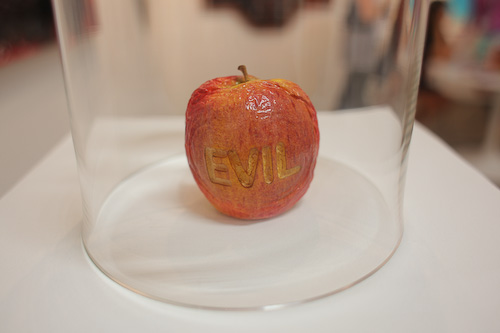 Another big cliche this years was the word "EVIL" in all caps. Carving it into a freeze-dried apple — how many other ways can YOU think of to write it?! (This is by Linda Hesh, who I guess does have a point.)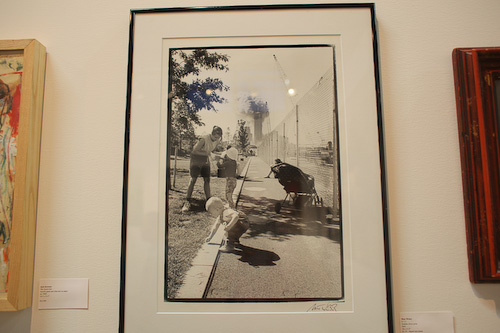 Matt Weber's tasteless 9/11 darkroom trick. Yikes! This was at a Miami gallery in Scope (the name of which I've lost!!) which probably pertains to the over-exposure of Miami galleries in the various fairs I mentioned. For whatever it's worth, it was hanging next to a presumably real painting by Jack Kerouac. Not an auspicious pairing, as they say.
Posted: Monday December 7, 2009 by Alesh Houdek · Permalink · Comment [4]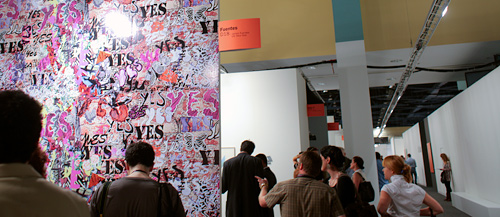 This is for folks who are in Miami this weekend but don't really know from art. You've heard of Art Basel, and thought about maybe checking it out, but you're really not sure what exactly it is, and it all sounds very expensive and intimidating and complicated, right? There are like 20 different fairs, and a million different events, traffic is crazy, and there are sneering art people and punk kids everywhere. Also, who understands art today?
But the fact is that you should go. You don't know anything about biology, either, but if the best zoo in the world came to town, you'd check it out. Same situation. Don't worry, in a minute I'm going to teach you to look at art. But first, the question is what to do, and the answer will depend on your budget. If you're broke, you can go to NADA, check out some of the stuff at Oceanfront (pdf), and maybe hit up a couple of the smaller fairs. The de la Cruz Collection will be in town after this weekend, but it's free for Basel, so I guess that's an option. If you have a little money to spend, you could try to do some of that, and spend a few hours at Pulse. It's the best non-Basel fair I've seen so far this year, and there are interesting performances, and lots of little areas and things to discover. But if you can swing it at all, by far the best value is the $35 admission to the Art Basel fair at the convention center.
You can easily spend an entire day at Basel and not come close to seeing everything. The contemporary weirdness there is a notch above what you'll see anywhere else, and there are plenty of Big Name artists thrown in. And it's more fun to walk around in than the other fairs; because of the layout, you'll almost immediately get lost, and walking through the same areas always reveals things you missed before. (This is not an easy effect to achieve — every other fair seems like rows of boring stall-shaped booths in comparison.) Pick a day, go early, and plan to spend all day. Bring the kids! (There's arty childcare onsite if bad comes to worst.) Dress up (serious or zany — your choice!), prepare yourself to fight some crowds, park in the garage (or better yet, spring the $20 for valet parking), sneak in a camera (they check bags, but you can figure it out), and make a day of it. Take a break and wander over to Collins or Lincoln Rd for lunch. Grab an Oceanfront program and wander over there if something interesting-sounding is happening (there are also talks at the Art Salon, right inside the fair). Pick up a Showguide (a free fat brochure they hand out at the counters by the entrance) and see if you can figure out what the different color-coded booth signs mean (most of the booths have white signs, but there are also yellow, teal, and orangeish ones).
How to look at art
Ok, so what the hell is this stuff, do they really consider this art, and do people really pay thousands of dollars for it? The first thing to understand is that there's nothing necessarily to "get." If something has an explanation and a reason for existing, it's a tool, not a piece of art. That said, we can come to understand something about any given thing, and I suggest the following strategies when confronted with something that looks pointless, impenetrable, and maybe stupid:
First, really look at it. Almost everything here rewards close inspection, even if does not seem so at first glance, and very little about what you're seeing is arbitrary. Pick up on as many details as you can.
Imagine it in your living room. Imagine living with it there for a year. Now imagine it in an empty room. How does it transform a space?
Think about a collector who would pay lots of money for it. (By the way, few galleries post prices, but you're allowed to ask.) Everything in Basel is there because someone thinks it has a good shot at selling, so imagine why someone would want to own this thing you're looking at.
Think about the artist that made it. They are, by at least one definition, successful at what they do. How and why did they make this particular thing in this particular way? Most artists have a somewhat cohesive body of work, so what sort of things might they have been making that brought them to international prominence? Remember that they are not trying to make an easily articulated "statement" with any given piece, but it should evoke a unique sensation and intangible realization. Go with that.
Think about the actual process that would have been required to create it. Lots of artists have outside help; how do they imagine the final product, and how might they have communicated that image? Is the piece meant to show how it was made, or is it all about the final physical object?
Think about the gallerist. Very few galleries at Basel specialize in only one genre or style, so the juxtapositions of works often seem haphazard. However, lots of thought actually goes into laying out the booths. Why is this particular combination of things together? What is the aesthetic common thread between all these pieces. (Hint: this is not the point on which you want to spend the least amount to time.) Feel free to ask questions — keep it open-ended. Most of the people working the booths have something they can say about any piece, and a simple, "what's the story here?" will get it out of them. Sometimes there's an interesting tidbit that will really help.
Good luck! Here are some links:
Google Maps link to the location of the Convention Center
Art Basel website
Yelp search for nearby restaurants
List of fairs and other things going on
Posted: Friday December 4, 2009 by Alesh Houdek · Permalink · Comment [3]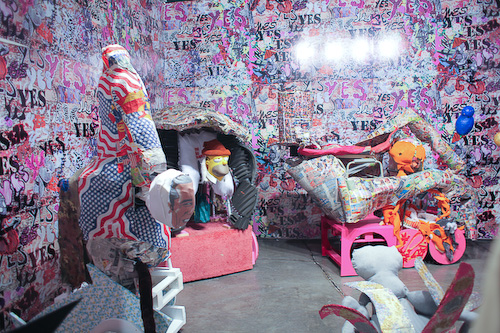 Fuentes, D18. The mood was of course more subdued then at past Basels on Wednesday, but not by too much! Still, there was much less pranky stuff like this then in years past. "You go to school to learn not for a fashion show," and you go to Basel I guess to shop for art that you want to live with, not to see a carnival freakshow. But to say that nothing was over the top would be a tragic misrepresentation. Let's see…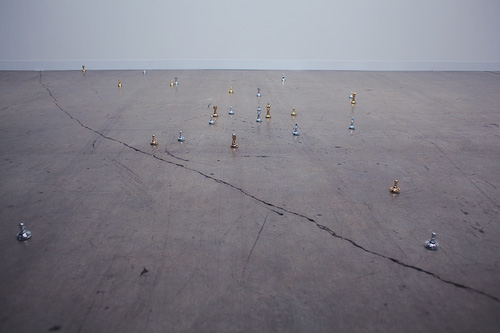 Haye, H19. Nothing says "I have $35,000 to blow on a Basel booth rental and the rep to score one, but it ain't no thang" like some gold and silver plated chess pieces scattered around, with only an incognito guard for staff.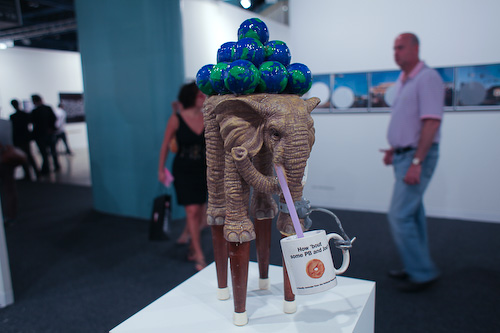 This elephant's cup says, "How 'bout some PB and Joe? / A friendly reminder from the National Peanut Board." Serious contender for best-of in the sculpture category.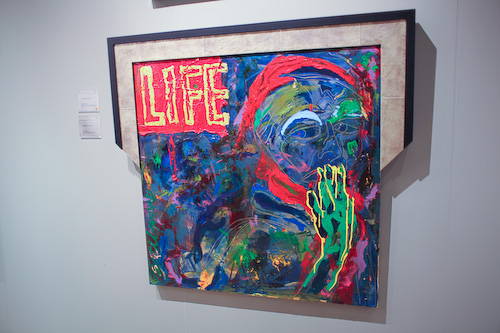 Yes-That-Sylvester-Stalone's horrible self-portrait from a Life cover was one of the few things with a red dot.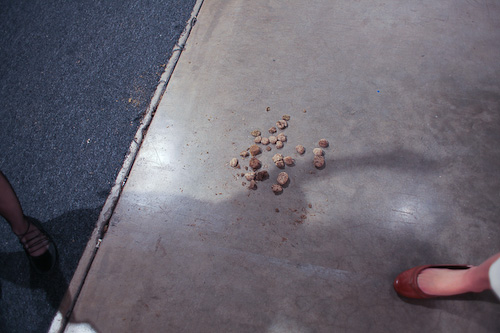 The "is that art or have you just not gotten a chance to tidy up yet?" category is alive and well, represented here by some actual animal poop.
Some quarters modified to contain blades. If we can't use art to make suggestions to terrorists, then the terrorists have already won.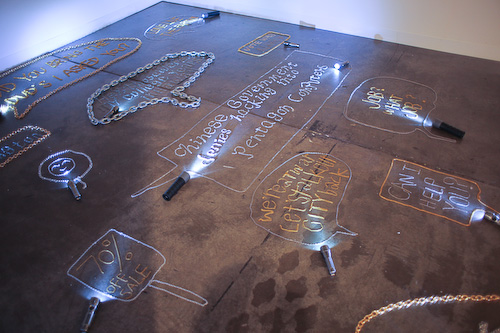 Beautiful but ephemeral. MadeIn's Metal Language 1 at ShanghaiART.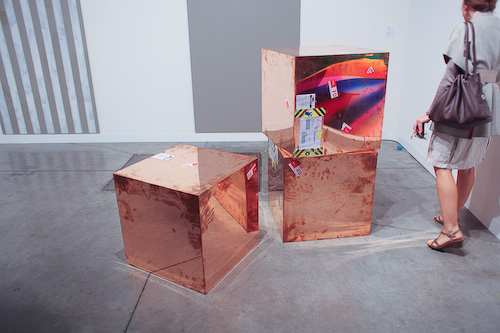 Art that got shipped is always a hit. Here are some copper boxes that show fingerprints, smudges, scrapes, and FedEx tracking labels. Walead Beshty.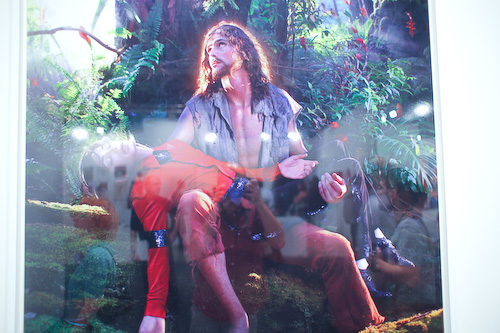 Anyone who made anything even vaguely Michael Jackson-related got their piece into Basel. The best of the bunch were Dave LaChapelle three (photoshopped?) images. Here, the MJ Pieta.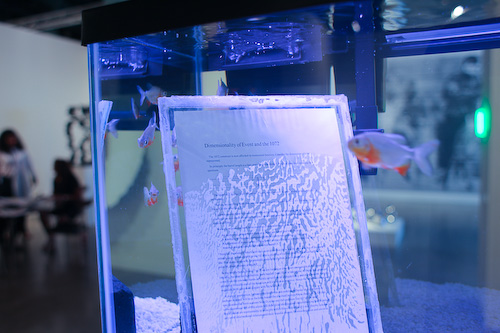 I loved these goldfish swimming around some impenetrable legal-looking documents. Titled "They are learning fast," John Latham, Lisson Gallery.
These Lorna Simpson photos were more poignant than spectacles, but don't miss them.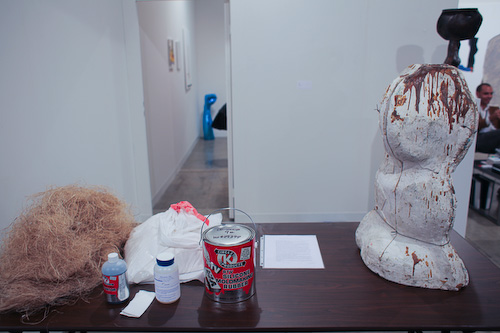 This piece comes with instructions. At least it has the decency to be titled "WTF."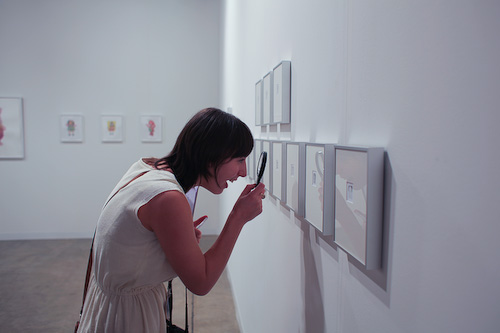 If you choose to include a little shelf and some magnifying glasses next to your little newspaper cutouts, be sure that they really reward a close look.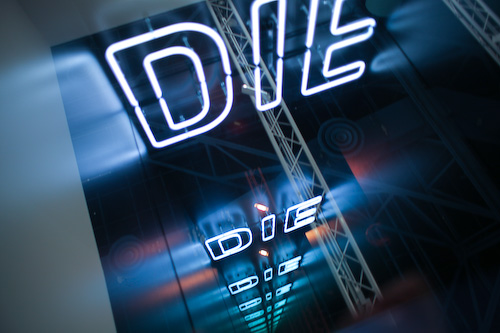 A giant wooden box that tells you to DIE over and over, into infinity. Ivan Navarro. Edition of three, so you probably still have a chance.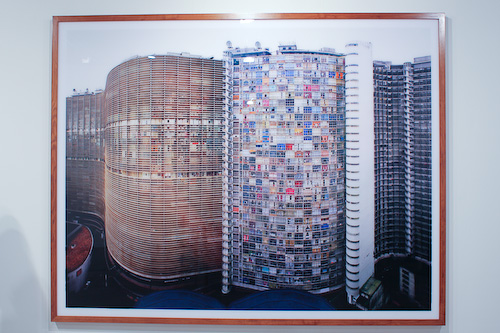 You get two primo Gurskys this year, and here's one.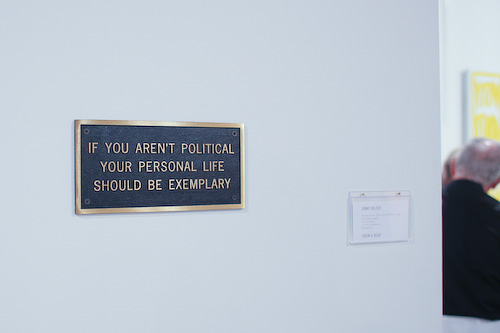 Probably my favorite Jenny Holzer piece of all time.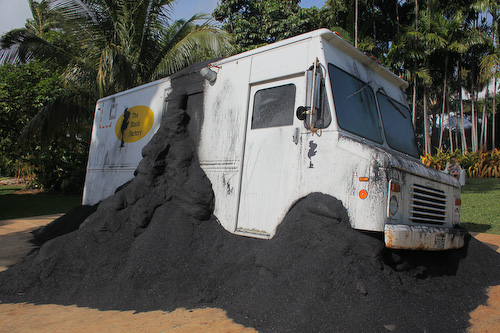 William Pope L's "The Black Factory" at the Botanic Gardens.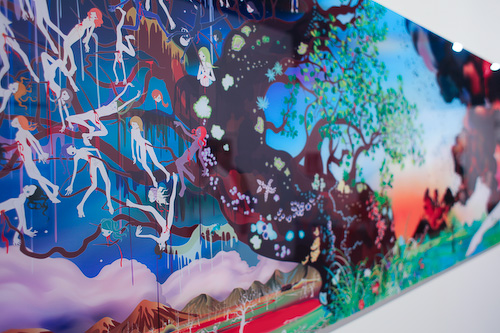 Probably my favorite thing so far was this Chiho Aoshima digital drawing at Perrotin.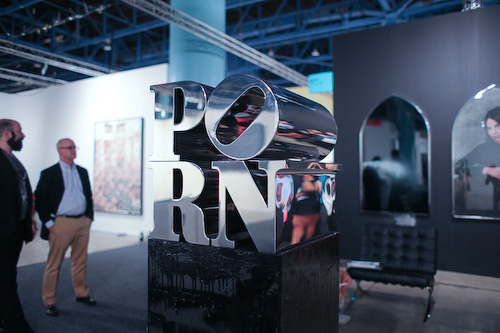 It turns out that the Robert Indiana "LOVE" game is way too easy to play, and this year everyone got in on it. Here's my winner.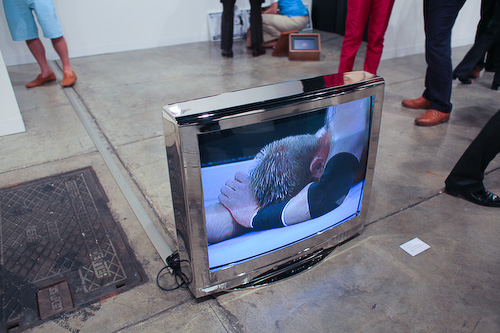 This whole time you could have chromed an old TV and set it to play nothing but wrestling match footage. Paul Pfeiffer.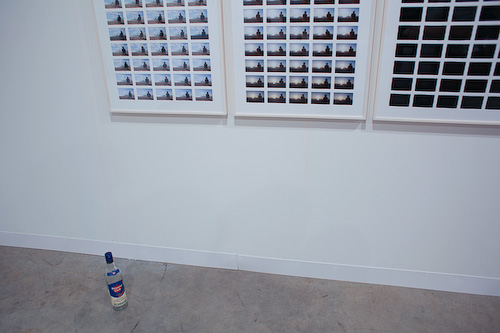 Empty bottle of 90 proof Cuban rum, and time lapse of the artist consuming it over 24 hours. Once again proving that anyone can have a good idea, but it's only if you execute it elegantly that victory shall be yours.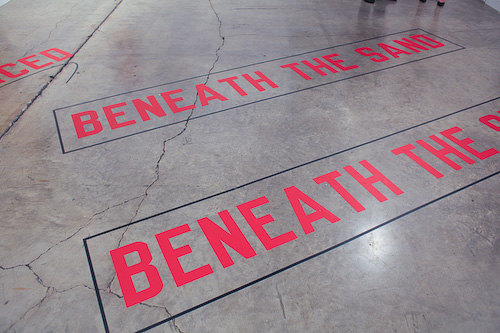 Lawrence Weiner's "PLACED BENEATH THE SAND BENEATH THE SEA" got me. Regen Projects.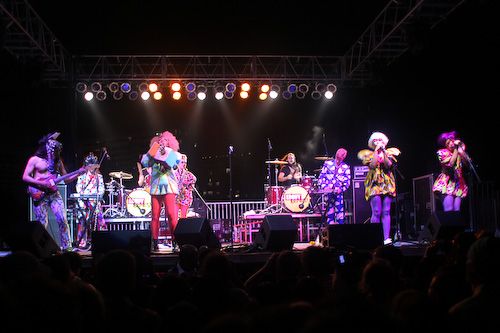 And last but sure as hell not least, Ebony Bones, easily the best performer ever at Art Loves Music (but I missed Peaches), who galvanized the crowd by getting them to move the left. Awesome (but she needs a ballad to break up the set a little). More Later!!
Posted: Thursday December 3, 2009 by Alesh Houdek · Permalink · Comment
Updated 10:58 am, 12/02/09.

"NO" / "Feel Good" respectively from the Convention Center parking lot and the Oceanfront installation.
I've shaved off the links to articles and information from the main list, which continues to be updated. Newer entries here will be added to the top.
Posted: Tuesday December 1, 2009 by Alesh Houdek · Permalink · Comment [3]