You are viewing a monthly archive page.
Updated 5:57 pm, 12/01/09.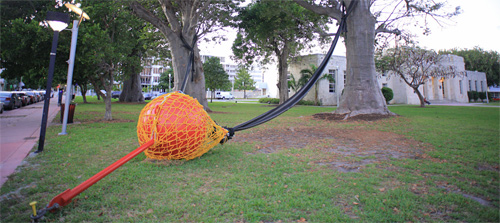 Preparations are under way all over town for the Main Event, starting more or less this Wednesday morning. Tents have sprouted over the generous undeveloped portions of Midtown Miami for many of the larger satellite fairs, art delivery trucks are fighting for unloading spaces at the hotels housing the less fortunate fairs, and the din of hammering and unwrapping is emanating from the Convention Center. It's that time of the year where the New York Times runs stories about Miami that neither mock or pity. It's the time of the year where the average IQ of the tourist arriving at MIA spikes unexpectedly, and when the cool kids from all over the world wish they were here. It's Art Basel Miami Beach, y'all, and the weather this year (give or take a stormy Thursday) looks to be cooperating.
But for now we wait, not unlike Robert Chambers' giant slingshot (pointed at the Bass art museum). Today brings the list below, which will to be updated throughout the week. A few more tidbits and links tomorrow. Wednesday comes a first look at the convention center, with stuff from the rest of the fairs daily probably into next week. Friday brings the perennial Art Basel guide for Normal People. Also follow me on twitter, as updates will be live and glorious. (Note: I'm indicating Miami galleries showing at each fair on an 'as I notice' basis — not comprehensive.)
Main fairs
Smaller fairs
Special projects, local endeavors, etc.
You can just assume that all these are free admission, and many will have an opening reception with free drinks. Quality tends to be very good, tho many are up for weeks after Basel.
Primary Flight (more info here ..): mural project featuring several notable local artists, and Shepard Fairey(!). Street art, plus a show at Art Center South Florida. Video.

FALLOUT

, 23 artists mostly from around the US, showing work in the actual fallout shelter of the old Burdines building (now Macy's) at 2 W. Flagler Street in downtown Miami.
Littlest Sister, "smallest art fair in town," Spinello Gallery. 50 artists, 8 booths, 1 store-front space. 155NE 38 St, #101, Miami.
"He Believes in a Beauty" — your pal Nick Cindric is back, and curating this oddly named exhibition. Includes work by Christina Pettersson, Gavin Perry, Carlos Betancourt, and Cristina Lei Rodriguez. So, worth checking out despite any web presnece. Buick Building, 3841 NE 2dn Ave, Miami.
Subtropics' Autonomous Sounds, sound art performance/installation, Thursday and Friday, 7 – 11 pm, 2100 Washington Avenue, Miami Beach (just northeast of the Convention Center).
Art | Baselita / Zones. Lots of local art, both fine and funky.
Dark Night of the Soul / It Ain't Fair, the former being the collection of photographs by David Lynch with accompanying music by Danger Mouse and Sparklehorse that you've heard of and the latter being, well, another show with a bunch of artists. At

OHWOW

, which is getting mad buzz, 3100 NW 7 Avenue Miami.


Events
Wednesday
Art Loves Music: Ebony Bones, free concert at "Oceanfront," 9 pm-ish. Free.
Thursday
Vivian Girls perform at Pulse at 7pm, with locals Little Beard playing at 6. Don't miss the whole list of art performances at Pulse, which sound impressive. (thanks, misael)
Friday
G. Love at Fountain, 7 pm, $5
Art Film: 'Jean-Michel Basquiat: The Radiant Child', at Oceanfront. This is apparently a rough unfinished cut of the documentary. Free.
Saturday
Posted: Monday November 30, 2009 by Alesh Houdek · Permalink · Comment [3]
Posted: Monday November 23, 2009 by Alesh Houdek · Permalink · Comment
Pinker takes Gladwell to task (Malcolm responds, tho he focuses on football, which is mentioned just in passing by Pinker), and Tkacik is even harsher:
But in examining Gladwell's success concurrently with his prescriptions for achievement, even his harshest reviewers damned themselves with faint criticism. […] when The Economist embraced the book's "engaging" and "intriguing" case studies while wryly enclosing the overarching "big idea" in quotation marks, it overlooked Gladwell's refusal to engage meaningfully with the world of ideas at all.
But all I'm hearing is "This collection of essays
written over the last ten years is not as good as "The Tipping Point":The Tipping Point:
. Furthermore, they might be inconsistent with each other!" Give it a rest people. Gladwell soars high, and his occasional blunders are fun, because hey, even us ordinary folks can catch them. And do not say that he hasn't broadened your thinking, Maureen Tkacik, because I'm sure he has broadened your thinking. The pasta sauce thing redeems whatever intellectual overreaching he may be guilty of.
Posted: Friday November 20, 2009 by Alesh Houdek · Permalink · Comment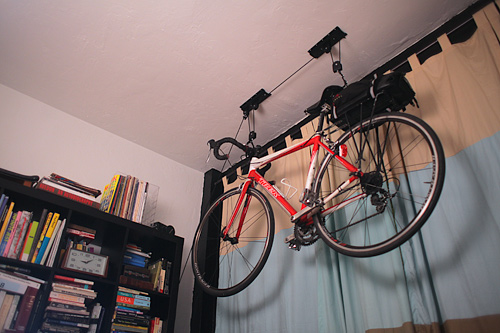 So, that worked out, at least for the moment. The kit of course tells you to screw into a ceiling stud. But it turns out that finding a ceiling stud, at least in my old Miami Beach apartment, is not as easy as advertised. Even the stud finder I borrowed (which worked great on the wall) gave all sorts of crazy readings, and was just generally unreliable. After some hunting around, I decided that toggle bolts might be worth a shot.
They work! You need to pre-drill big-ass (3/8") holes, and be careful not to screw up the installation (i.e. screwing with the drill in counter-clockwise mode, which will basically ruin one of your toggle bolts in about .5 seconds), but this setup has 4 bolts holding a 30 lb. bike, and seems to be pretty effective.
Posted: Wednesday November 11, 2009 by Alesh Houdek · Permalink · Comment [2]
The Times' 100 best films of the decade. Great list! But!: I like the Bourne series too, but number2?! Also overrated: Slumdog Millionaire (#6), Borat (#11), and Bad Santa (#54). Underrated: The Royal Tenenbaums (#88), Milk (#53), and the films of Spike Jonze, of which Being John Malkovich is #29, and Adaptation and Synecdoche, New York are missing. Also missing: Rachel Getting Married. (via)
Stefana Broadbent: How the Internet enables intimacy: Not exactly earth-shattering news, but there's something sweet and compelling in the way Broadbent describes these changes.
Stupid internet tricks: a guy RFID-tagged his cats and wired his cat door to only open for them, then added a camera and an internet connection. Result: Twittering cat door.
Here's a bizzaro idea — Invest in a human being. You: a rich person. Them: broke but very promising. The terms: You give them a big chunk up front for a percentage of their pay for the rest of their lives, maybe with a buy-out clause. This is perfectly reasonable as a thought experiment, but it's also a slightly creepy real thing that actually happens, with actual contracts and numbers and I guess audits. Not related, but fun anyway: how to sell a dollar for more then a dollar, and what it means for politics.
Posted: Monday November 2, 2009 by Alesh Houdek · Permalink · Comment