You are viewing a monthly archive page.
Gizmodo is sad that Google just killed Garmin and any other maker of navigation software/hardware, and wonders what industry is next. This is nuts. Think of all the profitable industries that, e.g., widespread electric power must have killed. Plus, have you ever used a Garmin product? Not quite Microsoft-level faliure, but not exactly a company who's design anyone is going to be missing.
I just finished reading the article where Malcolm Gladwell compares football to dog fighting (persuasively!), and here comes Kottke with some suplementary links. You Americans, I tell ya!!
As augmented reality moves from handheld devices like the iPhone to graphical-overlay glasses (soon!), it will be able to — for example — block out real-world display advertising. Sort of the way ads are currently digitally inserted into broadcast of sporting events. (A passing thought from an article on AR in The Atlantic, which yes, I am going to keep linking to every single month, because the Atlantic is the best magazine evar.)
I've been just informed that Terence Riley resigned as director of the Miami Art Museum. This indicates one of two things — either they've raised the money they need, and the new building is happening, or he's realized that it ain't gonna happen and he's bailing. The former reason is what is stated, but the latter seems disturbingly more likely, especially given the lack of a fundraising update with the announcement. This majorly blows. Update: here's the longer story. But scant new info: the fundraising numbers are 6 months old(!). "Riley said he leaves the job with very few regrets. One is that he didn't do enough to muster the support of Miami's art heavyweights." Yikes!
Graph of the circulations of major US newspapers since 1990. Fun!
If you follow the musicians feed of Craigslist here in Miami awhile, you'll find that the bands people are trying to form and find musicians for fall about equally into three distinct categories:
Pretty ambitious and specific punk/hardcore/metal. These listings will say things like "must be into Caliban,

IKTPQ

, and August Burns Red etc." (I personally found it instructive to click through and listen to a little bit of these bands' music, though they're myspace links, so they might crash your browser.)
Specific professional genre bands that play reggae, salsa, classic rock covers, or what have you, and are after paying gigs, sometimes on cruise ships.
Bands that say they want to sound like Radiohead.
Which, that last one is pretty strange if you think about it. True, Radiohead is maybe the most popular "serious" rock band since U2 gave up around 10 years ago. But on the other hand, Radiohead's only real signature is that they have no one distinct sound, that they shift and evolve with the artistic whims that blow them this way and that way, that even their approach to songwriting and music making is open to renegotiation every time they go into the studio. So that to say you want to sound like Radiohead is to have missed the point, to have failed essentially before you've begun.
Then again of course the "Radiohead" signifier is a rejection of some of the less masculine (and more artistically potent) trends of bands like Animal Collective, Grizzly Bear, et al. I don't know what sort of Craigslist ad these bands might have found each other through, but I do know that when they got down to making music, it wasn't with a preconceived notion involving the sound of some already-existing thing. You get together and you start by throwing ideas around, and if you're sufficiently creative and open-minded you arrive sooner or later at a distinctive vision, which you then let that artistic vision be your guide, take you where it may.
Which brings me to the xx album
, which has been on heavy rotation at chez Alesh for a few weeks, which clearly began with singers Romy Madley Croft and Oliver Sim (cut them some slack on the names, they're British) sitting a room with a couple of guitars, playing and singing. You can get a sense of what that sounded like from this clip, but what's interesting isn't so much the sparseness of the music; it's how beautifully that sparseness translates to the completed record.
Sim moves to bass, and another guitarist is brought in to handle the less intricate parts. The sound is rounded out not by a drum machine, but by a drummer who taps out rhythms live on a grouping of little electronic pads. The sound is almost completely untreated, with the guitars clean and ringing and the bass bright and prominent, so that everything sounds naked and fresh. This to go with the lyrics, which, while not as sex-obsessed as you have been led to believe, are intimate and probing.
I don't need to tell you that they're great, you can hear that for yourself. What I think is so interesting they look like fans of Joy Division, right? Even the choice of instruments suggests Joy Division. They probably have started a band thinking they'd sound like Joy Division. But, thankfully, they approached it with an integrity and willingness to be led by the music. And they ended up sounding like Young Marble Giants and covering Aaliyah. The resulting buzz is not insubstantial.
The road to success in any artistic endeavor begins with casting aside your expectations and finding that new thing that wants to be found. You don't do that by theorizing; you do it by sitting down and making stuff. You just can't get to being like Radiohead by wanting to be Radiohead.
Posted: Monday October 26, 2009 by Alesh Houdek · Permalink · Comment [2]
I am starting to wonder just how stupid the people at the Florida Department of Transportation are. They recently added bike lanes on Coral Way, but the lanes end at every block. I have seen the drivers on Coral way, and believe me when I say that people are goign to DIE because of this.
Well, I thing that Merlin Mann might have to add me to the list of people who think he's lost his mind a little, because according to a video he posted yesterday, he's 25,000 words into writing a book that explains how it's ok/good to goof off every once in a while, so long as you know when to stop and get to work. But don't get me wrong, I agree! And the stuff about the butcher and the 7 levels of knowledge is great and everything. (Tho I think lifehacker's point was that if you're soaking your dishes overnight, dishwasher soap works for some reason better then regular dish soap, which is not a completely useless thing to know, really.)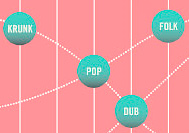 In the beginning, we were all blown away by Pandora, right? Type in the name of an artist, and it generates an instant radio station based on their music. You rate particular songs up and down and it refines the station. You can store multiple stations of your own, and mix and match them at will. And it works really, really well; you discover music you'd never heard of that you love, and more importantly the music experience is just really good.
So how does it work? I guess shockingly, the hard way. They have people — Pandora employees, no croudsourcing here — sitting around listening to and categorizing songs. So when Pandora says you'll like something because of "swung rhythm, minor tonality, syncopated guitar, and whispered singing" (or whatever it says), those are tags that someone manually applied to that song. Amazing. This is from a feature on Pandora in NYTimes' magazine last week. Here are a few particularly interesting bits (and do not miss the completely absurd accompanying "infographics"):
[Tim Westergren, Pandora founder] likes to tell a story about a Pandora user who wrote in to complain that he started a station based on the music of Sarah McLachlan, and the service served up a Celine Dion song. "I wrote back and said, 'Was the music just wrong?' Because we sometimes have data errors," he recounts. "He said, 'Well, no, it was the right sort of thing — but it was Celine Dion.' I said, 'Well, was it the set, did it not flow in the set?' He said, 'No, it kind of worked — but it's Celine Dion.' We had a couple more back-and-forths, and finally his last e-mail to me was: 'Oh, my God, I like Celine Dion.' "

[…]

They moved on to vocals [in Indian classical music, a new genre being added to Pandora], and Alan Lin, a violinist, ticked off the scores he came up with for things like rhythmic intensity and the relative exoticism of the melody scale. "I actually put exotic at 3.5," he said. This prompted Sameer Gupta — a percussionist and an expert on Indian music who was weighing in by speakerphone from New York — to lead a brief discussion of how to think about melody and exoticism in this context. Seven or eight scores related to melody, and then about the same number for harmony. ("A 5 for drone," one analyst announced.) More scores related to form. Tempo. The timbre of the reeds. When Gupta gave his score for riskiness on the percussion — a 3.5 — Lin did a sort of fist pump: "Yes!" Evidently he'd scored it the same way, meaning progress toward properly fitting Indian music into the Music Genome Project. Things went on like this for a while. "Even if you have a solo violin with a tabla, you're still going to have monophony," Gupta remarked at one juncture. "I just wanted to point that out." It was hard to believe there was a business riding on this kind of conversation.

[…]

Maybe the more vivid illustration of social influence on listening habits isn't in what we share but in what we obfuscate. Last.fm, for example, publishes a chart listing the songs that its users most frequently delete from their public listening-stream data. The guilty pleasure Top 10 is dominated by the most radio-ready pop artists — Katy Perry's "I Kissed a Girl," several tracks by Lady Gaga. The service iLike compiles similar data on the most "suppressed" songs its users listen to in secret; Britney Spears figures prominently. Apparently even listeners who can set aside certain cultural information long enough to enjoy something uncool would just as soon their friends didn't know.
But there's a problem that emerges with Pandora, right? It's anti-variety. If what you want to hear is just plain good music, it hasn't really got your covered. If what you're craving specifically is variety, or great new music that sounds like nothing you've heard before, you're out of luck. I happen to enjoy completely disparate sounds back to back with each other. And while Pandora allows me to combine my stations into a "quick mix" (in fact of course, that's how I created the "listen now" button in the sidebar), it's limited by my imagination and my existing taste, which is exactly what I'm trying to get away from when I turn to internet radio rather the, say, my own iTunes playlists.
Not everyone wants quite the level of variety I do, but to some extent this is a real problem for anyone looking for more then background noise. If you care about music, then you want to have your tastes pushed, you want a music service to favor brand new music, and you most definetly do NOT want to hear Celine Dion (and no, it is not a shocker that her music is in fact completely pleasant and enjoyable in a bland sort of way).
Even the "listen now" link I've got is sort of a dead thing. I put it together something like a year ago, and it's been exactly the same thing since. There's a mix of genres, and it's "eclectic" in a sort of a way, but not in a satisfying way, because the formula emerges and then becomes predictable. I could go in and tweak it once in awhile, but I'm never going to surprise myself in the way I want to be surprised, because that takes the real work of discovering stuff. And I can't help but feel like all those people sitting at Pandora HQ are chasing a dead end. That croudsourced "people who liked X also liked Y" systems are inherently better, but that even that only goes so far.
My two favorite recently-discovered artists are the Bird and the Bee and the Brazilian Girls. And not only did I not find them through Pandora, but there's no way I could have found them through Pandora. Their "musical qualities" do not match anything I listen to now; in fact, their musical qualities don't much match anything else at all. (Well, maybe the Bird and the Bee have musical qualities similar to Beach House, but let us not digress.) This has less to do with sociocultural issues then with great musicians making pop music in a smart new way. The way you get to this is by reading blogs like Gorilla vs. Bear, and by keeping an eye on Pitchfork, and by checking out what your clued-in friends are listening to, and by listening to smartly curated online radio stations.
Pandora is great from time to time, but relying on it as your main source of music leads to nothing but ruts.
Posted: Thursday October 22, 2009 by Alesh Houdek · Permalink · Comment [5]
The other day I asked if anyone could give me a single reason not to buy a motorcycle. See, my parents return to Miami in a couple of weeks to re-claim the car I've been sporadically using for the past half year. When this happened last year, I decided to try living with just a bicycle. And while that experiment worked out pretty well, I'm not just exactly 100% sure I want to go through again just quite yet.
But a car is just such a hassle, right? I used to be able to drive around with a copy of Autotrader and $3,000 for a day and end up with, usually, a perfectly impressive old BMW that'd last me 5 years or so (usually until some asshole hit me and destroyed it, which actually is preferable to the protracted and heartbreaking death my 1988 528e died), but it appears that that is no longer the way of the world. So the options are
Bite the bullet, and get, maybe, a used Mini Cooper, which seem to be running $8,000 for a 2002 with maybe 80,000 miles.
Do the bike thing again, and pocket the cash.
OR, right, a motorcycle is an interesting compromise when you look at it this way, no?
Well, people did have some noteworthy downsides to the motorcycle. "You will die," more then one person said. "In Miami there is a rainy season when it rains every day." And thirdly, a motorcycle does not have a trunk.
You can see though how coming off a 6-month bicycle existence colors these considerations. E.g., I had no problem grocery shopping. But you have to give some consideration to the danger. Motorcycles account for 3% of vehicles registered in the US, but 13% of all vehicle fatalities. Motorcyclists are about 35 times more likely to die per mile driven then someone in a car. And here the comparison to a bicycle breaks down, because while cycling home late at night in the rain after a few beers turns out to be something that just does not happen, you can certainly picture that set of circumstances with a motorcycle. And, um, alcohol consumption correlates with a sharply increased risk of death, and (in I guess the unlikely event of a lack of death) with increased severity of injury. Also, anecdotally, Miami drivers are the worst in the entire universe, and even people who would and/or do drive motorcycles in other places are wary of doing it here.
All of which is some sobering stuff! But the response that I have for you is that I'm not signing up for a lifetime of 2-wheeled exclusivity. I'm looking for a way to get around for 6 months, and I'm still going to be on the bicycle more often than not, and I'm going to wear my helmet. Like your pal Dan Savage says, people take all kinds of risks to have different experiences, and why not live a little? (Plus, by this logic we should all be riding the bus — the difference between how safe a car is and how safe a motorcycle is is much smaller then the same difference between a car and the bus.) Think of the fun! And think of the money — not just from the initial purchase, but the laughably small amounts you'd be spending at the gas station. Also: you can park anywhere. And is there not the intangible yet undeniable prospect of being a total and complete badass?
Still, in some ways it's the worst of both worlds. An examination of ebay motors suggests that while a decent 2-wheeled vehicle is cheaper then a 4-wheeled one, it's not quite the order-of-magnitude difference you've been led to believe. Also while the mpg is drastically better, it again is not quite the difference between night and day: motorcycles get I hear 40-50 mpg highway, while the Mini gets 34. And the rain is a real thing — you don't care if you get wet on a bike because you're going to be sweaty anyway so you have to make provisions to change/shower or whatever. But get caught in the rain on a motorcycle, and you're just plain soaked. Then again, that would be part of the aforementioned experiential thing, right? We are not made of sugar, and we do not melt, and whatever does not kill us makes us stronger. At least, until it really does kill us.
Posted: Monday October 19, 2009 by Alesh Houdek · Permalink · Comment [13]
Posted: Sunday October 18, 2009 by Alesh Houdek · Permalink · Comment
This is what Geneva's Article 3 says: whatever the nature of the combatant, in or out of uniform, and whatever his own moral rules (or lack of them), he deserves basic respect as a human being with human rights. This principle is nonnegotiable. It is the core principle of Western civilization. Resistance to the physical force of government, especially as that force is applied to people in custody, is the core reason America exists as an independent nation.

I believe that if you review the facts of your two terms of office, you will be forced to realize that, whatever your intentions, you undermined this fundamental American principle. You may not have intended that to occur. But you were the commander in chief and president, and these were presidential-level decisions. The responsibility for all of this is yours—before the American people and before the court of history. And you need finally to own these decisions, to take full responsibility for them, to account for them, to explain them, and, yes, to apologize for their scope and brutality.
— Andrew Sullivan, from a long and comprehensive open letter to President Bush. A pretty good companion to this piece is the Fresh Air interview with Philippe Sands (which I'm linking now for like the 5th time) — Sands argues that unless there is some sort of coming to terms, Bush administration officials have the possibility of extradition and trial overseas to look forward to.
Rex has been watching every single new TV show, and has two recommendations for you, both of which are available on Hulu: Flashforward and Community.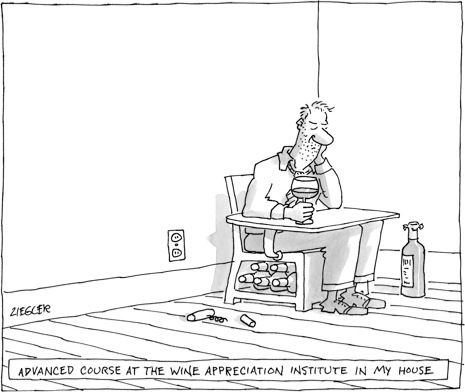 New Vampire Weekend album not out until January 12th(?!), but a preview download tune is up.
"The rise of [Rush Limbaugh, Glenn] Beck, Hannity, Bill O'Reilly and the rest has correlated almost perfectly with the decline of the G.O.P. But it's not because the talk jocks have real power. It's because they have illusory power, because Republicans hear the media mythology and fall for it every time." — David Brooks
From an impressive new study: "We find that the teacher performance pay program was highly effective in improving student learning. At the end of two years of the program, students in incentive schools performed significantly better than those in comparison schools by 0.28 and 0.16 standard deviations (SD) in math and language tests respectively…"
I think I'm going to maybe show mainly pictures that have some explanation here, and maybe show the more plain visual ones in a slide show later. But here's some prettiness just to sort of get us in the mood.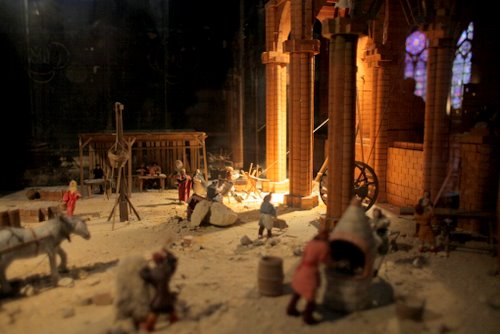 Let's start at Notre Dame. Here's a model depicting the building of the cathedral in something like the 12th century. Without getting into a whole discussion, it's worth pausing over the fact that, for hundreds of years, the majority of the residents of Europe lived in abject poverty while ostentatious churches were built until they doted the landscape (there are three within spitting distance of ND, e.g.).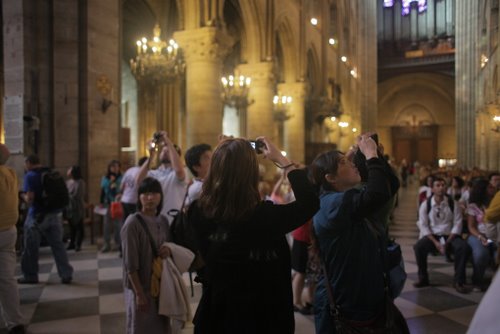 Tourists taking photos! Almost as silly looking as tourists taking photos of tourists taking photos, eh?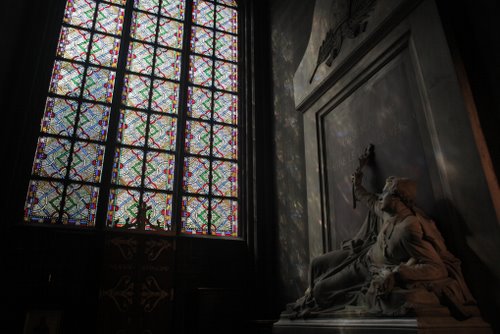 Here's a random obligatory shot of teh glory/majesty. Impressive!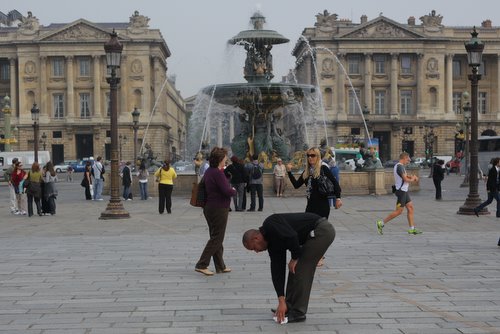 So, this was going to be Exhibit B in the case of the charmingly peculiar vanity of the French: a guy who stopped in the street to spontaneously clean his shoes. Dude was going at it, too — I saw him, started to walk away, then changed my mind and framed and took the picture, all while he was working. Exhibit A, more shocking but alas less photographically interesting, was a public perfume dispenser in the men's bathroom at a highway-side gas station. I shit you not, and yes I do have the photo to prove it.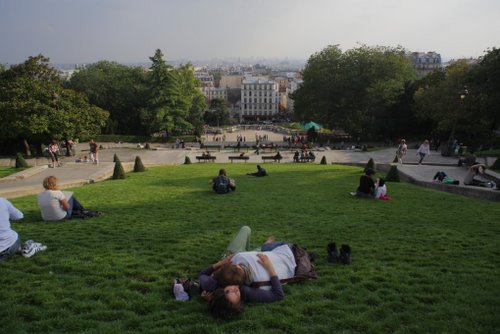 Paris is for lovers, and it really is. There are people making out in public everywhere, which I thought was nice.
Expensive-ass superhero and fantasy figurines.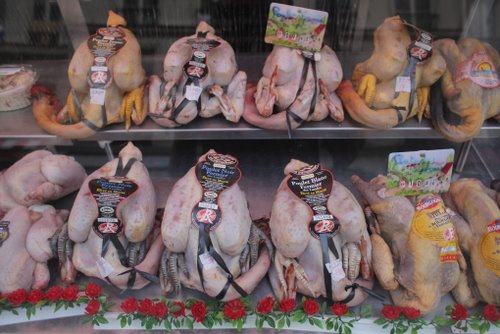 In Paris there are no regular shops. There are restaurants (brasseries, cafés, bistros, etc.), flower shops, and clothing stores. Occasionally, there will be a wine shop of a fishmonger, but there is little evidence that anyone cooks much at home or buys anything not directly concerned with delighting the senses. But: here are some hens ready for the rotisserie.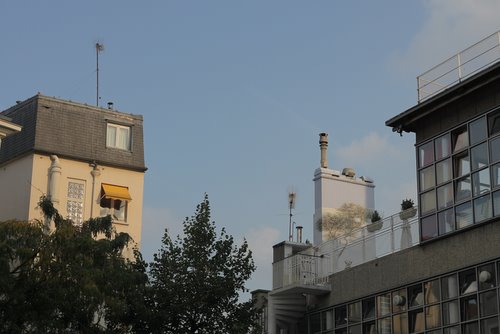 Mostly I'd go with skipping "the sights" and favor wandering around (which goes for any city you're visiting really). So here's random prettiness #2. The tree on the balcony is painted on the side of that smokestack, note.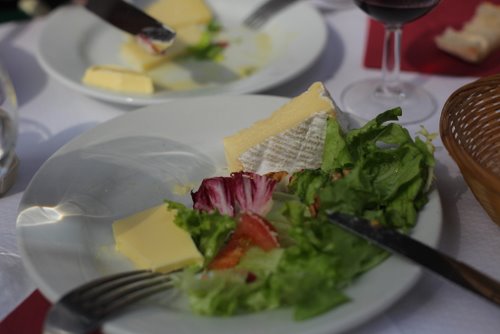 In one of the threads on MetaFilter's Paris tag, someone said "you're going to live well!" And it's True. Here's some side-street cafe cheese, served with bread and wine and followed with espresso. As much as the overall quality of food in London is on average noticeably worse then in the US, the food in Paris is noticeably better pretty much everywhere. Ham and cheese crepes are considered street food here.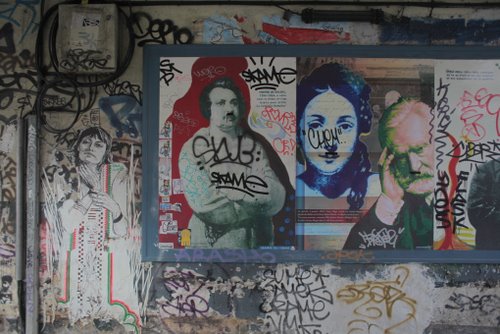 Even the graffiti here is elegant and romantic.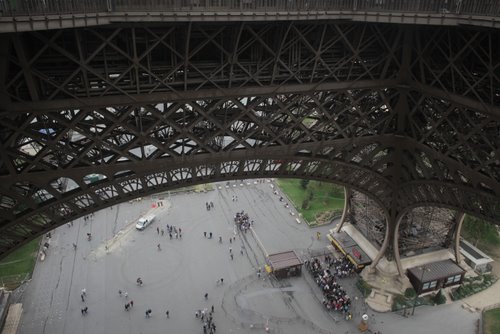 The Eiffel Tower, natch. A stairs trip just to the first platform was plenty. A nice climb up a few dozen metal flights of stairs is just what the doctor ordered for the mildly acrophobic among us.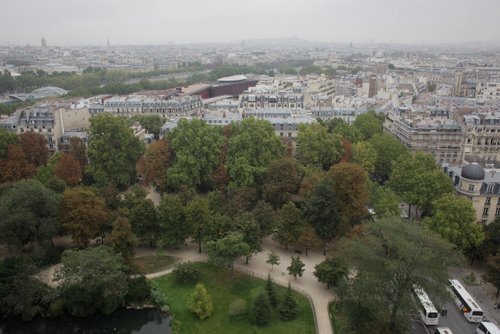 J. random view from the first platform. You could spend all day shooting and assembling a monster 360-degree panorama but ok, it's breathtaking, we get it, geez.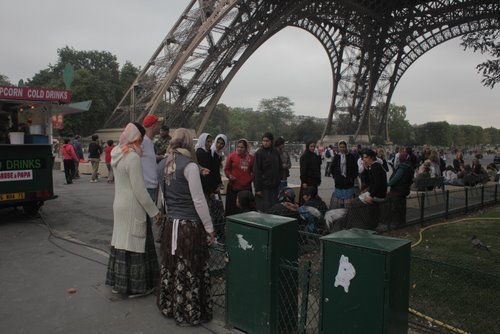 At the foot of the tower there are ambiguously ethnic women walking around asking "Do you speak English?", part of some scam that despite the extremely widely-disseminated warnings appears to be remarkably effective. One of them had a midwestern women digging around in her purse, and brazenly turned towards me as I walked by to ask me. That's efficiency, right? Anyway, here's home base of the Women who ask if you speak English.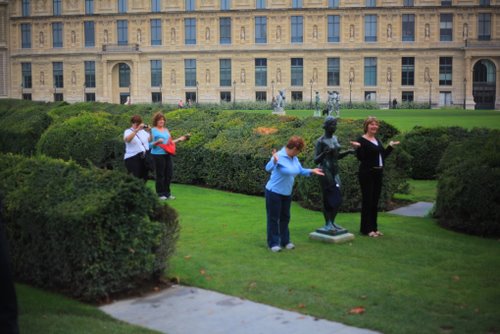 Trust me, I'm going easy on you with the pictures of tourists acting goofy.
You feed these little birds bits of your ham/cheese crepe, and the competition is fierce, so eventually some of them start to try to catch the bits in mid-air, and you can get them to eat from your fingers, which is me doing exactly that here. My dad working the camera.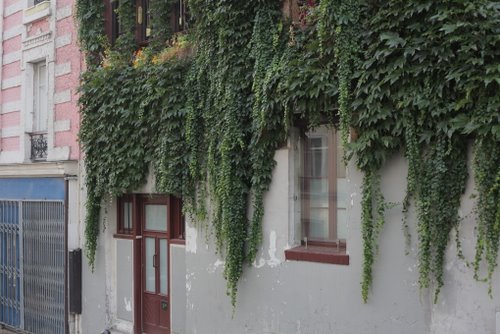 I would not mind living here! Willing to learn French!
I only saw one public ping-pong table in Paris, but what a cool idea. Eastside Garden take note.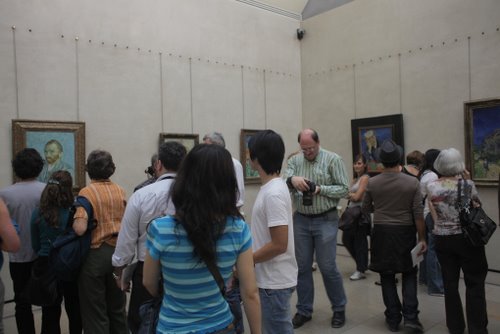 The Musée d'Orsay is a highly recommended alternative to the multi-day requirements of the Louvre. They let you photograph, so lots of the paintings have obnoxious people going around with camera phones tediously snapping photos of every other piece instead of looking, and getting yelled at because flash is technically not permitted, and these people you people do not know how to work their your cameras. This is the Van Gogh room, which was of course the worst-case example. By the way: a roomfull of Van Goghs, plus all your major impressionists, etc! (For Picasso and later, you need to check out the Centre Pompidou, which I only got to do briefly, don't get me started.)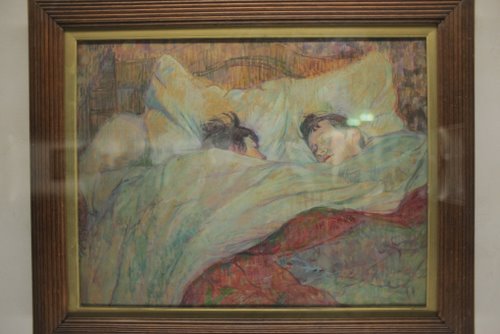 If you can't beat 'em… a particularly lovely Toulouse-Lautrec.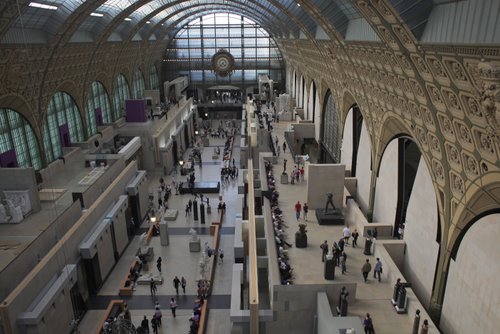 And the Musée d'Orsay building is half the fun. It's a baffling structure of late-19th century origin who's size is difficult to determine at first (looks manageable on first impression, huge on second impression, but it actually is pretty manageable), and is full of interesting big and small spaces.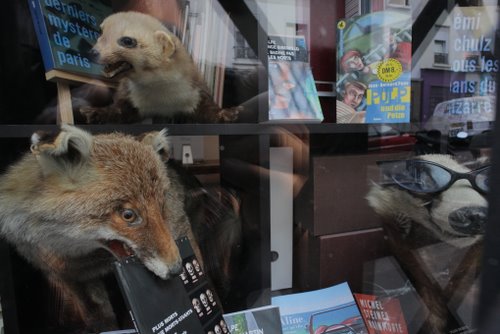 Random bookstore taxidermy action.
A random sampling of street musicians: Two guys playing Django Reinhardt jazz on Django Reinhardt guitars (with people dancing), a lone violin playing random arias on an abandoned side-street, a one-man band accordion/trombone/drums guy singing (amplified) mauldin old French songs, and a guy playing minimalist tones on clarinet to faint classical CD-based accompaniment for the closing of the museum, and these guys. This is BTW some random side-street staircase shortcut, but yeah, random prettiness #3, right?
#4; in general, it's hard to point your camera here and not hit something amazing.
And we're going to leave it there. Next up: Prague!
Posted: Thursday October 1, 2009 by Alesh Houdek · Permalink · Comment [3]