You are viewing a monthly archive page.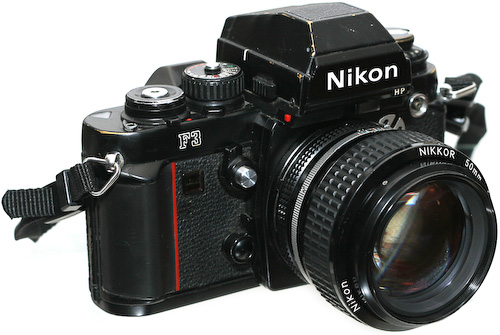 The F3 is Nikon's top professional camera from the 1980s. I picked one up on ebay recently, mainly because of how absurdly inexpensive they've gotten. It was only a couple of years ago that they routinely sold for $500. But despite a resurgent interest in 35mm film equipment from some quarters, I was able to get this one for $130. A perfect little 50mm f/1.8 will set you back another $50 or so, or you can go the way I'm doing, and get top of the line lenses for completely absurd prices (this 180mm f/2.8 cost $127; similarly performing modern lenses cost ten times that).
On the minus side you're going to be spending money buying and developing film. This runs about a dollar per every three or four shots. (Drop your film at any drugstore, and they'll develop it and burn you a CD in an hour, which you can then load into your computer just like any digital camera.) Then there's the matter of focusing, which if a big deal to adjust to if you've been shooting with digital cameras.
But as in the year with a Leica, this way of making pictures is revelatory. The F3 has aperture-priority automatic exposure, which means that you set the aperture on the lens, and the camera comes up with a shutter speed (of course you can also shoot in manual mode, where the shutter speed is just a recommendation). In other words, you have hands-on control of the basic elements of what the camera is doing. Same difference as driving a car with manual transmitting — it may not be easier, but it is better, in a way.
The other big benefit is the pleasure of using something that is the best of its kind. You can see that my F3 is pretty well beat up, yet it works more solidly then any of my digital cameras. Then there's the magical quality of film images. Even scanned and seen on screen, there is something unmistakeably analog and delicious about them.
Posted: Monday June 29, 2009 by Alesh Houdek · Permalink · Comment [9]
Jesse Thorn, Oliver Wang, and Jay Smooth remember Michael Jackson.
David Forster Wallace's Kenyon College commencement speech is no longer available on the internet, because it's being published as a book, one-sentence-per-page style. (thanks, Steve)
Attention aging Jeff Buckley fans!: You can now listen to a previously unreleased Jeff Buckley cover of Elton John's We All Fall in Love Sometimes. Just please keep your eyeball excretions off me.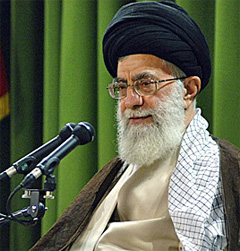 So, how does the Supreme Leader get the gig? He's appointed by the awesomely-named Assembly of Experts. They made him, and they can unmake him. While there doesn't seem to be the will to unseat Khamenei just at the present moment, keep a eye on these guys.
File under shifting winds: Yesterday, more then a third of Iran's 290-memer parliament didn't show up for a victory party for Ahmadinejad.
Note the geography of Tehran, which is a sprawling low-density city (not unlike Miami) connected by highways. This is part of why we haven't seen the dramatic protest photos this week that we saw last week; it's not for an absence of protests. It's because the government has shut down many of the highways and imposed brutal martial law, making it impossible for people to get to each other. Instead of one protest of hundreds of thousands, there are smaller protests scattered around the city.
As Nic points out, the Basij has been savage in all of this. Listen to this woman to get a sense of what some of the protests have been like. On the other hand, many soldiers in the much larger Revolutionary Guard have shown an increasing unwillingness to be inhuman towards their fellow citizens. Once the momentum really starts to shift you may see them begin to outright ignore orders, and the bottom may begin to drop out of everything.
More then two thirds of Iran's population is under 30(!), born after the revolution of 1979.
As the protests continue, and spread around the world, (fueled in no small part by the video of Neda Agha-Soltan's death), pressure on the Iranian government mounts.
There is the idea going around that this could never have happened under Bush, who united the various political factions in Iran against himself. So it is precisely President Obama's tone and handling of international politics that deserves recognition here.
The

NYT

has a nifty infographic of the timeline of the events so far. Also do not miss Karim Sadjadpour on Fresh Air, from whom I'm stealing some of these observations.
Posted: Thursday June 25, 2009 by Alesh Houdek · Permalink · Comment [2]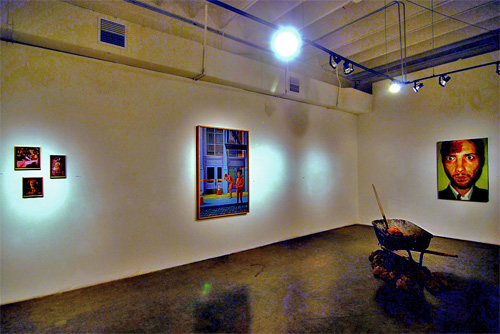 I'm messing around with the idea of a photoblog. Just stripped down the default template to the bones and worked it up with some minimalist CSS, so it's looking semi-presentable. Too, it's easy to add stuff to it, so I'll be posting images regularly at least for a little bit. All I really need is a name, if anyone has suggestions?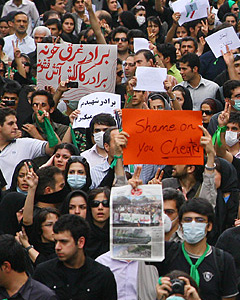 After over a week, the daily protests in Iran are going strong, and have spread all over the world, but it doesn't exactly seem like "a matter of time" until the government gives in and gives the protesters what they want. And this may be all for the better — by not nullifying the election, the legitimacy of the whole system, not just of the election, is cast into question. A new president may not be forthcoming, but the future power of the Supreme Leader seems to be under gradual revision.
In the meantime, it's a matter of forces of will, the people against the government, right versus wrong. And it's encouraging that you can't have partial oppression. It works in North Korea because there is no money in North Korea. Introduce a little entrepreneurial spirit and education into a society, and what follows is the internet, cell phones, signs of a free media, and before you know it, the tide is shifting irrevocably in the direction of freedom. Maybe it will not be this time, but the future of Iran is clear — it's going in the way of Eastern Europe in the late 80s. It may not be quite a Velvet Revolution (which, remember, took almost two months), but it's got a poetry all its own.
Oh, right, the forces of will. On the one side you've got a vast cross-section of the Iranian public. On the other, a government increasingly driven to desperate-seeming tactics. Yesterday, they began parading college students in front of the media who were forced to say that they were influenced to protest by foreign media. (One of the losing candidates from the election was also persuaded to withdraw his complaints of vote rigging.)
Meanwhile, the photos keep rolling in — people taking to the streets by the hundreds and thousands, despite the government practically shutting down the city. Maybe not tomorrow, and maybe not next week, but something new is coming to Iran.
Posted: Wednesday June 24, 2009 by Alesh Houdek · Permalink · Comment [2]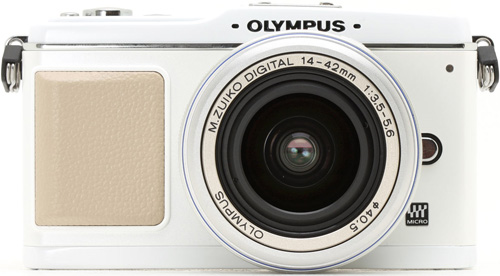 Well, it's here. (Or rather, it's officially announced.) The Olympus E-P1 is the first compact camera with a large sensor and interchangeable lenses. In other words, it's SLR quality images from a relatively compact package. For starters, you get a funky 28-85mm zoom and a tiny 35mm f/2.8 fixed. But here's the cool thing — they're also making an adapter for existing 4:3 Olympus lenses and an OM adapter which allows the mounting of old Zukio lenses.
Fluxus day, Subtropics, 2007.
Woody Allen on Fresh Air Monday. I suspect that even kids who enjoy his movies don't realize how fascinating he is in interviews.
'College prep' is a crime. This is wonderful.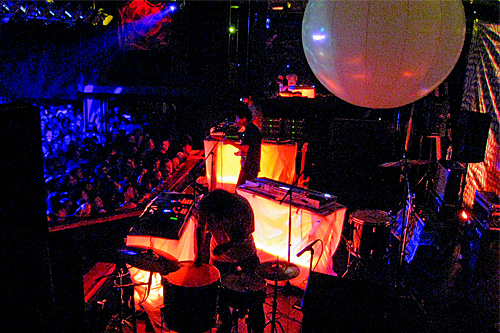 CLICK FOR SLIDESHOW
Trying to describe an Animal Collective concert is like trying to describe one of their albums, and I'm not even going to try. It does shed some light on how they make their music, if only by revealing the ingredients — multiple sample-triggering devices, keyboards, guitars, and drums. And whereas the Battles show felt like an approximation of the recorded album, with the post-processing absent, Animal Collective seems to be at their prime in concert. But whatever; I can't explain to you what it was like. All I'd say is: go see live shows. There's nothing else like it.
Posted: Tuesday June 16, 2009 by Alesh Houdek · Permalink · Comment [1]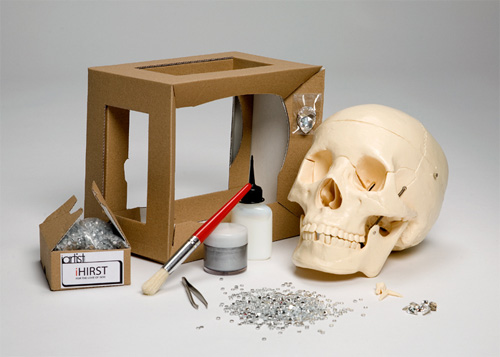 Make your own Damien Hirst skull with this kit available from iartist, £49.99. (via)
Shows of the upcoming in Miami over the next few months that may be attention-deserving (in light of the canceled Orb): Harvey Milk, July 11, Churchill's, Tori Amos, July 29, Jackie Gleason Theater, Maxwell, August 1, James L. Knight Center, Pet Shop Boys, September 9, Jackie Gleason Theater. Pretty sad list. (Via Tourfilter and JamBase.)
Attention old people: the new Tortoise album, Beacons of Ancestorship, is streaming on the web. (via)
The new iPhones it are out. Sign me up, signy. Update: Same stink, different site.
What if you're in the market for a non-SLR digital camera? The old standby has been, and continues to be, Canon compacts. My current favorite would be the SD800 IS (for the wide angle lens), but there is a plethora of options. But! On the horizon is a batch of large-sensor, fixed-lens, small-body (and stylish looking) cameras which might be worth waiting a few months for. The one that's out now is the Sigma DP2. This mixed review is worth reading in part because it explains the whole phenomena. But check out leaked pictures of the maybe-upcoming Olympus E-P1. Update: The head-on image of the Olympus disappeared from the page, but here it is: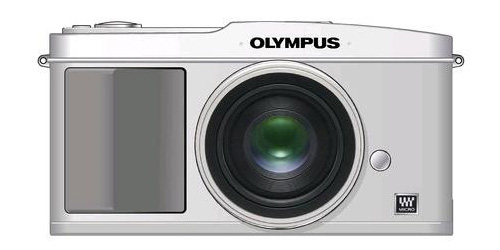 I also feel like I should be throwing in a word for the Panasonic DMC-LX3, but it seems to not be selling much, which is usually a red flag.
"I do think that ebooks are a step backwards, however. It's like the fax. It's not flexible or useful enough. Handheld computers should have greater power, and the Kindle instead has less. You should be able to access encyclopedias, dictionaries, and other searchable resources, just like we can on the computer or the iPhone. That's where the real benefit of portable handheld units are. Who cares about downloading Twilight? I care about having access to entire online libraries of reference works, maps, and encyclopedias." — David Barringer on the Kindle.
A pretty good argument for Twitter by Steven Johnson in Time (via). People keep asking me this question, but I figured someone would come along and make the case. Still, a few thoughts:
The following aspect and the composing aspect are both equally important to what Twitter is all about, yet they deserve completely separate discussions.
On the following side, you have three distinct groups: Your friends, celebrities you admire, and Twitter stars — people you pay attention to just because they happen to be really good at making awesome 140-character collections of words (e.g., SeoulBrother!). There's also assorted weirdness (the Mars rover?), and a zillion tools. And it's all mixed together in chaotic order on a page custom-made just for you. (In fact, feature request: show me what other users' home pages look like.)
On the writing side, Johnson observes that it really can be interesting to describe what you're eating. The real challenge tho is: what is the awesomest thing you can say in 140 characters right now, which turns out to be an interesting question to try to answer.
Twitter can now be set to update your Facebook status, so you have no excuse from that perspective.
I personally do not get the buzz that the search stuff has been getting. It turns out that I care what people have been saying over the last few seconds or minutes about any particular thing approximately never. Maybe there were a few minutes after the plane hit the Hudson that Twitter live search was really shining, but as soon as the first bulletin went up on

CNN

.com (what, 15 minutes later?), Twitter is back to being useless in this particular respect.
For the time being, the only way to see what Twitter is about is to try it out for a few days. It's pretty easy to find people to follow — just see who other people are following. The harder part maybe figuring out what to say. I guess it's like blogging — the fear of the proverbial blank piece of paper. On Facebook there are a million pictures to comment on, cheesy quizzes to play with, and an endless stream of other stuff to react to. Twitter is all about you and what's in your brain at that particular moment.
Posted: Friday June 5, 2009 by Alesh Houdek · Permalink · Comment [6]
FEMA is making plans to use foreclosed homes in Florida for people who get displaced by storm damage this hurricane season.
Could it be that there is something in Dawn — and only Dawn — dish washing detergent that kills fleas on kittens?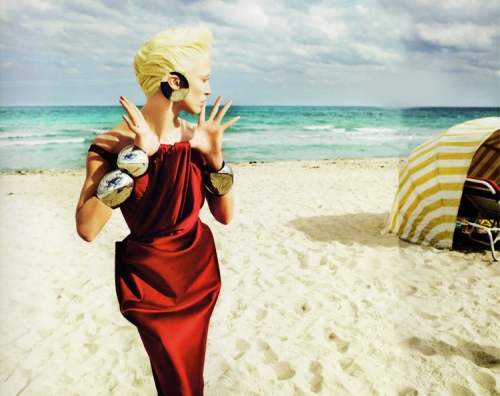 No idea. Android photo shoot on the beach. Via (or possibly by) @jipsy.
"Beyond 3 days, not only are forecasters totally guessing, but they are also guessing systematically worse than a random-walk." All that, plus what exactly it means when weatherpersons say 40% chance of rain.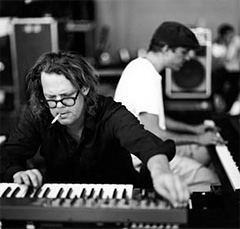 This will perhaps make sense only for those who have seen I Am Trying to Break Your Heart (trailer), the film about the making of Wilco's uncanny Yankee Hotel Foxtrot. A key layer in the movie is the increasing frustration that Jeff Tweedy has with Jay Bernnett, whom he eventually fires.
That's all ancient history, and it may be a complete coincidence that Wilco hasn't had an album approaching YHF artistically, or commercially, since. But look at the song-by-song list of Bennett's contributions and the accompanying interview, and a distinct picture forms. It's sort of Bennett's musically technical Paul to Tweedy's spontaneous John, right? Like, he was the guy, as Brent DiCrescenzo said, that every artist needs in the room occasionally to say "no" to the bad ideas (which you could see how that would annoy someone, and get you fired if that someone had absolute control of the situation). Maybe not, but that's my reading of the situation.
Anyway, subsequently Bennett released some solo albums, needed hip replacement surgery which he couldn't really afford (!), filed a lawsuit against his former bandmate, and, last week, died for an as yet undisclosed reason.
Stereogum remembers with a live Wilco performance of Misundersood, featuring Bennett on organ and piano. And here's a remembrance from Don Gerard, who was close to Bennett. RIP.
Posted: Monday June 1, 2009 by Alesh Houdek · Permalink · Comment [2]