You are viewing a monthly archive page.
How to become a much better photographer in one year: Buy a Leica, shoot it exclusively, with black and white film (two rolls a week), sell it back to ebay after 12 months. Part 1, part 2, part 3.
Wow… it feels like smartphones are finally getting somewhere. This summer we have coming the new iPhone, new T-Mobile Google phone, new Palm, and even an AT&T Google phone. Update: Sorry to get all gadget-geek obsessive on you, but it looks like the new iPhones might be matte black. HOT.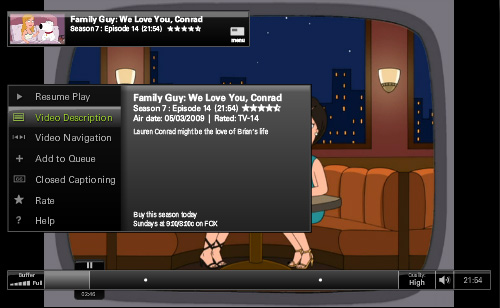 I guess it makes perfect sense that Hulu Desktop has no stop button — it's "simulating" a TV, you see. But it still seems disconcerting and weird. I've also noted that Hulu has not been adding new shows at any particular speed (at least, not anything I'm going to watch). Still, it works — sort of — with the Hauppauge remote that came with my Dell, and figuring out how to use it is obvious, so I'm giving it a shot. Update: Complete clusterfuck. Forces you to download software updates, otherwise refuses to start. Hangs intermittently. Sometimes impossible to exit fullscreen mode. Crashy.
q: you seem to like drinking. do you view this as a positive thing in your life? how's it working out for you? a: it has treated us very well of late; there are times when it is revolting and weakening, both physically and morally. sometimes there is no drinking, sometimes a little, and someitmes a lot. it is something not entered into lightly or negligently, at the best of times. — Bonnine "Prince" Billy interview.
Aside: I think it's fucking great that the New Times is sharing local music on its blog. But it is fucking LAME that they choose a dodgy format that tells me I need to "download additional plugins" instead of just clicking to play or download like every respectable website on the internet. THIS IS WHY PRINT JOURNALISM IS DYING YOU ASSHOLES. Update: Just to be clear, I'm pissed at Village Voice Media for — apparently — not having a standard way for their bloggers to share mp3's, not at Arielle for making a poor choice. Here is the file, for anyone interested.
Still my favorite blog of the last few months: Cakehead Loves Evil. A few of the things found there this month (in case the 'love will tear us apart' masthead isn't enough for you): Marilyn Minter's oral fixation photography, insect sushi, the Bush Administration's disaster coloring book, Battleship Island (amazing abandoned settlement featured on Life After People), 1600 Pandas, People living in a "space station" in the middle of Berlin, this insane set of images from a Pop magazine fashion shoot, 70s porn interiors, Amy Stewart's garden of poisonous plants, the Janet Jackson Virgin Mary tattoo, and the burst whale.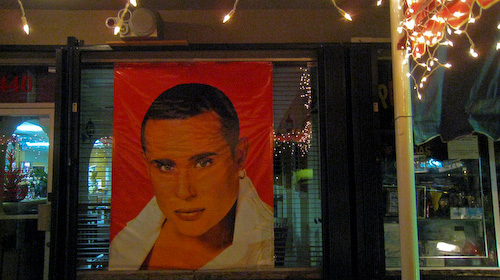 Little Havana
Dan Ariely asks, Are we in control of our own decisions? See Listen also, Radiolab on choices.
New York City police operations order regarding photography:
Members of the service are reminded that photography and the videotaping of public places, buildings and structures are common activities within New York City. Given the City's prominence as a tourist destination, practically all such photography will have no connection to terrorism or unlawful conduct. […]
Members of the service may not demand to view photographs taken by a person absent consent or exigent circumstances. […]
Read the whole thing. Can we issue something like this to every police officer in the country? (via)
Maps showing economic downslump levels vs. economic stimulus levels by county. Looks like Florida made out pretty good.
This was on Google's home page a few days ago:
Over 28,000 children drew doodles for our homepage.
Vote for the one that will appear here!
Can you find two grammar errors in the above? Here's the answer. (I got one.) (via)
Is there anyplace in Miami that still develops large-format film?

Wolfram Alpha launched the other day. The reception has been mixed, but most of the positive press seems to be from folks who've gotten a guided tour. You can get the same experience, if you haven't already, by watching Steven Wolfram's screencast. Awesome, right? All the world's knowledge at your fingertips?
Well, not quite. Farhad Manjoo's reaction is actually typical for folks who've played with Alpha for a little bit:
Once you start conjuring your own searches, it's clear that the samples offer a misleading impression of the site's depth. Ask how many calories that male runner would burn if he were swimming, cycling, playing tennis, cross-country skiing, or golfing—it's clueless. Say you wanted to know how life expectancy differed by state in the United States—what's the life expectancy of a male in California, and how does that compare to the life expectancy of a male in Kansas? "Wolfram Alpha doesn't know what to do with your input," the site tells me. And on and on it goes. Wolfram Alpha doesn't know the homicide rate in South Africa or Baltimore, it doesn't know how many copies M.I.A.'s last album sold, it can't tell you the per-capita GDP of the San Francisco Bay Area, and it's got nothing about the top speed of the Bugatti Veyron. It may sound like I'm nitpicking, but I was careful to construct questions that emulated Wolfram's own examples. As it kept coming up empty, Wolfram Alpha came to seem less like HAL 9000 and more like a chatbot.
Even more embarrassing, Alpha sometimes shows outdated data when the more up-to-date data is easily findable on Google.
What's happening here is Wolfram Alpha is pulling information from discrete online databases, including the CIA factbook, Census reports, and the stock market. These sources are connected to Alpha by its human handlers, who teach it how the data relate to each other. (Many other websites, e.g. Every Block, do the same thing, albeit on a smaller scale.) Insofar as it's just launched, we should expect Alpha to get smarter and smarter as the months turn into years, right? Well, not necessarily. Using human operators to organize the web is how Yahoo! search used to rule the world, until Google came along and let machines give it a try. As the web grew, it outpaced the ability of any number of human librarians to keep up with.
So how can we make software be able to understand the databases that are scattered around the internet? Well, mostly you do it by changing the way the databases are organized, to make them more easily machine parseable. What we're talking about is the semantic web, which Tim Berners-Lee explained (he's one of the people with a claim on inventing the internet) earlier this year at Ted. He describes the frustration of connecting data one database at a time, and he lays out some ideas of how things might work when data are connected. (Raw Data Now! It's going to improve the world!)
Berners-Lee throws out a few examples of how this might work, but it's mostly along the line of mashups. We can create all sorts of data mashups (that second thing is cool, click on it, seriously), but the act of creating the mashup and using it are distinct, right? The genius of Wolfram Alpha is that, within its currently limited sphere, it allows you to mash anything. Well, once the Semantic Web tips and more and more data starts to become available in machine-readable format, the potential power of tools like Alpha will grow exponentially.
Whether the tool that ends up winning the race to harness this data is Wolfram Alpha, Google, or something else remains to be seen. But at least we can now imagine what that tool will look like — something like what Wolfram Alpha looks like today, but able to handle any question that Farhad Manjoo (or any research scientist, or any kid in school) can throw at it.
Posted: Wednesday May 20, 2009 by Alesh Houdek · Permalink ·
The sense of humor, such as it is, of Wolfram Alpha.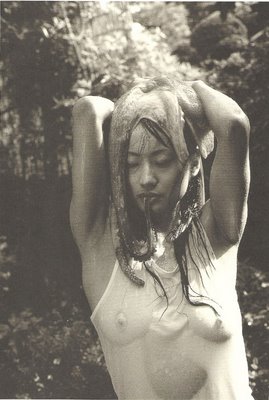 A collection of photos of photos of people … being … with octopuses. Slightly disturbing. Update: This shit obviously runs deeper then I imagined. Just for instance: octopus tote bags on Etsy.
When the new iPhones come out in June I'm getting one. Sample rumors: 720p video, 3 megapixel camera with autofocus, faster processor, 32GB, compass, and a $59/month plan (currently the cheapest is $69).
Eight fallacies about contemporary art, of which the two that I run into most often from non-art people are:
Value is completely subjective.
No it's not. There are methods of evaluating art, and just because viewers respond differently doesn't mean they don't exist. Unresolved aesthetic choices and lazy conceptual practice won't receive a pass from me.

Anyone could do that.
A sentiment typically refuted with the argument, "But you didn't." A more common version of the myth circulating art circles, "It's too easy" completes itself with "to take a compelling photograph," or "to make a good collage." In each case, the viewer's actually complaining that it's too hard to separate the good from the bad. There's no easy answer to this dilemma, except to look at enough art to develop a mature eye.
@publicdomain is going to be twittering the full text of Alice in Wonderland, starting today at 9 am.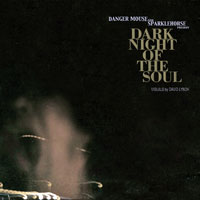 After a legal dispute, Danger Mouse said 'fuck you' to his label and released his new album with all artwork and packaging intact, and with a blank recordable CD-R. (If he's a bad ass it'll also have a quick guide on using teh bittorrentz.) There is something very refreshing, logical, and even beautiful about this, much more so then the 'pay what you like' scheme I think. Update: Listen to the album on NPR. Worth it! Oh right — it's a collaboration with Sparklehorse, with photos by David Lynch.
Posted: Saturday May 16, 2009 by Alesh Houdek · Permalink ·
Stephen Colbert calls his studio audience "citizens" and his TV audience "nation." Ze Frank called his The Show audience "sports racers." Dan Savage calls his audience "the tech-savvy at-risk youth." More?
Property owners around the crash site of United Flight 93 are soured that, despite their willingness to work out a deal or even donate it over the last 8 years, the government is going to use eminent domain to take their land for a memorial.
"Artist sells to Collector and Collector purchases from Artists this Sale Purchase and Steal Agreement … Artist guarantees that he — after having sold and delivered the Artwork — will steal the Artwork back from Collector, or have it stolen from the Collector by a third party to be assigned by the Artist (hereinafter: "the Theft")." That's IT, conceptual art is DONE.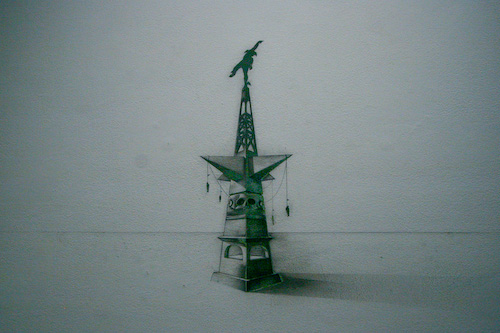 New Glexis Novoa wall drawing at Castillo. Bodies left hanging from the architecturally ambiguous tower!
In the project room, Pepe Mar's installation.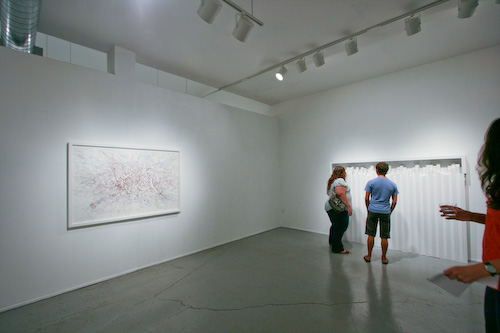 Felice Grodin's show at Diana Lowenstein, a must-see.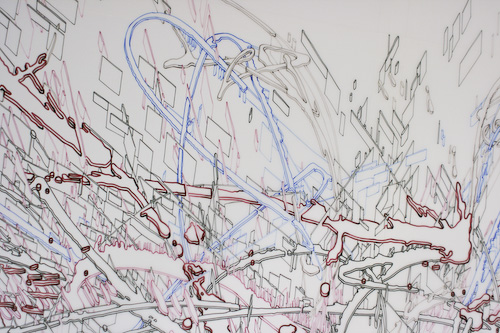 Detail.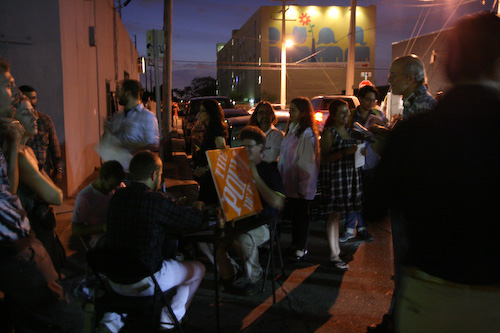 Custom poetry composed while you wait! Seriously, the energy is a little weird around Wnywood. I guess part of it is the impending approach of Summer, but there's more. The Prevailing Economic Climate is making sales of actual art increasingly unlikely. There's the move of Twenty Twenty Projects to Hialeah(!) and the move of Locust Projects to the Design District (a location "secret and for the most part inaccessible to those not closely associated with the residents"). It's hard to not believe that the PEC is not behind both relocations.
Peter LaBier's gremlin painting at Gallery Diet!!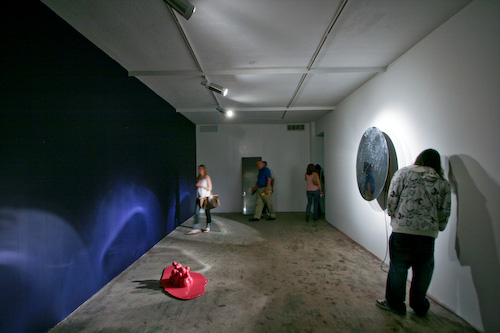 Sinisa Kukec's installation in a new space across from the street from Kevin Bruk. (The space is a nice collection of staggered rooms which evokes the Margulies, and I'm looking forward to future shows there. Provided by Goldman Properties, it is one of the positive consequences of the PEC.)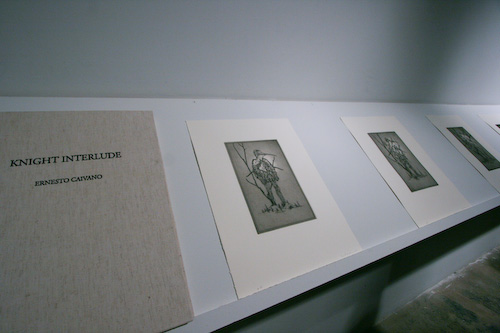 At Dorsch, Ernesto Caivano's spectacular dissolving knight series of etchings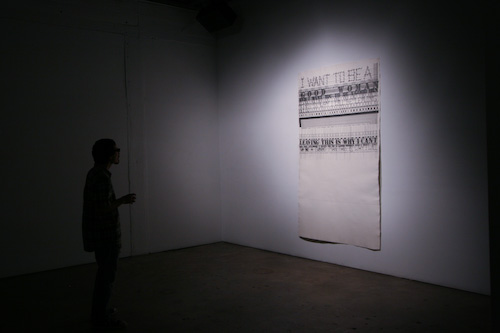 Alyssa Phoebus' Good Woman, which I believe is not a graphical presentation of Cat Power lyrics (but am prepared to accept evidence to the contrary. Seriously though, you should see this show too, if at least for the Patricia Smith pieces, which were beautiful but hard to photograph).
Posted: Thursday May 14, 2009 by Alesh Houdek · Permalink · Comment [1]
The New York Times, one of the more tech/internet-savvy newspapers we have, finally, in 2009, has a reverse-chronological display of its articles. You know, kind of like blogs have had for over ten years. Certain other details of blog publishing (archives by date, archives by topic (clicking on the categories on that page takes you to the "regular" page for that topic, which is broken)) are still lacking. Maybe in another ten years. (via)
Why ads on this dinky little blog? While I acknowledge that they suck, in a way, for the reader, the ads do a few things that make them interesting for me: (1) At the other place, they actually brought in a little money (although a couple of orders of magnitude less then some experts would have predicted considering the readership). (2) It's interesting to see what sort of ads Google serves up, and how it's influenced by what's been on the site recently. (3) It makes this technically a business, which might possibly allow me to write things off on my taxes, though I'll have to research that a little more between now and next April. (4) It's another way of measuring; e.g., at aforementioned Other Place, readership was growing long after ad revenue plateaued, and while I never figured out why that was, the puzzle was nagging in a good way.
In any case, it's an experiment. If it goes nowhere, the ads will disappear just as quickly as they came, and you'll probably be subjected to another navel-gazing post like this one. Meanwhile, I'm pretty sure that if you want to advertise specifically on this site (rather then just target search terms), you can do exactly that through Google Adwords.
Posted: Wednesday May 13, 2009 by Alesh Houdek · Permalink · Comment
Vaclav Havel in the New York Times: The United Nations Human Rights Council is a farce, and membership is based on political maneuvering, oblivious to people suffering under tyrannical oppression.
Ginger, cilantro, mango, lime, shrimp, cucumber, and onion: Daily Cocaine recipe for Summer rolls, "the perfect cure for heat-stroke, and whining." Seriously, I love it when Danny cooks, because he mixes the most random ingredients into obvious-seeming exoticalities.
"So, the chances of us being in a naturally occurring real world might be smaller than the chances that we belong to the fifth-grade project of a geeky kid on the planet Xanthar." — Radiolab on the Multi-universes. (Radiolab is better when they drop the pointless "experimental" editing tricks and just have a conversation.)
"learn to feel as good or better about hte picture of the Quaker as you did about he real person supplying your oats before… who doesn't feel good about Quakers? they're dedicated to exactly the kind of town meetings and local sharing that a national oats company would seek to replace [sic]" — #33 of Scott Heiferman's 101 notes on Douglas Rushkoff's new book. Read 'em all, or start at the end, the last 20 or so are the best!!!
This conversation about race sounds like it could have taken place fifty years ago!!
Michael Polland at Books & Books tonight!. I'll rave about him at length at some point in the future; in the meantime a good introduction is his open letter to Barack Obama from last year.
Liz is one week into her trans-continental road trip, and files an appreciation of good 'ol southern diner cooking. See also Harumi's southern meal paintings and the photos of Georgia and Florida meals.
Posted: Sunday May 10, 2009 by Alesh Houdek · Permalink ·
Pan African Space Station ("it's only music, but we love it"), an internet radio thing the awesomeness of which I'm just beginning to understand. For example, African Noise Foundation, Kalahari Surfers, and Dala Flat Music. OK, now how do I get this into iTunes again? Update: A cockroach-eye view of life for Marechera.
Avery Edison has some fun answering questions from Yahoo Answers.
New Malcolm Gladwell: How do you win when you're outgunned by your opponent? Answer: Exert more effort, change the dynamics of the contest. BTW, what's the point of having a blog when I find out about your new writing from Waxy Banks?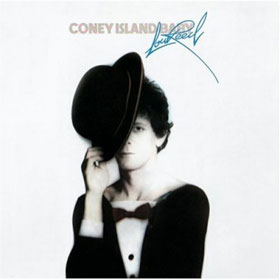 The 90s was the decade of record stores stocked with CDs, and a staple in all these stores (Specs, Tower, Sam Goody, and Peaches — where I spent three years) was a cutout bin of $5.99 reject discs of unknown provenance. Lou Reed discs were always legion in these bins. I suspect because the "serious" music fans who were buyers for the stores and controlled the distribution networks in the late 80s and early 90s were all Reed fans and created an overinflated demand. Also, Lou Reed released a lot of albums in the 70s and 80s, and apparently the idea that there would be a fair number of completists of this body of work was uncontroversial.
Well, I was a self-professed Velvet Underground fanatic, and so for awhile I was snatching these up on a regular basis. (I learned my lesson after a half dozen or so purchases of mediocre Lou Reed product.) But there is a diamond in that particular rough — 1976's Coney Island Baby.
The greatness of the particular album is not attributed to any guise of genius. It's the obvious result of the drug-induced indifference that we now recognize fueling so many 70s albums by the Rolling Stones et al. Lou Reed, backed up by a roster of session musicians who were competent but not particularly hip to his vision or musical past, puts in no more effort than anyone would have expected (note: he was averaging two albums a year during this period). Yet in all this indifference, a sort of accidental magic happened. The music is easy-rocking, almost country, with modest flourishes of weirdness at the margins. Imagine a drug-addled and burned out Reed trying to get these rut-stuck musicians to engage in the experimentation of the Velvets (imagine, also, the talk that producer Godfrey Diamond must have gotten from RCA before the sessions, this being the followup to Metal Machine Music, and even Lou was explicity asked to "go make a rock album"). So Reed got the eccentric specifics he requested — washes of cymbal here, accelerating tempo there — but the basic tracks are straight down the middle.
The songwriting is something else alltogether. There, Reed did exactly what he pleased. And boy were the muses smiling on him. Every single song on this album, on closer listen, reveals something profoundly fucked up. Let's just quickly run them down:
Crazy Feeling: Lou, hanging out in a bar, spots a queen, and sings in loving admiration/desire for him/her, concluding the chorus, "and I know 'cause I've made the same scene," punctuated (as though nothing were more natural) by a riff played on synth church-bells. (The other lead instrument is a pedal steel.)
Charley's Girl: A gently-swaying slow-boogie number (with some truly bodacious cowbell). Lyrics primarily based on life on the road. Oh, right: the band is habitually smoking pot, until the drummer's girlfriend calls in the cops; at the song's apex, Lou casually threatens, "If I ever see Sharon again, I'm going to punch her lights in."
She's My Best Friend: A song from the Velvets period, slowed down and relaxed in typical solo-Lou fashion. Fun lyric: "If you want to see me, well, honey, you know that I'm not around / But if you want to hear me, just turn around I'm by the window."
Kicks: The Big Experiment Song on the album, replete with accelerating tempo, random speech overdub collage, 6+ minute length, and lyrics set at a drug/sex/violence party. But the menace of the vocals is balanced by the soothing ride-cymbal and acoustic guitar rhythm, even as Reed builds himself up to a medium-rare froth, near-convincingly slurring, "then you kill them now now … 'cause I need some kicks."
A Gift: The funniest song on the album ("I'm just a gift to the women of this world," "like a good wine I'm better as I get older"), featuring the band on beautifully whispered backing vocals and a haunting electric piano refrain.

Ooohhh Baby: A honkey-tonk mess about a topless dancers, police snitches, addicts, whores, and the horror of getting old when you're known for your glamor.
Nobody's Business: An honest effort to make a throw-away track, derailed by a platonic strung-out vibe and the lyric "if you start treating me nice hey now baby, I'm gonna have to raise your price ."
Coney Island Baby: On the magical final track, Reed somehow gets this random group of musicians to follow his lead the way the Velvets did on many of their longer songs (albeit still in the country-rock vein). The song starts with a spoken intro, builds to several escalating crescendos, as Reed reminisces about high school football (?!), self-doubt, self-discovery, his coach, "the glory of love," and the Coney Island boardwalk, culminating with a shout-out to his trans-gendered lover Rachel. But in an achingly beautiful sort of way.
Posted: Thursday May 7, 2009 by Alesh Houdek · Permalink · Comment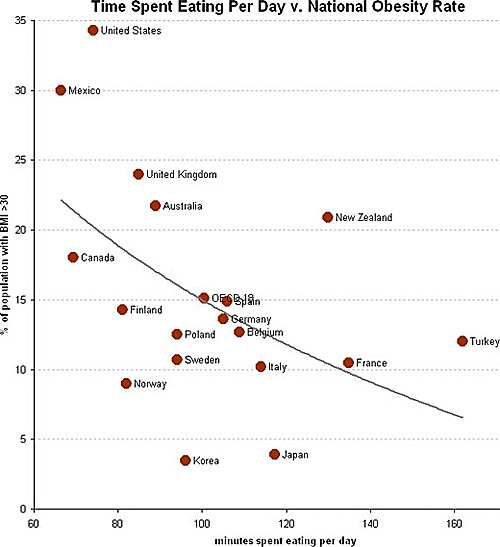 Oh, speaking of Herzog and de Meuron, how far is the Miami Art Museum in their fund raising for the building? Not bad, reports Daniel Chang in Sunday's Herald — the MAM has secured $45 million in pledges from private donors. This is out of targeted $120. The science museum is to raise $100 million, and various public funding for the two buildings comes to $280 billion. No word on what happens when if the project goes overbudget.
The economic downslump is taking the predictable bite out of real estate development here on South Beach and throughout Dade County. But the construction of a few notable buildings proceeds, and it's encouraging.
Herzog and de Meuron's parking/retail structure at the west end of Lincoln Road Mall. There are a few more levels yet to be added to this, but the spaces between the columns you see are not going to be enclosed. The finished product will look like this. (Only white cars will ever park there.) These are the same folks who may one day yet create the new Miami Art Museum building.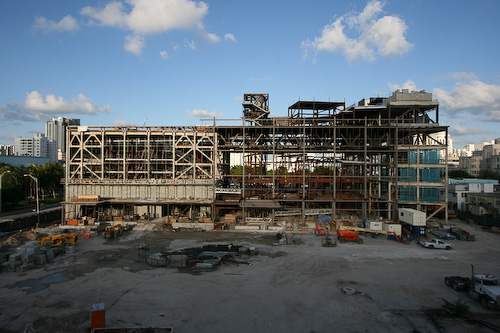 And this is the Frank Gehry building for the New World Symphony, being constructed near the other end of the mall, behind the symphony's current theater. This is the Western elevation, though you can see the blocky internal shapes that will be visible from the outside. The open space in the front of the image presumably will house another parking garage.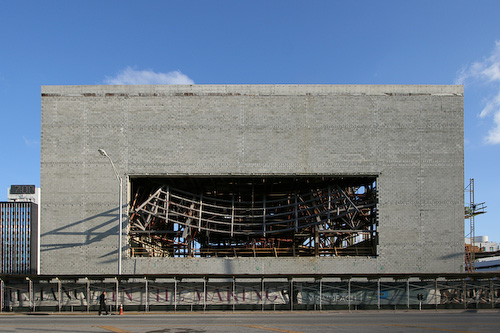 Northern elevation.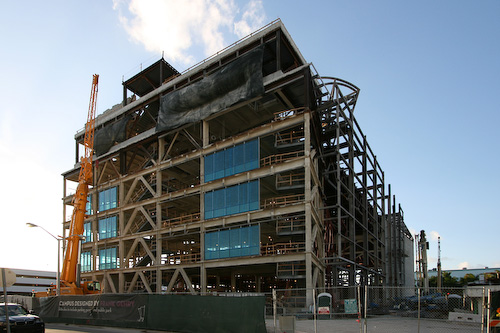 The Southeast facing corner, which roughly corresponds to this rendering (use the boatlike shape at the top to match them up. And yes, the road in the rendering is currently the alleyway running behind Lincoln shops).
Posted: Tuesday May 5, 2009 by Alesh Houdek · Permalink · Comment
Man Ray describes ten of his favorite photographs he's taken. Also maybe a little experimental film — Le Retour A La Raison.