You are viewing a monthly archive page.
Nomic is a game that is played by changing the rules of the game. During each turn a player proposes a rule change, and everyone votes. Things get out of hand quickly. Starting rules.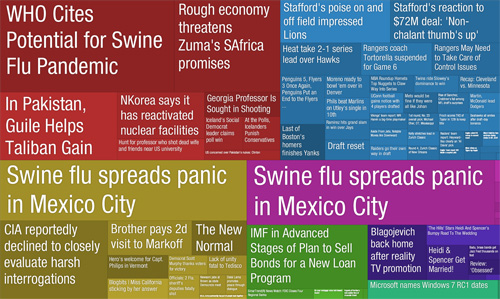 Uh, two things. (1) Newsmap is pretty cool. (2) Are we all going to die of swine flu?
A collection of meta/weird/arty twitter accounts and related twitter sites, including @On_Kawara, a twitter feed of a pet door, and an app that creates tetris blocks out of tweets. (via)
Swiss Post Box is powered by technology from Seattle-based Earth Class Mail. The service emails multi-sided color images of incoming envelopes and parcels to their recipients as soon as the mail reaches the first sorting center nearest where it was collected by the post office. While the mail and parcels are held in an automated temporary cache, recipients decide which mail pieces they want to have opened and scanned to PDF inside an ultra-secure scanning center at the Post Office (where confidential documents for Swiss banks are also scanned), and which are to be delivered physically to the address on the envelope, redirected to another address, shredded, recycled or archived for safekeeping. Three-quarters of the mail ends up leaving that first sorting center bound straight for recycling, either after being scanned to PDF or discarded unopened by customer's choice.
Also, as you may have heard, the United States Postal Service is royally fucked.
David Lynch explains how to make a good movie. This advice works for anyone leading a group of people in realizing a particular artistic endeavor, which to me is the most frightening thing in the world. (Somewhat related: audio slideshow by Roxy Paine re the stainless tree installation on the roof of the Met. Both via C-Monster.)
The Online Photographer has been counting down its top 10 recommended cameras. #1: Nikon D700.
Positive and negative things about living in Beijing.
80s Baby (This is a person doing community service at my work.)
ebay and looting: Archeologists were freaked out when ebay first appeared that the democratization of the antique market would lead to an upsurge in looting. But actually, looting has decreased over the years. Why? Because the massive growth of the market has instead fueled a boon for the antique forgery industry. Not sure whether this is good, bad, or funny. (via)
One eye-rolling Maureen Dowd column and suddenly everyone feels like they need to defend Twitter. I say forget it — if someone's not persuaded to try it, they're not going to read your pleas, and they wouldn't be convinced even if they did. Still, some nice arguments: In defense of Twitter (Bldg Blog), In defense of Twitter (Kottke). Then again, this is hardly untrodden ground
"For the past year, the average sale price on Miami's foreclosed homes has been falling by roughly 4 percent per month. The rate of decline hasn't tailed off."
HA!: Finally someone pointed out the 2-tiered question of torture that usually gets conflated — Jon Stewart on the Daily Show. Watch a 17 second excerpt or the whole episode.
Twitter vortex: So, Maureen Dowd has nothing particularly interesting to say about Twitter, but at least she said it to the company's founder. (Then again, so did Colbert.) So then Rex linked to a post on the not uninteresting new site "The Awl" about Dowd's dismissal, which actually summed up my own feelings pretty well. So then I noticed that Rex was using that post to compare the Awl to Suck, and Chorie quoted my complaint about The Awl, and everything got a little dizzy. All of which reminds me of my favorite editorial (mostly) about Twitter, Geoff Nunberg on Fresh Air last year (text):
The story was a natural for journalists. It combined three themes that have been a staple of feature writing for 150 years: "the language is going to hell in a handbasket"; "you'll never get me onto one of those newfangled things"; and "kids today, I'm here to tell you."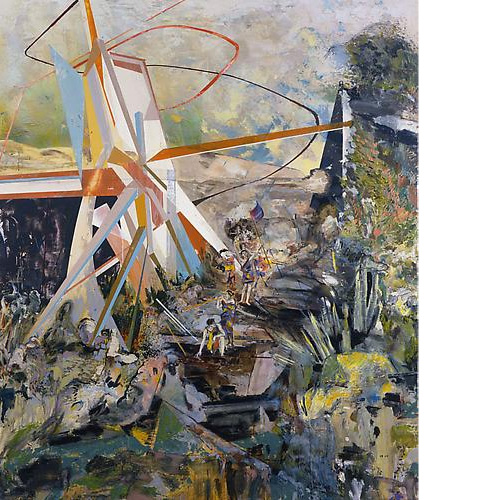 Images from Hernan Bas' show in New York this Summer look spectacular.
Update: Extensive coverage, with lots if images and details. #2: Franklin reviews a retrospective at the Brooklyn Museum. Interesting perspectives from someone who is decidedly not a Bas cheerleader.
Some of the last-sucker-in residential developments around Florida are returning to nature, maybe sort of like in the new show Life After People. Take the Turnpike south towards Homestead and it is just stunning, the rows upon rows of empty finished and unfinished developments.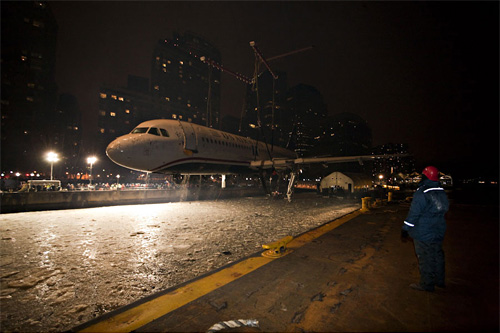 Images of Flight 1549 recovery: Stephen Mallon was hired to photograph the recovery of US Airways Flight 1549, and was subsequently blocked from releasing the images by some asinine legal crap. Anyway, the images are back online, and every single one sings. Truly a spectacular body of work.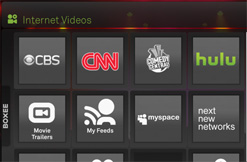 Over at Slate, Farhad Manjoo confesses to using BitTorrent, and explains why there's no on-demand movie service that offers all the movies you can get at Blockbuster. Film studios are locked into contracts that dictate who gets exclusive rights to films after release — movie theaters, video rental chains, premium channels, broadcast channels. That's why, for example, "Netflix's Watch Instantly streaming plan offers a smattering of popular new releases and a slightly wider selection of films from the '80s and '90s." In the end, Manjoo says it'll take about 10 years before we can stream any movie we want legally.
And I'm just not so sure. Manjoo is apparently not afraid that the film studios are going to sue him RIAA style, otherwise he wouldn't be so open about using BitTorrent to download films. But neither are the studios oblivious to BitTorrent. They're monitoring the situation, and they know exactly how much money they're leaving on the table. The record industry and the newspaper industry are just two they've recently seen go down the crapper after not dealing with the internet. If these people have two slivers of brain to rub together, they're working right now to fix the situation.
And there's evidence that they're making progress. Hulu is adding new movies for online streaming, some of them as recent as 2008. Of course they're not blockbusters — it's a free service, after all. And if some outdated contracts are all that's in the way, well, one Steve Jobs demonstrated that where there's a will, contracts can be re-negotiated. And here again, movie studios have a powerful precedents on their side in the negotiations.
Napster shut down in 2001, and the iTunes store opened two years later, in 2003. In other words, it took two years to get music online legally even after it was obvious that suing filesharing sites was not without hope. Contrast this with the recent verdict against ThePirateBay, after which the site continues to operate with relative impunity. How long until a streaming service that has anything out on DVD opens? I'd say a lot less than 10 years.
Posted: Tuesday April 21, 2009 by Alesh Houdek · Permalink · Comment
Now that is how you bike riding. (via) You may prefer it with Yakety Sax.
Online image editing: I'm working on a computer that I don't want to install anything more then I need to, so I'm trying to use all online apps to get my stuff done. Here's a relatively awesome online replacement for Photoshop: Splashup. No ads, no registration, easily loads images from your machine or from the web, and relatively powerful (layers!).
Paul Krugman is 'cautious' about the economy, and provides some very good reasons why. But the fact that it's now merely 'cautious' is what is really interesting, yes?
Torture memos released! "These ten techniques are: (1) attention grasp (2) walling (3) facial hold (4) facial slap (insult slap) (5) cramped confinement (6) wall standing (7) stress positions (8) sleep deprivation (9) insects placed in a confinement box and (10) waterboard. You have informed us that the use of these techniques would be on an as-needed basis and that not all of these techniques will necessarily be used." The ACLU has the complete scans for your reading displeasure. Or, if you want instant ungratification, skip to the "update" section here and just read some choice excerpts and commentary.
Why don't people boo more at the opera? Tyler Cowen thinks he knows: "When these high-status people are slighted, as they might be by a bad performance, their privately optimal response is to ignore the slight. Reacting to the slight suggests that they have let it bother them …" I'd think it has everything to do with herd mentality and accepted tradition, which could just as easily have gotten started randomly (and which a couple of spontaneous instances of booing could turn around).
Four of Jorge Colombo's iPhone sketches are available as editions on 20×200: 1, 2, 3, 4. They're literally selling like hotcakes.
The legendary Nelly Furtado remix of Missy Elliott's Get Ur Freak On. I've been periodically checking Songza for this, and suddenly it's back.
Wikipedia is considering switching to a Creative Commons license, and they're putting the issue to an online vote by their frequent editors.
So the 'real horror' of 'Make PINK Not War' wasn't that it said nothing, helped nothing, arbitrarily divorced modern struggles from historical ones, made everyone stupider, cost real money for fake pleasure. The sin didn't belong to the teenager in the café – she's gone now, I'm alone here with my preoccupations – nor even to those who made and sold her the bag, who were guilty only of greed and lack of imagination (which are of course the same thing). The sin was the belief that children are happy being belittled and infantilized, popular culture(s) that provided only meaningless choices – fashion – and force-fed children mere pleasure at the expense of real joy.
— Waxy Banks rants about Hollister, stupid teenagers, and greed.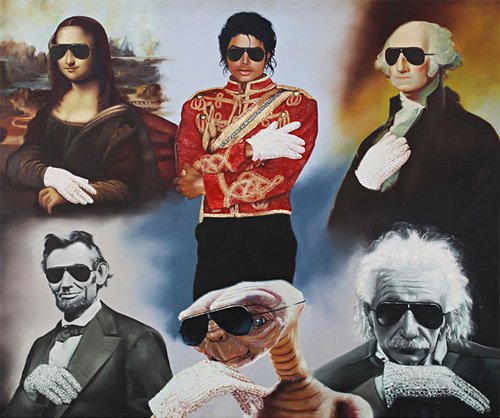 A painting, one of the items from Michael Jackson's estate being auctioned off. I would very much enjoy owning this piece. Those of you who still have not gotten me a present, a month after my birthday, you know what to do. (via)
New Orleans Biennial, 2008, acrylic on diverse materials, by Katharina Grosse. (via)
The thing that's hanging over this economy, threatening to turn it into Great Depression Deux, is the term "bank run." Simon Johnson explains that the FDIC makes an old-school bank run unlikely. But: "Sadly, it turns out we haven't outgrown runs. Rather, we have learned since mid-2007 that other kinds of runs — let's call them wholesale or professional investor runs — are not only possible but also increasingly likely in the United States." (Tho keep in mind that Johnson is of a particularly pessimistic mind about the current crisis, and this feeds into that perspective.)
I think they're going to make the e-reader I want.
Photojournalist Klavs Bo Christensen was recently disqualified by the Danish Union of Press Photographers from their Picture of the Year prize due to "excessive Photoshop" (via). After the committee reviewed the pictures, they requested his original camera RAW files, before making the determination. Lucky for us, they released a few of the before/after images. Let's look at one: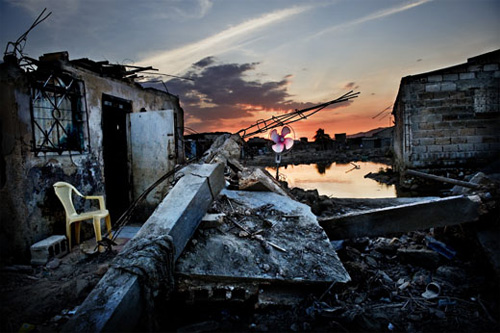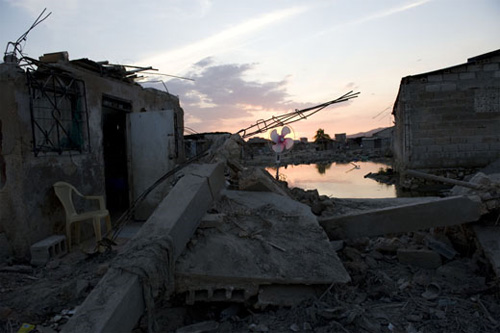 This looks like a pretty spectacular modification, but I decided to see just how much was really being done by attempting to re-create the changes myself. Feel free to fire up Photoshop and play along at home.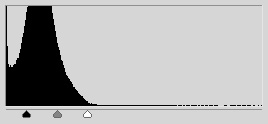 Step 1: Obviously the cornerstone of what's happening is an increase in contrast. The levels tool allows a photographer to adjust lightness and contrast in a single step. And this single adjustment resulted in the above — an increase in contrast has the natural effect of increasing color saturation, because the contrast is being increased in the individual color channels.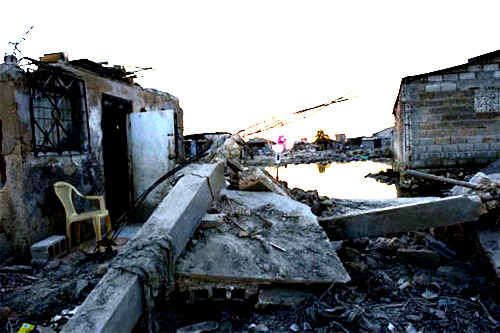 Step 2: Since the ground in the original image is in shadow, the sky is of course much brighter (this is a common issue in outdoor photography), and it's now blown out. The solution is to mask the above layers adjustment so that it only effects the ground.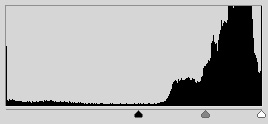 Step 3: Better, but the sky still looks anemic relative to the rest of the picture, so we apply a second levels adjustment to the areas unaffected by the first. This time the sliders are toward the right of the graph — the contrast is increased by about the same amount, but this time the overall exposure is darkened rather then lightened. Now the image is just about identical with Christensen's.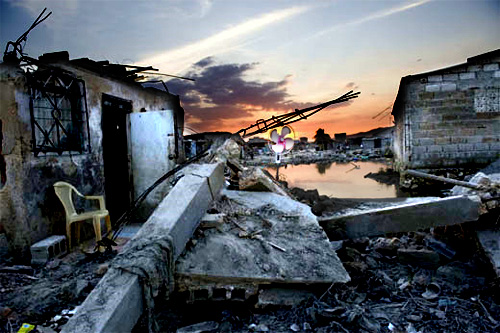 Step 4: Finally, dodged the chair and the window above it just a little, and sharpened the overall result. Save for some nasty jpg compression resulting from modifying images already compressed for the web, the results are remarkably close.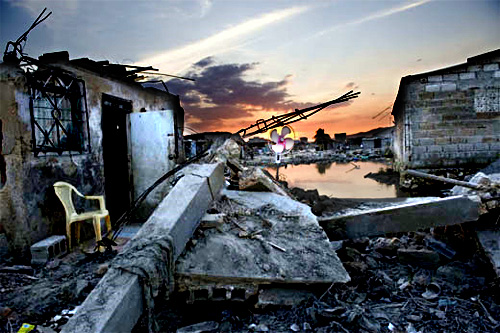 Conclusion: I'm not trying to say that because Christensen's modifications are trivial to make his photos were disqualified unjustly. Anyone who's ever played with an image manipulation program and found the contrast adjustment knows it's trivially easy to make a photo look completely insane and artificial. The question is, how much contrast adjustment is appropriate before an image leaves the realm of photojournalism. Christensen is correct that referring to RAW files is misleading, since digital cameras have their own contrast adjustment, and the RAW files often produce deliberately low-contrast results which do not correspond to the way a scene looked. Additionally, human vision corrects for variations in lighting when looking at the world in a way that it does not adjust for viewing photographs.
What's striking is the ignorance of digital photo manipulation from the committee. They speak of a wall and some concrete that the photographer has colored blue, which is just wrong — the increase in contrast has brought out the blue shade that was present in the original photograph. A photographer who applied a gentle, more pragmatic levels adjustment would have achieved a commensurately modest shade of blue (which after all is the color that gray concrete takes on in shadows of the early-morning sun). The exact same process is at work in the case of the sweater that appears to turn from brown to red.
I do not deny that for me this set of Christensen's images crosses the line, but I note that his transgression is a quantitative one, not a qualitative one. His use of masking to modify only one area of the photo was used exclusively to separate the sky from the foreground, a technique no doubt used commonly by photojournalists. So the complaint here can be summed up as "too much stupid contrast."
(By the way, check out Christensen's website. Few of the images there exhibit this effect, though the black and white images seem again to be suspiciously high-contrast, to their apparent detriment. His photos of masked Iranian women, however, are spectacular.)
Posted: Monday April 13, 2009 by Alesh Houdek · Permalink · Comment [3]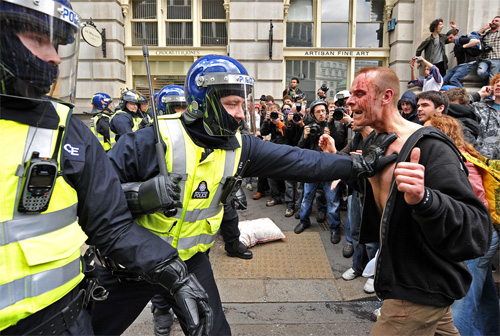 G20 protests in London. It's interesting how three groups are on near-equal footing in these image — the protesters, the police, and the photographers. Not only do the scenes have a quality about them of being staged for the photos, but it's almost like all parties got together with the sole purpose of creating a previously agreed-upon set of images. I realize that sounds cynical, and that the protesters are extremely passionate and the police are doing a very difficult and dangerous job (as are the photographers), but it's a very difficult feeling to escape with this particular set of images.
Remember the "what will the Daily Show do when George W. Bush is out of office?" talk? Well, while making fun of FOX News is not going to be a substitute for making fun of a disastrous president, the above needed to be said. It'll be no fun listening to variations of it repeated ad nauseam, but it sure is fun to hear it once. The quick summation of GWB's worst hits is worth the price of admission, and the outrage/gloat tone makes this the Daily Show clip for the time capsule. I hope Jon Stewart doesn't cave to the Media Watchdog role some are pushing him towards, but, among other things, this clip demonstrates how effective he'd be in that role. If I could pick 6 minutes out of the last year of the Daily Show that every person would get to see, this would be it.
Battle of bad album cover lists: Pitchfork's Worst Record Covers of All Time is about a hundred times more interesting and entertaining then Noise Addict's Some of the most controversial album covers ever, the latter of which has been getting linked around a bit lately.
Predictions for when various states will legalize gay marriage. Fairly rigorous, the model uses data on when various states attempted to pass gay marriage bans, and the level of religiosity in the population. The tipping point comes between 2012 and 2013, which is also the year where we find Florida in the list. Mississippi is dead last, at 2024. (via)
Mike Dickison complains about bar graphs. I see his point, but I'd settle for everyone agreeing that when you're dealing with quantities, the origin point should be at 0.
As Republicans go, David Brooks is one of the most reasonable and thoughtful writers we have. However, this week he dropped a real howler. The title is, The End of Philosophy, and it goes downhill from there. The gist goes thus:
Think of what happens when you put a new food into your mouth. You don't have to decide if it's disgusting. You just know. You don't have to decide if a landscape is beautiful. You just know. Moral judgments are like that.
Brooks goes on to cite some basic evolutionary theory (as if he'd only just discovered it) to support his claim, and at some length concludes that it is all very well and good for us to be guided by instinct as we make moral decisions. My reaction to this argument, generally made by people much less intelligent then Brooks, can best be expressed by an interpretative dance. But my camera has been acting a little buggy, so let me try to put it into words.
I'm struck by the similarity to the analogy Franklin Einspruch made between food and art. Yes, you know whether something tastes good without having to think about it. But deciding whether a piece of art is good is quite a different process, informed however subtly by whatever art education and exposure to other work one has had. It may seem instinctual, but that instinct is honed by a lifetime of experience. (I recommend reading Franklin's post and the 114 comments that followed over three days. My own response is mostly in comment #74.)
Finding a similarity between taste in food and a taste in art may be flawed, but to extend it to a taste in ethics is just absurd. Brooks cleverly gets us nodding along in the second paragraph by observing that those who study ethics are no more likely to behave ethically than the rest of us. Fine and dandy, but the academic study of the philosophy of ethics is something quite apart from the process we all go through, as we mature, of deciding how we shall govern ourselves in life.
I think that Julian Savulescu on the 'Yuk' Factor, a recent episode of the Philosophy Bites podcast (pardon the British spelling of the word "yuck"), directly refutes Brooks' line of thinking. We have innate tendencies, and we have ethical principles adopted from our parents, and we have the capacity as intelligent humans to think through and decide whether we want to adopt these tendencies and principles. For example, as Savulescu points out, homophobia and racism may well be based on innate evolutionary instincts (for sure they are often learned from parents).
Yet many intelligent people are able to reason through to the conclusion that homophobia and racism are completely indefensible moral positions. Thus our rational, philosophical, thoughtful self trains our ethical instinct — trains the yuck factor, as it were. Brooks is correct that we make snap judgments as we go about our daily lives, but he is profoundly and disappointingly incorrect to think that moral reasoning and yes, even philosophizing, do not enter into the picture of developing our ethics.
Posted: Wednesday April 8, 2009 by Alesh Houdek · Permalink · Comment [11]

There is a little bit of panic circulating on the internet over the last few days about a bill which is in the early stages of working through Congress (it's been referred to two House committees). It's a food safety bill, but the message being circulated claims in all-caps that it will "OUTLAW ORGANIC FARMING," and links to videos that claim the video will also outlaw home gardens, heirloom seeds, and basically any growing of food that doesn't involve toxic chemicals.
Here is a slightly more articulate statement of the accusations against the bill, HR 875. Note the use of the term "food police" in the title. Is this a tip-off that this is at best knee-jerk conspiracy theory paranoia, at worst astroturfing by the industry that may be financially hurt by the regulation? I read the sections the article suggests reading, and the bill seems in fact to go out of its way to exclude any place where food is prepared for the purpose of being served. The following is from section 13.B of the definitions section of the bill; it modifies what the term "food establishment" means in the text of the bill:
EXCLUSIONS- For the purposes of registration, the term 'food establishment' does not include a food production facility as defined in paragraph (14), restaurant, other retail food establishment, nonprofit food establishment in which food is prepared for or served directly to the consumer
Here's the full text of HR 875, go look for yourself and if I'm wrong point me to what I'm missing.
Here's the video that most of the links seem to point back to as their source. Wow! It opens with the an Orwelian quote from a science-fiction movie, cuts to a guy in a baseball cap who claims that the bill "nationalizes the food industry." Give me a break. He then goes on to give us his reading of the bill, which you can go see for yourself if you're so inclined.
We already have a "food police." That's right, the government has people that inspect food production facilities to make sure they're operating in a way the government considers safe. Does this seem like a bad idea?
Update: Snopes has finally tagged this: Mostly False.
Posted: Wednesday April 1, 2009 by Alesh Houdek · Permalink · Comment [4]