You are viewing a monthly archive page.
At the end of the year, when most bloggers are kicking back and taking it easy (ahem), Rex Sorgats has been busting his butt, bringing the excellent 30 Most Notable Blogs of 2008, the Top 35 Albums of 2008, and the monster List of Lists. Crazy.
Ken Rockwell's How to Win at eBay article should be worth a read.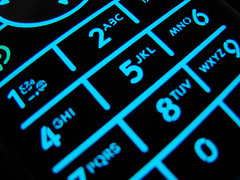 I've been griping about this for years: it costs cell-phone carriers effectively nothing to send text messages, yet they're charging 10 or 20 cents a piece. Consider the size of an mp3 file vs. a text file: my This American Life downloads (which are of course efficient, low-quality files) are 27,700 kilobyte files, which comes to 470 kilobytes — or 470,000 bytes — per minute. How many bytes is a 160 character text message? I actually had to work this out, but you'd be correct to guess that in text messaging, one character still = one byte, so it's 160 bytes.
I.e., one minute of audio costs phone companies several thousand times as much to transmit as a text message. Calling plans are of course totally arcane, but an average between pay as you go and the less expensive monthly plans seems to be about ten cents per minute of calling. So, they're charging twice as much for the text message while it's costing them 1/1,000th as much to send (this is actually a conservative estimate which assumes that the phone call uses a quarter of the bandwidth as the This American Life mp3). In other words, Highway 2B Robberiez.
So the obvious solution is to not send text messages? Well, not really. If we knew they cost 20 cents before, they're obviously worth it to us to send. This is what happens in Europe: Nobody has a prepaid plan: you pay for the minutes you actually use. (In an added twist, only the person initiating the call is charged.) Text messages are charged some trivial amount, which makes a round of texts much cheaper then a short conversation.
So, I'm not sure we want a world where minutes on the phone are expensive and text messages are cheap. I guess what I'm saying is, look at your cell phone bill. If it makes sense for you to switch to a cheaper plan, do it. If you're off-contract, consider a pre-paid plan. And if you're sending and receiving an average of 5 text messages a day, consider whether that $30 per month is really worth it to you.
Image: IamSAM
Posted: Tuesday December 30, 2008 by Alesh Houdek · Permalink · Comment [4]
WLRN is considering cutting traffic reports? Check out the survey they're asking folks to take. Since cost-cutting is going to come from somewhere (in These Uncertain Economic Times), may as well cut back here. Can't they get the info from traffic.com or Google anyway?
I've been catching up on my reading of Slate, and this caught my attention: Lawyers aren't Special. Milan Markovic argues that Bush administration lawyers ought to be investigated for their role in the commission of war crimes. Traditionally lawyers are exempt from such investigations, but this may be absurd:
[S]ince the Nuremberg trials, it has been a fundamental precept of international law that soldiers must disobey orders to commit war crimes. If soldiers are supposed to differentiate between lawful and unlawful orders, why should lawyers, who are trained to know the law, have the privilege of never being held accountable if they advise unlawful conduct?

That stance seems especially unwarranted since lawyers can offer legal advice in such a way as to account for differing points of view when addressing controversial legal issues. In fact, lawyers are mandated to at least consider opposing points of view. They may, moreover, refer to moral and political considerations when advising clients, not purely legal ones. And yet John Yoo and other administration attorneys wrote one-sided arguments about crucial aspects of the coercive interrogation policy.
Also, if you haven't already listened to the Fresh Air interview with Philippe Sands, you really should. He argues not only that Bush administration officials (including the president) ought to be indited for war crimes, but that there is an excellent chance that they will be at some point, in a foreign country. This may or may not be little more then a thought experiment, but it's a dazzling listen.
Posted: Friday December 19, 2008 by Alesh Houdek · Permalink · Comment [1]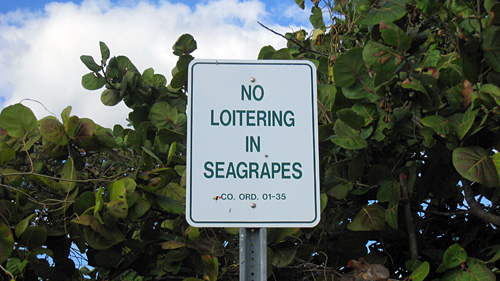 I wonder what they mean by "loitering."
Announcing Your Plans Is The Best Way To Make Sure They Don't Happen: This Recording on the great and dearly departed teevee show Deadwood. I watched all three seasons over the course of about two months, and boy was it something.
It seems like I've done a million posts about David Foster Wallace, but Google says no. So, a couple of things: Interviewed by Dave Eggers, and the syllabus from the literary interpretation class he taught at the University of Arkansas.
Part of your grade for written work will have to do with your document's presentation. "Presentation" has to do with evidence of care, of adult competence in written English, and of compassion for your reader. Your three major essays, in particular, must be proofread and edited for obvious typos and misspellings, basic errors in grammar/usage/punctuation, and so on. You are totally permitted to make neat handwritten corrections on your essays' final versions before you hand them in. You are also welcome to contact me with questions about proofreading, grammar, usage, etc., as you're working on revising and editing your essays. But papers that appear sloppy, semiliterate, or incoherent will be heavily penalized, and in severe cases you'll be required to resubmit a sanitized version in order to receive any credit for the essay at all.
For DFW neophytes, I as always recommend Brief Interviews with Hideous Men
and Consider the Lobster
. For more DFW, see Rex's postmortem link central.
Posted: Wednesday December 17, 2008 by Alesh Houdek · Permalink · Comment [1]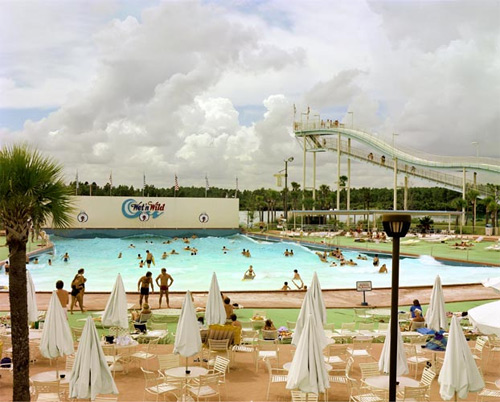 I was talking to my friend Christiaan Lopez-Miro the other day, and he pointed me in the direction of a couple of his favorite photographers: Joel Sternfeld and Alec Soth. In looking at these photos I'm struck at how alien the very notion of photoshop becomes. "Straight photography," as a branch of art, is all about the delicate tension between two seemingly incompatible motivations: the desire to show something inherently interesting, and the desire to create an image — through a shift in perspective, the posing of people, etc. In other words, a subject is photographed in such a way that it is simultaneously transformed and not transformed at all.
This delicate tension requires that the viewer implicitly trust the authenticity of the image before them. While photo manipulation has a long history and we are all well-advised to view any photo with a certain amount of skepticism, for straight photography it is imperative that we believe. To question such images, to begin to look for digital seams and other evidence of tampering, is to immediately weaken them. This is why many photographers who do choose to tamper with their photos, digitally or otherwise, do so in a way that is fairly easy to spot (see for example Joel-Peter Witkin's The Raft of George W. Bush). It's why artists who use photoshop in a way that is not immediately obvious, such as Andreas Gurskey, occasionally cause such a stir. And it's why certain bodies of work, such as Denis Darzacq's falling series, are accompanied by not-so-subtle whispers of "its not photoshopped."
Photo manipulation is of course a much more pressing problem in news photography then in art. But photojournalists have extremely clear guidelines about what is permissible. (Or do they?) But in art, ostensibly anything goes if the results are compelling. Photos that required extremes of effort and endurance sit alongside simple digital tricks.
Yet straight photography has its own aura. Manipulated images can be powerful, but they are either obvious or they are susceptible to debunking. And as manipulated photos become more and more ubiquitous and shameless, one craves the integrity of the unmanipulated image, shot on film and printed optically.
Posted: Tuesday December 16, 2008 by Alesh Houdek · Permalink · Comment [1]
Argh. Sorry to lay this on you people on Sunday night, but I have a cubic assload of open browser tabs and I need someplace to dump them. Bees a dears and clickie away:
(This, and all future clickables, are variously via kottke, fimoculous, Waxy, Cynical-C, Meta Filter, and others.)
Posted: Sunday December 14, 2008 by Alesh Houdek · Permalink · Comment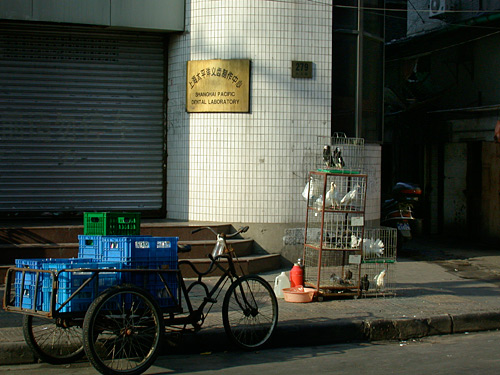 CLICK FOR SLIDESHOW
My friends are leaving Friday for three weeks in Shanghai, and I'm stuck here in Miami. But I thought the occasion called for something, so I'm posting a few pictures from my trip there back in 2004. All these were taken on the first day, August 5. Mostly we were just wandering around the neighborhood adjacent to our hotel. There are some original British colonial buildings (our rundown hotel had once been visited by the likes of Bertrand Russell) mixed in with Russian-era Communist architecture and a dash of the ultra-modern that dominates other parts of the city. But mostly it's just a homey regular Shanghai neighborhood, in a state of constant and frantic flux.
Posted: Tuesday December 9, 2008 by Alesh Houdek · Permalink · Comment [4]
Like a complete n00b, I use Picasa to manage my computer photo archive. In conjunction with a couple of lightweight photo viewers and Photoshop, I can do whatever I need. It easily imports, does light photo modification, and exports in conveniently resized batches.
It's got it's share of flaws too, though. The color balance is just useless for removing anything but the faintest of color casts, there's no way to darken midtones (fill light will lighten midtones, but the slider only moves in one direction?!), and it's impossible to apply sharpening after an export/resize, which is the only time sharpening makes any sense (so everything going to the web needs to be run through a photoshop unsharp mask first).
But it was all stuff I could deal with, until yesterday. See, it turns out that the import option "Safe delete: only pictures that are copied will be deleted from the source media," really means "UNLESS ANYTHING WHATSOEVER GOES WRONG, THEN I DELETE YOUR PHOTOS PERMANENTLY."
What happened apparently was that the destination drive was full, and instead of doing what it SAID it was going to do, Picasa (yes, 3, the latest version) decided to drop me a friendly warning and then delete the photos off the memory card. Didn't even crash, just hapily sat there while the realization that two days worth of photos were flushed down the digital crapper.
I just finished Planet Google, and now I'm really having some second thoughts about trusting any more of my information to this company. If a version 3 of one of their products can do this, what am I to expect from the legion of "Beta" products they're pushing on the world?
Posted: Monday December 8, 2008 by Alesh Houdek · Permalink · Comment [5]
Photos from a couple of the Wynwood fairs from yesterday: NADA, Art Miami, Scope, and Pulse. Art Miami was mostly a disappointment, while Scope and Pulse were very good. A weird entanglement at NADA kind of soured me.
The galleries at these fairs are often pretty lax about labels with artist names, so I'll provide them when I've got 'em, and just give you the name of the gallery when not.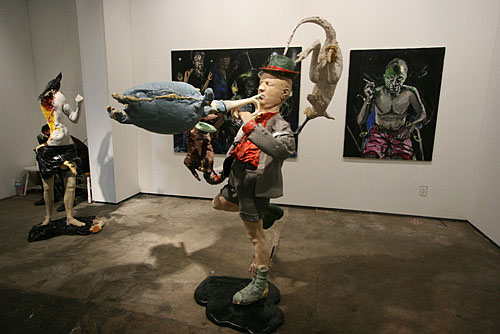 NADA: Figge von Rosen Galerie, Germany. The life-size surreal sculpture made of foam was hitting on all cylinders this year around all the fairs.
Cutesy drawing, on the other hand, was on the wane a bit. Did spot this grouping at Parker Jones, Los Angeles.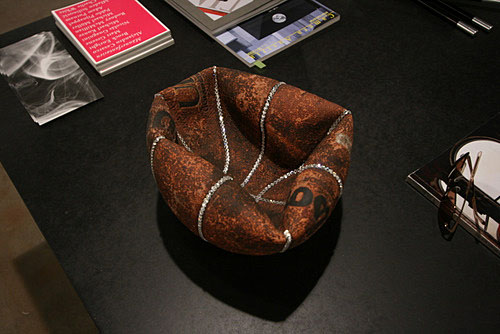 Peel 'n stick bling was another big trend, with this basketball maybe the best sample (some other folks just coated an entire piece of paper with it and called it a day). COMA Center for Opinions in Music & Art (?), Berlin.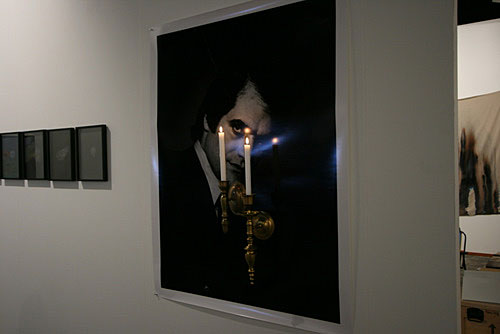 A few light cleverness pieces at Karma International, Zurich.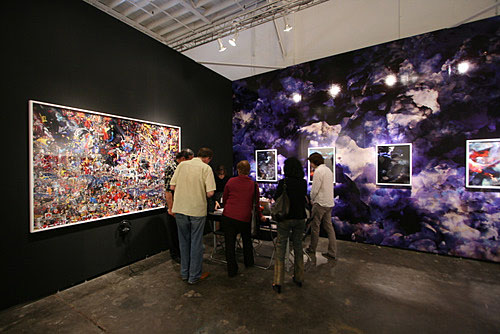 Installation, Kim Light/Light Box, LA.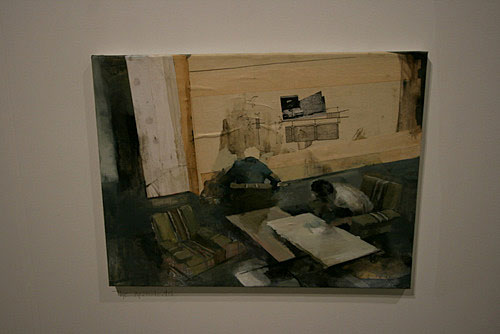 Mixed media piece (very poorly photographed…), Hunt Kastner, Prague.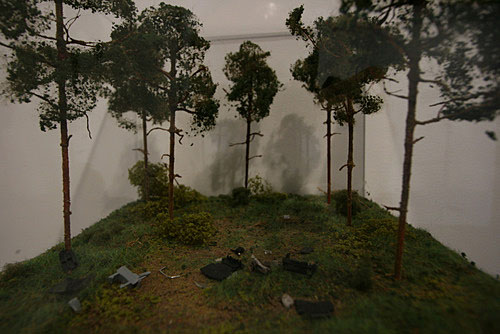 A few dioramas showing human disregard of the environment (trite, but done well enough) at Galeria Czarna, Warsaw.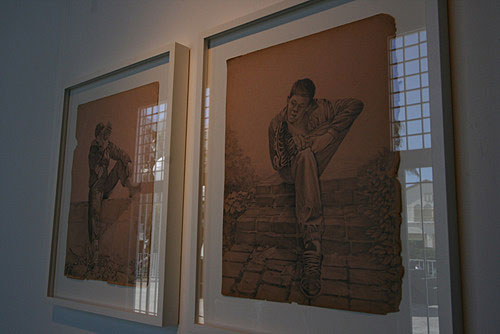 These Drawings at Upstream, Amsterdam, were great. One shows a kid sniffing his Nikes, in the other he's taken one off and is apparently making out with it. The titles were like "Ritual #03."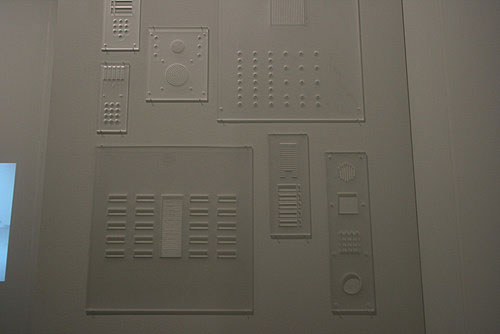 Carved plexiglas replicas of European dorbell/intercom panel covers by Kristina Matousch, Elastic Ola Gustafsson.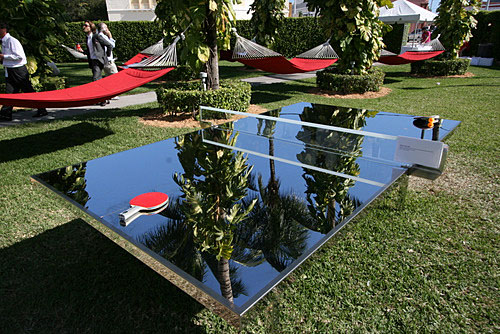 The area outside NADA is pleasant as ever, I guess because they're keeping out the undesirables. Grassy field, hammocks, and a mirror ping pong table.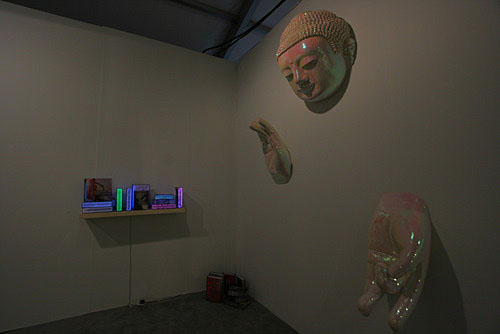 Art Now: In a vast see of "meh," there were a few standouts. Noh Sang-Kyoon's sculpture at Bryce Wolkowitz, NY.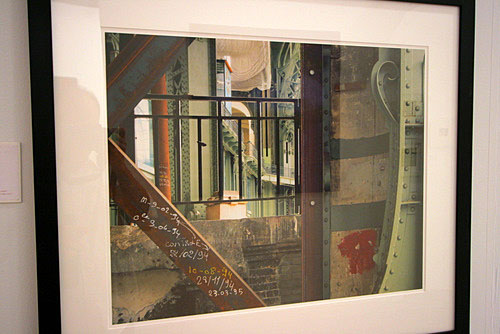 One of a series of photos by Stephan Couturier, LMG.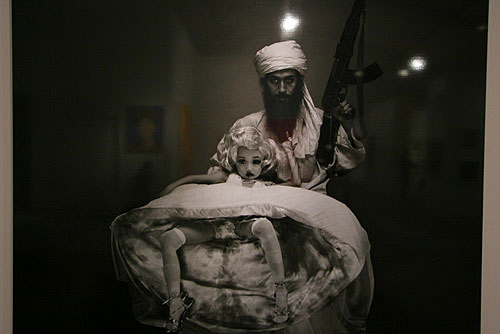 The star of this huge piece by Zhang Peng at Olivia Oriental Contemporary Art is in fact the little girl — the series deals with child sexualization, and toys, and I guess terrorism.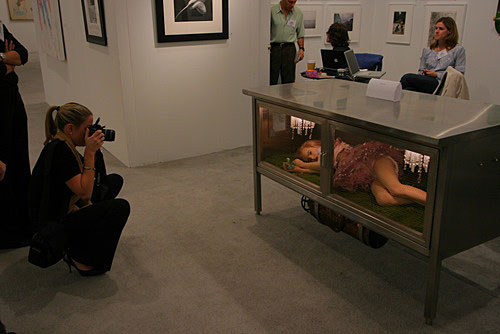 Completely not related, Rick Wester Fine Art, NY.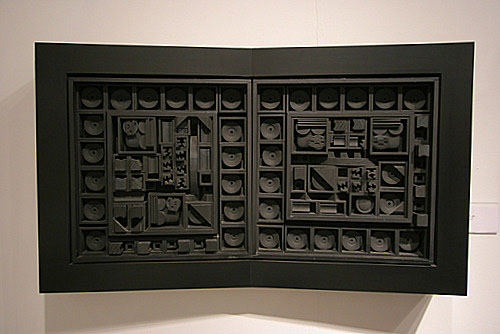 There were a bunch of Nevelsons lurking around. This one can be had for $185,000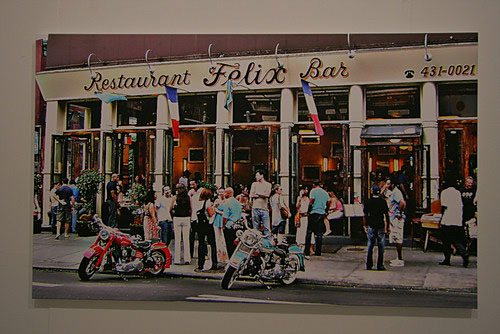 And then, BAM, in one fell swoop, Philipp Hofmann discredited himself, his gallery (Barbara von Stechow), and perhaps his whole fair, by taking a photo, applying a photoshop filter, and printing it out onto canvas. Now when they say "yeah, well, anybody could do that," you'll have to shrug and say, "yep, it's true."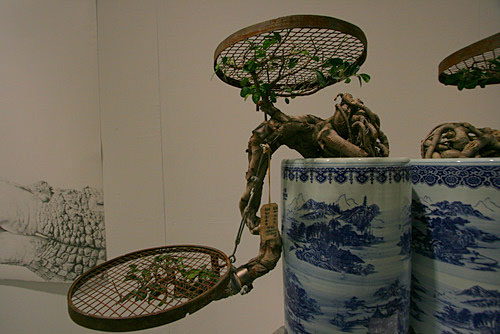 Plants were harmed in the making of this artwork! (Actually, they're being harmed still.) Frey Norris Gallery.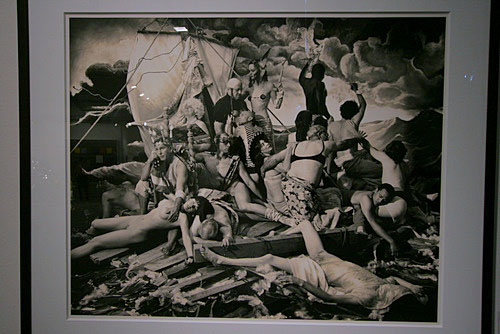 Joel-Peter Witkin's new bag is photoshop! Check this out: The Raft of George W. Bush ($18,500). OK, let's stop there, on a positive note. Off to…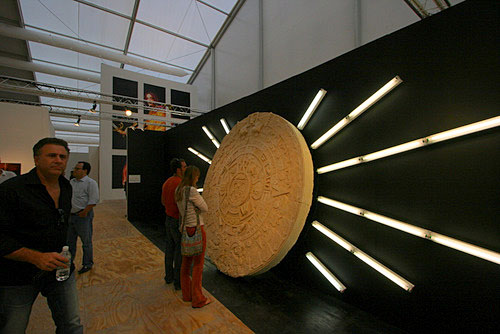 Scope: Actually, I just made a brief stop. Back for more later. Here's Joe Berg stepping into my frame, and a liberaged Aztec monument finally getting the flourescent treatment it always deserved.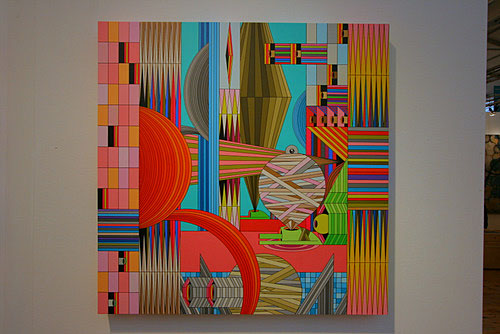 James Marshall (Dalek), Irvine Contemporary, Washington D.C.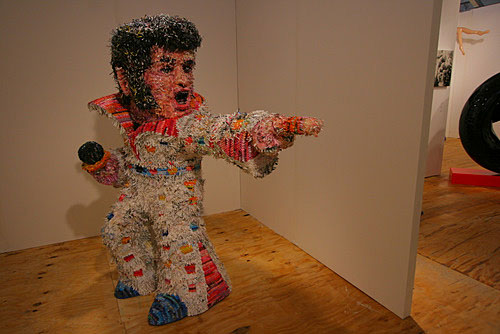 Pinata Elvis, Gana, NY.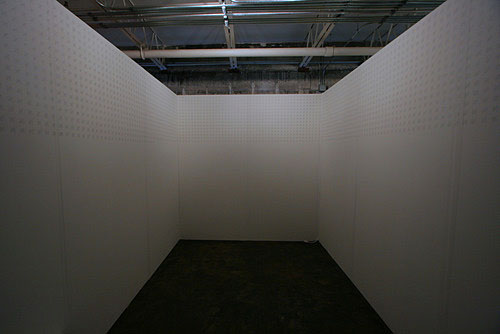 GEISAI: Tom Scicluna's booth. (One mark for every day from the day he was born to the date the piece was finished.)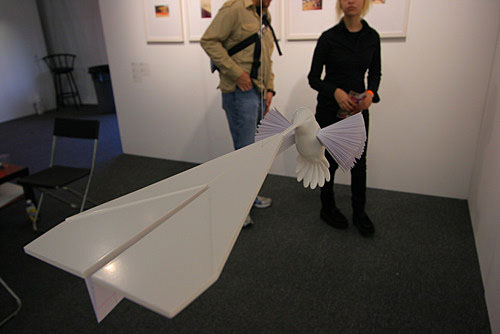 Pulse: Paper bird and Humming plane, Yarisal & Kublitz, Galleria Enrico Fornello.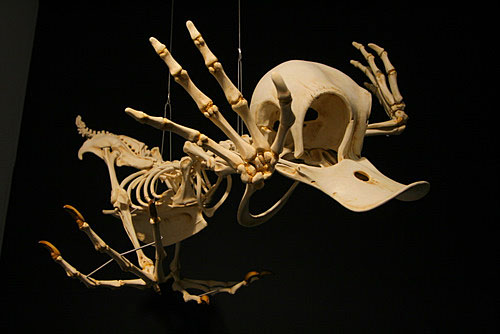 Daffy's skeleton, Arario Gallery, Cheonan, Seoul.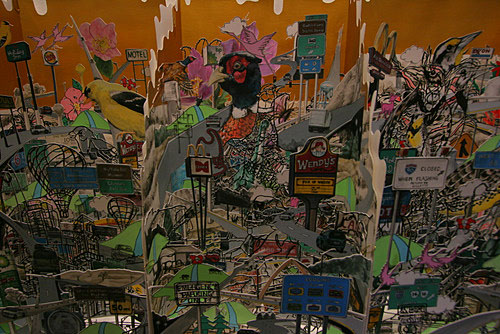 Same place.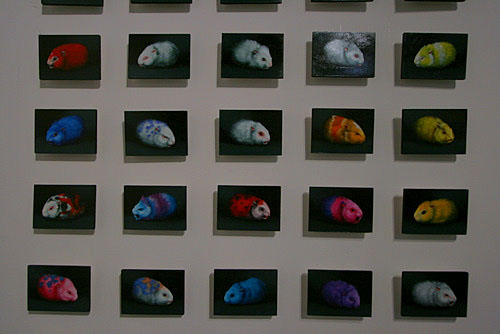 Mini hamster paintings(!) at Schroeder Romero, NY.
Sneakers made out of paintings! Also, hats and a jacket. Tait Roelofs, Lyons Wier Gallery, NYC.
NY Times cover reproduced alphabetically, all with tricky scalpel and glue work. Kim Rugg, PPOW NY.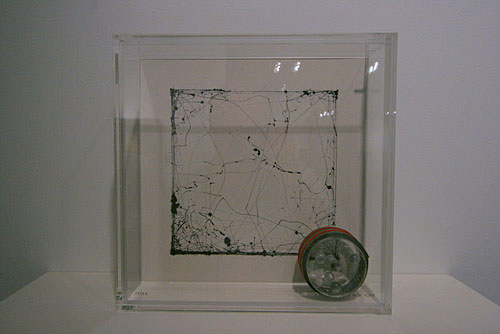 Finally, Tim Knowles, the same guy who figured out how to let trees draw, created this drawing by shipping a package from London to New York.
Posted: Friday December 5, 2008 by Alesh Houdek · Permalink · Comment [7]
A weird entanglement I witnessed at the door of NADA, where a guy wasn't being allowed in apparently because of his dreadlocks (?! — but that's actually what the security was telling him) and being black. "We've had some gang activity." Meanwhile, dude was there with his girlfriend and a baby in a stroller, so wtf?? The two security idiots stood their ground, and eventually somebody else was called in and it looked like the situation was diffused and they were going to let him in. But seriously.
A couple of times I heard him ask, "is it because I'm black?"
And the security guys would get all indignant, "don't start that shit!" when really they weren't giving him much reason to doubt that that was exactly what it was.
Talk about an absolutely moronic response by the management of NADA to whatever incident they may or may not have had.
Posted: Friday December 5, 2008 by Alesh Houdek · Permalink · Comment [7]
Posted: Wednesday December 3, 2008 by Alesh Houdek · Permalink · Comment [3]
Here's what stuck out during a first dash through Art Basel today. I'm struggling with the best way to present these photos, but for now, here's a big dump of clickable, enlargeable images.
Right at the entrance, Miro gallery from London has two big and spectacular Grayson Perry urns.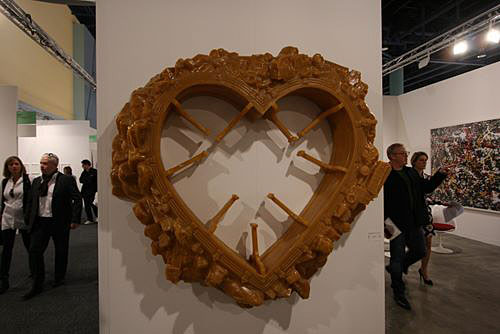 Jitish Kallat's sculpture at Arndt & Partner, all waxy heart and toys goodness.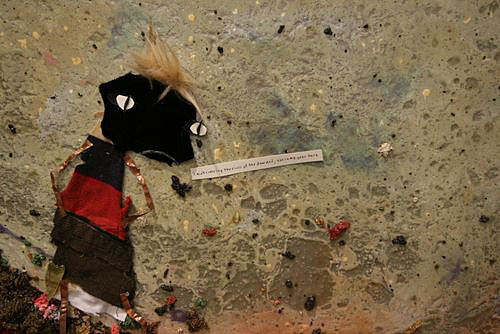 Detail from a mixed media piece by Jon Pylypchuk at China Art Objects. "i ain't crossing the river of the damned, you come over here" he says to the other character in the picture.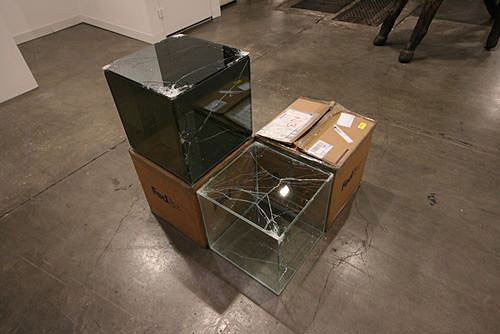 At the same gallery, some wiseguy who's name I don't have (Tom Watson?) shipped two glass cubes FedEx with no packing materials from Los Angeles.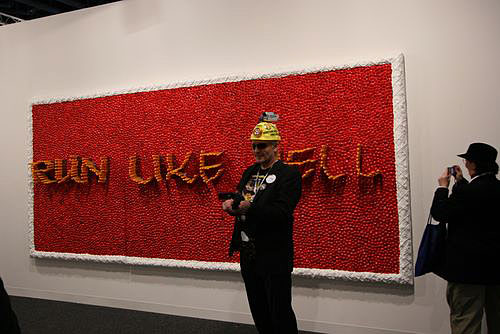 Hell hath no fury like an Art Dude who needs to videotape his entire fucking existence. Run Like Hell, indeed. (He's got another camera on a stick that he holds out so he can film himself.)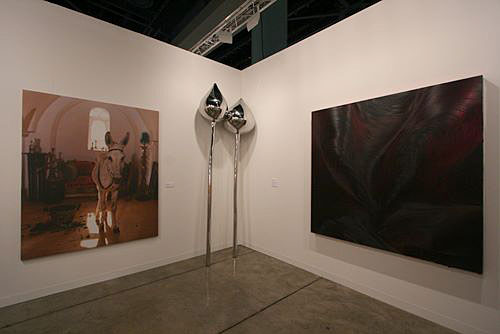 Installation, Ropac, Paris.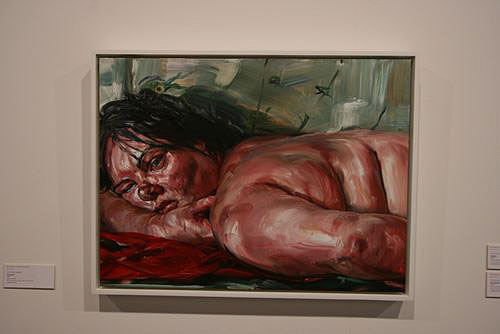 If there was a more beautiful painting in the hall then this one by Natalie Frank, I sure didn't see it. (But check out the whole series, at Mitchell-Innes & Nash, 'cause some of them were pretty racy.)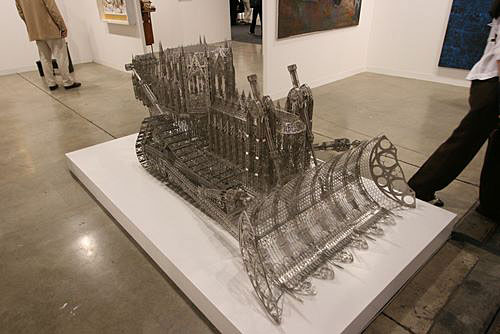 Wim Delvoye's laser-cut steel sculpture at Sperone Westwater. The more I look at this the more it irks me. Moving on…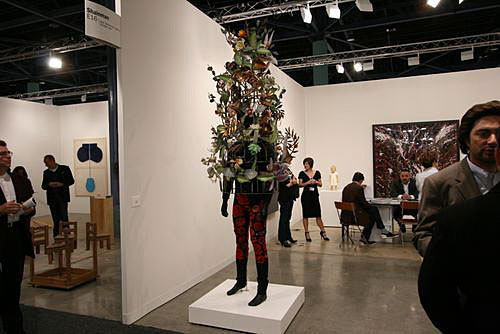 …a sculpture by Nick Cave…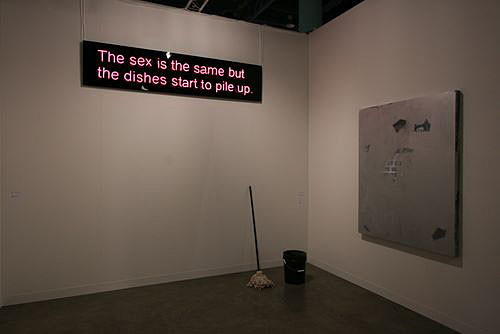 Installation at Lambert, NY. Neon signs get me every time.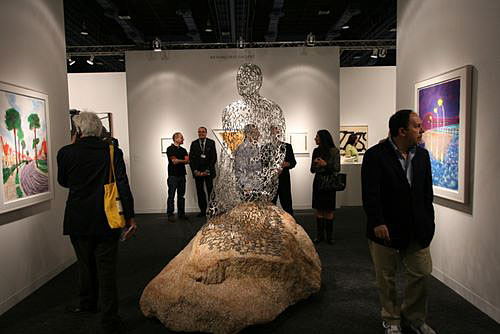 This dude needs to be stopped. And the people who keep buying it.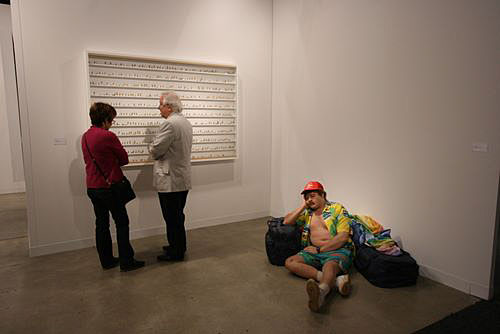 Installation at Van de Weghe. Duane Hanson and Damian Hirst. How many of these people are art!!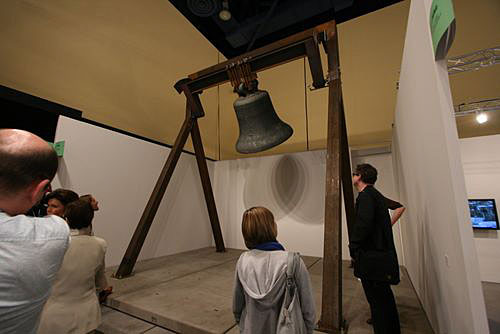 Big swinging bell by Kris Martin, Sies + Höke, Düsseldorf. This is not that impressive in a little photo, but the shadows on the wall are pretty nice.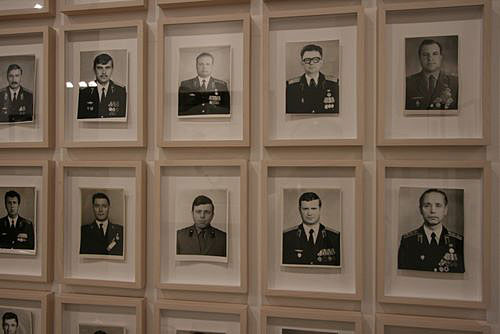 In the corner, lots of nice photography (and some terrible photography) at Kicken, Berlin. Here are some found photos of Russian Soldiers, ominously dated "1961-98."
This guy has got your glam sculpture ready to go. Meile gallery.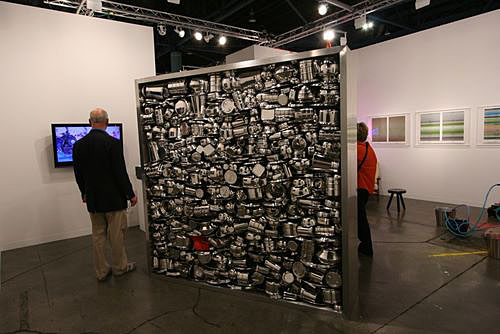 Pots 'n pans sculpture by Subodh Gupta.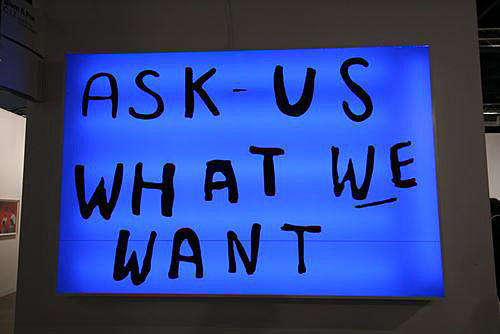 Um, yeah.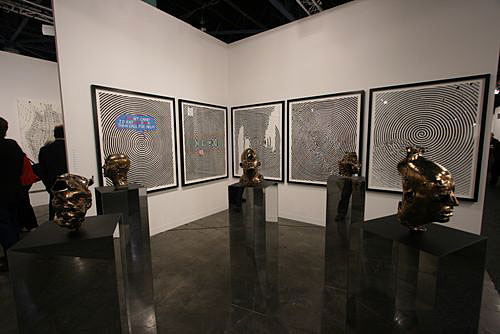 Installation, Blum & Poe, LA. Those heads are actually pretty disturbing.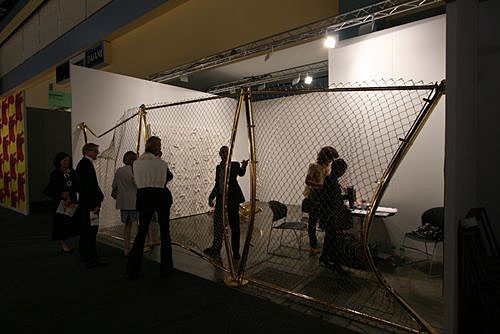 Installation at Bortoiami. You just squeeze through the gaps in the fence and you get to see some art.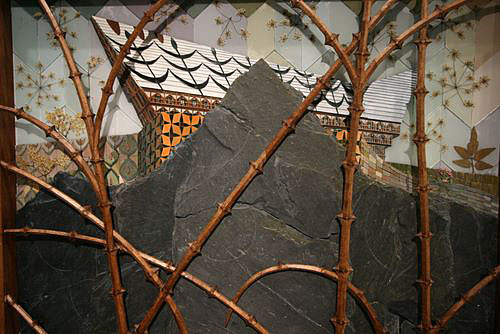 Detail of a mixed-media piece by David Thorpe. Another of my favorite pieces in the show. Maureen Paley gallery. (If you're wandering around the perimeter and you see a big wooden room divider, get to the other side to catch this one.)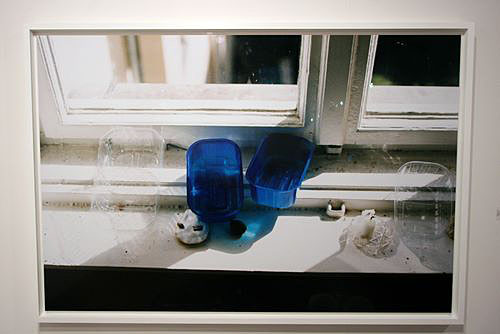 A big disappointment was that there was less Wolfgang Tillmans then last year. There were a few to be sniffed out tho, and this one, printed huge, was a winner.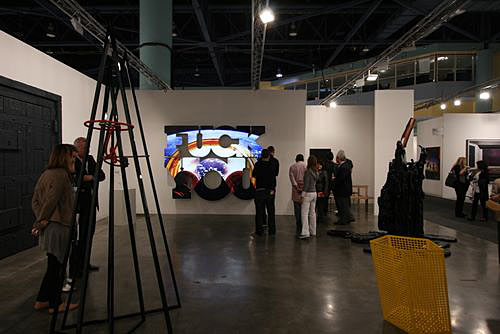 Installation at Presenhuber. The "Fuck You" lightbox is growing on me. The execution is really first class, and the stage-transition Apollo (?) liftoff photo is inspired.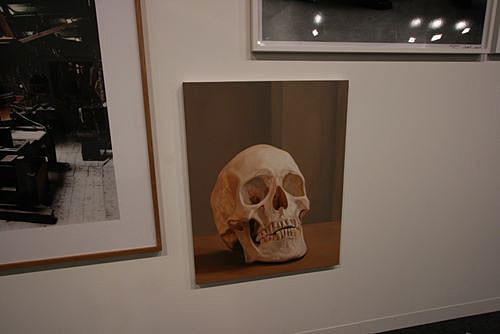 God I am sick of the skulls. Hirst finished it people, so let it go already.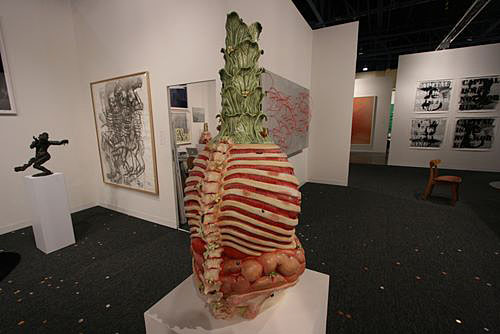 Zhang Haijun's ceramic torso/plant sculpture at OMR was another big winner. Replete with ceramic flies. Anyone with a fat pocketbook and an ill-advised desire to get into my good graces can get me this for x-mas.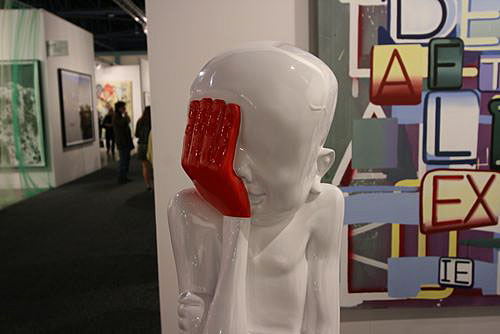 One more ceramic happy at OMR: Liu Bolin's three "red hand" sculptures. I feel obliged to mention that these have tiny penises.
Awesome "smashed car" at Campaña.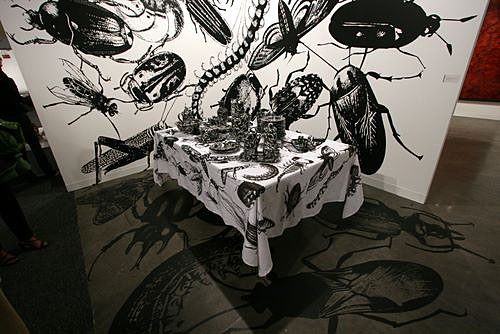 I think we can declare the winner of Art Basel 2008: Regina Silveira's installation with glazed porcelain, embroidered linen, plus wall and floor decals, all bug-themed (Galeria Brito Cimino).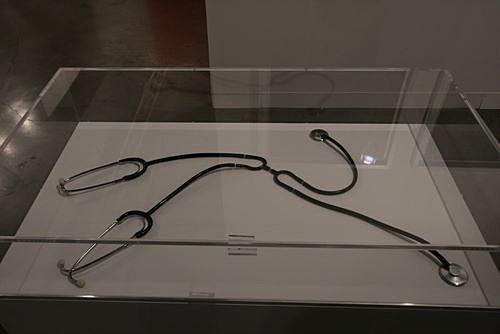 João Onofre's connected stethoscopes. If you're like me, you are touched.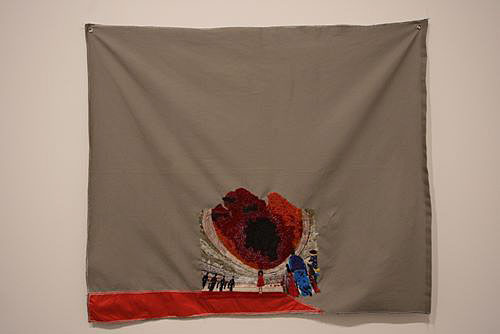 Embroidery by Isa Melsheimer. This was a standout in the otherwise ho-hum "Supernova." Part of Basel.
More tomorrow!
Posted: Wednesday December 3, 2008 by Alesh Houdek · Permalink · Comment [4]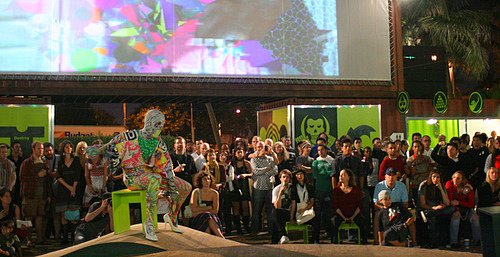 Every year I try to get non-art people to come to Art Basel. Obviously, this applies to my folks in Miami (if you're flying in, you probably already know all this stuff). It's perfectly fine to come for the spectacle, but if you're willing to be open-minded and a little patient, it's hard not to come away with your mind a little bit blown by the scope and occasional power of contemporary art.
Art Basel is fun! You don't need to be an expert, or have a big checkbook, to enjoy it. In fact, most people there this weekend will just be there for fun, to look. If you're thinking about it, you should probably go! The Herald, the New Times, and everybody else will have big "Art Basel Guides" this week, but if all you want is to go for a few hours and see what all the fuss is about, just read the next paragraph and go! It's not rocket science, and you don't need to do any major preparations.
Art Basel is here. Google will give you very nice driving directions if you need them. It costs $35 to get in, plus something to park. (See below for how to do it for free.) The earlier you'll go, the less crowded it'll be and the more time you'll have to look, and maybe take a break for food at Lincoln Road; just tell the person at the door you're coming back and they'll stamp your ticket stub or whatever. Once you're inside, you can find out about Art Video Lounge, Art Positions, Art Perform, and Art Sound Lounge, which are in the neighborhood and which you may want to check out, too. Unless you want more then a casual day trip, don't worry about anything else; some of the other fairs are great, but they're much smaller, and a bit of a hassle. The "special events" are a hassle too, especially for parking. I usually spend about a day and a half total at Basel every year, and I still don't see everything.
What to expect
I have pictures from previous shows here and here. Expect to do some serious walking — wear comfortable shoes. The fair is laid out in rows, but when you're walking around it feels like a complete maze. I'd wandering around at random and getting lost. They have a little map, but trying to follow it to "see everything" is an exercise in futility, and you can walk through the same area over and over and see new stuff anyway.
The people who work for the galleries are all very nice. Unlike at some of the other fairs, they generally won't start conversations with people, but they're happy to answer questions. If someone tries to talk to you and you're not interested, nod and walk away — they'll think you don't speak their language.
(Oh, about "stupid question." Yes, unfortunately there is such a thing as a stupid question. Don't ask "what makes this art?" or "couldn't anybody do that?' Questions about how something was made, or details about the artist, are great. It's considered polite to preface "How much does that cost?" with a question that suggests why you're interested in a particular piece. Eavesdropping on conversations between gallery employees and visitors is a good way to learn interesting little tidbits.)
Officially, cameras are banned, although these days it's easy to sneak a little camera anywhere. I walk around with a big camera over my shoulder and photograph everything, and though I have credentials that say I can do so, nobody really checks. Lots of people take photographs, so you should be able to sneak one here and there, so long as you turn off your flash.
Do save some time for Art Video Lounge, which is across the street from the convention center. Art positions is about a 10 minute walk from the convention center. It's usually worth it, especially if you're wanting to get some fresh air anyway, but mainly it's more of the same. If you're still hungry for more, head on over to NADA and Scope, the two best satellite fairs.
By the way, here's a link to the Art Basel website, not that it's particularly helpful.
Do it for free
Art Basel is worth the money, but it is expensive. If you don't want to spend the money, NADA is free, and it's great! It's like a smaller, more relaxed Basel. There isn't nearly as much to see, and not all the artwork is quite as impressive, but it's very much worth a visit.
You can also get in free to Basel's Art Positions and Art Video Lounge, as well as a couple of the hotel-based fairs on the beach. In fact, a perfectly great itinerary would be to spend an afternoon at NADA, grab dinner, then head to the beach for Art Positions, where there are performances (pdf) every evening at 8pm (the photo above is from Saturday night at last year's Positions).
Whatever you do, don't waste your time this weekend going to the Miami Art Museum, Miami Art Central, the Margulies Warehouse, or any other place with art that you can visit next weekend, or in a month. These places are all very much worth visiting, but this weekend they're overrun with out-of-town art people.
More
I'm going to be posting more about events and whatnot. If you're event-inclined, the thing to worry about is the free show Wednesday night.
[Originally posted here]
Posted: Tuesday December 2, 2008 by Alesh Houdek · Permalink · Comment [2]
All this week: Art Basel coverage. Comes tomorrow, a slightly updated version of the Basel Guide for Normal People from Critical Miami. Here today: some reading to get us into the mood.
Posted: Monday December 1, 2008 by Alesh Houdek · Permalink · Comment [5]